Here we are again with another week and another big batch of new iOS games. It's a surprisingly beefy week in terms of games, with several big-name titles hitting the App Store for the first time but also several high-profile games that are exiting their soft-launch period and launching worldwide. In addition, there's a few things on my radar that are supposed to come out today but haven't quite hit the App Store just yet, so keep an eye out as if anything noteworthy pops up we'll let you know. Otherwise, check out the full list below and let us know which games you'll be picking up!
---
After Us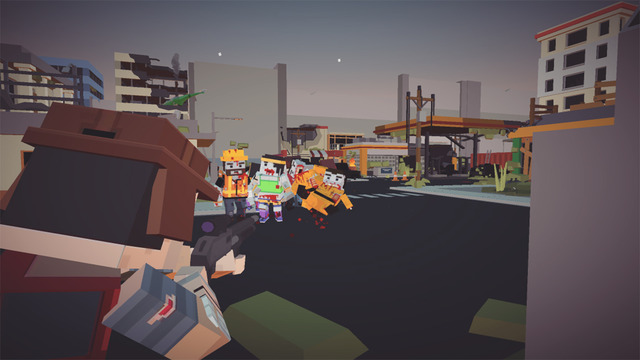 iTunes Description
You have one goal…..Survive!
The most exciting zombie shooter has arrived! Shoot your way through a city filled with infected.
How many days do you think you can survive?!

Game Features:
– Tons of Weapons
– Tons of Characters
– Tons of Zombies
– Tons of Awesomeness
– Awesome Graphics
Forum Thread: After Us (by Midnight Games)
---
Assoluto Racing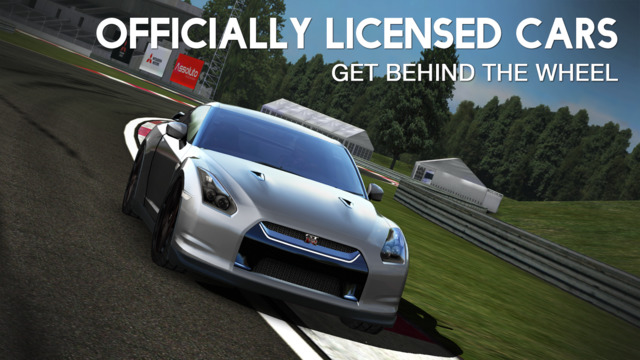 iTunes Description
PRECISION COMPETITIVE RACING
Assoluto Racing is the next evolution of mobile racing simulations.

REAL CARS
Race with beautifully modeled, officially licensed cars from the top manufacturers in the world.

TRUE RACING PHYSICS
The most realistic physics engine on mobile will give you unmatched control on the road and under the hood.

MADE WITH LOVE
Our small indie team of racing enthusiasts has lovingly crafted the most realistic mobile racing game on the market for you.
Forum Thread: Assoluto Racing (by Infinity Vector Ltd)
---
Asteroids: Mining Saga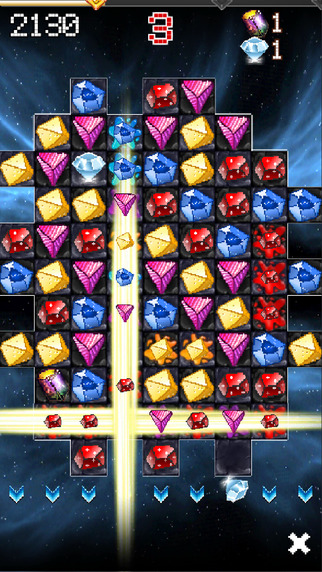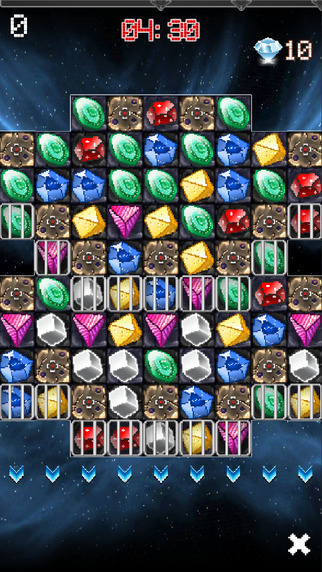 iTunes Description
Hello and welcome to Asteroids Mining Saga!
It's a brand new challenging match three game. Download it for FREE now!

Collect rare minerals from the drifting in space Asteroids before you run out of moves!

Link 3 or more minerals of the same colour to mine them. Use drills and bombs on your way and if lucky you'll get to use the Universal Drill! It's awesome 🙂
Forum Thread: Asteroids: Mining Saga (Hard match 3 puzzle)
---
Bad Gravity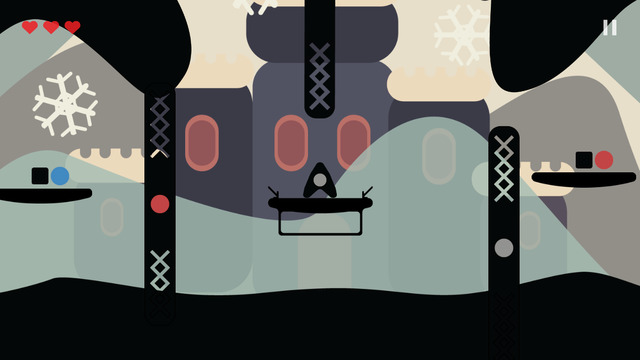 iTunes Description
Take control of your spaceship, survive flying through system of mysterious caverns and transport all blocks to your homebase. Take the right route, collect items and overcome obstacles.

-16 unique atmospheric levels
-optimized for iPhones and iPads
-iCloud game progress support
Forum Thread: Bad Gravity (By Marcin Denisiewicz)
---
Battle Cars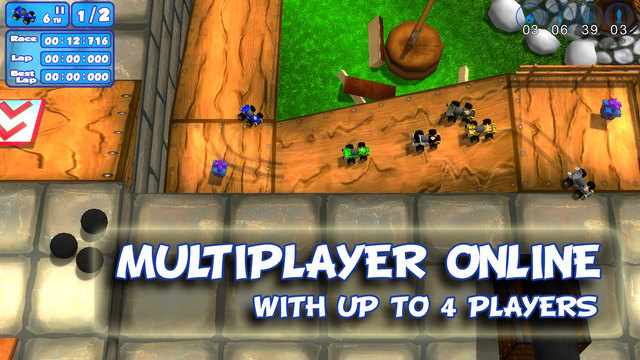 iTunes Description
Welcome to the world of Battle Cars.

Battle Cars is a classic arcade top-down racing game with fast mini cars and funny weapons to destroy your opponents!

Play the career mode to upgrade your cars and unlock new tracks, or go online to play with your friends
Forum Thread: Battle Cars (by Dracoder)
---
Brave Diggers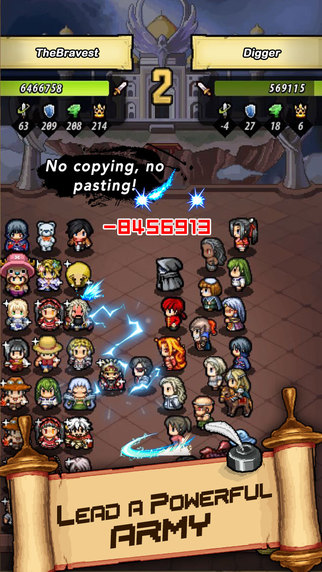 iTunes Description
Show me yours and I'll show you MINE! Welcome to Brave Diggers, an RPG mining adventure unlike any other! As you travel across the land, recruit familiar characters to your party, slay monsters, dig for minerals, upgrade your gear, and become a total bad-ass!

Brave Diggers is a lighthearted parody fantasy management game that values your time. Your characters never take breaks, even when you do. This means that even if you have class, work, CrossFit practice, week-long arctic expedition, or whatever else, you'll never miss a beat in Brave Diggers! Simply play when you have time, and be greeted with a mountain of EXP, gold, and resources your party has collected while you were away. As you progress, your team will grow in both size and power, bringing you even greater rewards! Explore the world, and strip it of its resources in the name of glory!
Forum Thread: Brave Diggers (By REALITY SQUARED)
---
CSR Racing 2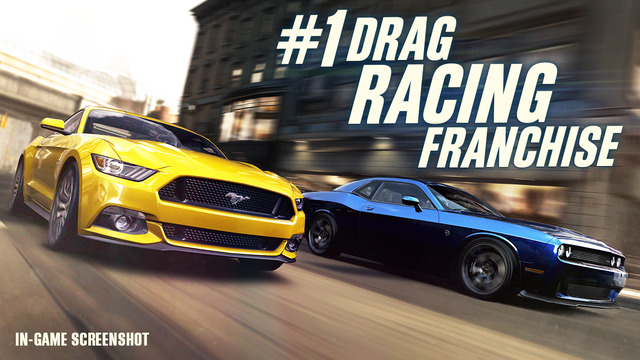 iTunes Description
CSR Racing 2 – The next chapter to the #1 drag racing game franchise of all time has arrived.

Setting a new standard in visuals, CSR2 delivers hyper-real drag racing to the palm of your hand. Compete against live players across the world with your custom built supercars, including LaFerrari, McLaren P1™, Koenigsegg One:1 and many more.

Team up with friends to form a crew, tune your rides for maximum speed and dominate the competition in global crew events. CSR2 is all-new; download for free and start racing now!
Forum Thread: CSR Racing 2 (by NaturalMotion)
---
Cubicle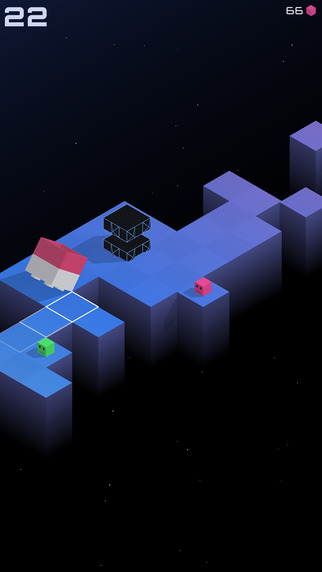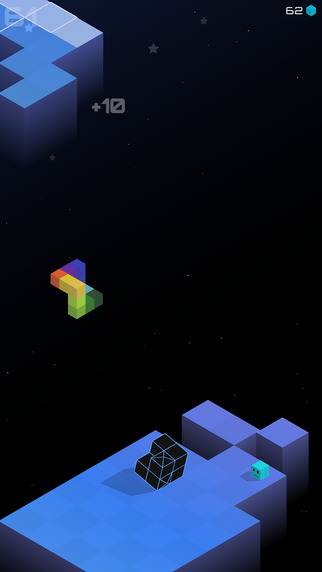 iTunes Description
Help your cube travel through the galaxy.
Avoid enemies and falling off the path.
Squish little cubes and unlock new characters.
Forum Thread: Cubicle (GalacticThumb)
---
Don't Be Squared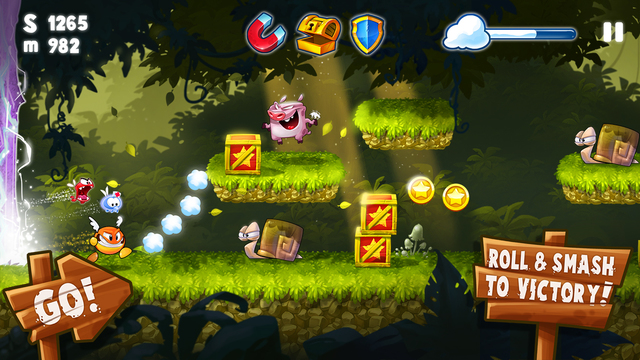 iTunes Description
Don't Be Squared is an exhilarating action runner where you draw clouds to jump over obstacles and tap to spin attack enemies. A mad scientist is turning everything into cubes. Run as fast and far as you can to escape his magic ray and avoid becoming squared! Draw clouds to jump, bounce, fling, yank, smash and dash your way through an unforgettable adventure packed with adrenaline. Whatever you do, don't be squared!
Forum Thread: Don't Be Squared (by Super Hippo Studios Limited)
---
Dungeon Tiles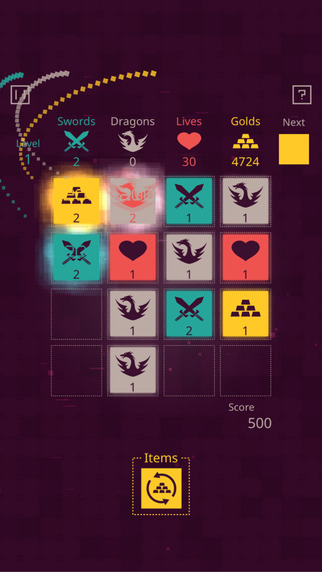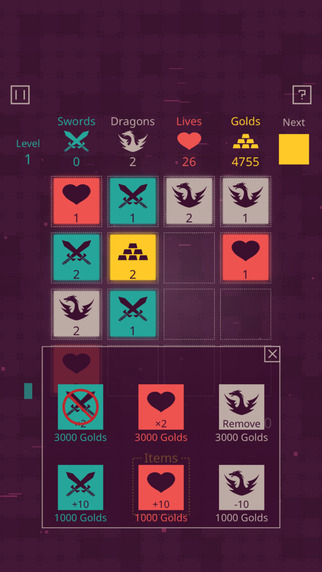 iTunes Description
Dungeon Tiles is a strategic puzzle game with minimalism and RPG elements in which players swipe the screen to collect swords, dragons, lives, and gold.

How to Play

Swipe the screen to move all tiles in the arena in the same direction. Combine tiles of the same color to score points. After each swipe, the total value of the combined tiles is added to a cumulative total for swords, dragons, lives, and gold displayed at the top of the screen and a battle begins. In the battle, swords reduce the "dragons" score and dragons reduce the "lives" score. The "swords" score decreases by the value used to attack the dragons. As dragons are slayed, the "experience" bar rises, and when it reaches the top the player improves his/her level. The game ends when no lives remain or the arena is full and no more tiles can be moved.
Forum Thread: Dungeon Tiles (by Iyoda)
---
Elvin: The Water Sphere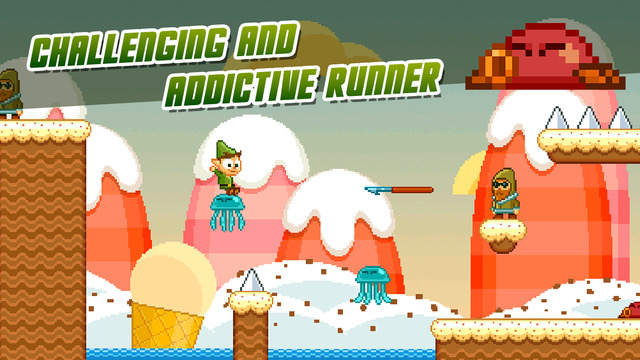 iTunes Description
Run Elvin run! There's no time to waste! The future of Goomswood forest and its inhabitants are in your hands. Elfrod the Goblin has sprung out from the depths of the earth and stolen the Water Sphere that ensured rain while Elvin was napping!

Elvin is a forest elf that must recover the Water Sphere before its power runs out and thus rain never return to Goomswood forest. Elfrod is a mischievous underground goblin, quick and devious with the power to travel through dreams and ready to try and trick Elvin fleeing through strange worlds, barred to forest elves. But that won't stop Elvin, who'll follow his footsteps and is even willing to skip his sacred Elven laws in order to recover the droplet trail the sphere leaves in its way… The race has begun and… Wait… Is that Elfrod? Run Elvin, run!
Forum Thread: Elvin: The Water Sphere (by Goomsters Game Studio)
---
Fancy Cats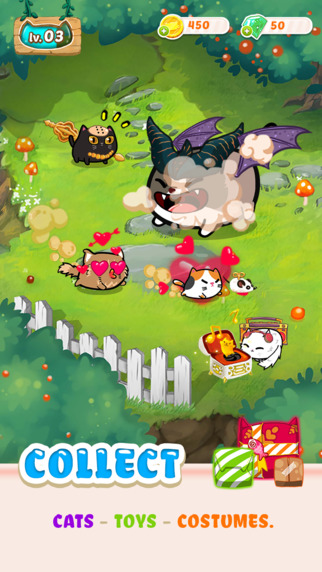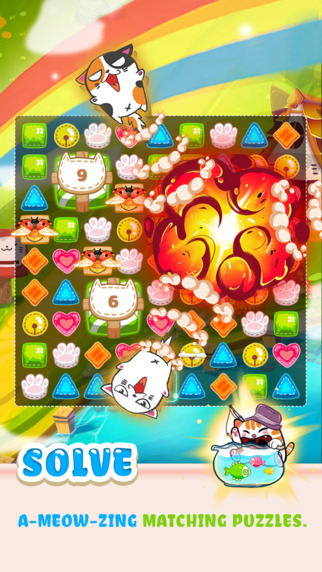 iTunes Description
"Fill your fancy garden with over 25 species of fabulous fancy cats, each with their own unique personalities!

Name them, feed them, play with them and dress them up in an array of fancy costumes and accessories! Bat Cat? The Great Catsby? Purr-fessor Dumblepaw? The Notorious C.A.T? Fancy Cats has it all! See how many heroes you can transform your fancy cats into, with endless cosplay combinations and stylish feline outfits – and there's many more to come!

Teach your fancy cats amazing tricks with a whole selection of fancy cat toys; from clockwork mice to music boxes. Try each toy when you play and see how your fancy cat reacts! Unlock fancy cat toys, accessories and gifts by making a-meowzing match combinations on the game board. Create fancy new ensembles with plenty of cat-itude, and snap photos worthy of the global fancy cats cosplay album.

Become a master of fancy cat dress up, fancy cat tricks and all-round fancy cat action in this trendy world of paw-someness! The ultimate cat cosplay adventure.
Forum Thread: Fancy Cats in fancy hats (by Genix Lab and Channel 4)
---
Farm Heroes Super Saga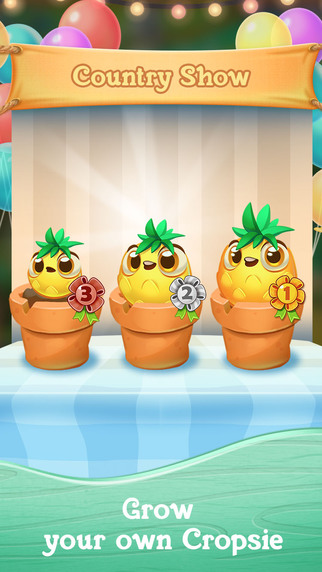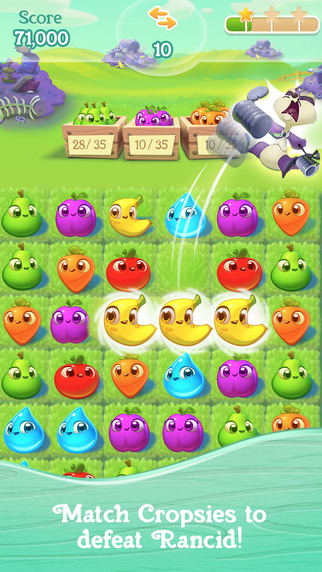 iTunes Description
The Cropsies are back and they're bigger than ever!

Rancid Raccoon is up to his old tricks again. Ruining the harmony of rural life by winning all of the Country Shows and claiming the prize money for his sneaky self. The Farm Heroes know he's cheating and it's up to you to help them defeat him.

Help them in their mission to grow the biggest Super Cropsies, win the Country Show and stop Rancid ruining the fun for everyone.
Forum Thread: Farm Heroes Super Saga (by King)
---
Final Fantasy: Brave Exvius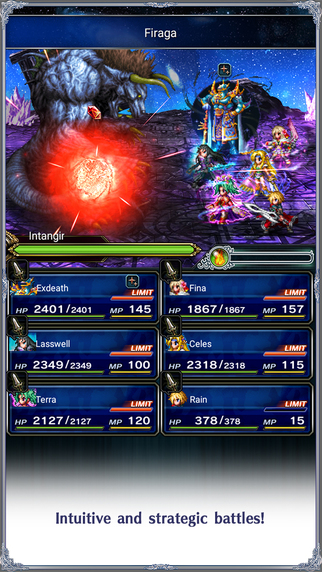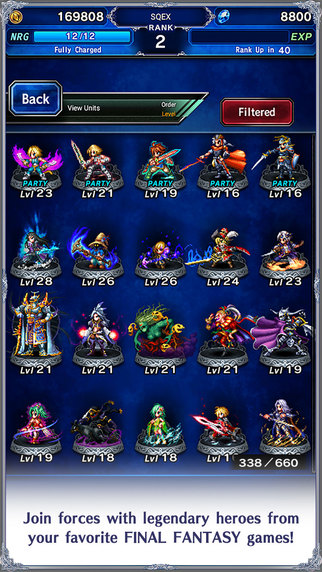 iTunes Description
So begins a new tale of crystals…

Enjoy a grand new adventure in the classic FINAL FANTASY tradition, as SQUARE ENIX presents an original FINAL FANTASY title for your smartphone!

Join forces with legendary heroes from your favorite FINAL FANTASY games, and experience a tale of high adventure in the palm of your hand.

With exciting battles, awe-inspiring visuals, and a whole realm to explore, this is one epic journey you won't want to miss!
Forum Thread: FINAL FANTASY BRAVE EXVIUS (by SQUARE ENIX INC)
---
Game42 Premium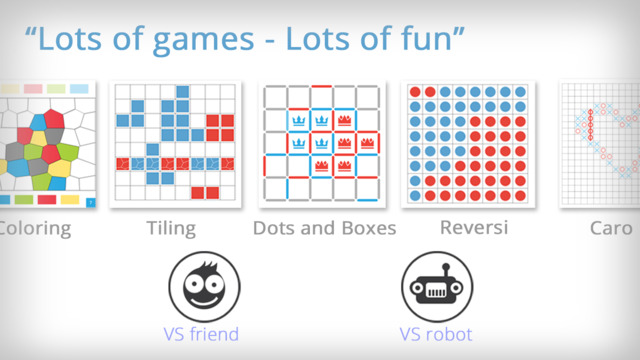 iTunes Description
9 great board games in one. Get the kids thinking, beat the robot or test your skill against a friend.

—–
A product of love and friendship. Have fun with friends, lover, family.
Meet friends, playing some fun games with them can make your friendship stronger.
Feel hard to start conversation with someone you love? Play with him/her to break the ice.
Have children? Play with them to become their close friend.

It's so easy to start and make endless story between you and others.
Forum Thread: Game42 Premium – 9 fun party games in one (by Genix Lab)
---
Gravity Caves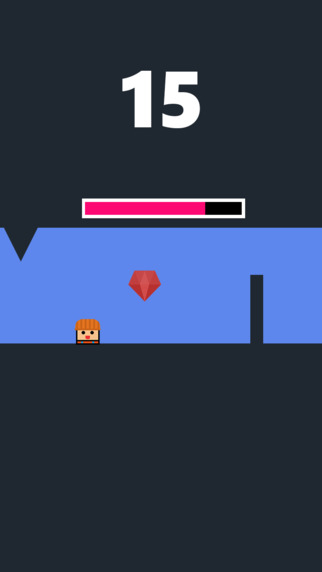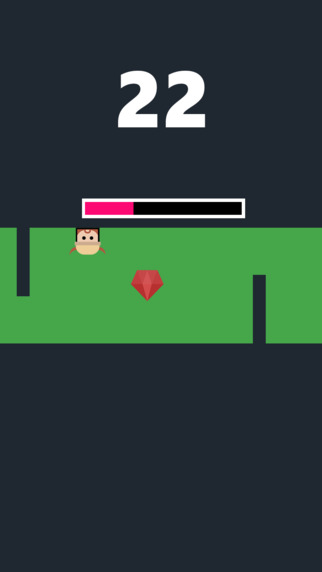 iTunes Description
Touch the screen to rotate the character and change the gravity.

Switch up or down to avoid the obstacles.

Collect the power energy to avoid die and start again.

Unlock amazing characters picking up the diamonds on the way.
Forum Thread: Gravity Caves (by Frederick Calderon)
---
Hills Legend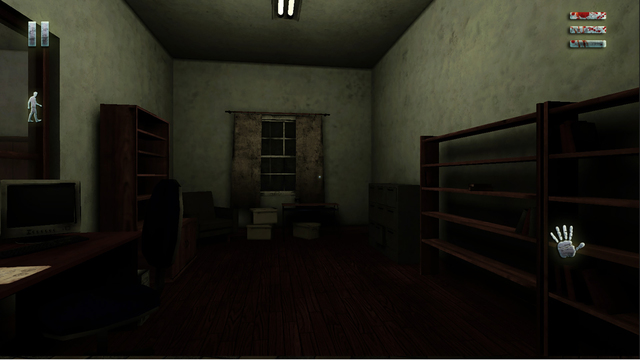 iTunes Description
According to the legend there was an underpass under one of the temples which led to the treasures. But once, during the earth-moving work the walls of the monastery were broken and it was decided to block the pass with rocks and fill it with concrete. Caves passes were left unexplored.

As the legend says there was one more entrance to the caves from the underground almshouse housing. Even nowadays this place isn't calm and it does not dispose to walking. But I'm planning to satisfy my interest and check out the legend of treasures..
Forum Thread: Hills Legend (by Igor Migun)
---
Hold the Door, Defend the Throne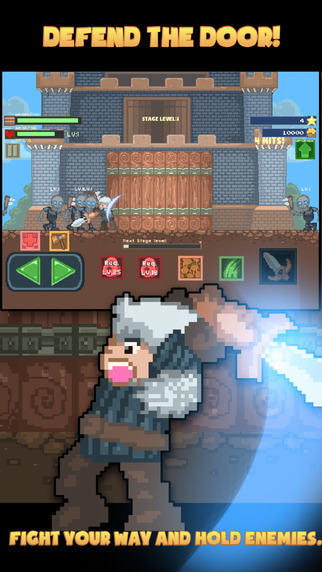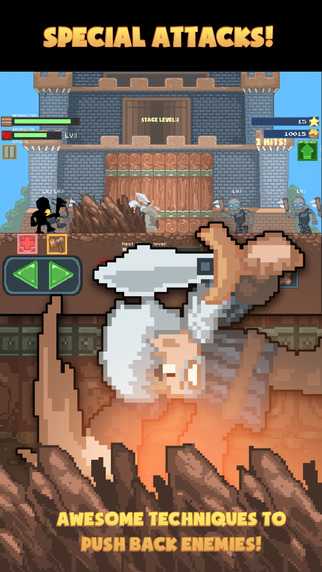 iTunes Description
Play as the hero that defends the throne and hold the door from the evil creatures, the Death knights. Armor and level up to be the fierce warrior and slay countless enemies. Enhance your skill and upgrade your strength to become the knight that protects the kingdom.
Forum Thread: Hold the Door, Defend the Throne (by Arvin Evangelista)
---
Jet Soccer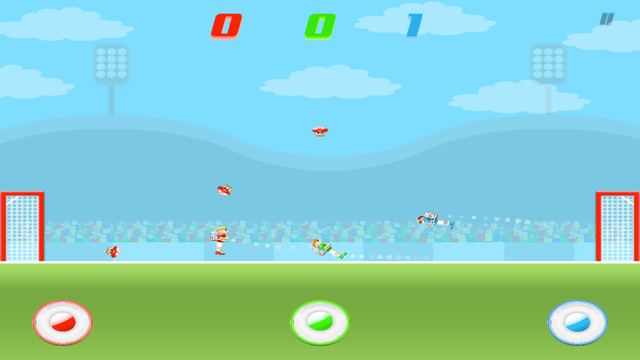 iTunes Description
This is a soccer game with jetpacks…JETPACKS!!!
Isn't that just AWESOME!!!

Challenge your friends or enemies in Local MULTIPLAYER or play against a bot, either way you're gonna have a BLAST…off!
Forum Thread: JET Soccer (by Greenfrogg Games)
---
Jungle Clash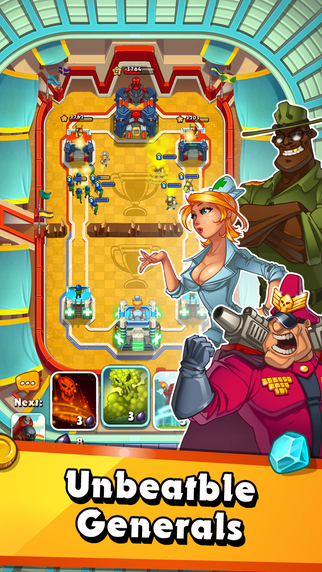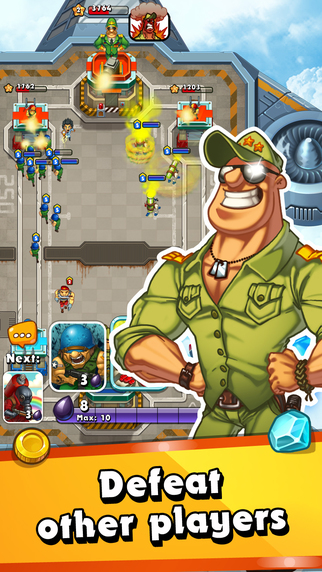 iTunes Description
Jungle Clash is a new online strategy game with dynamic real-time PvP battles and captivating MOBA elements. Collect a unique deck of your best-loved fighters, armored vehicles and defenses from the mobile hit Jungle Heat, smash enemy Towers into splinters and achieve glorious victories in an engaging struggle with rivals from all around the world! The situation is highly dangerous and this urgent report from the theatre of military operations serves as direct evidence. "Yesterday we heard strange sounds coming from the heart of the jungle – apparently some fierce battles are constantly raging there. Our scouts stopped coming back to our base for some reason and Captain Blood has ordered tons of popcorn instead of new rifles and shells…" It seems like something truly spectacular is going on over there. It's the best moment for a sudden attack – charge and join brutal fights in the jungle where only you can make a difference!
Forum Thread: Jungle Clash (by MY COM)
---
Laser Dreams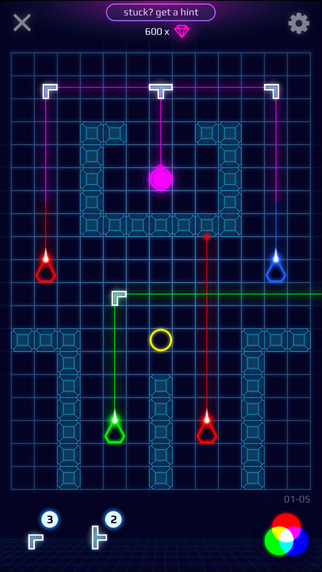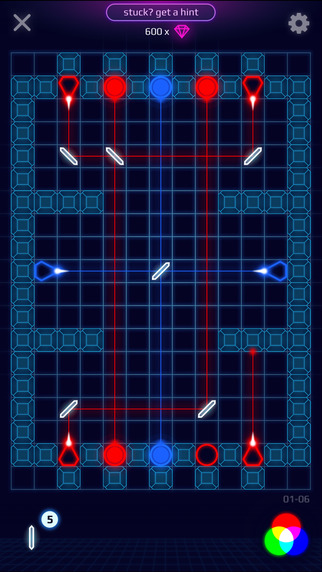 iTunes Description
A challenging puzzle game with lasers and 80s electronic music.

Laser Dreams is a puzzle game where you have to guide a laser beam to the target by placing down various items. Bounce the beam off mirrors, place down turns, refract the light with prisms, open gates and switches or teleport through portals. Challenge your intellect in over 80 hand-crafted levels, set in a retro-futuristic world, with great 80s inspired electronic music. And if you are feeling creative, you can even build your own crazy levels to challenge your friends and get a chance for your level and name to be put in the game.

So what are you waiting for? Don't let your dreams be dreams. Yesterday you said tomorrow, but what if tomorrow never comes? Take a deep breath, plug in, sit back and relax. Let your subconscious take control. Let the laser dreams come.
Forum Thread: Laser Dreams (by Ales Kocjancic)
---
LEGO Star Wars: The Force Awakens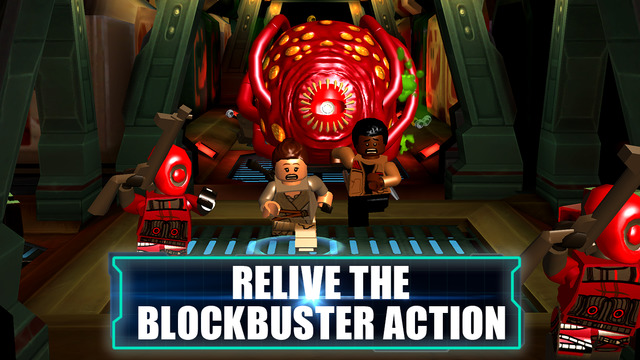 iTunes Description
Relive the galaxy's greatest adventure in LEGO® Star Wars™: The Force Awakens™ for mobile! Play as heroic characters from the movie, including Rey, Finn, Poe Dameron, Han Solo, Chewbacca, C-3PO and BB-8, as well as Kylo Ren and General Hux.

LEGO® Star Wars™: The Force Awakens™ immerses fans in the new Star Wars™ adventure like never before, retold through the clever and witty LEGO lens. Additionally, players will experience previously untold story levels that explore the time leading up to Star Wars™: The Force Awakens™.
Forum Thread: LEGO® Star Wars™: The Force Awakens (by Warner Bros.)
---
Neo Turf Masters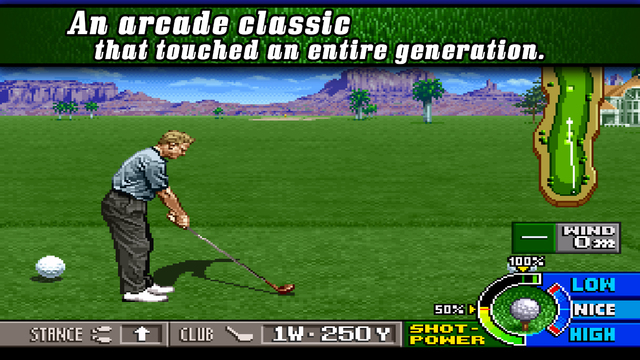 iTunes Description
NEOGEO's legendary golf game is back, in a brand-new mobile version with touch controls!

NEO TURF MASTERS (also known as "BIG TOURNAMENT GOLF" in Japan) is an arcade classic that touched an entire generation.

Competing as one of six international golfers on different courses worldwide, players choose their club, analyze the wind direction, and find the best path to finishing each hole in as few shots as possible.
Forum Thread: NEO TURF MASTERS (by DotEmu)
---
Paname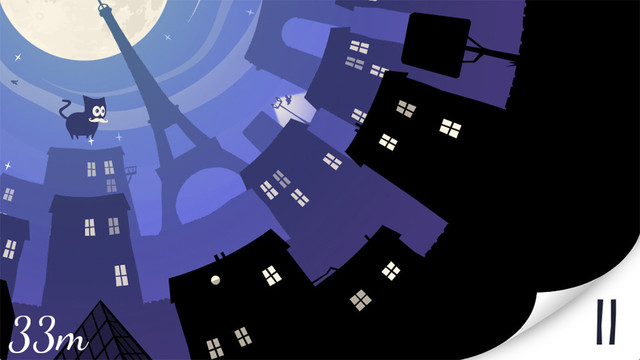 iTunes Description
Under a beautiful full moon, Parisian cat likes to jump from roof to roof , defying all obstacles. With " Paname ", discover the City of Light as you've never seen and immerse yourself in the poetry of Paris.

Ready to take the plunge ? So go ahead and help the cat to go as far as possible with " Paname " , a simple, fun and very addictive game. Paris awaits you !

PS : " Paname " is playable in portrait and landscape mode to suit your preferences.
Forum Thread: Paname (by Laurent Bakowski)
---
Perfect Potion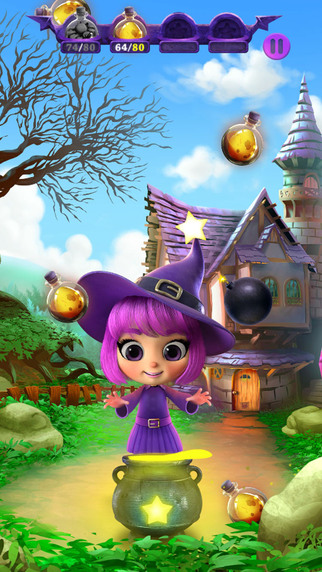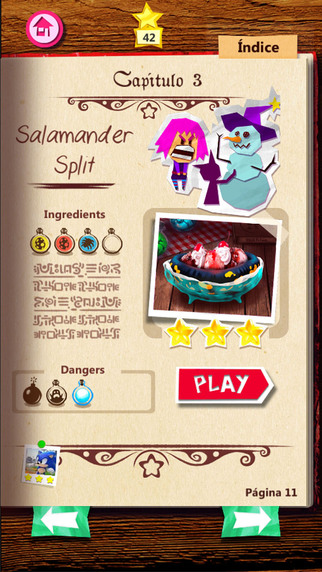 iTunes Description
Meet the witch Minerva and her cat Morcelius. Minerva wants to become a candy-maker witch and make the magic's world best candies!

But to do that, Minerva will have to complete all the perfect potions from her recipe's book.

Help Minerva to collect the ingredients to make all the candies of her magic book.

This will not be an easy task, Minerva will find several challenges to complete her book, but with your help she will reach her goal.
Forum Thread: Perfect Potion (by Valnei Costa)
---
Pocket Arcade Story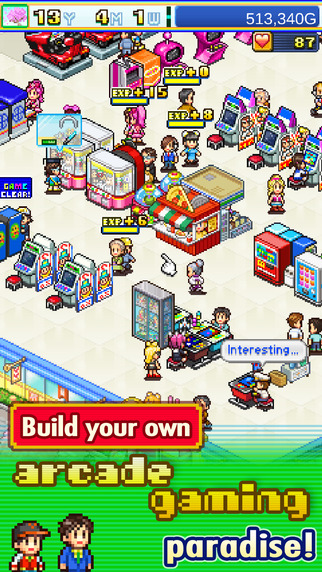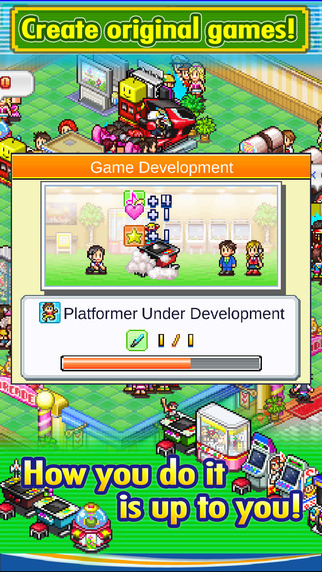 iTunes Description
Here comes a new challenger: it's the arcade simulation game you've been waiting for!
Build your very own gaming paradise packed with heaps of game machines and more!

If some of your customers become regulars, you can test their mettle in fighting game tournaments. Crush the competition with crazy combos and knock out your opponents with a flurry of fists! If you rise from the fray victorious, more and more customers will pile into your arcade!

You can fine-tune and tweak your arcade as much as you want, with everything from racing games to dance games, photo booths and food stands! Even the strength of your crane games' claws and the rate at which coins are won is under your control. Utilize all these features and customize to your heart's content!
So, can you create a 5-star arcade that pushes all the right buttons?
Forum Thread: Pocket Arcade Story (by Kairosoft Co.,Ltd)
---
Ring Mania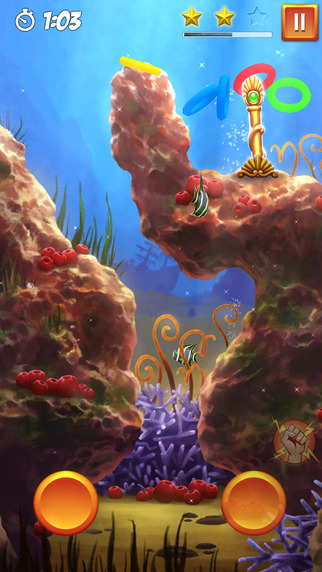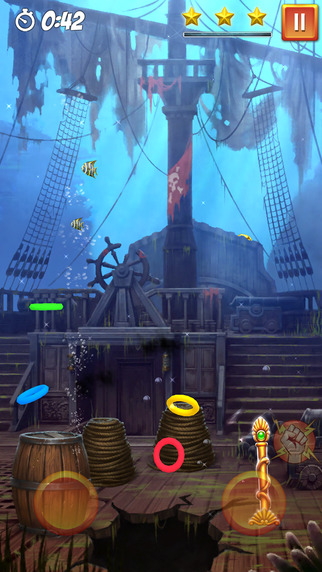 iTunes Description
Back to the good old days when you fill your ring toss toy with water
and having fun diving to collect the rings.

Ring Mania will let you go through an adventure of finding the lost rings at the bottom of ocean and collecting them with a magic rod. During this adventure you will face with exciting levels containing beautiful underwater worlds, various obstacles and challenging puzzles.

Try to collect all rings as quickly as you can to earn more stars.
Forum Thread: Ring Mania (By Invictus)
---
Shadeless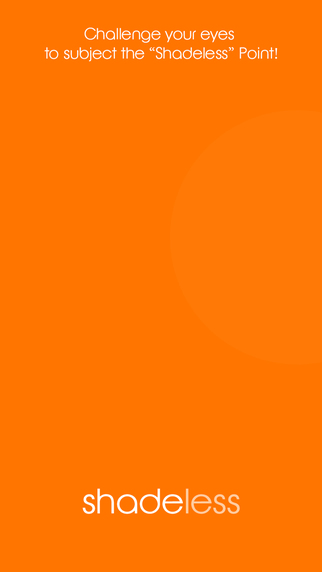 iTunes Description
Can your eyes spot the shade?

Shadeless takes eye exercises to a extremely fun level! How incredible can your eyes see? Find the "Shadeless" Circle to prove your skill!

Super Simple, Insanely Addicting!
Forum Thread: Shadeless (by Pine Entertainment)
---
The Slaughter: Act One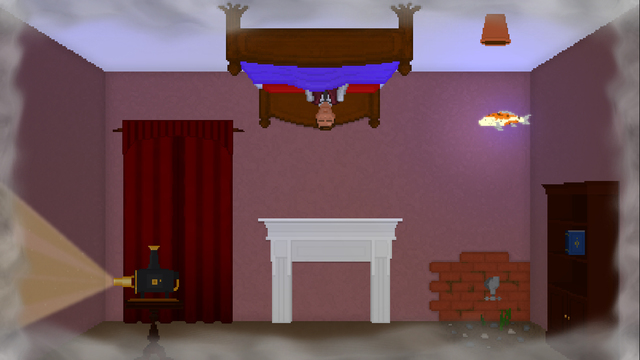 iTunes Description
A serial killer is terrorizing the streets of Victorian London, and private investigator Sydney Emerson has hit a new low between finding lost dogs and receiving alleyway beatings. A turn of events sees Sydney forgoing his selfish nature and thrusting himself into perilous and increasingly surreal situations, treading a fine line between dreams and reality.

Explore the foggy streets of Victorian London in all its decadence and depravity, searching the slums, taverns, brothels and even Sydney's abstract dreamscapes for clues, while meeting a host of interesting, insane and eccentrically British characters along the way.
Forum Thread: The Slaughter: Act One (By Alex Francois)
---
Snot & Fluff – A Space Adventure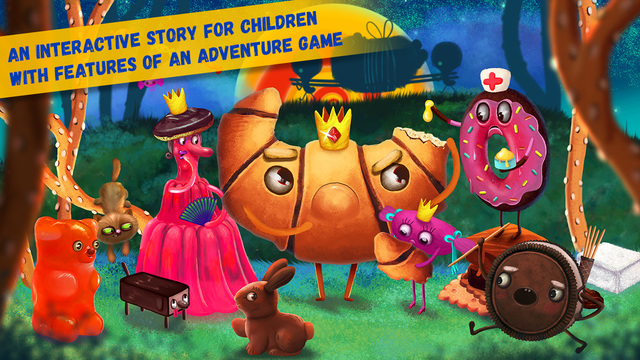 iTunes Description
An interactive story for children with features of an adventure game.

"Mum, Dad, can I watch a movie?" – how often do we hear these requests. This is where "Snot and Fluff – a Space Adventure" will speed to the rescue. This is an interactive story with features of an adventure game for children aged 4 to 10.

This is a funny and educational story of friendship, courage and helping others. It will take your child and yourself on an amazing journey to distant galaxies full of colourful planets. You will meet various creatures, strange animals and together you will experience an unforgettable adventure.
Forum Thread: Snot & Fluff – A Space Adventure (by OhNoo Studio)
---
Tap My Katamari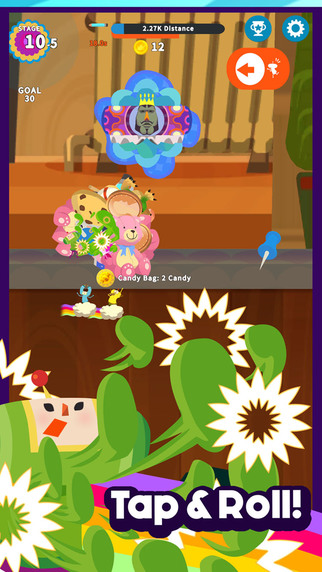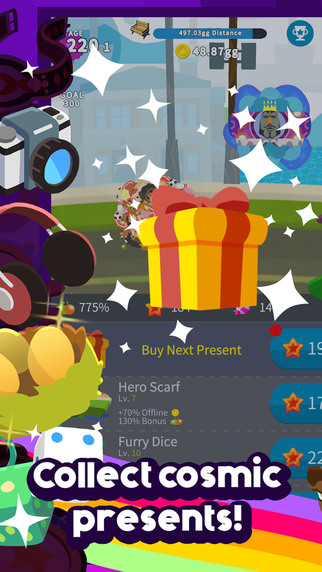 iTunes Description
Tap to roll your Katamari and call Cousins to help you make a Star! Experience a new way to play Katamari! Tap My Katamari is a spin-off clicker game in the strange and quirky universe of sticky balls, tiny green royalty, and idle cowbears.

You are the Prince, tasked by The King of All Cosmos to restore the universe and its stars by tapping. To do so, you've been given the Katamari, a magical ball that makes everything it touches stick to it. Grow your Katamari into a star and restore the universe!

Start in the house picking up small things like thumbtacks and hamsters. Increment and get BIGGER then start picking up cows and cars! Idle and get EVEN BIGGER then amass giant squids and spaceships! If you enjoy the Katamari universe, try this new incremental game and discover a new way to play Katamari on your phone!

How big will you make YOUR Katamari?
Forum Thread: Tap My Katamari – Endless Cosmic Clicker (by BANDAI NAMCO Entertainment Europe)
---
Teeter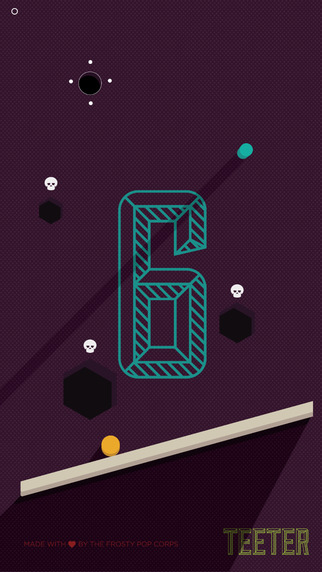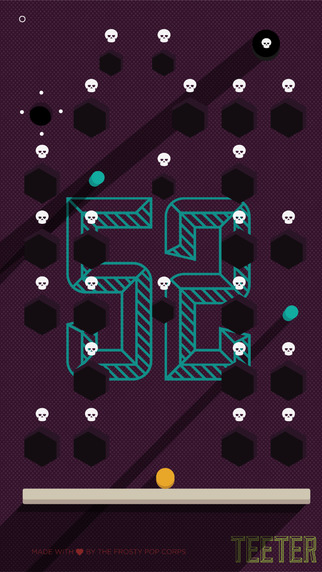 iTunes Description
A ball, a bar, a peg, and a hole. Mundane as individual forms, yet in concert together: magical. With *no ads* and *no in-app purchases*, Teeter is a beautiful combination of impeccable design and innovative game mechanics that provide players with a singular experience that can only be found on the App Store.

Once you get past the derivative subtitle, you'll find a game of whimsy and delight, with enhanced controls for 3D Touch supported devices. And don't forget to shake your phone for a surprise!

Guiding a ball into a hole has never been more innovative, challenging, or super fun.

Oxford comma for the win!
Forum Thread: Teeter (by The Frosty Pop Corps)
---
Xorbs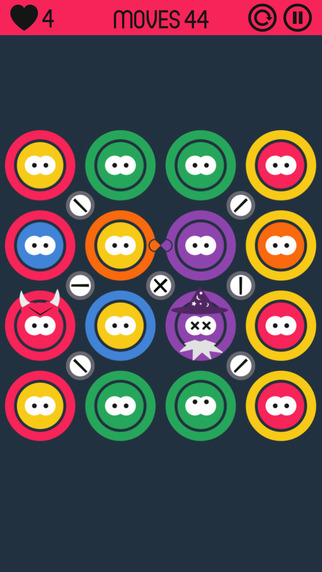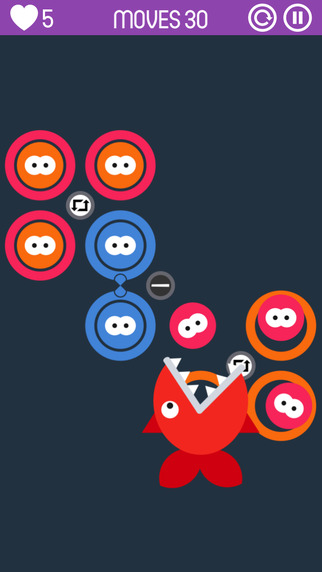 iTunes Description
in xorbs you will battle to restore order and defeat the master evil xorb!

xorbs (the little round creatures) come in 6 different colors and are trapped inside pods (the circle around the xorb) which also come in 6 different colors. if you put all the xorbs into a matching colored pod they are freed! your goal is to free them all

so come and join xorbs, there are loads of characters to meet along the way. you can even create your own custom levels and share them with your friends
Forum Thread: xorbs (by Code Sharp Limited)
---