I get pitched a whoooolllleeee lot of iOS games on Twitter and while I make an effort to try out most of them, with it being nearly eight years into the life of the App Store, it's sort of rare to see games that make me think "Oh dang, this is super clever." This was the case this morning when developer Stephen Coyle tweeted me the link to his first iOS game, Tapt ($3.99). The easiest way to describe it is if you took the idea of a rhythm game, and stripped it down to its absolute most basic. While totally blown out rhythm games like Voez (Free) will have you tapping, swiping, and doing all sorts of other stuff to effectively play along with whatever song is being played, Tapt just asks you to tap out the actual beat of the song.
The tricky part is, you've got to come up with the beat from memory. At its most simple, the game's tutorial has you tapping a button to "play" 12 notes from the song Happy Birthday. With each tap, the appropriate note plays, and you fill a meter of sorts indicating how many more notes you have left to play for that particular challenge. At the end, you're given a score on how closely you followed how the song actually goes, and you play the next one.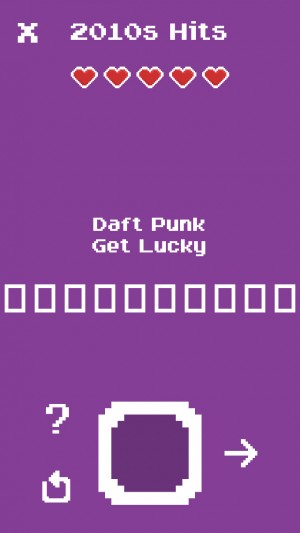 While everyone remembers how Happy Birthday goes, do you remember how the theme song from the 1978 version of Superman went? Playing Tapt involves sitting there, totally being able to picture the movie, and racking your brain trying to remember the beat of the theme song. Sometimes if I totally can't remember it, just tapping once to hear the first note summons something inside of my lizard brain to flawlessly tap out the rest of it. It's kind of magical.
Tapt is free to download, and in doing so you'll get music packs for "2010s Hits," "Movies II," video games, and classical music. This is where things get weird- There's 16 other packs you can buy for 99¢, ranging from Michael Jackson to TV themes to Taylor Swift and a bunch of other stuff in between. While Tapt definitely has a sky-high "Huh, this is really neat" factor to it, I'm not sure the super-simple gameplay is going to lead many people to start spending on IAP, as you can totally get the gist for free. Apparently with each update the game gets another mix of free and paid packs, so, that's cool at least.