Kairosoft, the extremely prolific developer of simulation games like Game Dev Story ($4.99), is almost as unpredictable with its release schedules as it is predictable with its game designs. One of its recent trends is releasing the Japanese versions of its games at the same time worldwide, something that obviously doesn't help much if you can't read the language. While they used to just update the Japanese app with added languages, the developer has recently taken to releasing separate international versions after a period of time has passed. The latest game to get that treatment is Station Manager ($5.99), a train station simulator.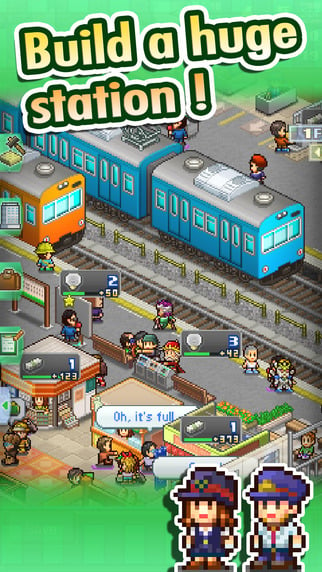 A few months ago, Kairosoft dropped a pair of Japanese language-only simulation games on the App Store, of which Station Manager was one. At the time, I translated its title as Pocket City Railway, but it looks like Kairosoft went with something a little more straightforward. It's an appropriate title, though, since you'll mainly be designing and operating the stations that the trains stop at. The game seems to be using a new engine, and it's certainly one of Kairosoft's spiffier titles in terms of presentation. The gameplay, however, is pretty familiar for anyone who has played a few of the developer's other titles. I wrote up some impressions of the Japanese version that you can check out if you want a few more details.
As usual for a Kairosoft game, if the concept holds any appeal to you, it's a safe bet you'll enjoy Station Manager. This developer is nothing if not consistent, and it can get away with that simply because it's got the core mechanics of simulation games down pat. By the same token, if you've long since exhausted yourself on this particular style of game from Kairosoft, you likely won't find anything to rekindle your joy here.