After its well-received global launch back in February, we learned a couple of weeks ago that Ubisoft's Assassin's Creed Identity ($1.99) would be receiving a huge paid expansion adding in a new chapter to the single-player campaign, new items and weapons, and more. Today that update is now available to players on iOS, and for the first time Assassin's Creed Identity is also now available on Android. The new campaign is titled Forlì – A Crimson Sunset and contains 4 new story missions, the new Forlì location with both At Dusk and Under Siege variations, a new "Crow Hunt" contract type, and 2 new Legendary Weapons added to the in-game shop.
All of the new Forlì – A Crimson Sunset content is available to unlock for a $1.99 IAP, and as we've seen previously with paid DLC in mobile games, this has upset certain people in a big way, which is a shame. You may remember during Assassin's Creed Identity's lengthy soft-launch that the game was originally a free to play title, with all that entails. Due to early player feedback, Ubisoft changed gears and transformed the game into a premium release, and I think they did an excellent job of retaining some of the qualities from free to play games that encourage long-term playing but without forcing anything behind any ridiculous paywalls or energy timers.
When people make a stink about (optionally) paying two bucks for a ton of new content, you're pretty much telling that developer that you would have preferred a typical free to play model which can generate constant revenue in order to justify the cost of developing any new content for the game. Which is fine if that's the type of game you prefer, but you're definitely asking for a more limiting version of Assassin's Creed Identity than the version we got.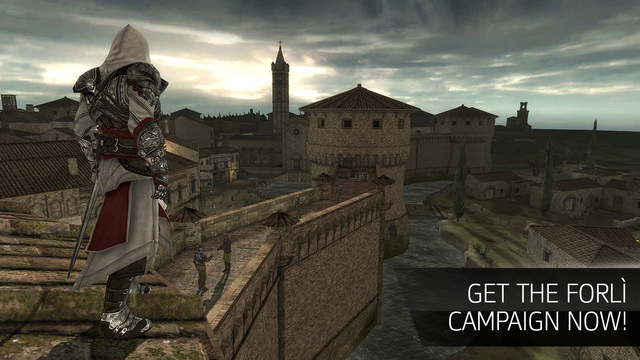 Ranting aside, this update does add in some new IAP bundles which, again, are entirely optional and are really just a way of fast-tracking yourself to better gear. However, I would like to know whether some of the new outfits and items available in those packs are also attainable through regular play or if they're only available through those paid bundles. Either way it's not that big a deal as this game has such a ridiculous amount of items and gear that I'll never be able to own it all anyway!
For me personally, I've loved Assassin's Creed Identity and aside from the week we were up to our ears in work during GDC I've played it every day since its global release. I'm more than happy with this update and the price of the new content, so if you've similarly enjoyed this game I'd definitely suggest picking the new Forlì – A Crimson Sunset content, and whether or not you like the pay model or the game itself, you can share your opinions in the game's forum thread.