Hello everyone, and welcome to the week! It's time once again for our look back at the noteworthy updates of the last seven days. We've got a lovely list of fan favorites included in this week's set of updates, so buckle up your seatbelt and get ready to take a ride. A ride… through text. Of course, you can keep an eye out for updates yourself using AppShopper Social (Free), the watchlist in the TouchArcade App (Free), or by participating in the TouchArcade forums, but this weekly summary is here to fill in the things you might have missed. Let's dig in!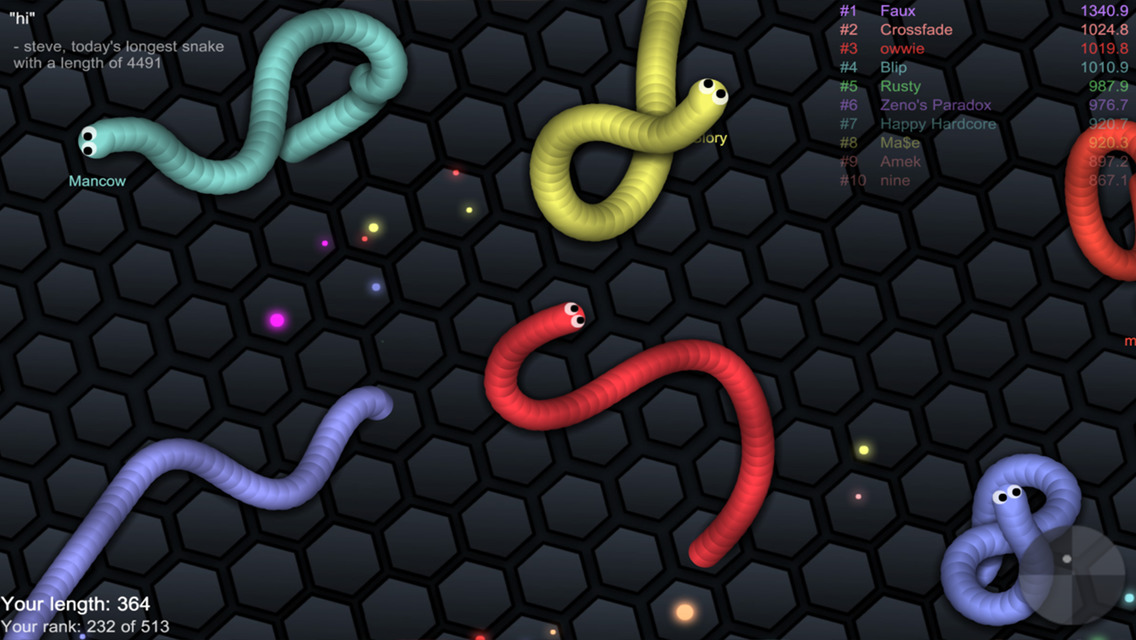 slither.io, Free It's the new sensation that has swept the nation (and beyond), and thanks to last week's update, it plays a lot better than it did before. The latest version of the multiplayer Snake take-off adds new skins to the game, adds new controls to choose from, and renders everything a lot faster, making for greatly reduced loading times. Still not the best sandwich spread, however.
Never Gone, Free Action game Never Gone got two updates last week, though as you'd expect, the second of the two was largely meant to fix some critical bugs that the first introduced. The first update improved performance to the point that the game runs at 60 fps on most compatible devices, added French and German subtitles, and made the in-game meals free. The second update addressed some bugs and tweaked gameplay a little to make it more fluid.
King Rabbit - Classic, Free If you've finished all of King Rabbit's levels and have around eight quarters jingling in your pocket, you'll love this update. The new Fire Adventures expansion, selling for $1.99 via IAP, adds 64 new levels to play through. There are also 16 new levels in the regular campaign, 8 new characters, some new ways to customize your rabbit, and some new achievements and leaderboards. Of course, this update also seems to have switched the game to a free-to-play model. Existing customers won't be affected, but anyone downloading the base game now will have ads until they buy the new expansion. That seems fair enough.
Kritika: The White Knights, Free Here's another game that got two updates in the last week. The important bits of both include the new Hell difficulty stages, 11 new Elite stages, improvements to the Berserker job class, and a Season Class change. The developers have also made some technical improvements which likely include bug fixes and optimizations, so you can fill that spot on your Officially Authorized Update Mondays Bingo Card.
Subway Surfers, Free Two updates in the same week is one thing, but two updates in the same day? I don't even want to know what kind of magic Kiloo had to work to get approved so quickly, but everyone had best check on their first-borns just to make sure. Anyway, this month's World Tour stop is Peru, where the Subway Surfers will travel through street markets and zoom past a lot of llamas. The new character is Carlos The Climber, but I suspect he will not be doing much climbing in-game.
Looney Tunes Dash!, Free As hopes of a proper Space Jam 2 begin to fade, all we have to console ourselves with is the latest update to Looney Tunes Dash. It adds a new episode featuring Daffy, who is on the run from Yosemite Sam, of all people. That's a rare pairing in the old cartoons, if I remember right. There's also a new Daffy-themed card collection to seek out. I don't know, I guess I would be okay if they just added Michael Jordan as a character in this game. Make him look real, though. Like, maybe digitize him? I would be banging the drum every day for this game if they did that.
Family Guy The Quest for Stuff, Free Family Guy's latest update includes the O.G. of character cameos in stories: the King of the Greek Gods, Zeus. He's not the only figure of mythology visiting the town during the latest event, either. Aphrodite, Athena, Nepture, and even Hades are all in Quahog looking to teach Peter a lesson that he will, with dead certainty, not retain. But hey, that's mythology for you.
Alphabear: Word Puzzle Game, Free Spry Fox may have just released a new game, but they haven't forgotten about the awesome Alphabear. The newest version includes a new chapter to play through, and worry not: Papa's got some brand new bears. You can now wake some of your bears up by watching ads instead of waiting, and the bear photos have a new design to make them look a little better. Bear-y good! I immediately regret that pun.
Blood Bowl, $4.99 Carter Dotson's Game Of The Millennium has some new content to buy. Yes, friends, the Undead team is ready to take to the field, and you can make that happen for the low, low price of $2.99 via IAP. This is a hard-hitting team that has to use their offensive power to their advantage in order to compensate for some issues with defense. Hard-hitting, slow-moving mummies, speedy-yet-squishy ghouls, and the adorably expendable skeletons and zombies help fill out a team that is ideally built around the reliable wights. Unless things have changed dramatically from the last time I played, this is a fairly tough team to handle well, but if you've got a thing for the living dead, you can probably make it work.
Soda Dungeon, Free Hey, more stuff for Soda Dungeon! Awesome. This update adds four new classes to hire, including gladiators, wizards, the shopkeeper, and even the tavern owner himself! He's dapper and dungeon-appropriate thanks to the combination of his smart vest, bow-tie, and apron. New classes also mean new legendary weapons for each of them, and there are also some new relics to pick up with your Mystic Caps. Naturally, the developer has also taken this chance to do some bug fixes and UI improvements. A great update for a game I really enjoy means we've got our winner for this week's highly-coveted Update Mondays Most Spider-Mans Of The Week award. Superb!
Mortal Kombat, Free Are the bugs in this game fixed yet? Well, it's been a year since Mortal Kombat X launched on iOS, and it's still getting new content, so I guess it's been a decent success for Warner Bros. This update completely tears down and rebuilds the multiplayer Faction Wars component. There are now two seasons per week, a new Faction Wars-specific currency complete with its own shop and rewards, and some new characters and equipment to kick that whole thing off. New character challenges have been added, and a lot of balance tweaks and bug fixes have been implemented.
Crossy Road, Free It's a new Crossy Road update, so you know the story. There are some new characters to add to your collection, along with a few other little tweaks. If you don't want to know who they are, mosey along to the next game listing, friends. For the rest of you, the list of new characters include the Psy – Daddy character, based on the song from last year, a New Year's Doll, the Fire Monkey, the hidden Chinese Monster, and the Easter Bunny. Call this the "A Little Past Their Expiry Date" set of characters, I guess!
har•mo•ny 3, $2.99 Harmony 3 has a new path that offers up 30 levels of challenging puzzles. Accompanying those new levels is music from Hammock's latest album, Everything And Nothing. This update also adds iCloud sync support and some new IAP for those who want to jump ahead in the game instead of unlocking things normally. There are also some new packages of hints for those who want to buy a bunch at a time. Those kinds of IAPs aren't really my bag, but I know there are lots of people out there who might appreciate them, so party on, BorderLeap.
Heroes and Castles 2 Premium, $1.99 It's been a while since the last update to this game, but Foursaken Media sure didn't skimp on it. The big news here is the addition of a New Game+ mode that allows you to keep playing your powered-up army against even stronger leagues of the undead. There's a new tier of Godly gear, and you can now summon your other heroes to join you on the field of battle. The app's memory size has been seriously reduced, and a bunch of other bug fixes and balance tweaks have been done. Long-time players should have a field day with all of this.
Minion Rush: Running game, Free The Minions are playing football in the latest update to Minion Rush. Which football, you ask? Why, both! Collect sports equipment to unlock an American football costume, and gobble up blueprints to get a soccer costume. Once you're attired appropriately or inappropriately, you can head to the new soccer mini-game and see how you fare. Remember, friends, that with a little editing, screenshots from this game can make dandy political image macros for your Facebook.
Trials Frontier, Free Trials Frontier has been around for a couple of years now, and apparently to celebrate that fact, there are new daily missions being issued by a puppy, or something. Sure, that seems fine. There's a new bike to buy, the KTM 500 EXC, and to go with that, the KTM track and outfit are both available to purchase now on a regular basis.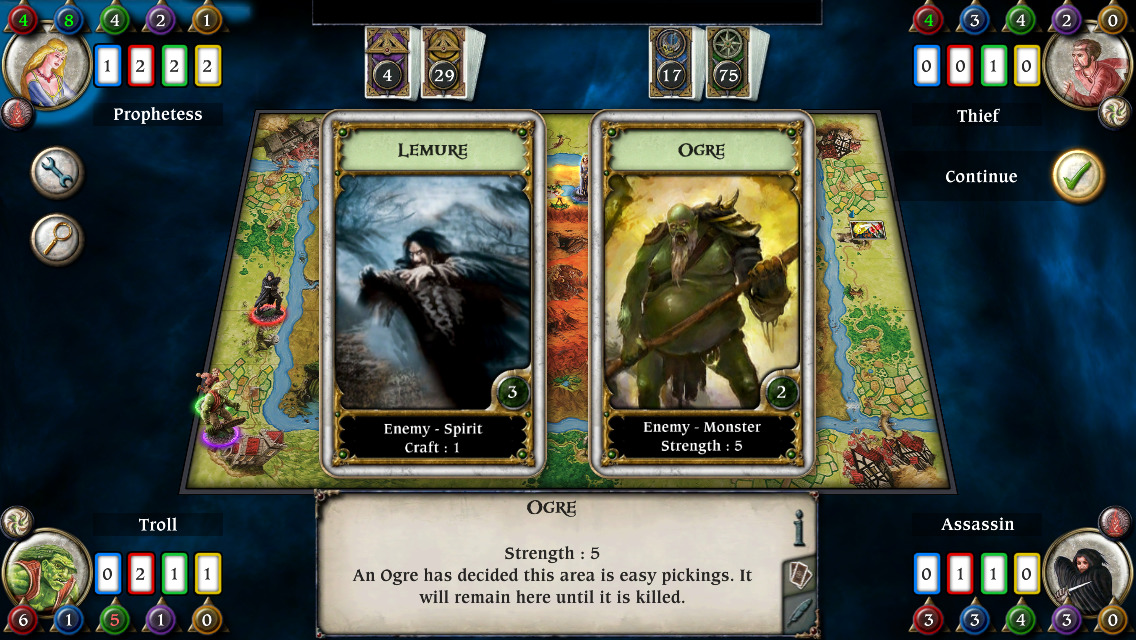 Talisman, $3.99 Another expansion pack is now available in Talisman. The Nether Realm costs a mere $0.99 and adds a new deck of tough Nether cards to the game. It also adds three new alternative endings. To go with that, the developers have added a new feature that allows you to select which ending you'd like to use for a game. This update also makes some bug fixes and other improvements.
Disney Frozen Free Fall Game, Free Well, since I don't feel like writing a comedy bit about King this week, I suppose we'll look in on another free-to-play puzzle game. Frozen Free Fall has a new episode with 30 new levels to play. The main gameplay mechanic on these levels are sunflowers that you need to grow by making matches adjacent to them. The developers have also added a consecutive daily login reward, so be sure to fire up the game every day until you realize the only reason you're firing it up at all anymore is to collect rewards you'll probably never use. And on that real note, let's bring things to a close.
That about wraps it up for last week's significant updates. I'm sure I've missed some, though, so please feel free to comment below and let everyone know if you think something should be mentioned. As usual, major updates will likely get their own news stories throughout this week, and I'll be back next Monday to summarize and fill in the blanks. Have a great week!