Welcome to another weekly roundup of anything and everything Hearthstone (Free). This week we have plenty of great decks – especially Reno ones – guides on what to craft now that Whispers of the Old Gods is a few weeks old, a very detailed breakdown of all the decks and classes from Europe Spring Preliminaries and what they mean for the current meta, and much more. This is a good time to be playing the game if you enjoy seeing a lot of experimentation or experimenting yourself since the meta is very fluid. At the same time, the meta has slowed very noticeably, and not everyone is happy about that. We'll see whether Aggro decks will come to the rescue. For now, enjoy everything Hearthstone and may the gods of RNG be with you.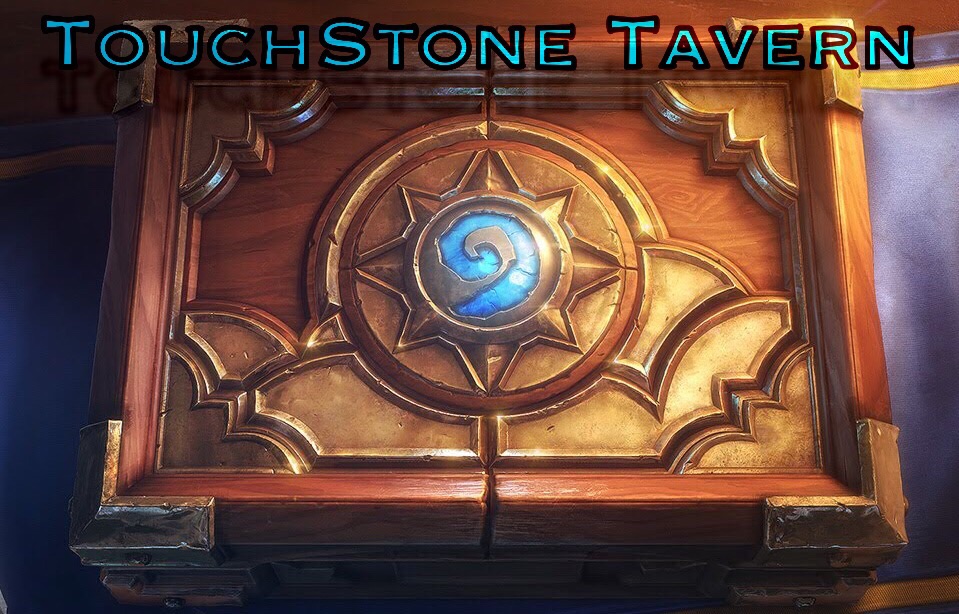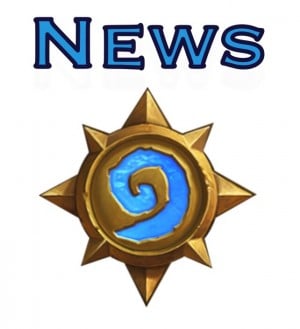 Five Fun Whispers Decks for Fun and Destruction
If you're looking to wreak havoc and all the while have fun doing it, check these 5 decks in this story. Ranging from Yogg and Load Hunter to Kolento's Deathrattle Priest, these decks offer plenty of entertaining moments (for you, not your opponent). Check out the decklists here.
This Month's Card Back is Shadowmoon Valley
If you've decided to switch those cool Old Gods card backs from your collection, Blizzard will offer you another good looking one if you manage to hit Rank 20 this month. Shadowmoon Valley doesn't seem to be the most visually impressive Blizzard has given us, but it's definitely not on the bad side. Personally, I like my Old Gods ones currently; they're appropriately unsettling.

What Card Might Forbidden Shaping Summon?
If you like to play around with math (I don't), you'll enjoy this story by HearthHead that tells you what card you might get if you play Forbidden Shaping. This is a very detailed story with percentages about how good a minion you might summon depending on how much mana you have. Although for most players this is just too much info, for competitive players this kind of info is invaluable since it lets them make the best decision and control the RNG as much as possible. Check the guide here.
Guide to Zoo Post WoG
If you've been meaning to check out how Zoo plays after the new expansion and the arrival of Standard, this guide should help you build and pilot the deck to success. The guide tells you what to do during the Mulligan phase depending on the deck you're facing, and what kinds of strategies you need to keep in mind when playing with this deck – how to trade, how to position minions, and so on. Overall, this is a very solid and detailed guide that should help you up your Zoo game. It even gives you various card substitutions in case you don't own some of the necessary cards. Check out the guide here.
Here's a Great Reno Mage Guide
If you like to splash your Reno everywhere you can, check out this guide here by #1 Legend player, Abar. The guide goes in-depth regarding card choices, matchups and mulligans, and so on, so if you've been thinking about going the Reno Mage path, check out the guide here.
StanCifka's RenoHunter
Here's more Reno for you (he seems to be everywhere), unless Hunter isn't your thing. This GosuGamers story focuses on StanCifka's RenoHunter, an interesting deck that puts Yogg-Saron and Reno Jackson in the same deck. It runs an Emperor Thaurissan to help with late game combos, throws plenty of spells in to control the board and load up Yogg-Saron, but lacks a reliable win condition because Yogg-Saron is anything but reliable. However, this is definitely a fun deck to try out and a strong one if piloted correctly. Check the decklist here.

Yogg-Saron Druid is Hilariously Good
This story highlights once more how crazy Yogg-Saron can be. Those who said the card would never be seen in a tournament were wrong since the card is increasingly becoming an important part of a specific kind of deck. For instance, Tar's Yogg-Stone Druid, as seen during Dreamhack Grand Prix Circuit, was one of those decks that surprised everyone. The deck uses Druid spells to keep the board clear and to load up Yogg-Saron. Tar used the Summoning Stone to take advantage of all those spells and get free minions on the board. This was a very interesting deck and it shows once more that Blizzard was right to split the game into Standard and Wild because that way cards like Summoning Stone have a chance to shine now. Check the decklist here.
Top 5 Best 10-Mana Cards
With the meta slowing down significantly, players now have a chance to play 10-mana cards more consistently, and this story attempts to pick the 5 best 10-mana cards currently in the game. The cards – in reverse order of strength – are Pyroblast, Anyfin Can Happen, Varian Wrynn, Mind Control, and Deathwing. Check the reasoning behind these choices here.
Great Post-WoG Crafting Guide
If you've been wondering what to craft now that the new expansion is the law of the land, follow this great guide that we talked about in an earlier story this week. The guide goes into detail about deciding what to craft and then describes the most popular decks at the moment and what cards you'll need to craft to get them. Really good guide.
Top 2 Tavern Brawl was Probably the Best One Yet
Many often complain that Tavern Brawls aren't fun or are too luck-based. This week was a very rare exception in that almost everyone – if not actually everyone – loved Top 2, the Brawl that let you build a deck consisting of multiple copies of only two cards. While everyone thought we were going to get a couple of dominant combos dominating, the community went crazy with creativity and we got some amazing combos that kept surprising me. It was a very interesting way of seeing a meta develop as players kept reacting to dominant combos non-stop. I honestly wouldn't mind seeing this Brawl very often. Check out the story here.
Notable Decks from Europe Spring Preliminaries
If you're curious to see how the pro meta is starting to shape up, look no further than these decks from Europe Spring Preliminary. HearthPwn pulled many of the notable ones together for your perusal. You can find a huge number of great decks from all classes and from some of the game's best players (Rdu, Powder, Hoej, Ostaka, ThijsNL, and more) that should help you either netdeck efficiently or find some inspiration for your own builds. Check the list here.
Graphical Analysis of Europe Spring Preliminaries Meta
Nydra put a lot of time and effort into these graphs for this GosuGamers story, and by studying them, you can get a very good idea of the state of the Standard meta as it stands at the moment. He analyzed almost 900 decks from HCT Spring Preliminaries and gave an overview of every possible information of interest like class distribution, archetypes, popular decks, and so on. When it comes to Class distribution, Warrior and Shaman lead the way (as was expected), but there's plenty of versatility.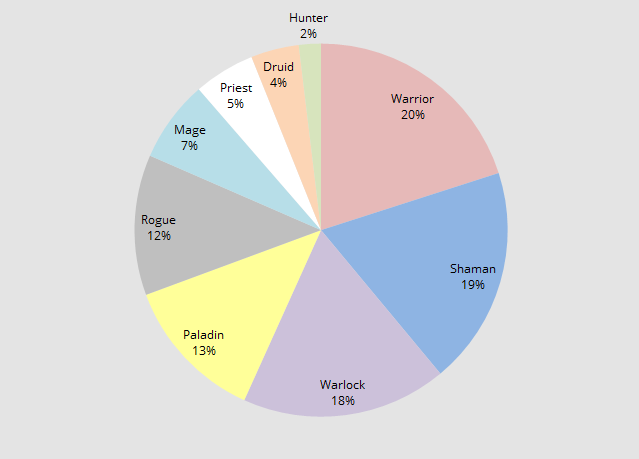 Most classes have one or two strong archetypes, with Paladin and Rogue having one very strong archetype and other much weaker ones. Warlock is all about Zoo at the moment and Warrior is split between Tempo and Control while Shaman is more Aggro and less Midrange but not by much. The 5 most popular decks according to the story are N'Zoth Paladin, Zoo Lock, Aggro Shaman, Miracle Rogue, and Midrange Shaman. Check out the full story here, it's definitely a great read.
Chakki Wins Dreamhack Austin Grand Prix
It finally happened. After coming close a few times, Chakki finally won a major tournament. Chakki went undefeated through quarterfinals and semifinals – beating Ostkaka and others – and then met TerrenceM in the finals. Although the series was close, Chakki ended up winning it 3-2. Chakki won $8000 and 15 HCT, so not bad at all. His 15 HCT should put it very close to the Spring Preliminaries. You can check out Chakki's Warlock, Paladin, Priest, and Warlock decks here.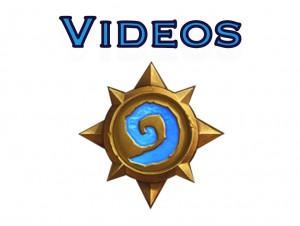 Amaz's Yogg Games
Trump Battling Top 2 Brawl
Best Moments #50
Master of Evolution Best Moments
Amaz Tavern Brawls
Funny and Lucky Moments #303
Disguised Toast's Crazy Experiments
The Ancient One
Trolden Funny and Lucky Moments #166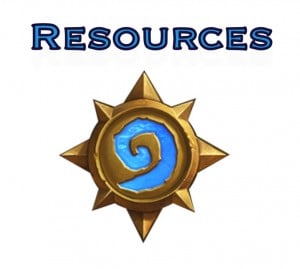 As always, we have some good resources on the site for you in case you are new to the game or simply want to sharpen up your game. There's never such a thing as too much help in Hearthstone, although with all the recent changes to the game, we'll probably be updating our guides.
Hearthstone Deck-building Guide