If VR is your thing and you enjoy Minecraft too, then I've got good news for you; according to Oculus Rift CEO, John Carmack, Minecraft Gear VR just went live. If you haven't been following that side of the industry, Microsoft/Mojang and the Oculus developers decided to work together to bring the spectacularly-popular Minecraft to the VR-wearing masses. Specifically, as of today if you have a Gear VR-compatible Samsung phone (Galaxy S7 or S7 Edge, Note5, S6, and S6 Edge), you can slot your phone into a Gear VR headset and play Minecraft as never before. The most fascinating part of all this is that the Gear VR version of the game has the same features as Minecraft: Pocket Edition and has cross-platform play with both Pocket and Windows 10 editions.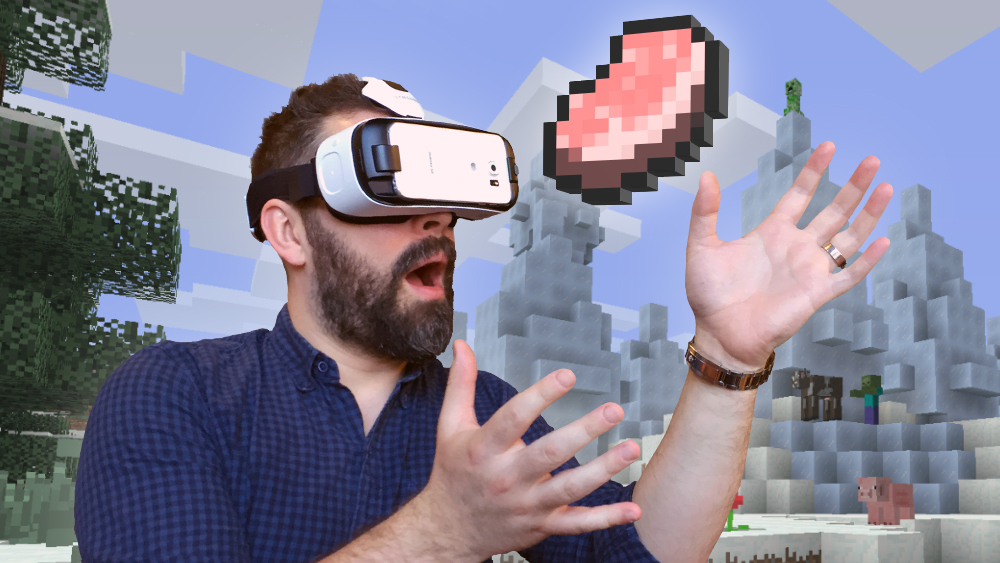 According to Mojang, the newer Samsungs let you play the game in a pretty good resolution while older phones might not run the game quite well and will have a lower draw distance. The developers have tinkered with Minecraft in subtle ways to help you enjoy the game in VR. For instance, there's VR Turning, which lets you turn around in snappy increments rather than a single arc. The developers say VR Turning feels quite normal quite quickly and is easier on the brain. There are also some other tweaks that you can read about here.
I think it's going to be an amazing experience playing in your Minecraft world in VR; the game is engrossing as is, so imagine when you take away everything else around you and focus only on that wilderness surrounding you. Wish I had a Gear VR for Minecraft if nothing else, but unfortunately I have to continue playing the game on a 2D surface. Imagine turning to your side and seeing a Creeper next to you in VR; fun times, I'm sure.
Minecraft Gear VR is live! pic.twitter.com/ixJIiIfbo6

— John Carmack (@ID_AA_Carmack) April 27, 2016