The idea behind the TouchArcade Game of the Week is that every Friday afternoon we post the one game that came out this week that we think is worth giving a special nod to. Now, before anyone goes over-thinking this, it doesn't necessarily mean our Game of the Week pick is the highest scoring game in a review, the game with the best graphics, or really any other quantifiable "best" thing. Instead, it's more just us picking out the single game out of the week's releases that we think is the most noteworthy, surprising, interesting, or really any other hard to describe quality that makes it worth having if you were just going to pick up one.
These picks might be controversial, and that's OK. If you disagree with what we've chosen, let's try to use the comments of these articles to have conversations about what game is your game of the week and why.
Without further ado…
Warbits
It's hard to believe that it's been two whole years since we first learned about Warbits ($4.99), a turn-based strategy game from Risky Lab that looked to capture the essence of the classic Advance Wars series and bring it to iOS. It's one of those ambitious projects from a tiny team that you start to doubt when development lingers as long as this game's had, but those of little faith were proven wrong this week as Warbits didn't disappear into obscurity like so many projects before it but instead launched onto the App Store like a boss.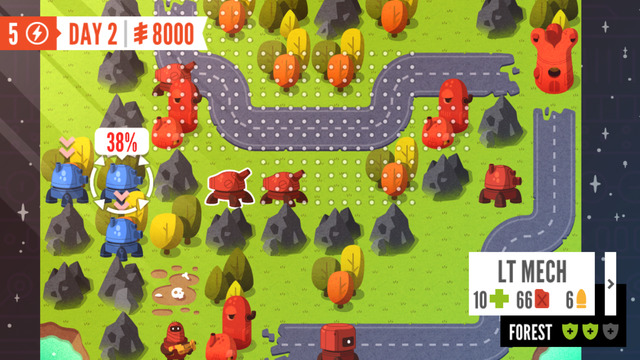 Hitching your wagon to a beloved series like Advance Wars can be suicide as you instantly set up certain expectations of which you almost certainly can never achieve. In the case of Warbits though it actually works, as the influence is definitely there but this game absolutely has its own identity. From its quirky "war simulator" theme and clean art style to its hilarious dialogue between characters, this game is a real charmer. Even the menus and UI are so incredibly polished that it's hard not to admire the work that's gone into making Warbits such a pleasing experience.
All that aside, gameplay is king and Warbits delivers here in spades. It uses the rock-paper-scissors-esque combat from Advance Wars that's easy enough for anyone to grasp but is far from dumbed down. It's an approachable strategy game, but not a pushover. It has a decent-sized single-player campaign that'll get you familiarized with all the mechanics and make sure you're good and ready for the meat and potatoes of the experience: Multiplayer.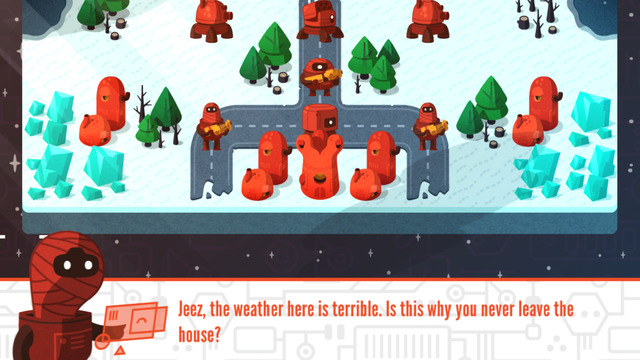 The multiplayer in Warbits can be from 2-4 players and plays out asynchronously over Game Center. There's also a brilliant hashtagging system that allows you to create a lobby based around any hashtag. This enables you to create specific tags that you can share with just your friends for more private matches, or to create easily identifiable game types like #2v2 or #FreeForAll that will constantly have new people joining and getting matched up together. I'm really hoping Warbits sees a lot of success as I think there's tremendous potential here for a devoted community and long-term multiplayer fun.
If you're anti-social or your Game Center is currently broken (or both, like me) then Warbits still has you covered. You can create custom matches against AI opponents in what is essentially a skirmish mode. There are 40 different skirmish maps, and you can even mix and match local human opponents with AI opponents so you can get down and dirty without ever having to get on the internet. Hopefully that forthcoming iOS update will truly fix Game Center as promised, as I'm dying to get online with this game, but I love that there's other options for people to keep things offline too.
It's kind of a shame that Apple's massive Earth Day promotion essentially cheated Warbits out of a big Editor's Choice banner this week, as this game absolutely deserves it. It still got some prime featuring spots though, and technically still IS an Apple Editor's Choice, so hopefully it can still capture enough eyeballs. If you were an Advance Wars fan or are even just familiar with the series and always wondered what all the fuss was about, Warbits should most definitely scratch that itch for you, and does enough wonderful things to stand out on its own too.