Hello everyone, and welcome to the week! It's time once again for our look back at the noteworthy updates of the last seven days. Regrettably, I've been wrestling with a humdinger of a cold for the last few days, so this week's article is going to be slightly less thorough than usual. My apologies. Still, I think we've got a good little grab bag for you to peruse while you drink your morning beverage of choice. Of course, you can keep an eye out for updates yourself using AppShopper Social (Free), the watchlist in the TouchArcade App (Free), or by participating in the TouchArcade forums, but this weekly summary is here to fill in the things you might have missed. Let's dig in!
The East New World, Free This enjoyable, if somewhat derivative, action game either suffered from or was enhanced by a pretty wacky English translation at launch. This update brings a new English script to the game, reducing unintentional hilarity by at least 17%. It also adds two new bosses and opens up all of the chapters. The new bosses have been added to the Boss Rush mode, of course. The usual bug fixes and optimizations apply, too.
Neko Atsume: Kitty Collector, Free Neko Atsume is a cute toy, but it's not much fun once you've photographed every cat and collected all of the goodies and mementos. This update should see a lot of people firing up their kitty collector apps once again, however, as it adds a number of new goodies, a few new cats, and some collectable wallpapers to the game.
Out There: Ω Edition, $4.99 Oh, more free stuff for Out There? Yes, I like that. The Multiverse 2 update includes a new Galactic Dusk game mode that should offer more challenge for veteran players, along with a couple of new technologies to play around with. Time to head out to the lonely stars again, I think.
Partia 2, $5.99 The update that surprised me most this week was this one. Partia 2 seemed like it was just going to stay as-is until at least the release of Partia 3. But here's a new version, and it adds a number of useful things to the game. First up, the game finally supports wide-screens, which was something a lot of players mentioned when the game launched. There's a new "Dark" UI theme for those who prefer that style, and a new button to help you cycle through your units more quickly. Oh, and in case the game wasn't hard enough for you, the developer has also increased the difficulty across the board. Partia on, Wayne.
Heroes of Steel RPG Elite, $0.99 What time is it in the world of Heroes Of Steel? Vraes time! Vraes o'clock. HALF PAST VRAES. In this update, the bearded heavy-hitter with a complicated past gets his due, with brand new art that makes him look super-spiffy. Aside from that, this is a usual Trese Brothers update packed full of tweaks, fixes, and balance adjustments. Is that enough for a coveted Update Mondays Most Spider-Mans Of The Week award? Yes, I think so. Enjoy!
Terraria, $4.99 It's a good news/bad news update for Terraria this time around. Bad news first: if you're playing this game on iOS 7, this is where the road ends for you. It seems like the developers want to push the game engine a bit further and the only way to cut off really old devices is to set the floor at iOS 8. If you are using iOS 8 and beyond, you'll find that the maximum size of the worlds in the game has been greatly increased, allowing you to play on maps that are effectively equal to the Small maps in the PC version. It's something people have been asking about for a very long time, so it's good to see it finally happen.
Pinball Arcade Plus, $0.99 Off the top of my head, it feels like it's been a while since we've seen a Gottlieb table added to Pinball Arcade. Whether that's correct or not, there's a new one you can pick up via IAP in this update. It's Rescue 911, a 1994 table designed by Bill Parker that is more or less themed around emergency services. While it's not the most popular of tables, there is a pretty neat helicopter toy on the board that picks your ball up and drops it off. Is it worth buying? Well, if you're looking for a new table to play, it'll tide you over, I suppose. Parker's other tables are based on some pretty tricky licenses, which is unfortunate since he did better work as he went along.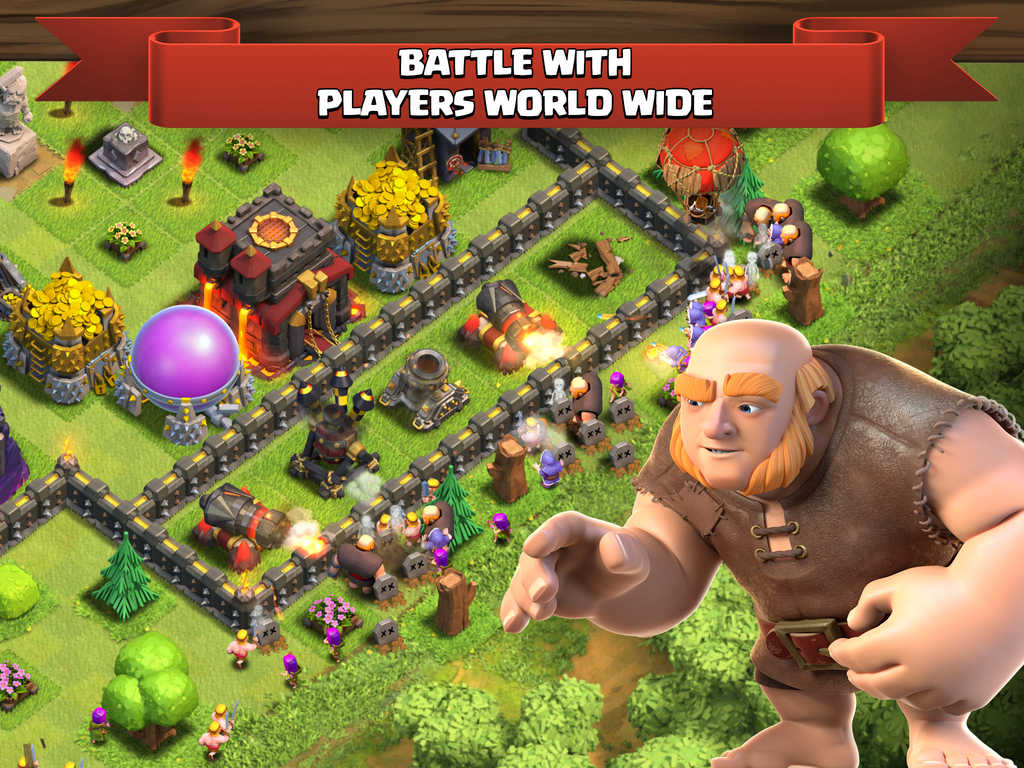 Clash of Clans, Free Clash Of Clans has a new troop type, the Bowler, who chucks bouncing rocks into enemy bases. He clearly has no conception of how bowling is meant to be played, so I'm guessing his name is ironic, like when there's a really big guy but you call him Tiny. This update also includes new levels for the Hog Rider, Valkyrie, Goblin, Inferno Tower, and Mortar, along with a few other tweaks and improvements.
Survivalcraft, $3.99 As Minecraft PE gets closer and closer to finally addressing most of its issues, things are likely getting tougher for games like Survivalcraft that used to handily out-Minecraft that official version. But the game keeps on swinging, at least, and this update has a bunch of new things. There are new copper items, stair corners, LEDs in a variety of colors, and more. The forests are now denser, and the caves are even bigger. Surely worth another go just to check it out, I think.
Family Guy The Quest for Stuff, Free The weird Family Guy crossovers continue as the WWE Superstars come to Quahog. John Cena, Triple H, Stone Cold, Taker, and Roman Reigns have arrived to prepare the town for WrestleMania. If only Peter could join the Natural Disasters, I'd be downloading the game in a heartbeat.
Real Boxing 2, Free Attention everyone, this is now a Rocky game. You now play as the Italian Stallion as he rises up, straight to the top against famous rivals like Apollo Creed, Ivan Drago, and Clubber Lang, among others. No word on whether or not Tommy Gunn is in the mix. There are 7 new character skins to unlock, along with 40 Rocky-themed items. And the last known survivor stalks his prey in the night, and he's watching us all with the eye….ay-pee, dun dun dun!
Rayman Adventures, Free Okay, now that everyone has Eye Of The Tiger stuck their head, let's move on. Rayman's update adds some Easter accoutrements, but it also brings something more sinister: the Rabbids. You can now find the little BWAHHdiots in every stage, and they're naturally holding onto the Easter Eggs you'll be wanting to collect. This update also adds MFi support, Everyplay replays, and some new event items.
Mimpi, Free With Mimpi's sequel just released, you'd think the original game would be a closed book. Not so, as Mimpi just got a new level added. It's also temporarily free, so if you've ever been curious, this is a good time to bite.
Cards and Castles, Free There are a few new things in this update to Cards And Castles. Not that it's much help to anyone already playing, but the initial tutorial has been improved. The new Badge Level system replaces the outgoing rank system, and there are now some weekly tournament events with random prizes. The other new feature of this update is the addition of some new small card packs that you can collect every eight hours. Finally, some bug fixes and improvements, the spaghetti and meatballs of Update Mondays.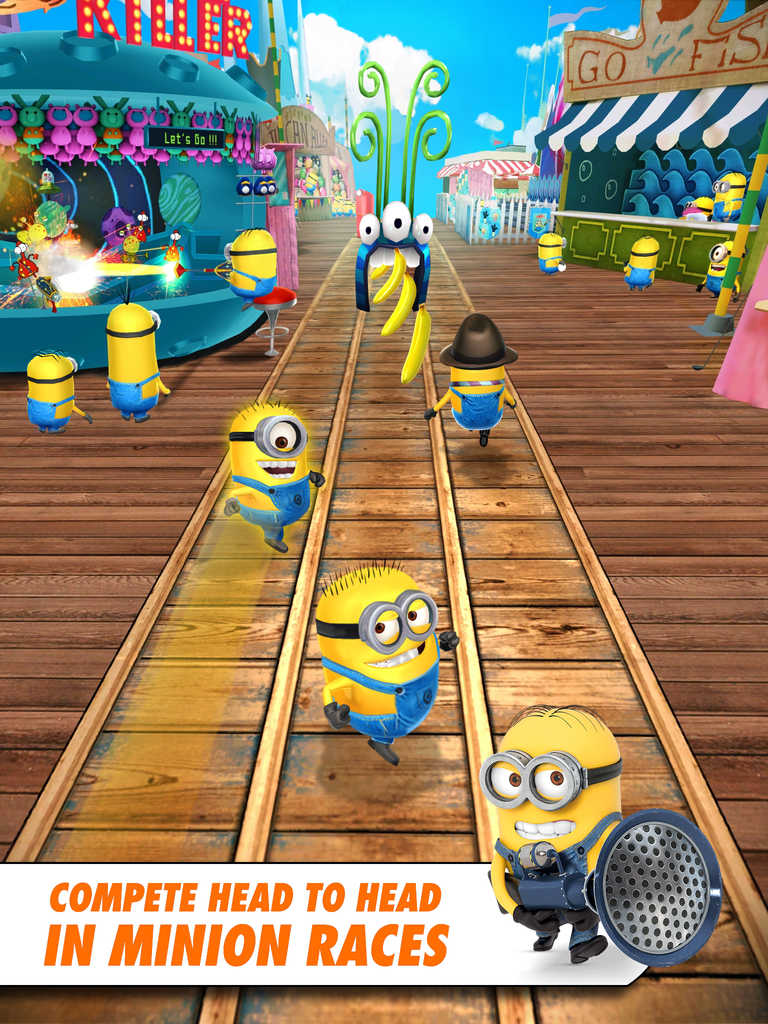 Minion Rush: Running game, Free Minion Rush has lived long enough to see its characters become the villains, but hey, the game is still pretty fun. This update adds a new location called Pier 12, a new special mission with a Surfer Minion costume as a reward, and a new mini-game called Rocket Ski. I'm sure you can figure out what that one entails.
PAC-MAN 256 - Endless Arcade Maze, Free This new version of Hipster Whale's take on Pac-Man adds a few new themes you can unlock, with the highlight being a Pac-Man Championship Edition theme. You can buy these themes using the coins you earn in game. The developers have also improved the game's iCloud support and done a bunch of bug fixes.
Shoot The Moon, Free The Moon is still singing, friends. In spite of all of our efforts. It sings without ribbons. It sings without tags. It sings without packages, boxes, or bags! Anyway, you can access six new costumes for that pesky Moon as of this update, and if you've already purchased the IAP to unlock them all, you'll have them for free. Otherwise, you'll have to save up your coins to buy them.
Stellar Wanderer, $4.99 I enjoyed Stellar Wanderer quite a bit, as many others did in the TouchArcade forums. The developer has already implemented a number of changes based on player feedback, and many of them are included in this update. You can now easily track high and low prices for items, making for easier trading. As far as controls go, double-tapping the brake will now make you full stop, and you can tap your speed indicator to match speed with whatever you're targeting. There are a few other tweaks, too, so be sure to have a look over the patch notes to see if any issues you've had were addressed.
Aralon: Forge and Flame, $4.99 Aralon: Forge And Flame got a big content update, adding in the hotly-requested Paladin job class along with a whole new dungeon to explore. This version also adds some IAPs for people who want to partake of such goods, but no balance changes were made to account for them, so you don't have to worry if you want to continue to enjoy an IAP-free experience.
Given my condition this week, I can almost guarantee I've missed some significant updates from the last week, so please feel free to comment below and let everyone know if you think something should be mentioned. Your help is even more welcome than usual this time around. As usual, major updates will likely get their own news stories throughout this week, and I'll be back next Monday to summarize and fill in the blanks. Have a great week!