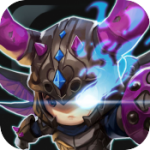 We kick off this week's podcast with a quick health check, and it'd appear that miraculously no one got sick at GDC. Mike regales us with a tale of meeting "young people," and then we dive deep into talking about games. Those discussed include Thomas Was Alone ($4.99), Basketball Stars (Free), Dashy Crashy (Free), Monkey Swingers (Free), Mimpi Dreams ($0.99), Chrome Death (Free), Slingshot Rush (Free), and finally, King Rabbit (Free). I told you guys last week we weren't going to screw around when it comes to game chat this week. From there, we hit a few quick news story, then drive it home until next week!
Don't forget to shoot us emails with any questions, feedback, or anything else relevant or irrelevant to [email protected]. We read 'em all, and love decoding messages written entirely in emoji. As always, you can listen to us with the links below… And if you like what you hear, please subscribe and/or drop us a review in iTunes. Much appreciated!
iTunes Link: The TouchArcade Show
Stitcher: The TouchArcade Show via Stitcher Radio for Podcasts
RSS Feed: The TouchArcade Show
Direct Link: TouchArcadeShow-250.mp3, 68MB
---
This week's episode of The TouchArcade Show is sponsored by…

Buddy Rush: The Legends, Free - The sequel to the CUTEST RPG is here – Buddy Rush: The Legends! Collect and level up your buddies, fight against "Bad Buddies", PVP with Buddies — there's no end to the Buddies!
Featuring an adorable cast of characters, including:
ARPU the Bear
AIKIRU, aka I-Kill-You
Botherella
Healury
and Betty the Dragon!
The first Buddy Rush received the "Best Cross-Platform Game Unity Award" in 2011 and the Top 10 Mobile Social Games 2011 award from Games.com. Go to BuddyRush2.com to find out more about the sequel!