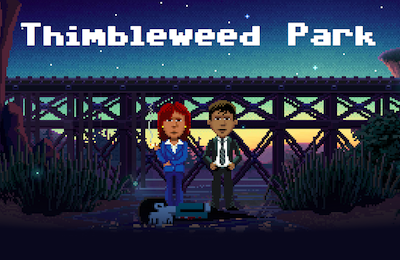 One of my all-time favorite gaming experiences was playing through Maniac Mansion back in the day, and I know I'm not alone. That game is considered a stone cold classic in the adventure game genre. Well, the original creators of Maniac Mansion Ron Gilbert and Gary Winnick set out on a new adventure of their own when they crowdfunded a new point-and-click game called Thimbleweed Park back in November of 2014. The crowdfunding campaign was overwhelmingly successful, and even hit the stretch goal promising an iOS and Android version in addition to its target platforms of Mac, PC, Linux, and Xbox One.
The game has been in production since then and today a brand new trailer was released focusing on one of the 5 playable characters in Thimbleweed Park, Special Agent Ray. From the game's official website:
"Thimbleweed Park is the curious story of two washed up federal agents called in to investigate a dead body found in the river just outside of town, bloated and pixelated from a death some too soon.
Lost along a dusty stretch of highway, the town of Thimbleweed Park once boasted an opulent hotel, a vibrant business district and the state's largest pillow factory, but now stinks of a desperate longing to be what it once was."
The back-of-the-box feature list for Thimbleweed Park includes the aforementioned 5 playable characters, a large game world to explore at your own pace, a large cast of characters, and "A joke every 2 minutes…guaranteed!" The developers also promise that Thimbleweed Park won't contain dead ends or "stupid puzzles" which are hallmarks of classic point-and-click games but aren't typically loved by fans. Thimbleweed Park is shooting for release on console and PC in late 2016, with iOS and Android following at some point afterwards. I love the look of everything I've seen so far, like X-Files meets Maniac Mansion, so I can't wait to get a hold of Thimbleweed Park when the mobile version arrives.