I'm simultaneously surprised and not really that surprised that the various monthly swag boxes have been exploding in popularity. If you haven't done one yet, the way they work is you pay a monthly fee and you get sent a box of random stuff, usually with guaranteed items like some kind of t-shirt, a code for some kind of digital goods, and other tchotchkes. Well, now there's an exclusive Minecraft swag box service that Mojang just revealed called Mine Chest.
In the box you're guaranteed a t-shirt, along with some other random Minecraft toys. What makes this slightly more interesting than your average swag pack is that it'll include "exclusive Minecraft items." Who knows just how cool those "exclusive" items will be, but with how huge Minecraft has grown, surely they'll be a hit with kids, (Wow, I sound so old.) particularly when it comes to the inevitable avalanche of unboxing videos this is going to spawn.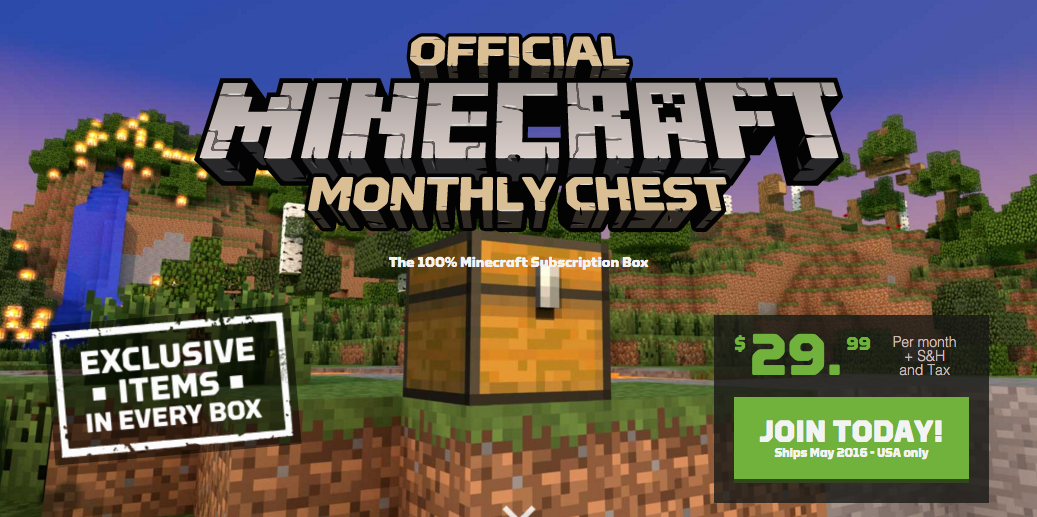 The Mine Chest service starts at $29.99 a month and scales up to $27.99 a month if you're willing to sign up for a year of swag packs. Also, like most of these services, the longer you commit when you sign up, the better your "bonus gift" is. $29.99 puts it at the top end of what I've seen these swag boxes cost, but, I suppose you can charge a premium when you've got an insane brand like Mincraft on the box.
Anyway, if you've got kids who love Minecraft, signing up for Mine Chest would make a pretty great gift for them to look forward to. As of this writing, you've got 12 days left to sign up for their "beta" crate, so if you want to get in on the ground floor, well, think about doing it before then. Hell, I'll sign up for one just for fun and will report back with whatever swag I get.