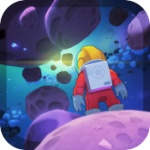 We kick off this week's episode by wishing we could spend another week just talking about Crashlands ($6.99), but we chat a bit about this editorial on Wired before Mike butts in to talk about the chart-topping Flappy-like Trump Dump (Free) which is a real thing that exists. From there we discuss Super Phantom Cat ($1.99), Infinite Skater (Free) and Circa Infinity (Free) before taking a quick break to get a word in from this week's podcast sponsor, Captain Cowboy (Free). Coming back on the other side we get into a long discussion about Twofold, Inc ($3.99), then shift gears to TV Sports Soccer (Free) (with a brief mention of Touchdown Hero (Free)) before moving on to Blocky Football (Free) and a brief rundown of some of this week's bigger news stories.
Don't forget to shoot us emails with any questions, feedback, or anything else relevant or irrelevant to [email protected]. We read 'em all, and love decoding messages written entirely in emoji. As always, you can listen to us with the links below… And if you like what you hear, please subscribe and/or drop us a review in iTunes. Much appreciated!
iTunes Link: The TouchArcade Show
Stitcher: The TouchArcade Show via Stitcher Radio for Podcasts
RSS Feed: The TouchArcade Show
Direct Link: TouchArcadeShow-242.mp3, 77MB
---
This week's episode of The TouchArcade Show is sponsored by…

Captain Cowboy, Free - Captain Cowboy is a puzzle adventure set in a giant asteroid space maze.
– Explore a huge handcrafted world
– Get lost in your quests for diamonds
– Get back on track with the handy automap
– Find the mysterious exit warp room
– Cross paths with friendly Snorkhogs and dangerous Gnurfs!
– Create avalanches of falling rocks in front of motion sensitive laser turrets
– Explore the underwater caverns with quite impressive water physics
– Visit the secret space station Discotek
– Simulated 8 bit char based videochip using 1008 volumetric parallaxed tiles on screen and a quirky CRT-shader
All in this little one handed portrait puzzle adventure featuring no in-app purchases, no advertising and extra continues are included in the price. And no tutorial! It's just you and the game. Go for it!