Angry Birds (Free). There are cartoons, toys, T-shirts, stuffed animals, and even a movie coming soon starring Bill Hader and Peter Dinklage. And you know what? That's great! Good for Rovio. They made a fun game that connected with lots of people and licenced the crap out of it. For my money, though, I always thought Cut the Rope ($1.99) was a better fit for all that. Om Nom is just a better character, in my opinion. I mean, just look at the way his face drops when that giant round candy misses his mouth! Angry Birds, on the other hand, are… well, they're angry. Cool. Of course, there is tons of Cut the Rope merch already out there (and apparently a somewhat smaller movie in the works), but it's nowhere near as much as those darn Birds. It's a shame, too, because I've always thought Cut the Rope was a slightly better game. And in my opinion, Cut the Rope: Magic ($0.99) is the best one yet.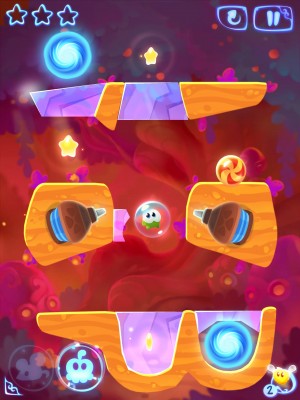 If you've never played a Cut the Rope game before, first let me say "Hi, Patrick!" (Because you live under a rock. That was the joke there.) Essentially, there is a delicious round candy hanging from a rope (or a series of ropes) and you must cut that rope so the candy can find its way to a weird green creature that's basically a mouth with legs. There are also bubbles, bellows, and other tricks and traps to help or hinder your progress through the games. It's a simple formula that translates extremely well to touch screens, and swiping to cut ropes just feels great.
While I've always been a big fan of the concept, the games usually don't hold my interest for more than an hour or so, unfortunately. That's not a knock against the series, though; rather, it's because I'm an idiot. Despite how brilliantly each game is designed, there just comes a point where I give up in frustration and move on to something else. Part of the reason is because there's often a time pressure to solving the levels (like spiders crawling down the ropes to steal the candy), and I tend to have trouble coming up with a solution and executing it perfectly within the time limit required in later levels.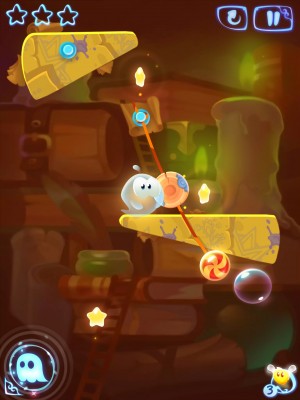 And that's partly why I'm so in love with Magic: It does away with all that. You're allowed to just sit there and take as much time as you want to solve each puzzle, stress-free. And when you finally do finish a level (and grab all the stars), it feels like no less of an accomplishment. The game might be a tad easier than the older ones, actually, but there are definitely some pretty deviously designed levels, particularly during the boss battles. (Yes, there are boss battles.)
Aside from being a slightly more relaxed affair this time around, there are also quite a few clever new mechanics. The main one being the ability to transform Om Nom into different forms with new abilities that are required to solve most levels. There's a mouse that thinks the candy is cheese and follows it around, a bird that floats above the ground, a fish that swims down, a tiny Om Nom that can fit into tight spaces, and a ghost that lets objects pass through its body. (Of course, this raises the old question about why ghosts can pass through walls and not fall through the floor, but that's a discussion for another day. And website.) There's also a super cool tunneling mechanic where you can use your finger to draw a path through some weird purple material for candies and characters to fit through.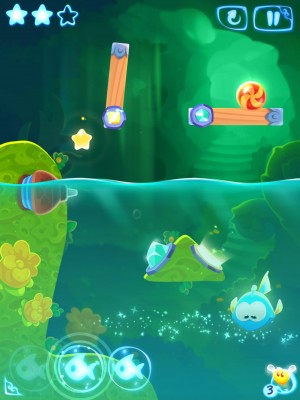 On top of all that, there's also a (slightly) new art style. The game looks a bit less flat now, and the characters and environments almost look 3D without actually being 3D. The colors are vivid and there's a great sense of lighting throughout each level. In short, it looks better than ever, and it makes each puzzle even more inviting to interact with.
The game is paid ("Yay!") but does contain IAP ("Boo!"). It's basically only used for unlocking levels quicker and buying hints, but neither of those things is even remotely required to finish or enjoy the game. Plus, you get some of that for free every four hours. I ignored most of that junk and managed to finish each level with a grin on my face and a candy in my Om Nom, so there's no need for alarm.
I've long been a huge fan of the Cut the Rope series for its character, art, and fun swiping mechanics, but I've never been super in love with the actual games. Not until Cut the Rope: Magic, anyway. The game is an absolute joy to play, with even better visuals and more of the incredibly smooth gameplay fans of the series have come to expect from Zepto Lab. Plus, there's a bunch of great new mechanics in the form of new creature abilities that make for some pretty creative puzzles. Best of all, the whole thing feels slightly more relaxed overall, which is great for someone like me who is prone to anxiety and bad at puzzle games. Plus, it's a mere dollar. Pretty magical, right?