When I heard a few years ago that Sports Interactive was planning on bringing Football Manager over on iOS, I was filled with reserved anticipation. Anticipation because the thought of a portable Football Manager was the white whale of many gamers (including me) who had spent hours upon hours on the many PC versions of the game, and reservations because I knew they couldn't really port the whole game on mobile unless the developers seriously pared down the experience. The major issue was the PC game's huge database, which would barely fit on the then top-end devices, and the memory requirements. When the first Football Manager Handheld was released, it was met with the expected response: most players were happy the game was on iOS but were disappointed by the lack of many 'essential' features and by the very small database.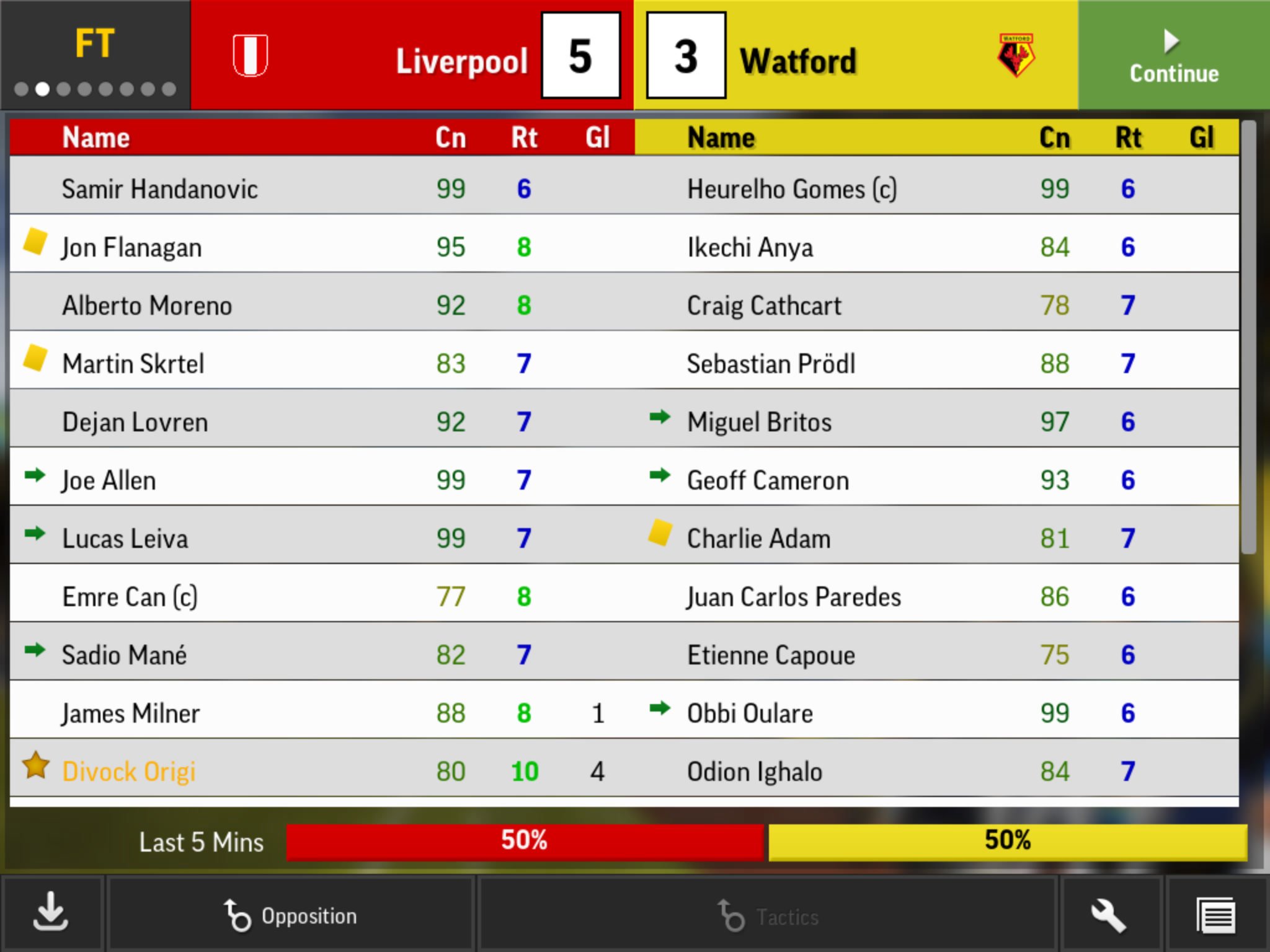 In the years since, Sports Interactive has continued to iterate yearly, all the while trying to hit the sweet spot between depth, accessibility, and mobile-appropriate performance. Has Football Manager Mobile 2016 ($8.99) managed to hit that sweet spot? I would say yes, especially with some of the new managing options that have given the game a bit more depth while still retaining its relative-accessibility. Will it strike the balance you look for as a player? I guess that depends on what you're looking for in a manager game you can play on your phone.
The biggest selling point of FMM 2016 is the options it gives players; you can pick a team from any of the 14 playable nations (mostly the big ones, like England and Italy, and the smaller UK ones), all with their current rosters, financial situations, European qualifications (or not), and injuries. Pick one of the biggest teams in the world – the likes of Barcelona or Chelsea – and you have very expensive players and a huge transfer budget; pick a tiny relegation-prone team, and you get the analogous players and budget. At the same time though, with big budgets come big expectations, so each team you pick will make FMM 2016 feel like a very different game. Fighting to survive relegation and celebrating every single point will give you a very different feel than having your fans boo you off the field (this actually happens in the game) for not beating a team that's currently in top form and in the top three places in the league. The good thing is that the game gives you more than one save spot, so you can have varied gameplay experiences at the same time.
Upon hearing the name 'Football Manager,' many gamers will immediately claim that it's more of a 'spreadsheet' management exercise, which is to a degree true. However, I think that FMM 2016 (and its previous iterations) do enough to put a face to the numbers, to humanize the players and staff. Back in the day, Football Manager's player information was only a collection of numbers, and your decisions of whether to sign a player or not hinged on a pure number-to-number comparison. In FMM 2016, players have among other characteristics a personality and favorite/least favorite players, both of which matter to a degree when it comes to getting the most out of a player. Determined players can help you turn around a seemingly lost game, ambitious players won't want to sit on the bench, and so on. The variety of personalities isn't as big as I would've liked, but it nevertheless helps humanize your players. Add to that clashes of personalities, the morale mechanic that can hinder a player's performance, as well as other personal issues, and you can't really call FMM 2016 a spreadsheet rather than a game.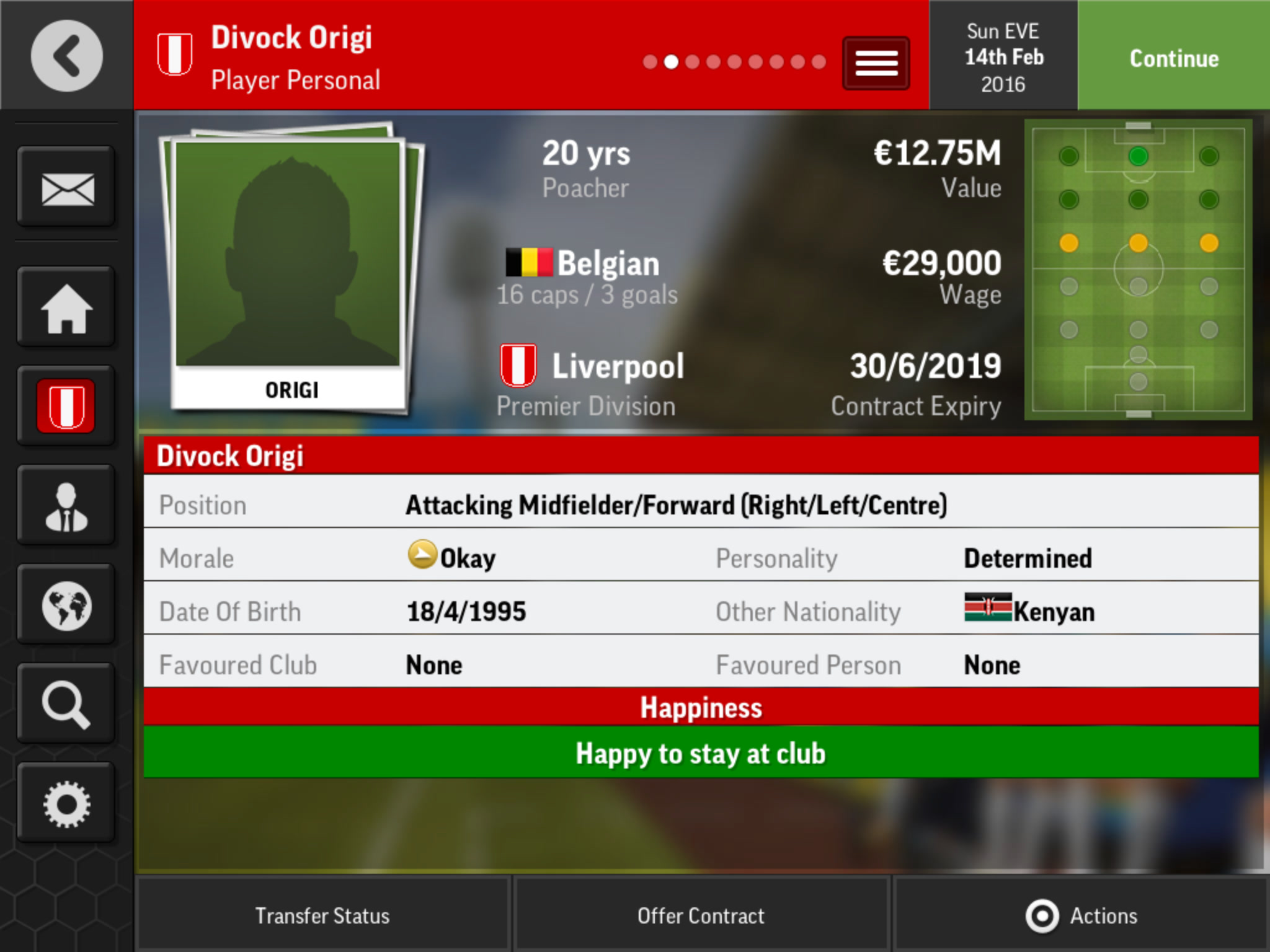 Still, just because SI has made the players more 'human,' it doesn't mean you won't be inundated with numbers, from the basic ones, like assists, goals scored, passes completed, to things like analytical training performance and weekly form. The good thing is that FMM 2016 allows you to either dive into these numbers head first or keep your head above water and let your assistant do some of the paddling, especially when it comes to loaning younger players. The always-useful Comparison tool lets you quickly compare two or more players to see which one fits your needs (although it has a couple of taps too many), your scouts can do a good job of finding possible future players, and so on.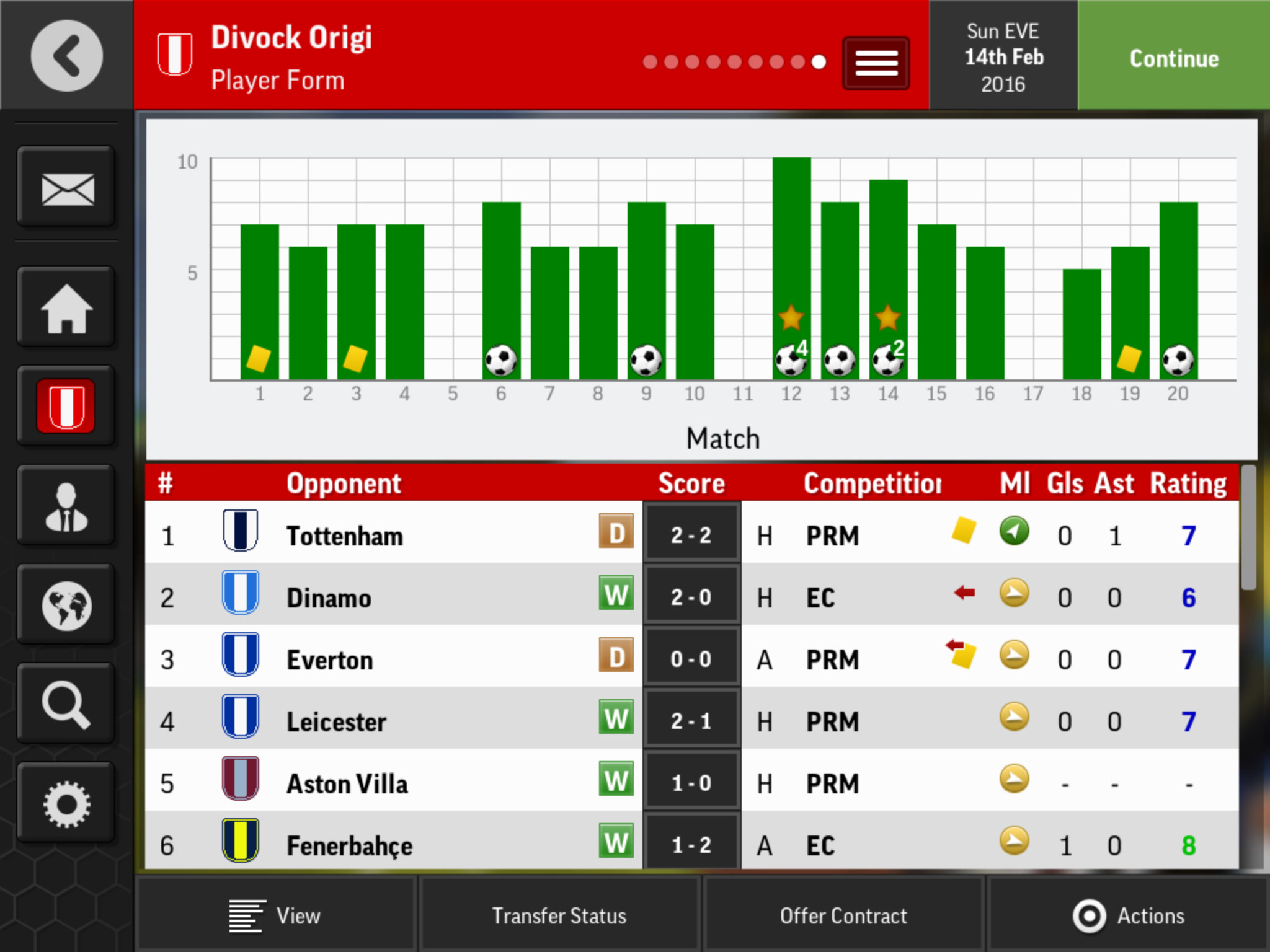 So, you'll be able to get very deep into the game, poring over numbers and players, or you can let your assistants do some of the work, or you can just pick a tactic, assign some players, and go play. Granted, this isn't a game with the easiest learning curve because of the multitude of menus, but overall if you spend some time messing around with the game and if you read the in-game manual, you'll be able to get into it with no problem. While you'll always take a lot of time at the beginning of your first season setting up the team and the tactics the way you want them, after those first couple of (in-game) weeks, you'll spent much less time between matches and you'll be able to play through a season in a few days (or one, depending on your real life distractions).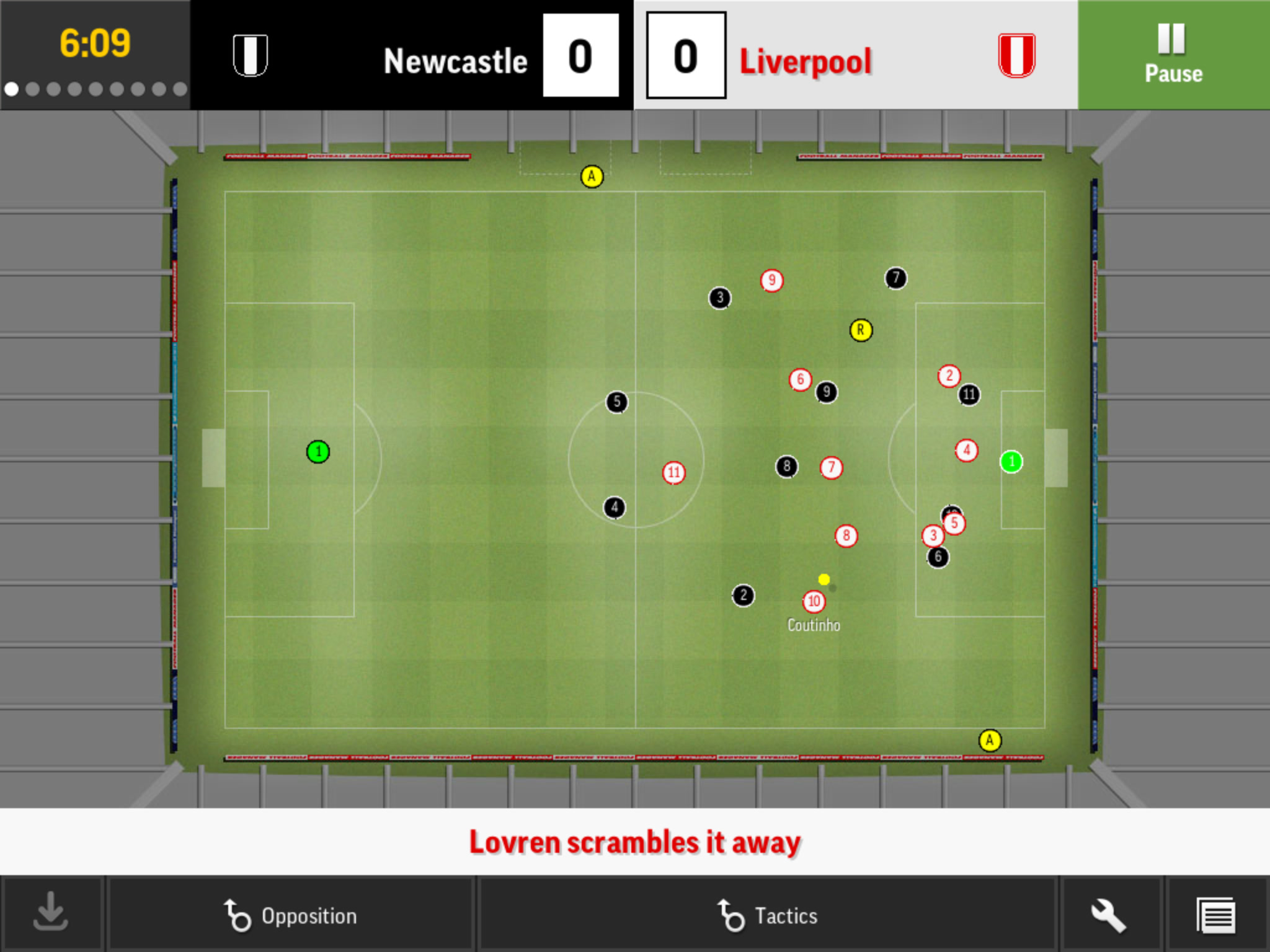 The matchday experienced has been pretty refined by now and only sees a few additions from previous installments. The match plays in 2D (which for many has been preferable to the 3D camera in other FM games), and you can watch extended or key incidents all the while looking at your player ratings, your team's statistics, zones of control, and so on. You won't lack information while watching your team play, that's for sure. An issue I had with the matchday screens is that you can't set the highlights speed separately from the match speed; I wanted the match to go by very fast but still have the highlights not look like my players are little rockets flying around the turf since that makes it hard to see what's going on. I do wish they took advantage of the iPad's screen more because you don't have the opportunity to combine various statistics pages, which in turn often leads to a lot of swiping back and forth in order to get a better idea of why your team is sucking so badly at the moment.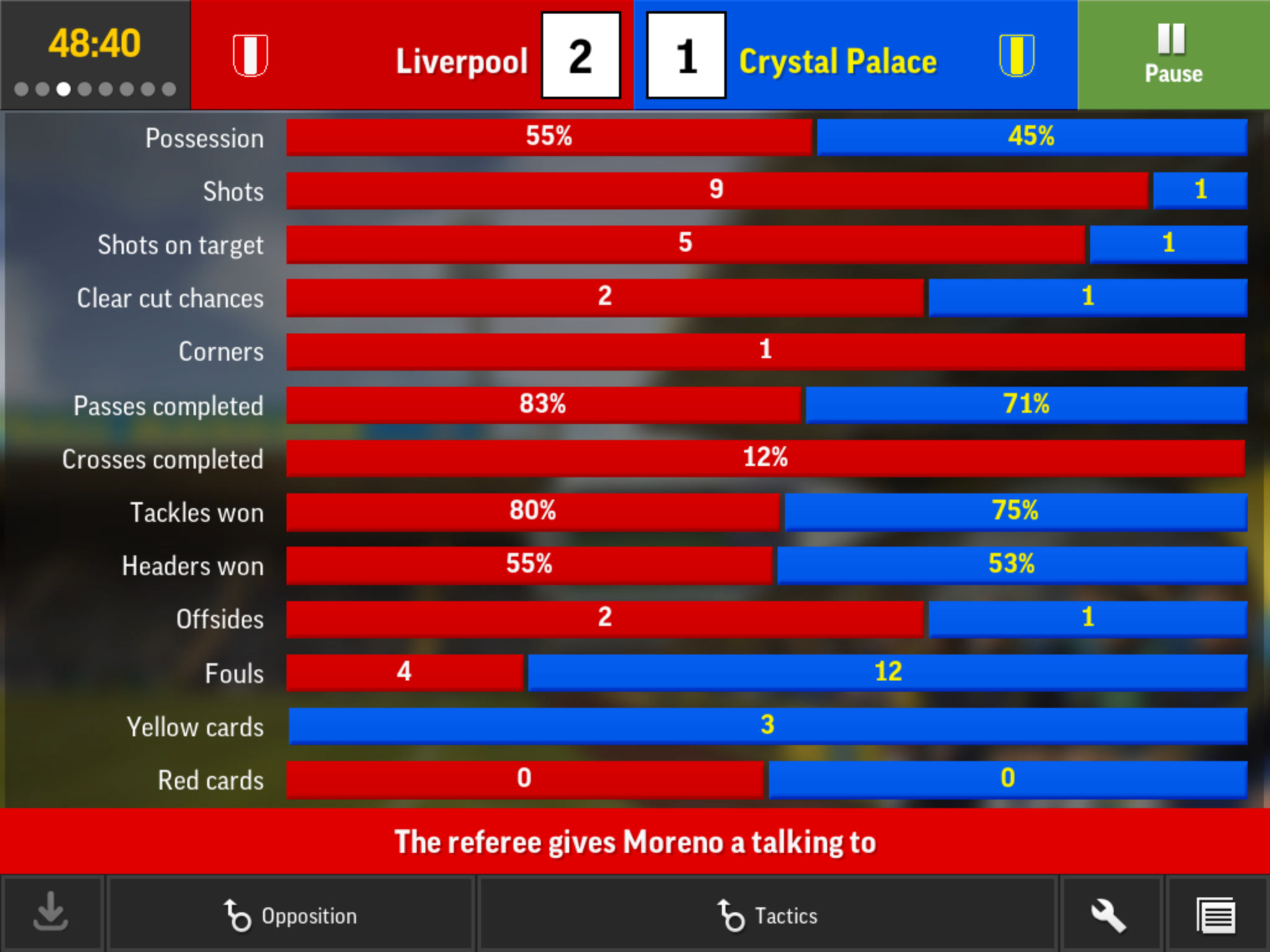 Speaking of the interface, this game was clearly designed around a phone rather than a tablet, and it really shows in the interface. While on the iPhone the buttons are appropriately-sized (although veering on the too-large in some instances), the iPad interface has too much wasted space, and the menu design ends up forcing you to swipe through menus much more than it should. Granted, I understand why SI didn't want to design two interfaces for one game (especially since they've also released Football Manager Touch 2016 ($19.99) for high-end tablets), it still shows that the iPad wasn't the priority in the development. They have done a good job on the manager home page on the iPad, but other than that the interface isn't the prettiest nor the most efficient.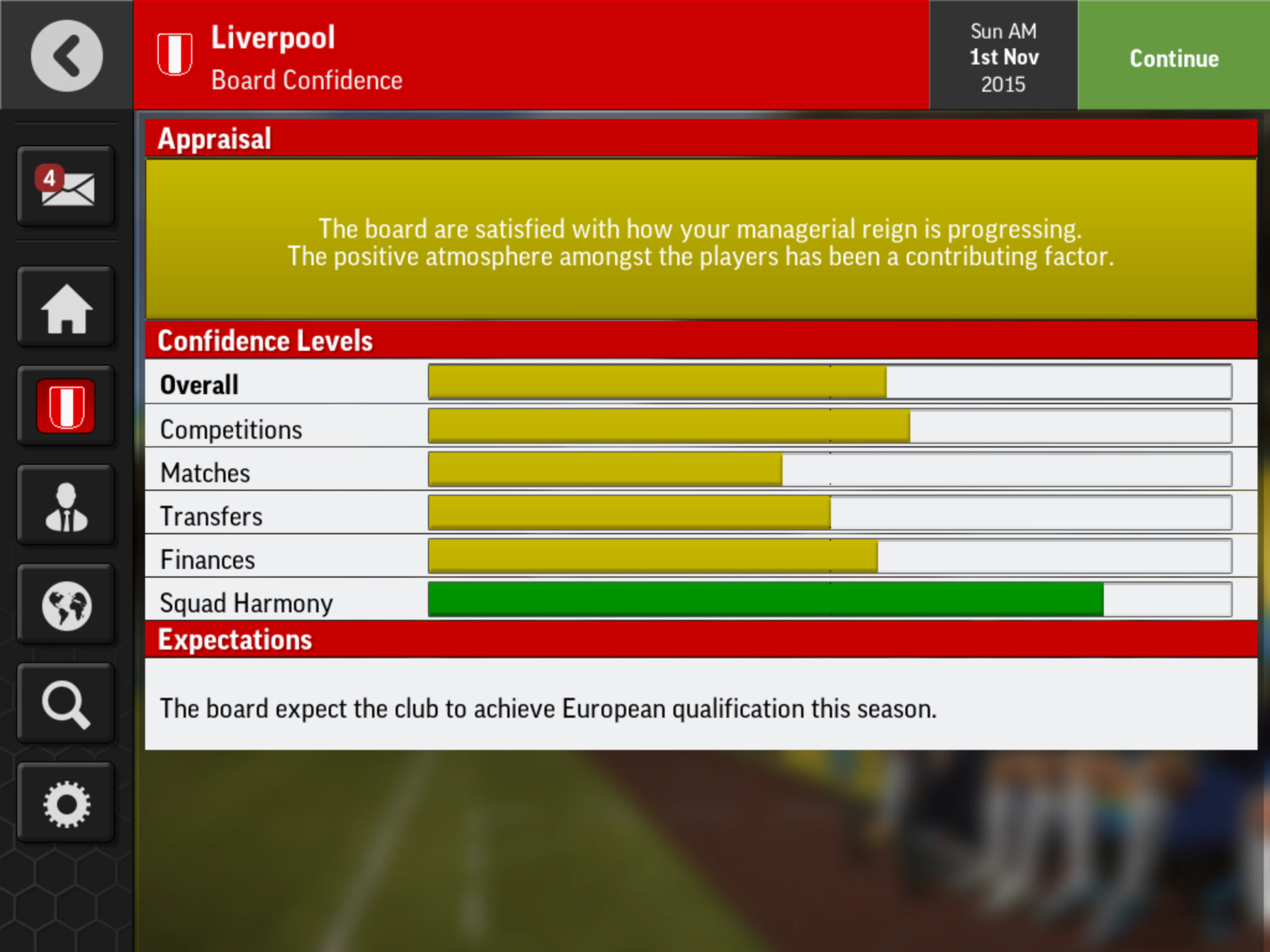 There have been some new additions specifically for this year's edition, chief among them some additional tactical options that let you refine your style of play. You can now pick where your team should focus its passing, who the primary outlet for your team should be, and who the primary attacker will be. These are good additions since they aren't too complicated for those who are new to the game while at the same time giving veterans another tool to customize their teams' play. We also got a coaching staff that should let you refine your training regime, although to be honest I always find the training part of Football Manager Mobile more of a pain than a useful feature. Overall, though, these additions – along with some other, minor ones – show that the developers are on the right track when it comes to adding complexity to FMM 2016 without making it too complicated.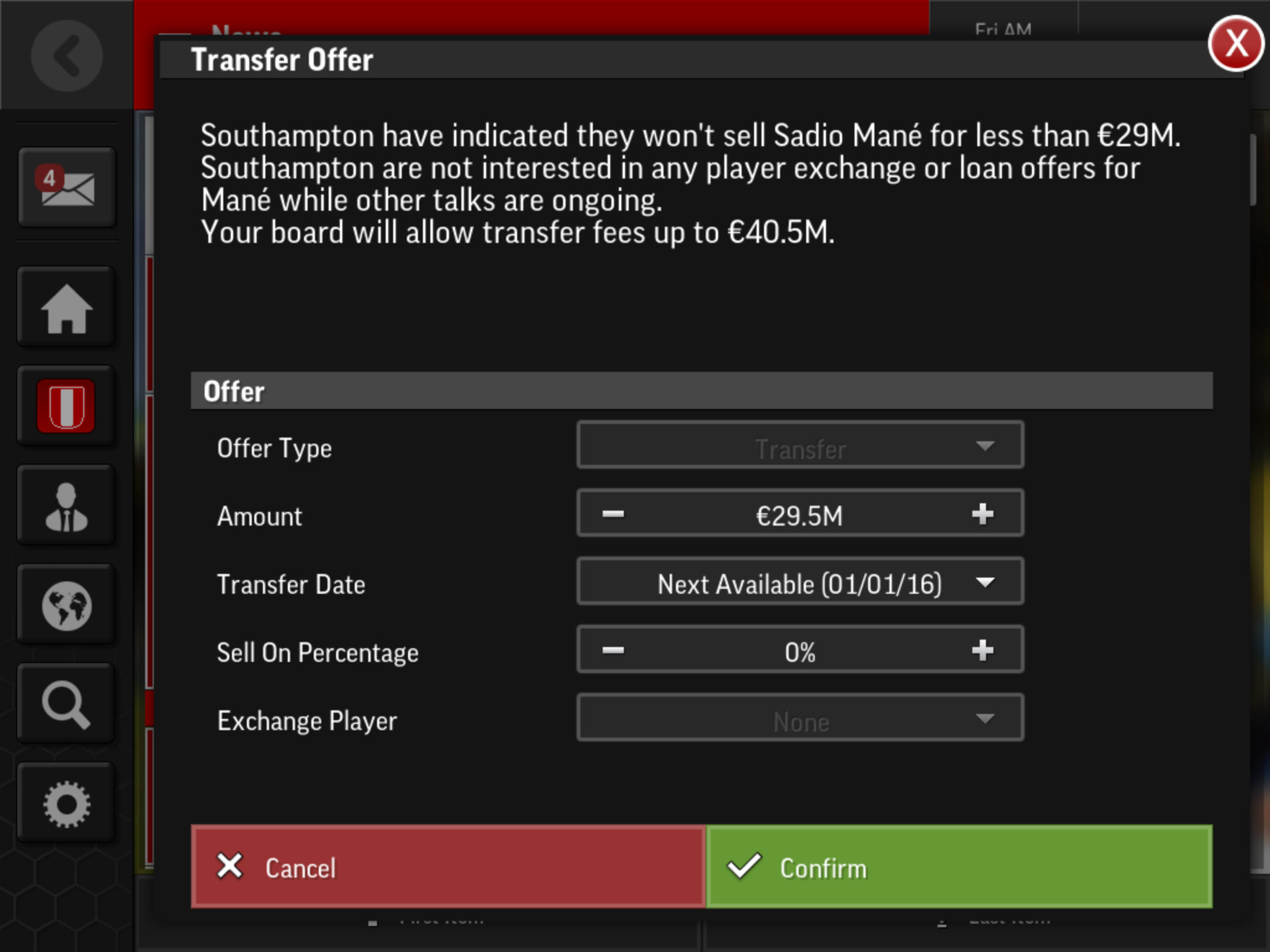 The game offers plenty of content, as it does pretty much every year. You have the traditional Career Mode, which gives you 30 years to build the career of your dreams, a Challenge Mode, which gives you various scenarios to overcome (save a team from relegation, survive a huge injury crisis, manage an unbeaten streak, and so on), and a Create-a-Club mode that lets you, well, create your club and then add it into a playable league. The Store offers more Challenges ($0.99 each) as well as IAPs that let you become 'un-firable,' find a sugar daddy chairman, choose to manage a National side at the start of a season, and so on. While all the IAPs are definitely non-essential, I hope the National team option was part of the base game because it's a fun part of being a manager. Yes, you can get to manage a national team as you become more famous, but having the option early wouldn't have hurt.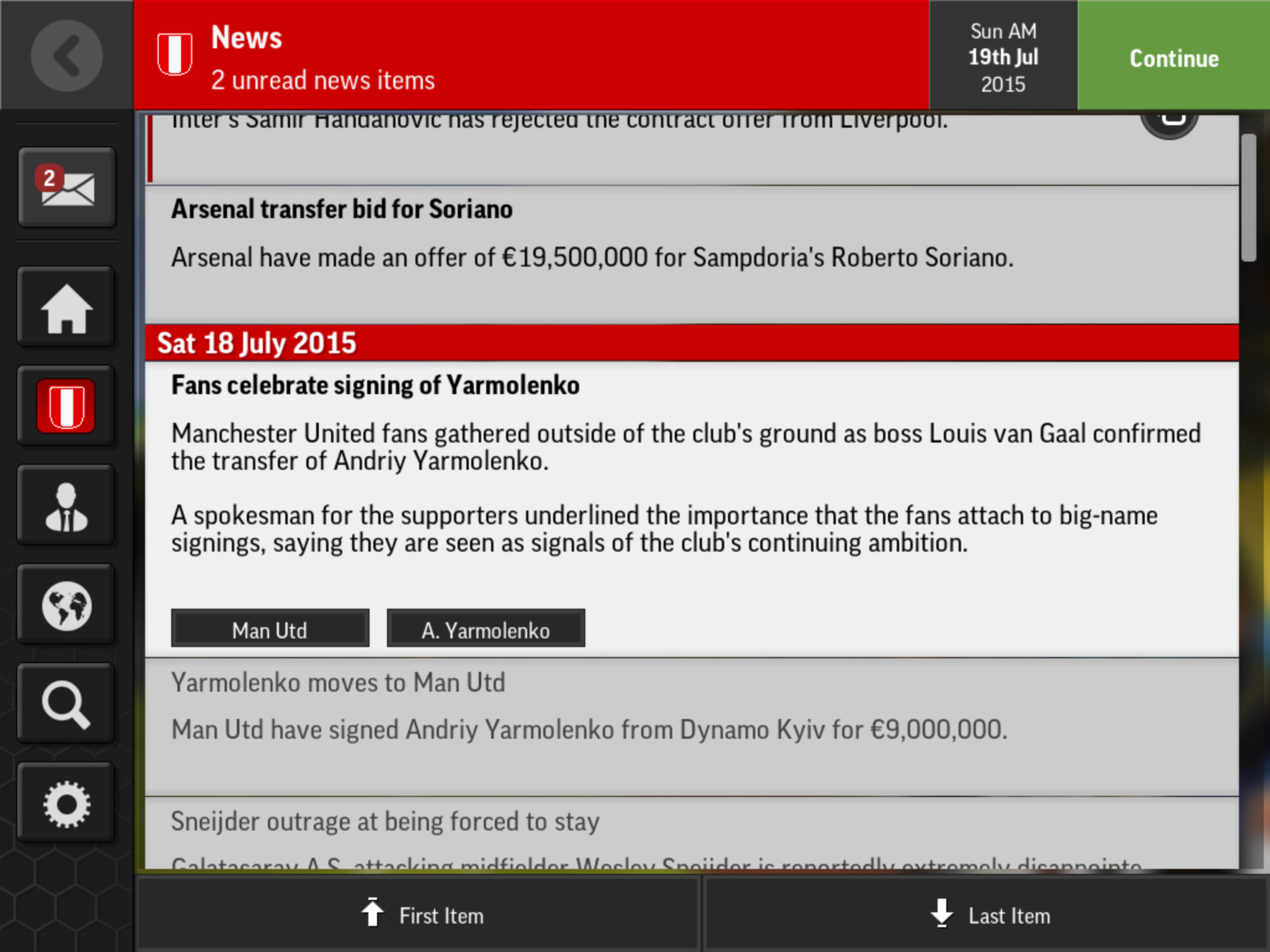 Visually, the game is pretty much identical from the past couple of years, which isn't really that bad of a thing. The visuals are serviceable for what such a game requires. There's plenty of color to help with understanding which statistics are good and which not, and overall the game is pleasant on the eyes, if a bit too blocky for the taste of some. The sound is almost non-existent and you might as well just mute it. Overall, you won't be playing this game looking for an audio-visual treat, and this has never been the case with Football Manager games.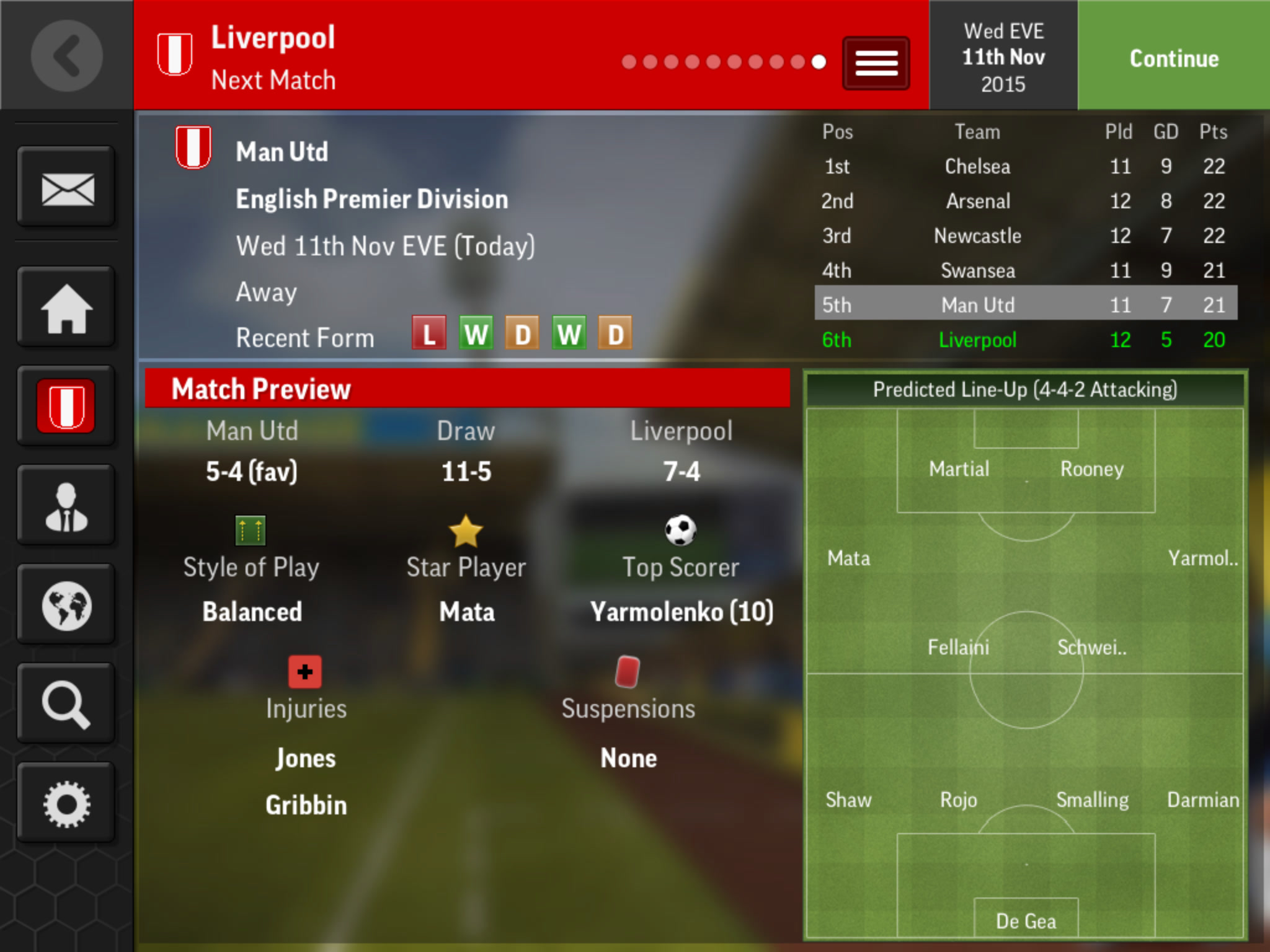 FMM 2016 is a solid new addition to the line-up, with enough refinements and subtle additions to make it worth the $8.99 price, especially considering the many, many hours you can get out of playing this one. The game's accessible enough to grab those who are new to the series while deep enough to keep veteran players a solid manager experience on the go. Still, if you want a great manager game on your phone that has more than enough depth and suffers only from some interface issues, FMM 2016 is your drug of choice. If you have a newer tablet and are looking for something more complex, wait for my review of Football Manager Touch 2016, the more feature-rich version of Football Manager, next week. If not, then Football Manager Mobile 2016 is easily the best sports manager game on a phone.