While out in Los Angeles previewing an upcoming game, I found myself with some time to checkout IndieCade, the long-running indie game festival that takes place in Culver City, CA. It's a curious operation, as they basically just take over a side road with tents set up with games. It's not an entirely indie affair as Sony, Nintendo, Intel, and Nvidia all have presences there, featuring indie games, sure, but still, it's kind of curious. Mobile didn't play a huge role at the event, but that's kind of par for the course. A few already-released games made a nice presence at the show: Her Story ($3.99) won the Grand Jury award, Metamorphabet ($4.99) was a featured game, and a few titles also coming to mobile were there. Here's the really interesting mobile-related stuff I was able to track down at the show during my brief time at the event:
Overland
Well, it was demoing on PC, but developer Adam Saltsman has reiterated that the game is coming to mobile next year, once the game's out of early access on PC. What was here was a fascinating experience. The main portions of the game have you managing fuel and exploring the gridded levels as you search for resources and items, while trying to survive the deadly creatures that inhabit them. My starting duo could make two moves per turn, and with certain actions liable to rile up the creatures out to attack my group, care had to be taken. Your car travels on down the map, with your ability to choose different junction points that might offer certain resources or events, but at different fuel costs. You can travel without a car, but it's highly unadvisable as you might wander into situations beyond your control.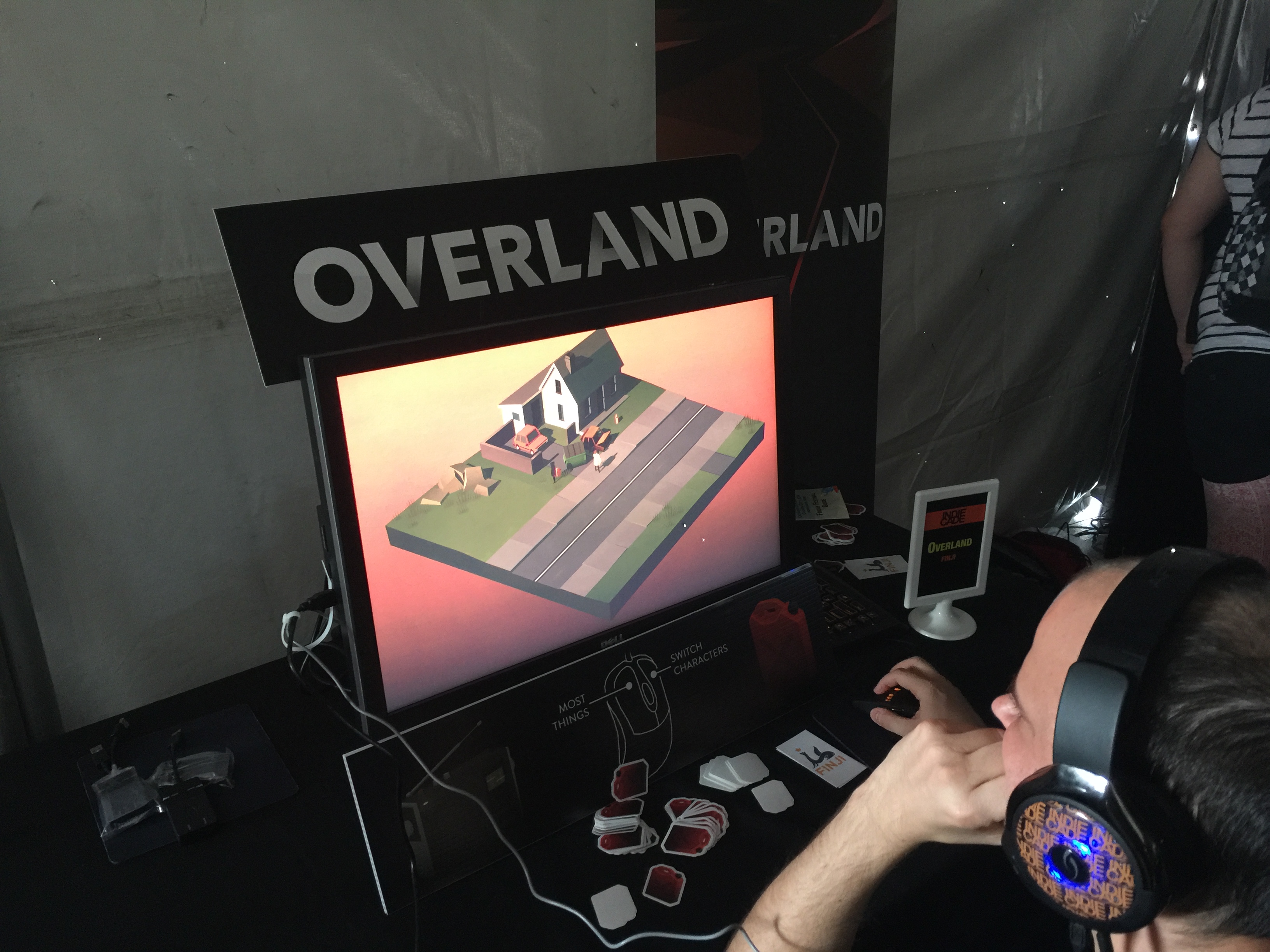 The game already does a good job at feeling like a brutal survival game, but is pretty accessible, as it works with pretty much just the mouse on PC, and should be able to transfer to touch controls without too much issue. The game's low-poly style looks fantastic, too. The game will boast some fascinating lore. If you ever get a chance to talk to Adam Saltsman, you know that he puts a lot of background work into his games as far as tracking ideas. I recall back at GDC 2012 him having a detailed notebook full of ideas and thoughts while developing Hundreds ($2.99). And he's got a pretty extensive lore designed for Overland that you'll be able to discover some of in the game: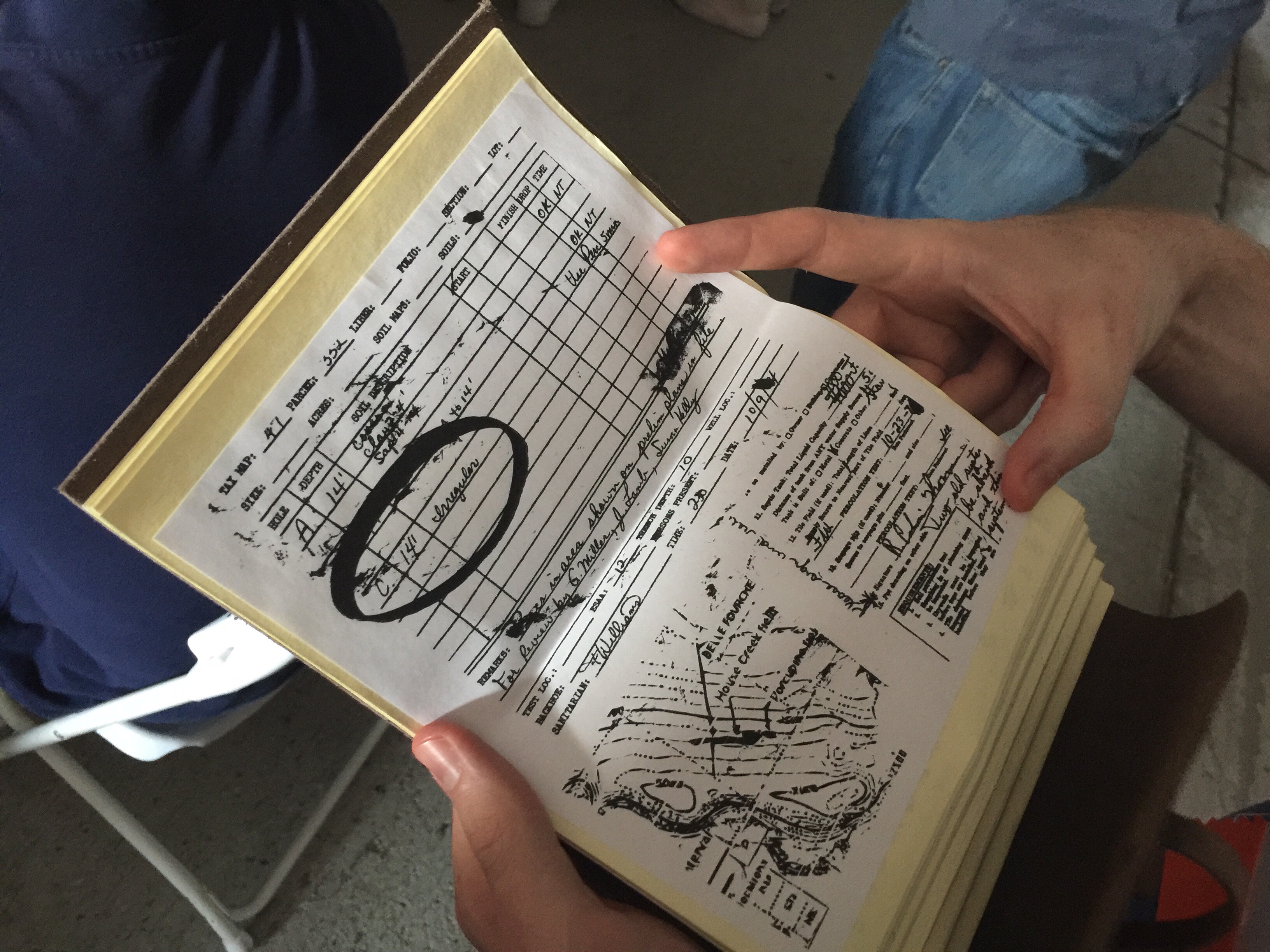 This one is set for early access release in the first half of next year, with a hopeful final release including mobile later in 2016.
Smooth Operator
The nice thing about mobile games as compared to PC games is that you can demo them literally anywhere. And with Smooth Operator, the goofy and fun kissing simulator that we first saw back at GDC, I was able to demo it on Beardo Games' iPad. The game has changed a bit from the GDC demo, to where you now swipe across the screen, trying to match where the arrow is going along with how your partner is doing. The game keeps improving every time I play it, and the new super moves are amazing. This one won't be ready until February 11, 2016, just in time for Valentine's Day.
Puzzlets
This IndieCade Select nominee was a pretty cool experience. It's designed to teach kids the mechanics of coding, which other apps and games are doing, sure. But Puzzlets giving you a bunch of hands-on game pieces to put together just feels so much more intuitive, as you can actually physically make changes to the functions that move your characters around. In the starter pack game, Cork the Volcano (Free), you lay down movement functions, tap to execute them, and make changes by moving pieces around to try and get to the goal in each level.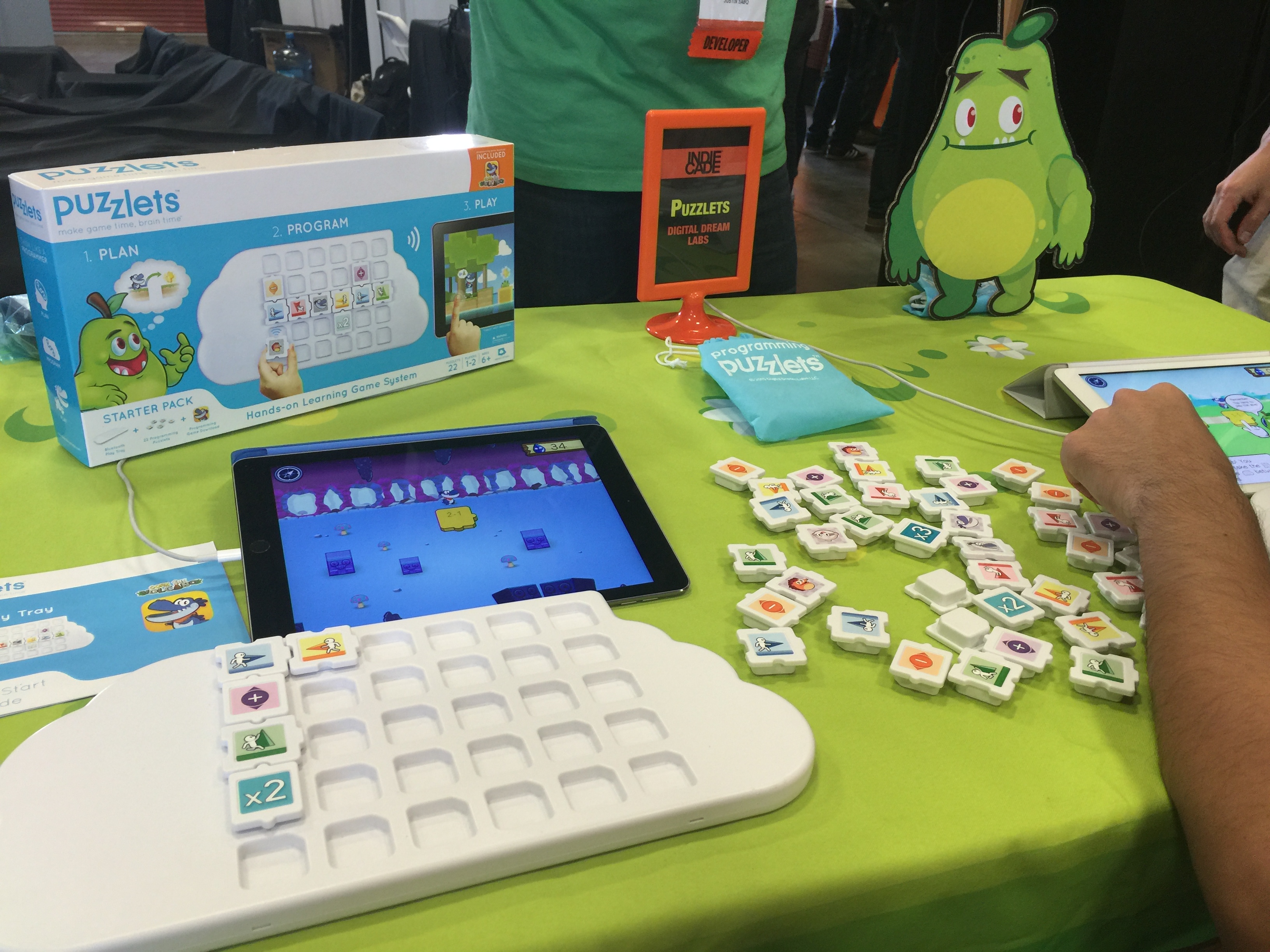 Again, the whole aspect of this being a physical toy that you can play with and modify by finding and laying down pieces is huge. This could really help a lot of kids get into coding by teaching them the basics in an accessible way. It's a cool piece of technology, and it's expandable to other games, which I'm curious to see where Puzzlets goes with this. The starter pack is available now for $99.99, and this might be worth considering as holiday gift for kids.
Kwaan
If you want an example of how and why the mobile convergence might happen, consider this: Kwaan is a game that's on PC in Steam Early Access right now, but one of the developers showed it off to me on a Surface Pro 3, playing the game entirely with the touchscreen:
So, while it's going to come to iOS down the road, it's technically a "mobile game" right now, no? Anyhow, it has you and a large number of other players online caring for the eponymous Kwaan tree, collecting resources and helping to grow the tree with other players. It's a massively-cooperative game, and features events happening regularly, including a new daily narrative event. It's on sale on Steam Early Access right now, and was an IndieCade Select game, so this is showing some promise.
Job Simulator
This one isn't really mobile unless it hits the Gear VR, or if Apple does VR – and developer Owlchemy Labs says that their game will go to pretty much anywhere VR goes – but I played this on the HTC Vive headset, and it left me speechless. The game is goofy, where you play as a robot in the future, simulating what a human office worker of the past would do, so you do these mundane tasks in a silly, Octodad-esque way where you have control over each arm. But with the Vive and its controllers, you could easily walk around, move, and pick things up. It feels just close enough to reality to be mind-blowing. Like, you're not actually pushing that button to turn on the coffee maker, but it feels like you are. If you get a chance to try the Vive, do so. I still don't know how well VR is going to do as a consumer experience, and maybe it's just going to be this really cool demonstration thing, but perhaps there's a business model there. Regardless, it's an amazing experience.
Zombie Match Defense
Shovelware Games' Zombie Match Defense (Free) already came out and wasn't technically selected to demo at IndieCade. But nobody stopped Jake Sones from coming to the show, demoing his game as a human arcade machine. He also had an iCade set up so you could play Downwell ($2.99) on him.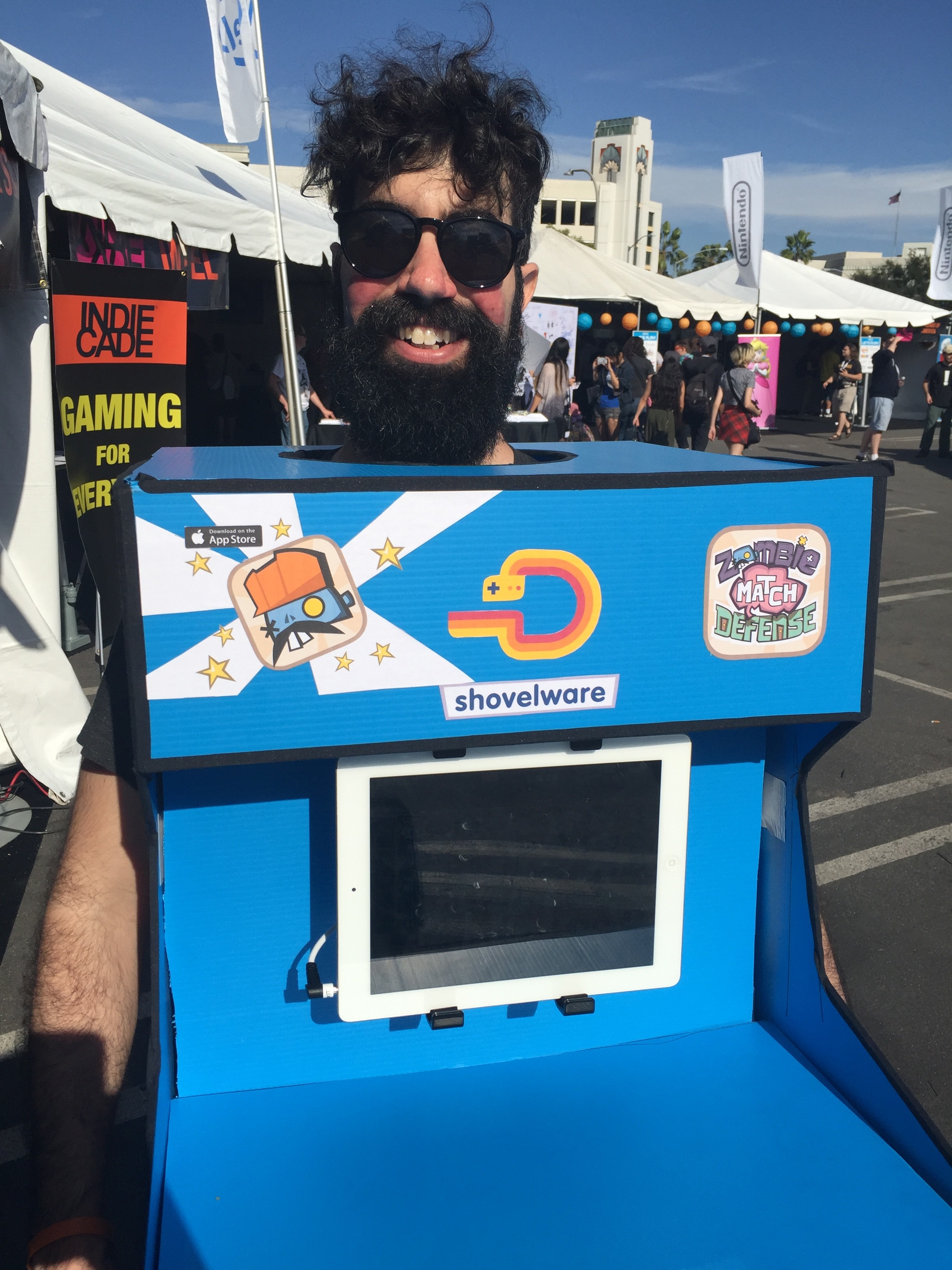 As I said about Smooth Operator: you can demo mobile games anywhere. Sadly, I don't know if the UCLA Game Lab Arcade Backpack and the Zombie Match Defense frontpack ever made an appearance. If they ever met, it might be an even better photo than this one I snapped at Bit Bash 2015 of the arcade wearer playing a game while someone played a game on him. The future of video games: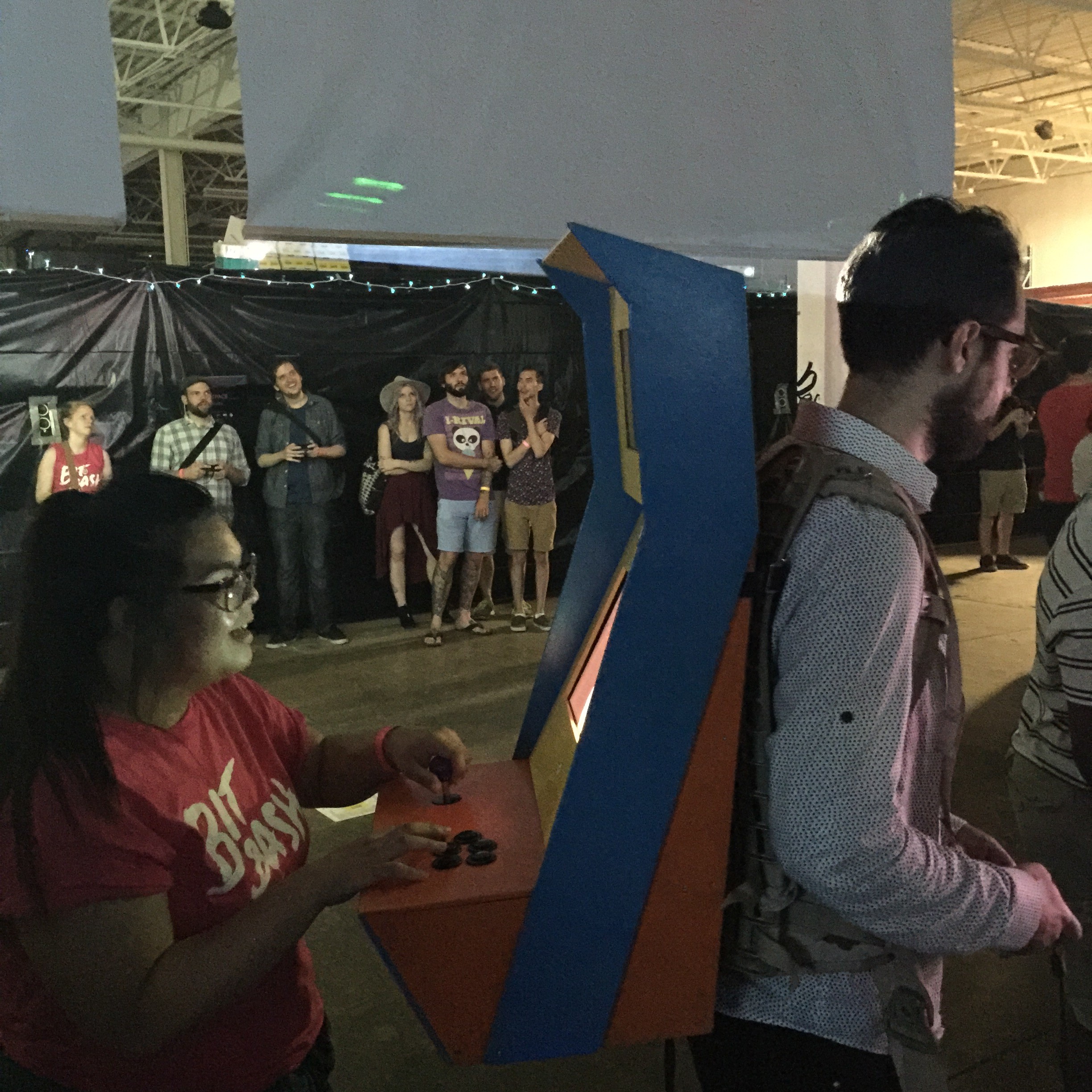 At least Jake Sones met the bookpack guy:
How many types of wearable furniture can there be? At least two. The #bookpack and @shovelware's arcade cabinet. pic.twitter.com/inqsaxoDly

— Do Better Games (@DoBetterGames) October 24, 2015