Pac-Man really has withstood the test of time. Decades later he still tops the charts as one of the most recognizable mascots in gaming, and he's hosted so many spinoffs that it would take you a lifetime to play them all. It's no surprise then that he's found a new home on mobile devices. Although Pac-Man Bounce (Free) suffers from a very aggressive monetization setup, it's a fun little diversion nonetheless.
Pac-Man Bounce is less of an action title and more of a puzzler. Instead of directly controlling the titular character and munching on ghosts, you'll instead queue up solutions, press a "play" button, and watch the events unfold. For example, in an early stage Pac is facing to the right, which houses an upwards arrow. But tapping the arrow you can change the direction, sending him on a brand new course into the path of stars, or a key, which ends the stage. It's your job to get him to safety and earn stars, of which there are three, a typical mobile staple. That's basically it.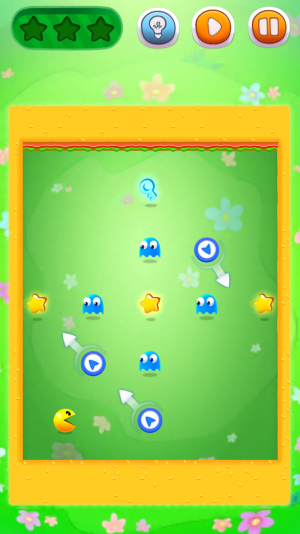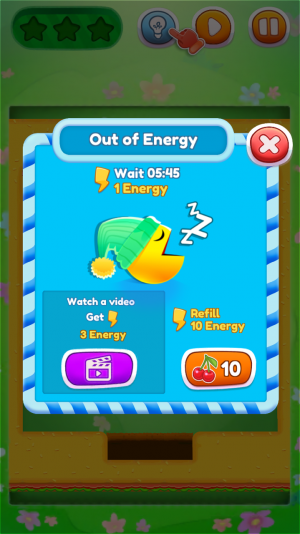 As you progress though Bounce gets more and more interesting. What starts off as simple directional cues soon becomes an exercise not unlike billiards, where you're positioning diagonal switches to literally "bounce" him to and fro. It's intriguing, as some levels can be bested with any number of bounces, and once you start the sequence Pac-Man doesn't really stop until you say so — so theoretically, he could bounce for a minute or two until he reaches his destination. As a result, it's more open-ended than a lot of similar titles. New concepts are constantly being introduced, like ghost hazards to dodge, and arrows that can be full-on moved anywhere on the board. It's easy to get sucked in, as the vivid art style is easy on the eyes, and simple to follow. New mechanics are constantly popping up, but they are intuitive — and if you really have problems, players can queue up a hint by watching a short ad.
It's a shame that all this fun is brought down by the unfortunate free-to-play scheme. For starters, it has energy. I'm not inherently against the concept when done fairly, but with Bounce, energy depletes after each attempt on a particular puzzle. This severely hinders a major portion of the game — experimentation. With this in place, there's no reason to try out individual solutions as you'll quickly find that your energy is depleted. If you don't mind watching ads though, you can get by. Watching each ad will not only trigger the aforementioned hints, but they'll also earn you three cherries, which you can in turn use to buy 10 energy (attempts) at a rate of 10 cherries. Additionally, watching an ad can earn you three energy at different intervals. Thankfully, power-ups and the like don't really come into play — all you're theoretically paying for is energy.
Pac-Man Bounce is perfect for those of you who have submitted to the tethering nature of energy-based games. If you find yourself enjoying a few quick rounds here and there in-between breaks at work, you'll be right at home. For the rest of you, the aggressive free-to-play elements may be more trouble than they're worth.