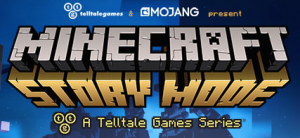 We're just a couple of weeks out from the release of Telltale Games' story-driven take on the Minecraft universe, appropriately titled Minecraft: Story Mode, and today the company has released a brand new trailer introducing players to the first episode of the game. The episode is titled The Order of the Stone, and it sounds like there's plenty of self-referential humor based on the Minecraft fandom.
As the story goes, you and your friends are fans of The Order of the Stone, which is made up of a Warrior, Redstone Engineer, Griefer, and Architect who–as the legend goes!–defeated the Ender Dragon. While at EnderCon, you and your buddies are hoping to rub elbows with Gabriel the Warrior, but as is common in adventures like this, things don't go your way and instead terror is unleashed on the world and it's up to you to find the Order of the Stone to restore peace to the world.
I've got to say, I was pretty skeptical about the whole idea of turning Minecraft into something story-based, but everything I've seen of Minecraft: Story Mode so far has really impressed me. It certainly helps having a talented voice cast to bring the characters to life and Telltale's flare for the cinematic. Speaking of cinematic, Minecraft: Story Mode is getting an official, Hollywood red carpet premier on October 12th. It'll be at the ArcLight Cinerama Dome, and it'll essentially be a massive "Let's Play" as the audience in attendance will cheer on to direct the action being played onscreen. It sounds really cool! If you're in the Los Angeles area, email [email protected] for more info.
I'm actually quite excited for the release of Minecraft: Story Mode and its first episode The Order of the Stone, which is set for release on iOS in two weeks on October 15th, so hop aboard the hype train!