Hello everyone, and welcome to the week! It's time once again for our look back at the noteworthy updates of the last seven days. It's a big haul this week, even setting aside the dozens of games that updated for iOS 9 compatibility. Of course, you can keep an eye out for updates yourself using AppShopper Social (Free), the watchlist in the TouchArcade App (Free), or by participating in the TouchArcade forums, but this weekly summary is here to fill in the things you might have missed. Let's dig in!
Zaccaria Pinball, Free Zaccaria Pinball has added another new table, the 1975 musician-themed Red Show. It's only available to those who have purchased the Gold or Silver Membership IAP, however. And I believe, with this table added, this collection is now functionally complete. That means this will probably be the last time we see Zaccaria in Update Mondays. End of an era!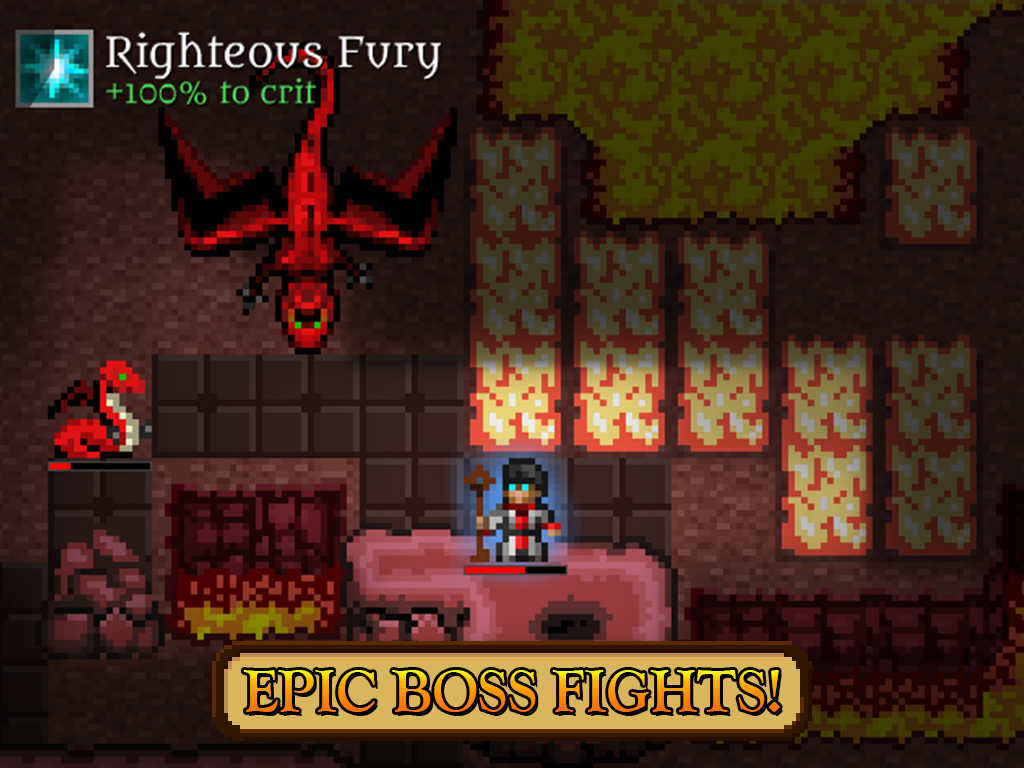 Cardinal Quest 2, Free Cardinal Quest 2: the game doesn't fool around, and neither do its updates. There are too many points in this update to exhaustively list here, but the highlights include reduced penalties for continuing, improvements to NPC AI, and a new unlockable perk for every class. The pugilist class has gotten an overhaul to try to make it more balanced, as well. It's a good excuse to fire up a great game once again!
Drylands, $2.99 It's an unfortunate fact of the market that some paid games go free to try out a different price model, particularly if they don't perform to expectations. Usually, this means the most loyal customers, the ones who paid upfront, get stuck with a different product from the one they paid for. The developer of Drylands not only decided to try its luck at a free version in a separate app, he also opted to continue updating the paid one. Now that's service! Paying customers can now enjoy the new costumes, tutorials, and bug fixes that were included in the free version.
Galactic Nemesis, $0.99 Galactic Nemesis is pretty much my favorite throw-back shoot-em-up on iOS. It nails everything good about classic Galaga while adding its own improvements to the formula. The new version adds a bunch of Game Center achievements, a brand new world called "Electric Steel", and a new music track to blast aliens away to. This version also includes bug fixes for iOS 9.
KingsRoad, Free The latest update to KingsRoad adds battle dragons, powerful dragon allies you can bring into combat with you. Naturally, there are also a couple of new events for the month, both of which are themed around lightning for some reason. The Lightning Tournament and The Thunderous Heights are both running just about through the end of the month, but there's nothing shocking about that. Eh? Yes?
Pinball Arcade Plus, $0.99 Pinball Arcade's got a new table to sell you this week, too. It's 1987's F-14 Tomcat, designed by Steve Ritchie for Williams. Other than featuring one of the most famous fighter jets of all-time, its main noteworthy achievement is in being the first pinball game that featured a ball save. While it's nowhere near Ritchie's best, at least in my opinion, it's still a pretty cool table and well-worth the $4.99 IAP to pick it up.
Galactic Keep, $3.99 Galactic Keep is one of my favorite games this year so far. This update makes it even better, so if you haven't given it a go, here's a good occasion to do just that. There's now a fast roll option so that you don't have to watch the die roll each and every time, easier ways to get to the opening map when you've wandered off, and a number of revisions to the special moves of several of the characters to bring them up to snuff. There are also a couple of useful tweaks for those who have finished the game and are now running laps or just leveling up for the sake of it.
SubaraCity, Free A truly wonderful update for the wonderful SubaraCity, this new version adds a brand new graphical theme to the game called "River Side". If you've wanted to add some famous landmarks to your city, you'll now find the Eiffel Tower, the Statue of Liberty, the Leaning Tower of Pisa, and more. Also added are level 33 buildings, along with a couple of new features to make building your little city easier.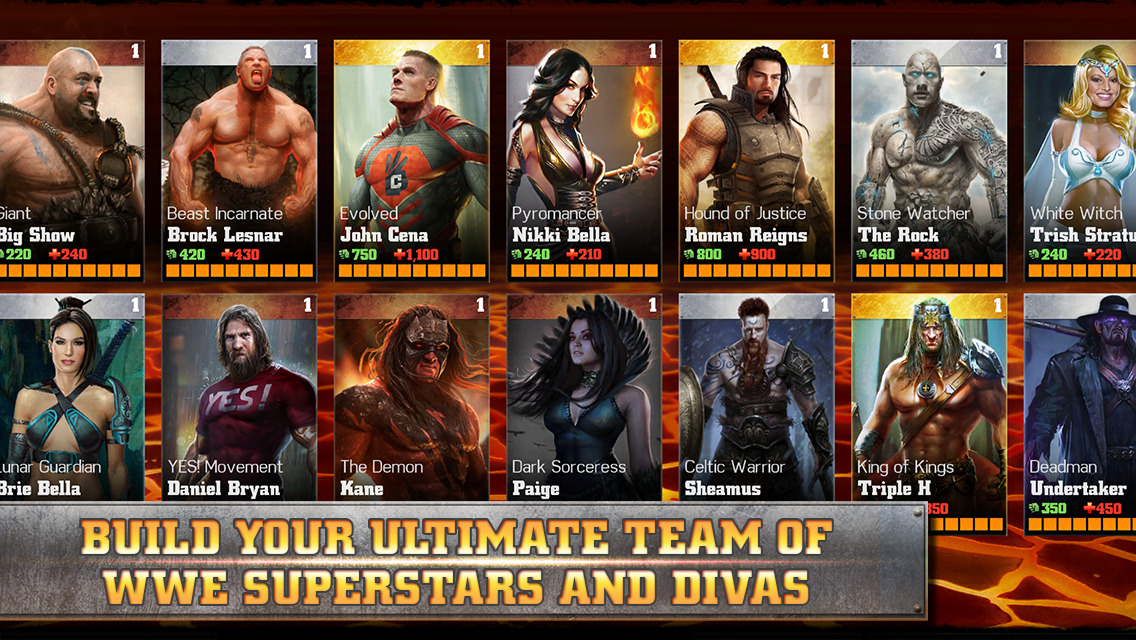 WWE Immortals, Free Okay, the new update for WWE Immortals might be taking this whole "Brahma Bull" thing a bit too seriously. While The Rock was already in the game, he lacked a gold version to compete with the best. Well, this update adds in a gold Minotaur Rock that will be distributed in an upcoming challenge. The other new character isn't even a WWE Superstar. Johnny Cage has made the hop from Mortal Kombat to join the line-up. Well, it's not like he doesn't fit in. As usual, if you want them early, you can drop a few bills on Early Access packs.
Rebuild 3: Gangs of Deadsville, $4.99 The awesome new installment of Sarah Northway's Rebuild series already has an update to respond to some player feedback. This version of the game lets you hide the old-school mission editor menu, allows you to move save games to other devices, and change the difficulty more easily. The rest of the update concerns small fixes and tweaks to make things run more smoothly, especially if you've recently surfed in from 2010 and are playing on an iPhone 4.
Angry Birds Go!, Free Yes, Rovio, I see you trying to get attention over there. I'll give it to you this time, just because I really like the movie Hot Shots. The update to Angry Birds Go! purports to make some changes to the engine behind the scenes, but more importantly, it puts an entire recipe for making chocolate chip cookies in its update notes. On the one hand, bravo, made us look. On the other hand, when a plain old cookie recipe is more exciting than whatever you changed in your game, maybe it's time to have a think.
Furdemption - A Quest For Wings, Free Furdemption's developers have been working hard to respond to the feedback from their customers, and this latest update nicely reflects that. As of this version, iCloud syncing is now automatic, and the game now supports MFi controllers. It's easier to access the retry feature, and there are several new achievements. And of course, the Update Mondays specialty, bug fixes and tweaks!
Starbase Orion, $7.99 Opinions may vary, but if we can't agree that Starbase Orion is the best 4X game on iOS, we can surely all admit it's near the top, right? Well, Starbase Orion 2 may be on the way, but that doesn't mean the show is over for the original. This version makes changes to racial abilities, weapon systems, ship systems, spying, leaders, and more. There's also a new game preset that lets you play with random game options that fit the Starbase Orion Player's League, among many other changes too numerous to outline here.
Pyramid Solitaire Saga, Free Okay, Helena and Kingsley were in Colorado the last time we heard from them. By the update notes this time, some magic necklace is leading them to Miami? I'm starting to feel like this treasure hunt is just a thin excuse for Helena to take a vacation around the world. Anyway, with a new episode comes 20 new levels. See if you can guess where she'll end up next! My vote is Saskatoon.
Battle of the Bulge, $9.99 I haven't seen fans this ticked off since Axl Rose no-showed Vancouver in 2002. Okay, so the good news is that the game's AI has been improved. The bad news is, just about everything else changed here is for the worse. The multiplayer has been messed up with the move over to Slitherine's system, the new UI is a disaster on smaller phone screens, and let me tell you about bugs, friends, because there are plenty of them here. I'm sure the game will be fixed, but for now, you might want to hold off on hitting that little old update button.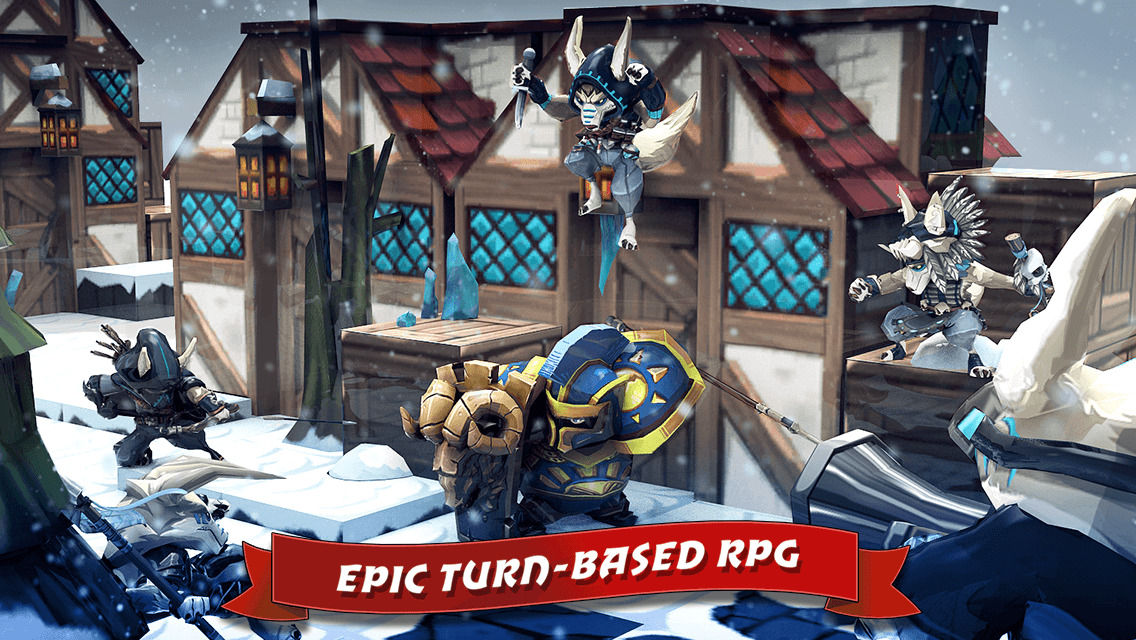 Lionheart Tactics, Free I kind of feel sorry for blacksmiths. They have to work in a hot forge all day, fixing and forging weapons for generally unappreciative heroes who are just going to ditch them for half their value when they get to the next town. They never get to enter the action themselves, and thus get none of the glory for their vital contributions. Well, Lionheart Tactics has decided to shine a little light on these unsung heroes. You can now bring a mighty blacksmith into battle, and use her devastating melee power to scatter the enemy. She's available as an IAP character, and she brings her own special event with her. There are a number of other additions and changes, too, mostly with regards to hero rarity classifications.
Card Wars - Adventure Time Card Game, $3.99 The Fionna and Cake expansion gets a couple of new side quests in this update, along with some new battle cards that can be found in Algebraic Chests. For those who don't have the expansion, you can still enjoy the changes made that allow you to spend your gold coins on certain things that previously required gems, such as expanding the size of your card box and, er, that's it, I suppose. But hey, it's still a good thing.
Clash of Clans, Free Let me see if I can explain this one without making any mistakes. If anything's wrong, I blame Carter, or perhaps Tasos. Here we go. In the newest update to Supercell enormous hit, Town Hall 10 now opens access to the level 7 Lightning spell and 25 new wall pieces. Various spells have been tweaked and improved, including the aforementioned Lightning along with Poison, Earthquake, and Freeze. Finally, in the unlikely event of a tie during Clan Wars, there is now an official procedure for breaking it. Total Destruction is its name, and I'm 90% it doesn't involve flower arranging.
Minion Rush: Running game, Free I think it's safe to say none of us have had our fill yet of those delightful Minions. I only wish I could see more of them everywhere, such as in my Facebook feed, or on food packages. Alas, that's not the world we live in, so we'll have to get our fill from their Spider-Man-less yet inexplicably still enjoyable auto-runner. This update corresponds with the back to school season, adding four new costumes, a new time attack mode in Minion Races, a back-to-school event, a new scooter mini-game, and 15 new levels in the Jelly Lab. Wow, that's a lot!
Angry Birds POP!, Free Curiously, the cookie recipe is only the second-strangest Rovio update this week. The winner goes to Angry Birds Pop, which appears to have booted out poor Stella in favor of… Shakira? Really? What the heck is in the water at Rovio lately? Look, this is nothing against Shakira, I like her, I really do, but I've never found myself playing Angry Birds Pop wondering how much better it would be if only I could play as the disembodied birdified head of a pop star. I mean, she doesn't even have any hips! How can we check the veracity of their claims if they don't even exist? You've gone too far this time, Rovio.
LEGO® Batmanâ"¢: Beyond Gotham, $4.99 I begrudgingly give this update the coveted Update Mondays Most Spider-Mans Of The Week award, because how could I not when I can now play as Adam West's Batman and Burt Ward's Robin, to say nothing of painted-mustache Joker? At the same time, I must acknowledge that the game has had some nasty bugs for a while now that seem to be going unfixed, so I'm going to be keeping the metaphorical celebratory vermouth. Will the developers ever fix the critical bugs? Will players be able to see the end of the game? Or will evil win? Find out next time, same Update Mondays-time, same Update Mondays-channel!
Nono Islands, Free Illusion Labs have been busy beavers this week, releasing substantial updates for a couple of their games. First up is Nono Islands, which gets three new worlds with a total of 21 new levels. There are also new playable characters, and some nebulous general improvements. Always nice to see more of a good thing!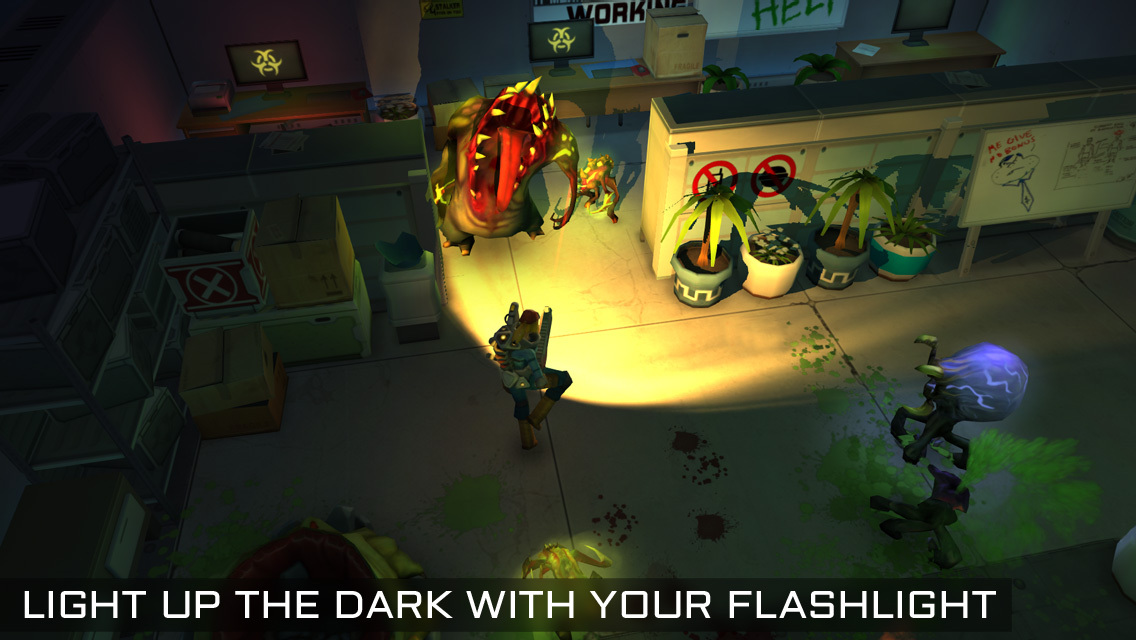 Xenowerk, Free Here's another great game with some new content to play through. The latest update to Xenowerk adds a new chapter, some new weapons, and a new enemy to test them out on. You can now use boosters to extend your kill streak, but watch out for the new Champion Mutants. They're a little smarter than the average creature. To finish things off, there's also a new survival objective. Enjoy!
Mr. Crab, Free The other game Illusion Labs added content to is good old Mr. Crab. Of course, like the other level packs added to the game, you'll have to buy these 16 new levels in a pack for $1.99. The levels are themed around candy, and gosh, are they ever colorful. If you've enjoyed the other levels in Mr. Crab, this pack is a no-brainer, I'd think.
Halo: Spartan Strike, $2.99 I'm a little puzzled by this one, to be honest. Both this and the other Halo game got Xbox Live integration updates, but this game also got a full set of new control options that honestly make the game a lot better to play. I'm not sure why these options weren't added to the other title, but oh well, I'm sure they'll get there eventually. Also in this update: shared progress across all of your iOS devices. All I can say to that is, welcome to the world of professional ice hockey, and thanks for the jeep!
Demon's Rise, $7.99 The developer of this awesome strategy RPG has been working overtime getting updates out. I believe the next update is already in the queue, but let's take a look at what's here for now. First of all, the somewhat awkward camera controls have received further tweaking, and you can now activate a dynamic camera that follows the active unit. Parry and dodge animations have been added in to give the game a little more life, and a number of UI tweaks have been made, including the ability to view your inventory during battle. You can't change equipment if there are still enemies on the map, however. In addition, just about every bug I noticed in the release version appears to have been fixed. Coming up next update, we get another playable character class!
Angry Birds 2, Free Rounding out this week's trio of Angry Birds updates, Angry Birds 2 has a disappointingly normal update compared to its stablemates. It's just an episode update that adds 20 new levels to the game, which is okay, I suppose. I don't know, it just lacks a certain sizzle. Maybe the next update can feature a cross-over with Skippy from Family Ties?
That about wraps it up for last week's significant updates. I'm sure I've missed some, though, so please feel free to comment below and let everyone know if you think something should be mentioned. As usual, major updates will likely get their own news stories throughout this week, and I'll be back next Monday to summarize and fill in the blanks. Have a great week!