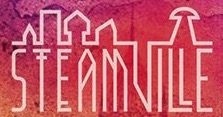 Noisy convention floors are a tough place to demonstrate certain types of games. At last year's show, I played Telehorse's Steampunker ($2.99), a hidden-object/adventure hybrid that had a really cool sense of style. It's the kind of game you want to curl up with in a quiet place though, and I was glad to do just that after the show. Well, Telehorse had their next game at the Tokyo Game Show this year, and I once again find myself in the position of wanting to play it in a more relaxed atmosphere.
Steamville is a different type of game entirely from Steampunker, but it has the same strong style. Like the previous game, you'll need to use your gray matter while playing this one, but rather than go with another hidden-object game, this time it's more of a puzzle-adventure hybrid. The hero from Steampunker returns, but this time he's all about destroying robots. To be fair, they want to do the same to him, so it's a matter of survival. Unfortunately, being a simple bag of meat and bones, our hero is powerless to do much more than distract the hulking automatons. Instead, you'll have to guide him to do what it takes to fire up the Tesla coils in each stage, then lead the robots into them to cook them like mechanical hot dogs.
The game is played from an overhead perspective, and your actions are basically limited to walking around, tossing a distracting energy grenade, and manipulating switches and other contraptions in the environment. The robots will come after you if they see you, so you have to be careful that they don't. Each stage requires different tricks to bring destruction to the bots. The final version, due to release before the end of this year, will feature 32 stages to puzzle your way through.
You probably won't be able to hear it in the video due to the noisy environment, but the game has quite a good soundtrack. What you will be able to appreciate in that video is the game's unusual visual theme. It's steampunk, of course, hardly the freshest of themes in the broader scope of gaming, but there's something very clinical and clean about the way Telehorse does it. The lighting effects are pretty cool, too. I mean, they'd best be if you're invoking Tesla coils, right?
As already mentioned, Steamville is due for release in the last quarter of this year, which means it's not terribly far off. Its slower pace might not appeal to everyone, but if you enjoy a good adventure with plenty of timing-based puzzles, this one should be up your alley. The levels I tried out were from pretty early in the game, so it's hard to gauge how difficult it will get over time, but given Telehorse's previous game, I'm sure we don't have anything to worry about in that department. I'll be looking forward to discovering the later portions of the game when I'm not surrounded by competing video game music tracks blasting at loud volumes.