Back in April of 2013, developer Frogmind released Badland ($0.99) into the App Store, and I don't think anyone at the time could have imagined how much it would evolve over the years. The release version of Badland had a striking visual style, and more importantly it had compelling gameplay that worked beautifully with simple tap controls, which is imperative for a successful iOS game. But the real magic has come since that release, as Frogmind has been incredibly dedicated to furthering Badland and it stands as one of the most updated games in the history of iOS. Tons of additional levels, multiplayer modes, missions, achievements, and much more. Today, Frogmind has unveiled perhaps the biggest update for Badland yet, as they're prepping a brand new level editor for the game. This trailer shows it in action, and it looks really cool.
Frogmind says the level editor is actually a polished-up version of the same one they used to create official levels for the game, so essentially everything in Badland was built using the same editor, which means the possibilities should be pretty endless. In order to publish a created level you'll need to be able to beat it, and you'll be able to browse through, play and rate other peoples' creations as well. User-created levels can be sorted by rating, difficulty, and length and each week Frogmind will pick one special level to be added to a new "Eternal Day" that will be available on the main menu for all to access.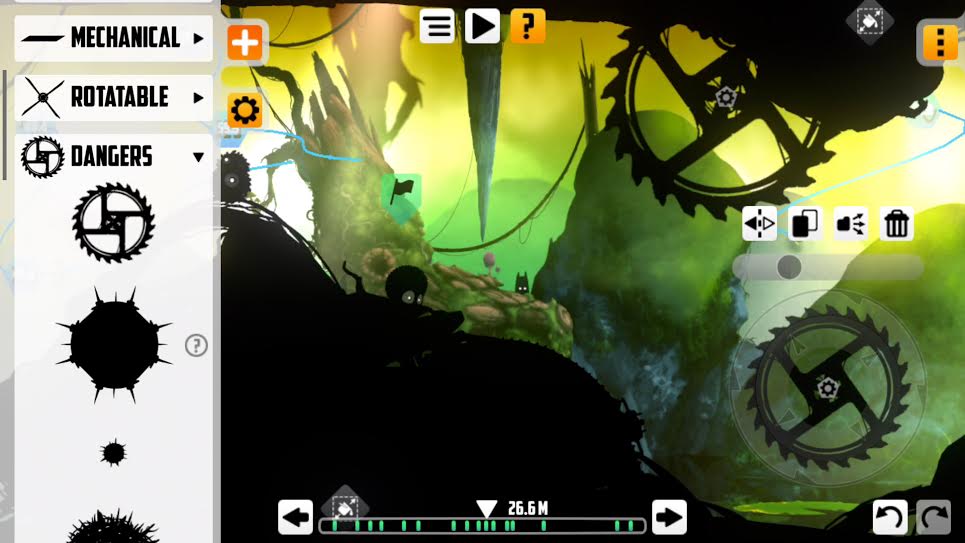 Frogmind expects the level editor to be a few weeks off still, and they're looking for some eager beta testers to check out an early version of the editor and get to making some levels. Just prior to the editor's launch, Frogmind will choose the best three beta tester levels and feature them in the game on launch, and the creators of those levels will also get some Badland swag as well as unwavering respect from the world at large. If you're interested in beta testing, head over to the beta section on the Badland website to check out the details. Otherwise look for the level editor update to arrive in Badland in the very near future.