Saturday night Carter and I had a pretty awesome time hosting a stream where devs of the yet to be released Pac Man 256 came and chilled out with us for a while. Not only did we get some great footage out for this highly anticipated game, but we also got some juicy tidbits from the devs regarding what lay in store for Pac Man fans in the iOS landscape.
My first impression of this game was how closely the game adhere's to the original Pac Man visually and mechanically. Now sure there are some big time upgrades and the screen constantly scrolls rather than a fixed screen. Those differences don't really detract from the old school 8 bit style still strongly popping out of this game. My first few seconds in the app were interupted with the original chiptuney melody Pac Man is famous for and from that point it has all been just nostalgia and great gameplay.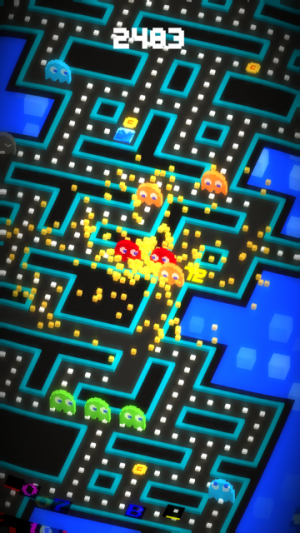 Now if this game wasn't enough to warrant a preview(uh, hello, it totally is) there were some really awesome things we found out on saturday and someone's personal goals were not only met, but one of the developer's scores was beaten with an audience looking onward in amazement.
First off, We got some confirmations about a certain Pac Man and some Ghosts showing up in a little game called Crossy Road soon as unlockable characters. What started off as an ETA on game release of sometime this millenium was refined down to sometime in the North American summer time 2015. For those of you not calendrically inclined, that means before October we should see this game released ready for you to play. What a big night! Dev spoilers and that wasn't the end of it either!
While our developers were busy spilling the beans to our rapt audience, the man behind the audio visual magic of the Touch Arcade Mobcrush stream, Mr. 3.5 Carter Crater Dotson himself, was busy destroying his already impressive high scores. Having already reached a score of 8,000, Carter was on the hunt for the five digit white whale. You can call me Ishmail because I was strapped in for the ride watching a legend make good on his pursuit of greatness. By the end of the night, Carter had managed not only to exceed 10,000 but also place within the rankings of the developers themselves with only 2 scores that we have heard of being higher than his top 13,300 he managed that fateful night.
By now he may have even climbed higher into the annals of high score-dom, for Mr. Dotson is nothing if not tenacious when it comes to defeating developers at their own game(he kind of has a history of doing just that). My experience with the game has not been quite as harrowing but it is really a delight to play a game that is going to be F2P and have such a fair system in place. I'm going to leave it til our full review for a full rundown of the pay structure, but it is without a doubt one of the best and fairest implementations on ANY game I have seen. If anyone gets mad at this game for it's IAP structure, you can be pretty certain they are a little crazy at the least.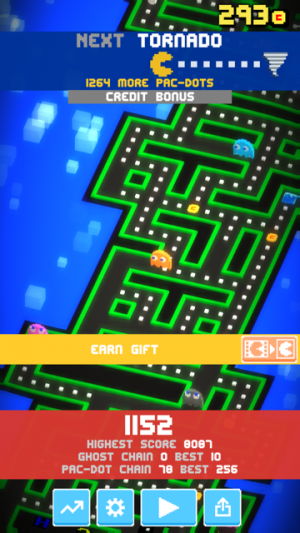 I'm currently working on one of the few departures from the original gameplay right now actually. There are power ups beyond just the power pellet in this game and just to name a few of my favorites: Huge Mode, Laser Beam, Stealth and Tornado. As Pac Man consumes pellets, he will open up brand new power ups that will randomly spawn in game. As much of an old school gaming purist as I am, I love this addition to the game. It really gives an additional flair to the way the game plays without breaking to far from the source material. Every time I hit one of those power ups I know I am getting a really great boost to my score or getting out of a bad situation. In our discussion with the devs, they explained that some of the powers got remade when then didn't feel like that had enough impact on the gameplay. So far from what I am seeing, the revisions have been right on the money.
We are all anxiously awaiting this one as the end of summer draws closer and closer. Remember to hit us up on Mobcrush too for exclusive pre-release game footage and dev chats!