Welcome to another full week of new iOS game releases. The party got started early today with a surprise iOS port of RollerCoaster Tycoon 3, which unlike its previously released free to play sibling is a completely paid game with no IAP. So hopefully plenty of people have been having fun with that throughout the day. Also on tap this week is the strange adventure/zen experience Barmark, which also launched a tad early today and has me very intrigued. Finally, Noodlecake's Avoid will challenge you to not get sawed to pieces, but sadly it won't try to sell you pizza. Check out the full list below and enjoy!
---
An Endless Runner And A Word Game Had A Baby…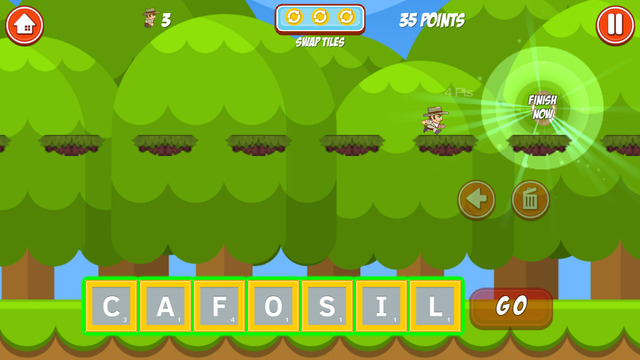 iTunes Description
Make words (3 letters or more) to create platforms so the runner guy can get to the other side! Make the words fast enough or he'll fall to his doom!

Some Quick Playing Tips

– If you don't like the letters, use the Swap Tiles button at the top of the screen to get new ones.
– Once you have created enough platforms for the runner to get to the other side, you can keep making words to bump up your score.
– When the runner lands on the last platform you'll be warned. Make a word fast or use one of your swap tokens to get new letters *and* two extra platforms to give you some breathing room.
– The runner gets faster at level 5 and again at level 10. Because, challenge.
Forum Thread: An Endless Runner And A Word Game Had A Baby… (By Jay Jennings)
---
The Ascension
iTunes Description
Ascend as high as you can. Tap to rotate the platforms and allow your bouncing ball to reach higher grounds while collecting valuable pyramids.

Beware though, speed increases and platforms disappear…

Will you make it to the top?
Forum Thread: The Ascension (by Bulkypix)
---
Avoid.
iTunes Description
Avoid the blades for as long as you can! Collect coins to unlock new characters.

Touch and drag to control your character.

Be careful!
Forum Thread: Avoid. (by Noodlecake Studios Inc)
---
Ball Jump
iTunes Description
Try to stay on the cubes. Can you react fast enough? Your path is being built in real time with an exciting combination of cubes.

→ Wait for the right moment
→ Then tap on the screen to jump
→ Don't fall off the cubes

Discover 5 different sections. How far can you get? Enjoy the challenge.
Forum Thread: Ball Jump (by Ketchapp)
---
Barmark
iTunes Description
Barmark is a point n' click exploration game, where you can alter the game's environment in order to achieve harmony and personal perfection. There are no goals, no points and no death. Barmark lets you be in control of your own experience.

For each new game in Barmark five landscapes out of eight possible will be randomly chosen. Also a randomly selected pair of Archanimals will be chosen to inhabit Barmark. As you explore the lands and interact with these animals they will ask you for various machines to be turned on.
Forum Thread: Barmark (by Stormhatt Studios)
---
Battlestation: Harbinger
iTunes Description
Battlestation: Harbinger is a real-time (RTS) space strategy game. Set in a universe, where 3 other species and an unknown threat are nearby, you will command many of the best ships the human race has to offer. Discover new technology and enjoy a gripping story this space adventure simulation game offers.

Experience the intense atmosphere of adventuring deep into the space and trying to save the human race. Dangerous and mysterious missions await you as you encounter challenges only a real space ship commander can face
Forum Thread: Battlestation: Harbinger (by Bugbyte)
---
Blocky Raider
iTunes Description
Explore the blocky temple in one of the greatest mobile adventures of all time. Survive pitfalls, spikes, traps, blades, lava, rickety rope bridges, ancient ruins and rolling boulders… It's block hard!
Forum Thread: Blocky Raider (by Full Fat)
---
Bümbardia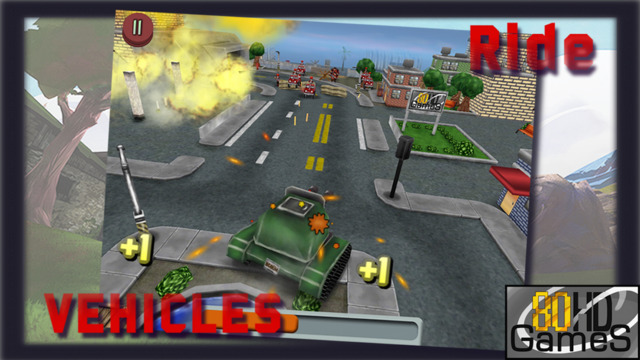 iTunes Description
The land of Bümbardia™ is in trouble! The evil Imperial Army has invaded and now it's up to you to stop them! Join Harry, Larry, Barry, and Joe in their heroic fight to take back their homeland. Help your fellow troops by providing air support as a bombardier, clearing enemies out of their way as quickly and efficiently as possible. Or alas… you could just have fun blowing everything up.

Featuring wacky characters and an arsenal of weapons, Bümbardia™ allows for varying styles of play. Aid your friendlies strategically through coordinated precision or just blast in like a bull in a china shop destroying everything in your path. Nevertheless, enjoy the ride!
Forum Thread: Bumbardia™ (by 80HD Games)
---
Circlestances
iTunes Description
Two circles fly across the screen. If they overlap, simply tap. The larger the overlap, the more points you get.
Every time you tap, the circles will gain more speed and move into random directions. But don't touch the screen without the circles overlapping each other – game over!

To achieve an impressive high score, you need good reactions, the right strategy (use an opportunity to score or wait for a bigger overlap to score even higher) and a little bit of luck since you can't influence in which direction the circles are moving with each tap…
Forum Thread: Circlestances – free arcade game (by funfungames.de)
---
Coward Hero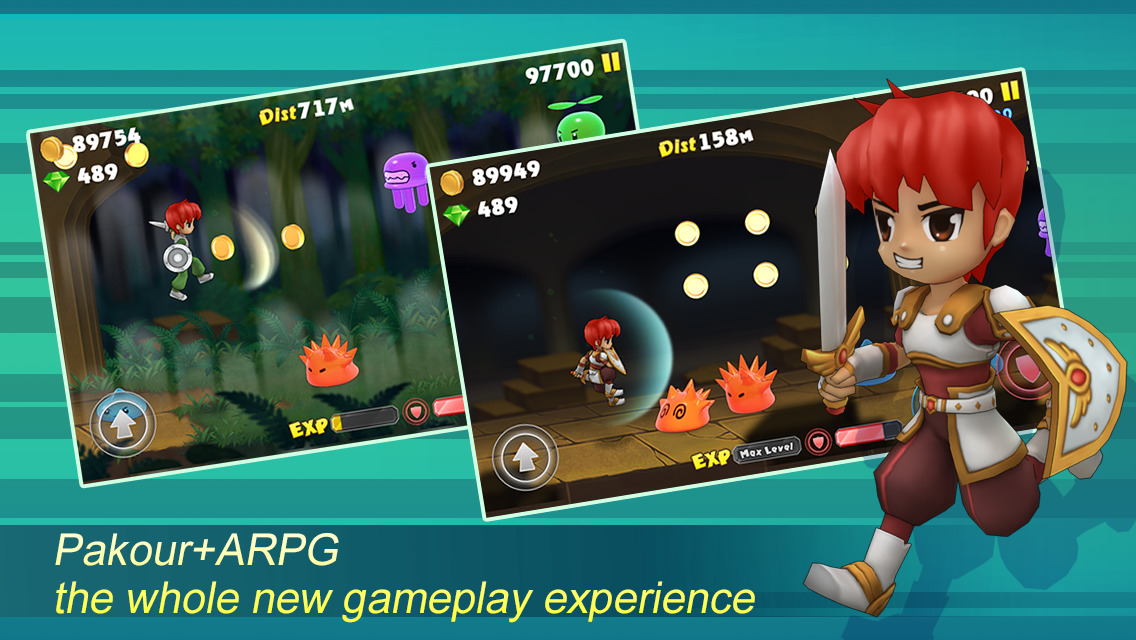 iTunes Description
An adventure-action game about a coward hero who is running for treasure. He is brave when deal with little, cute minions but can never face on the big, bad boss. 30 designed levels and 1 endless mode included. After finishing the 5th level, the endless mode will be unlocked.

In the normal levels, you are armed with heavy armors. In the endless level, you'll start with a light armor, gain exp when defeat enemies, level up and get new armor, speed up to escape from the chasing boss.
Forum Thread: Coward Hero (by PlayOne)
---
Drift City Mobile
iTunes Description
"Drift City Mobile" is the successor of the most popular online racing game "Drift City", which had more than a million players driving their coolest cars in different countries.

Simply tap on the screen by a single finger then move your car to dodge others' to obtain Combos. By getting the items on the lane, you can also boost up the speed to maximum level! In "Drift City Mobile" you are on the justice side and chasing after evil organization "HUV". Hunt down "HUV" and catch them by hitting their cars!
Forum Thread: Drift City Mobile (By Ucube.Games)
---
Farms & Castles
iTunes Description
Get ready to rule in Farms & Castles, the fiendishly addictive puzzle game played by millions!
Build towering castles and huge farms by matching objects! Harvest goods and collect gold as you work your way from a lowly knight to a mighty emperor. It might seem simple at first, but only the best will reach the top ranks!

– Amazingly fun gameplay that is easy to learn and hard to master!
– Compete with your friends on the leaderboards – who is the greatest ruler?
– Trade goods and purchase magic orbs to transform the world to your liking!
– Experience the beautiful graphics as you build up your land.
Forum Thread: Farms & Castles (by SQUARE ENIX INC)
---
FIVE5 – Number Puzzle Adventure
iTunes Description
Challenge you brain with this new falling block puzzle – FIVE5 – Number Puzzle Adventure!!

Manage falling blocks to match rows of numbers, while adding them together up to five! Watch the blocks add, match and EXPLODE! Collect Coins to help blast your way to victory!
Forum Thread: FIVE5 – Number Puzzle Adventure (by OverNuked, LLC)
---
Gathering Sky
iTunes Description
Guide a flock of birds on a playful journey across the sky. Dance in the winds of a far-away world and create an emotional story without words.

The world is brought to life by an original score performed by the San Francisco Conservatory of Music.

The experience is enjoyable with any skill level and can be finished in under an hour.

Fly with us.
Forum Thread: Gathering Sky (by A Stranger Gravity, LLC)
---
Hamster Universe
iTunes Description
Your duty is to make sure that the brave hamster does not revert to his idling ways by tapping him or his wheel encouraging him to generate energy and delve ever deeper into unexplored reaches of the universe.
Spend generated energy for special items and clothing appropriate for a heroic space voyager this hamster is (after all, you don't want the first space hamster traveling dressed in some old rags, do you?). While the amount of energy the hamster can generate by running is truly astounding, you can add to it by spending a part of the energy yield on alternate sources of energy which will keep the energy flowing even when the hamster is resting. If you want to generate even more, the hamster will always have some rewarding tasks to do. Fulfill them and you shall see the energy levels skyrocketing.
Forum Thread: Hamster Universe (by SneakyBox)
---
I Shot the Sheriff
iTunes Description
I Shot the Sheriff is a dual wielding two-button retro styled arcade game set in the Wild West. Shoot all the Bandits but never ever shoot the Sheriff!

• Simple One-Touch Gameplay
• 9 Weapons to Unlock
• 3 Different Environments
• Awesome Retro Graphics
• Compete with Friends and Family with Game Center Leaderboards!
Forum Thread: I Shot the Sheriff (by Appsolute Games LLC)
---
Kube Rush
iTunes Description
Slide through the tunnel as far as you can it this unique and challenging one-touch game!

Tap to turn and avoid holes and obstacles. Collect spheres and unlock awesome KUBES!

Can you beat the score?
Forum Thread: Kube Rush (by Mass Creation Sp. z o. o.)
---
Lightning Duru
iTunes Description
Lightning Duru is a classic 2D shooting game. Players will control two airships from "X War Office" to eliminate the enemies encountered in different missions.

– Very easy to control. What you need is to practise your dodge skill!

– Two player airships with different "temper" – Lightning & Duru.

– Different styles of game levels with their dangerous enemies.
Forum Thread: Lightning Duru (By Hong Pan)
---
March of Empires
iTunes Description
Break away from reality and ascend to the throne through the art of war!

Claim your title as Highland King, Northern Czar or Desert Sultan, and join this genre-redefining strategy game where you will wage constant war for real territorial conquest!

Fortify your castle, fuel a massive army, and enter the ultimate fight for realm domination! But as your empire expands it's bound to run into other ambitious lords, and only one emperor can dominate! Do you have the cunning to unify this land under your banner? Or will you watch your kingdom burn at your feet?
Forum Thread: March of Empires (by Gameloft)
---
Mix+Smash: Marvel Super Hero Mashers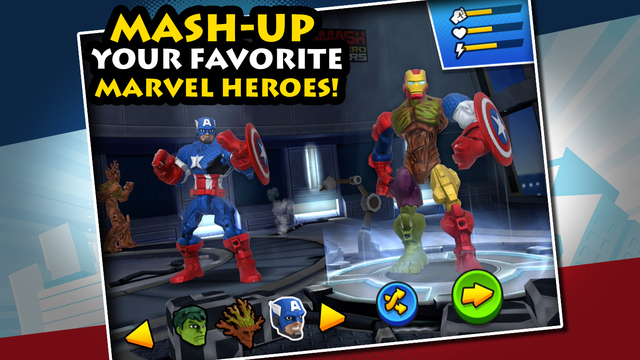 iTunes Description
Mash-up, Battle, and Smash-up! Protect the planet from hordes of villains with your favorite Marvel Super Heroes! Harness the power of Hulk, Groot, Captain America, Spider-Man, and Iron Man to save the day.

· Blend heroes' looks, powers, and abilities in the MixLab. Create your ultimate champion!
· Trigger mighty special moves in Smash Mode! Win the day in rapid-tap masher brawls!
· Tackle evil robots, and battle remixed Super Villains — Doctor Octopus & Ultron!
· Power through five heroic chapters! Clear dozens of levels! Master them on epic, superheroic, and legendary!
· Combine classic attacks with rhythm combat! Find the strategies to outplay your foes!
· Watch exclusive Marvel Super Hero Masher shorts!
· Earn special items so you can enter combat with ultimate health and power!
· Bring your favorite Avengers, Guardians of the Galaxy, and an ever-expanding roster of heroes from the Marvel Super Hero Mashers toy line to your digital device!
Forum Thread: Mix+Smash: Marvel Super Hero Mashers (by Disney)
---
Mobius of Magic
iTunes Description
Your adventure begins at the Harbour of Thal'mur, where you have been training with your master, Roku the Sorcerer. After completing your final test, your master asks your to deliver an ancient relic to Leena, a mistress of White Magic. Unaware of the adventure you are about to get involved, a Shadow has started pulling the strings of an evil plan that will threaten the peace of the entire world…
Forum Thread: Mobius of Magic (by Marti Nogue Coll)
---
Monsters Ate My Metropolis
iTunes Description
From the people who brought you Robot Unicorn Attack 2 and Giant Boulder of Death — the monsters are back, and they're dealing out destruction! Pick your favorite kaiju, assemble a deck of special cards and time your attacks to destroy the city. Battle rival players from around the world to decide who's king of the monsters. Unlockable monsters, rare prizes, leaderboards, tournaments and more make this the card game to topple them all!

Each side is dealt three cards (from their deck of 12) and takes turns attacking until just one is left standing. Damage is based on card power, element (blue, red, green, yellow), and your timing on the boost minigame. Each attack builds your monster's MegaZone meter; when it's full you can forego the cards and unleash a mega-powered attack that'll wipe the smile right off that city's face.
Forum Thread: Monsters Ate My Metropolis (by [adult swim])
---
Panic Run
iTunes Description
Run around panicking as obstacles fall from above to hit you! Your platform will move up and down making it easier or harder to avoid the obstacles as the game progresses! Collect coins to unlock beautiful backgrounds and characters
Forum Thread: Panic Run (by ATP Creative)
---
Ready Cola!
iTunes Description
This isn't a recipe app, it's a thirst-quenching game that cannot get any simpler: Shooting a straw into a bottle!

– Time your shots and send the straw into the cola bottle.
– Hit the "fever-bottle" to score more in Fever Mode.
– Challenge friends and compare scores in Game Center.
Forum Thread: Ready Cola! (by Pine Entertainment)
---
Ricochet Theory
iTunes Description
Ricochet Theory, from the maker of Salt & Pepper: A Physics Game.

Ricochet Theory is a thought-provoking physics game featuring ricochet based puzzles. Players must solve each level by moving the platforms in order to make the ball connect with all platforms.

Adjust the platforms to test your ricochet theory. There are several ways to complete each level so have fun and give it your all. There are no time limits in this fully featured physics game.
Forum Thread: Ricochet Theory (by Appdore, LLC)
---
RollerCoaster Tycoon 3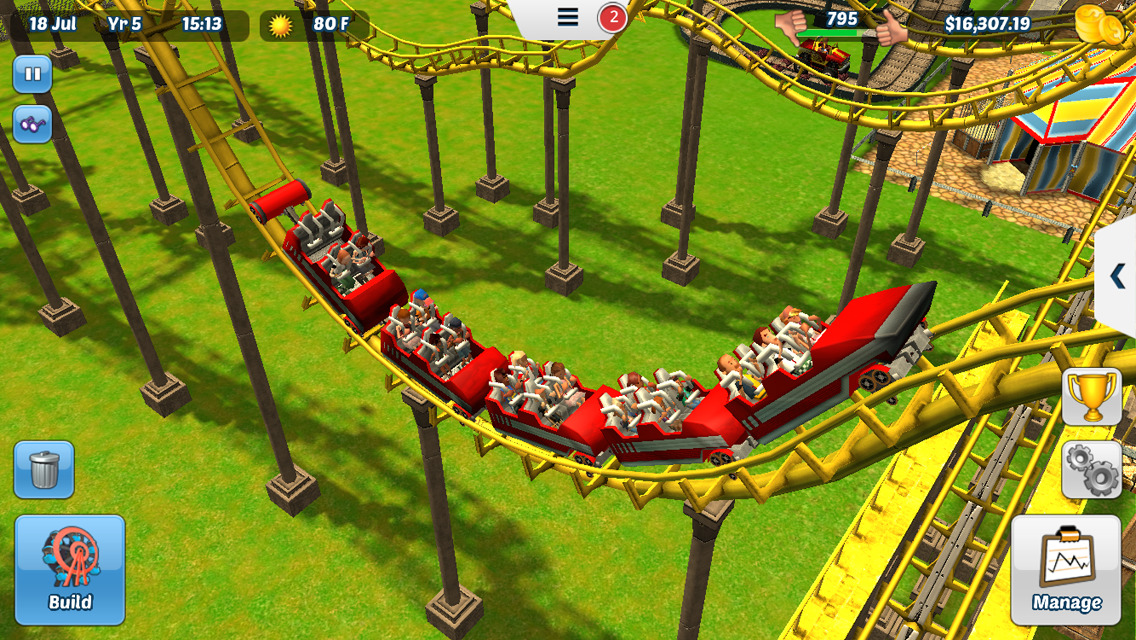 iTunes Description
RollerCoaster Tycoon® 3 (RCT3) is the classic bestselling PC strategy simulation that now brings the fun of a roller coaster park right to your iPhone or iPad! With a new mobile-friendly UI, the creativity, depth and sophistication of the classic PC game is all here – with NO in-app purchases.​
Forum Thread: RollerCoaster Tycoon® 3 (by Frontier Developments Ltd)
---
Sentinel Command
iTunes Description
Sentinel Command is a sci-fi themed strategy game that blends tactical, turn-based RPG style combat with a real time strategic simulation. House Daraay has invaded the sovereign domain of House Sedaris. Their goal is simple: take control of the valuable Neoplatinum-rich asteroid fields to fuel their galactic war. As heir to House Sedaris, you are tasked with the defense of the Neoplatinum mining operation.

From your base of operations at the Sentinel space station, you will take command of a small but powerful starship fleet. Protect the mining installations from Daraay raids. Distribute harvested Neoplatinum to your allies in exchange for powerful new ships and upgrades. Develop your ship's bridge officers from novice crews to seasoned veterans. Customize your fleet to suit your tactics. Seek out and destroy the Daraay bases where they are staging their attacks, and drive them from your domain.
Forum Thread: Sentinel Command (by GamerNationX LLC)
---
Sputnik Eyes
iTunes Description
Sputnik Eyes is a puzzle game that will take you on a journey across space.

Help the little Eyes to scan and explore each planet on the way. The objective is clear, the paths to reach it entwined. Use your logical thinking and help each of your robotic companions to reach its right-colored position – only then you can analyize a planet. But the positions are only reachable by a few paths…..

Sputnik Eyes is a classic puzzle: entertaining but a real brainteaser. Think sharp, explore all the planets and help your robotic companions!
Forum Thread: Sputnik Eyes (by Shelly Alon)
---
Star Pelt
iTunes Description
"Star Pelt", Destiny in two touches. simple yet challenging game

The UFO has been kidnapping characters on earth and using their DNA to create an army! Now, The Red has been kidnapped, help the blue to find her!

Dodge alien's weapons, destroy them, and find the Red.
Forum Thread: Star Pelt – Destiny In Two Touches! (By chun yin Tsang)
---
Tears Revolude
iTunes Description
A classic command-based RPG with a 3D map interface!
Play on-the-go without having to worry about an internet connection!

■Story
A century ago, there was a unique artist named Orwiel. Sion and Michelle set off on a journey to discover his final works. The two meet a girl with no memories named Liara. What the girl carries will shake both the path they travel and their fate!

■A mainstream command RPG with a 3D map interface!
Begin a new adventure in this game's 3D dungeons! This game uses old-school command-based battles to bring you an easily understood and played mainstream command RPG.
Forum Thread: RPG Tears Revolude (by Kotobuki Solution)
---
Wha Gwaan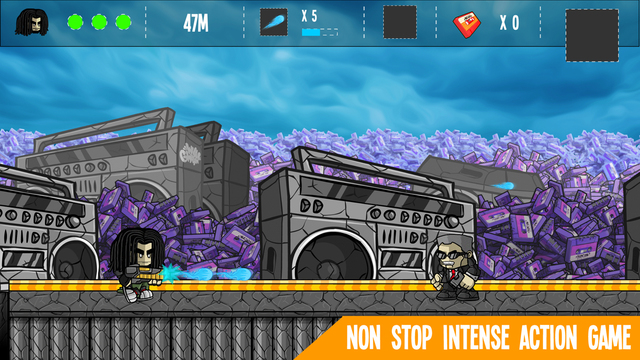 iTunes Description
In 2004, from the chaos of modern day concrete jungles, two figures emerge fighting to keep the vibez alive by lyin raggamuffin foundation in Serbia

Now finally, after a decade of hassling trough the soil of domestic underground music scene, they are bringing the froots from their hip hop raggamuffin roots to daylight in the form of this video game.
Forum Thread: Wha Gwaan (by ZealTopia Interactive)