Hello everyone, and welcome to the week! It's time once again for our look back at the noteworthy updates of the last seven days. Some big games got big updates this week, but there are a few smaller ones you may not have caught on the list, as well. Of course, you can keep an eye out for updates yourself using AppShopper Social (Free), the watchlist in the TouchArcade App (Free), or by participating in the TouchArcade forums, but this weekly summary is here to fill in the things you might have missed. Let's dig in!
Don't Starve: Pocket Edition, $4.99 Don't Starve: Big Pocket Edition gets an update with a few little improvements to make it easier to play. First up, those who were finding the game too dark will be happy to know there is now a brightness setting that you can play around with. There's also a new action that allows you to split stacks if you need to. The developers have also done a few bug fixes and stability improvements.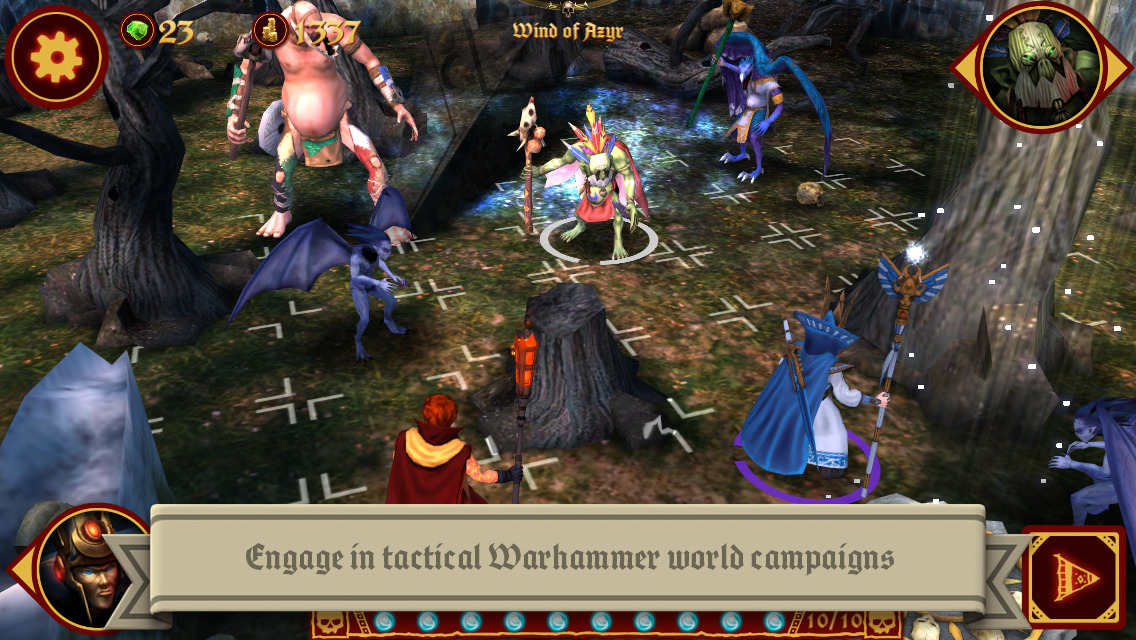 Warhammer: Arcane Magic, $1.99 The latest Warhammer game has already gotten plenty of useful feedback from players. The developers are listening, and this update includes many responses to that feedback. The biggest change is that Warpstone IAPs are now gone. They can only be earned in-game now, not bought. Aside from that, it's a lot of little things, like improving Wizard group movement outside of arenas, adding in some new achievements, and fixing a few rare-case bugs.
Pet Rescue Saga, Free I just realized that there weren't any King games in last week's article, which makes that the first one since I've started doing these. Well, that break was temporary. King has updated a number of their games, including the detestable Pet Rescue Saga, which gets a new 15-level episode called Robo Race. It's robot pets versus normal pets, and no matter who wins, we all lose. You want proof of the villainy of these creatures? The notes of this very update detail the crimes of a baby chick named Louis, who apparently thinks it's funny to switch salt and sugar. It's possible someone with high blood pressure has already been the victim of this merciless cousin of Chica.
Lara Croft: Relic Run, Free Only a couple of small things in this week's update to the endless runner starring Ms. Croft. First, Lara's classic duds are now available for free, although I have to admit they look kind of weird matched with her new features. There's now a head start gear item as well, which I'm kind of surprised wasn't in the game to begin with. It's the usual thing that lets you zoom past the first little bit of your run so you can get to the interesting part more quickly.
Warhammer 40,000: Deathwatch - Tyranid Invasion, $1.99 As one might expect from such a finely-tuned strategy game, the update notes for this one are very specific. Some crash bugs and hanging issues on enemy turns have been addressed, which is definitely a good thing. Not a problem I ran into but quite a few people were having trouble. The rest of the list is mostly bug fixes, largely for behaviors or weapons not working as intended. Support for iPod 6th Gen has been added, and chainswords make a really nice sound now when you use them.
Zen Pinball, Free It's been a long, long time coming, but V12 is finally available on the mobile Zen Pinball app. This is one of Zen's older tables, and it's a real doozy. With an engine theme and a pretty complicated structure, it might not have quite the same broad appeal as some of the other tables in this app, but high-level pinball players should get a kick out of taking it apart. It's a $0.99 IAP
Ire:Blood Memory, Free This game's been winning hearts in the TouchArcade forums, and with its quality gameplay and reasonably fair free-to-play structure, it's not hard to see why. This week's update brings a ton of new content to the game, including new modes, quests, bosses, gear, items, and more. The game has also received a bit of rebalancing, which hopefully hasn't thrown it out of whack for the players who were enjoying it.
Zaccaria Pinball, Free Let's not forget the other 'Z' pinball app, ASK Homework's Zaccaria Pinball. The latest update fixes a bunch of bugs, fine-tunes a couple of points, a new lighting option, and four new tables. Yikes guys, you're starting to make the competition look bad here. For giving us four new pinball tables in a single update, I'm awarding Zaccaria Pinball the coveted Update Mondays Most Spider-Mans Of The Week award. Just keep that metaphorical celebratory vermouth away from the real machines!
Bitcoin Billionaire, Free Clickers/tappers might not be my cup of tea, but if they're yours, you've got to be happy to see a big update to the Noodlecake-published Bitcoin Billionaire. This update adds a new Prehistoric Era where you can click away from the cozy confines of a cave. There are also a bunch of new investments, rooms, items, and achievements. There are lots of new things to read and play around with, so you'll just have to check it out to get the full experience. All that, and there have also been some UI improvements and bug fixes. The developers have even added Cloud saves. Yay!
Marvel Mighty Heroes, Free The only Marvel iOS game featuring an icon with Thor making a "Dat Ass" facial expression, Marvel Mighty Heroes got its third big update last week. The game is winding up for its big event based on the Annhilation storyline from Cosmic Marvel several years back, putting pieces into place and polishing up the experience. This update brings a new gameplay mode, some new cutscenes in story mode, a bunch of UI improvements, and a rebalancing that tilts things a little more in the player's favor. It could have been a contender if this update didn't break the game for so many players!
Agent Dash, Free Full Fat promised bigger and more frequent updates when they switched engines for Agent Dash, and I guess they weren't kidding. This new update brings two new character variations, some new outfits, a couple of new levels, and a new drone character that will follow you and protect you as you run. Amidst a few other tweaks, the developers have also done some serious house-cleaning on the bugs that cropped up in the last couple of updates.
Jurassic Parkâ"¢ Builder, Free A lot of people are enjoying building their own Jurassic Parks in the wake of this summer's smash hit return for the franchise. What's the best thing you can add to a game like this with a new update? If you said 'more dinosaurs', you win! If you said 'less waiting on timers', I'm sorry, but at least you can get an Euoplocephalus, an Edestus, and a Castoroides as a consolation prize. And as consolation prizes go, that's not bad at all.
MMX Racing, Free WWE Superstars in my monster truck racing? It's more likely than you think! So, we've already written about this, but the WWE is invading MMX Racing, adding several Superstars you can challenge, including Triple-H, John Cena, Paige, and more. The Superstars bring a new single player campaign with them, along with a new stadium, six new tracks, and of course, a bunch of new themed trucks.
Minion Rush: Running game, Free Are you tired of the Minions yet? You're not? Well, okay, here comes more Minion goodness for you! The latest update adds 15 new levels that take place in a volcano, a new seasonal event with a special costume as a prize, some new gadgets for Minion Races, and a new motocross bike mini-game. Ha ha, oh boy, those rascally Minions. What will they do next?
Fruit Ninja Classic, $1.99 Fruit Ninja is five years old! That means a couple of things. First, a ton of Halfbrick's games got neat new updates to celebrate, and second, I have to write a bunch of them out. Thanks, Halfbrick. Anyway, the birthday app itself gets a special Anniversary tournament, some new mini-games, and of course, a new weapon. The Golden Ember Blade allows you to temporarily trap fruit to give a good double-slicing. Sounds great for french fries!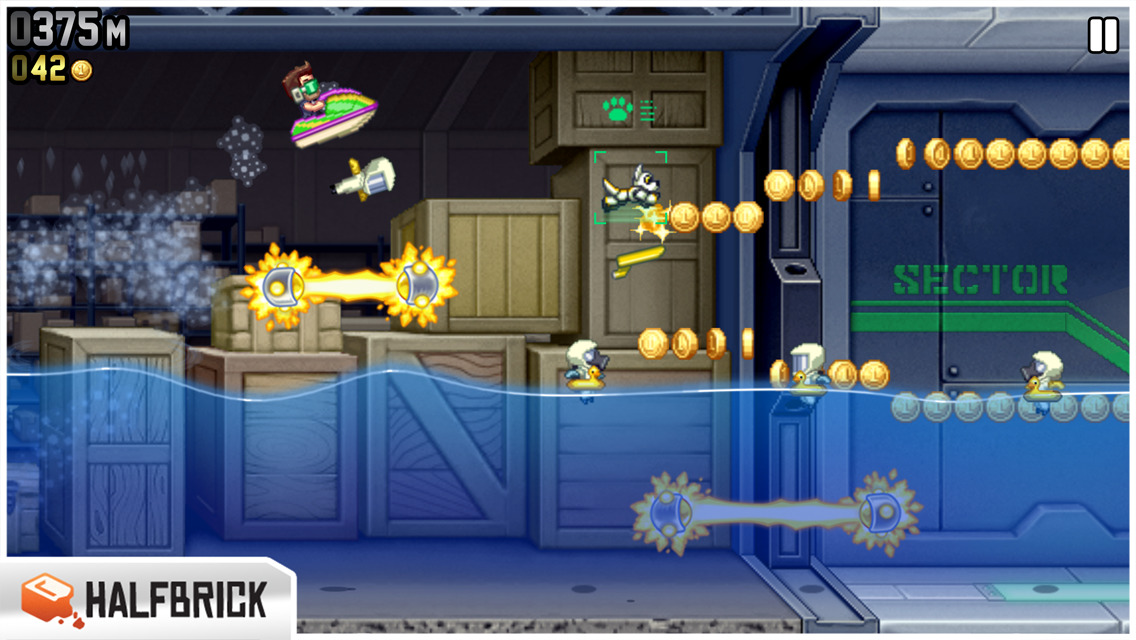 Jetpack Joyride, Free Jetpack Joyride's contribution to the celebrations is an even called Cut & Run. It decks the game out in Fruit Ninja accoutrements and has you trying to collect as much fruit as you can before time runs out. The even looks to be running for about a month, so play it while you can.
Band Stars, Free Band Stars celebrates Fruit Ninja's birthday with a special studio themed around the game. Hardwood floors, tatami mats, and fruit everywhere! It's so ambiguously Japanese I half-expect a teen idol group with 153 members to come running out at any moment!
Bears vs. Art, Free Bears and ninjas once again find they have much in common in the latest update for Bears Vs. Art. You're still destroying paintings, but this time, they're fruit-themed paintings. Slice and dice fruit from a new perspective, and if you can destroy 200 of the things before the event is finished, you'll get a new costume.
Monster Dash, Free Barry Steakfries is a real fan of Fruit Ninja, it seems. Monster Dash's update adds the Fruit Ninja Blade as a weapon, and gives you five new Fruit Ninja challenges to clear. Plus, there's cool new artwork of Barry looking like Ryu or Akira. So go ahead, bring a sword to a monster fight. You'll be alright!
Radical Rappelling, Free There are a couple of other Halfbrick games with updates related to this event, but I'm going to stop with this one for the sake of my sanity. I just didn't want to leave Radical Rappelling out. Its update isn't the biggest, just costumes to make your characters look like Fruit Ninja characters, but I like this game and I feel like it tends to go unnoticed, so here it is.
World of Tanks Blitz - 3D War, Free Whoa, we've got a version number update over here! World Of Tanks hits version 2.0 with style, adding in clans, detailed graphics settings, improved maps, and a whole bunch of balance changes. Now I know why Son Of Musgrave has had his face buried in his iPhone for the last few days.
Vainglory, Free Vainglory is quickly proving to be one of the most popular games on our Mobcrush channel, with thousands showing up to see Eric Ford indulge in his favorite evening past-time. This update offers up some new hero skins, a new card crafting mechanics, and a bunch of balance and UI tweaks to make everyone go that much more smoothly. Performance improvements and bug fixes? You know it, friends!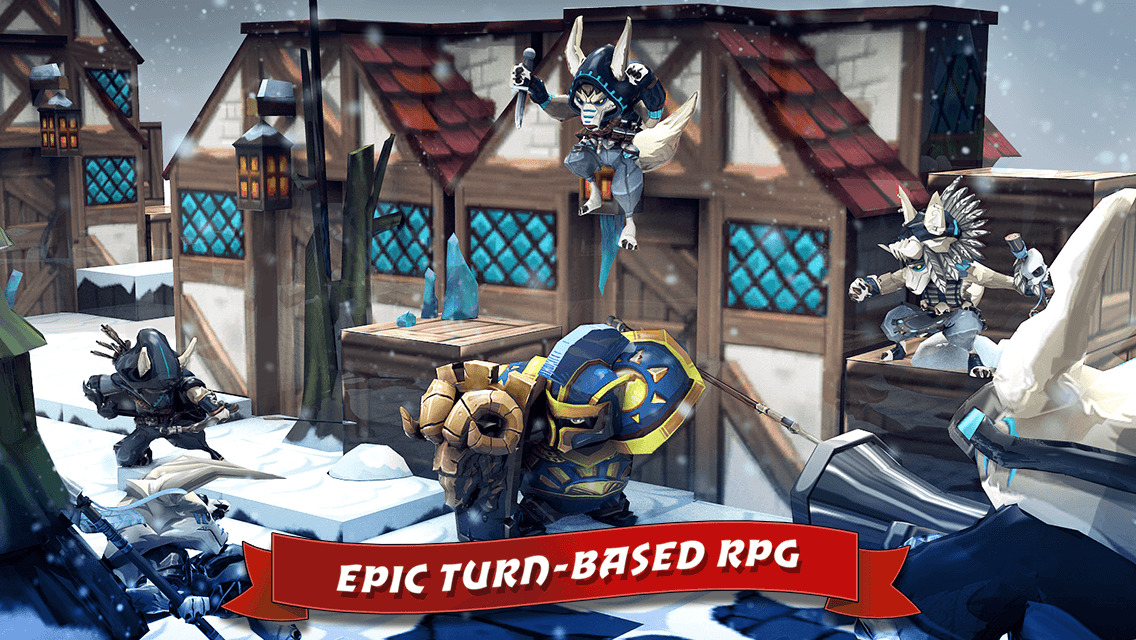 Lionheart Tactics, Free Lionheart Tactics gets a new character in the form of the Minstrel. As usual for bard-type characters, he kicks serious butt just by strumming away at his lute. He brings a new seven-battle event with him, too. Also added in this update are new crafting weapons and a couple of new IAP packs you can pick up. That said, I'm seeing lots of complaints about crashing and some changes to the balancing that make the game harder to play without paying a fair bit of cash, so beware if you're planning on trying it out.
Daddy Long Legs, Free Strange ol' Daddy Long Legs has a couple of strange new items in this strange little update. How does playing as a golfer grab you? No? Okay, how about a fruit helmet, then? Well then, you simply must check out this new huge tent. Oh sure, some other publishers may be better at user acquisition, but they'll never ket… excuse me, catch up to the original Daddy Long Legs when it comes to kooky charm.
Card Wars - Adventure Time Card Game, $3.99 If you haven't picked up the Fionna & Cake IAP, this update won't have much for you beyond stability improvements and bug fixes, but if you have, you can look forward to more than 20 new quests in the Ice Kingdom and Warlock's Garden. The content update includes new enemies, new side quests, and even the chance to play as a couple of new characters. Neat!
That about wraps it up for last week's significant updates. I'm sure I've missed some, though, so please feel free to comment below and let everyone know if you think something should be mentioned. As usual, major updates will likely get their own news stories throughout this week, and I'll be back next Monday to summarize and fill in the blanks. Have a great week!