It's new iOS game release time, and this week it's definitely all about quality over quantity. There maybe aren't as many new games as there have been in recent weeks, but any week where Spider: Rite of the Shrouded Moon releases is pretty hard to beat in terms of quality. Be sure to check out Shaun's thoughtful 5 star review for Spider 2, it's far and away one of the year's best. But hey! Don't forget about the other awesome games on offer tonight, check out the whole list below and let us know in the comments which games you're interested in picking up!
---
Apocalypse Meow: Save the Last Humans
iTunes Description
The nefarious cats have unleashed a devastating attack, destroying our peaceful home. As man's best friend, it's your job to rescue the survivors and defeat the evil feline forces. Battle hordes of enemy ships and pulverize asteroids as you fight to save the last humans.

Built for casual and hardcore players alike, Apocalypse Meow is a space-based shooter with RPG elements. Play and upgrade different characters, switching back and forth as many times as you like.

This is the ultimate battle of dogs versus cats. Start playing now – the pack needs you!
Forum Thread: Apocalypse Meow: Save the Last Humans (by SplitCell)
---
Baller Legends
iTunes Description
Can you feel the sweat pouring down your face as you fly through the air and slamdunk? Swipe to shoot, tap to dunk, and enter the record books as a legendary basketball player. Travel to diverse locations, upgrade and stylize your rookie, and face the challenges that will push you to the limit.

Arcade Mode: Rack up as many points as possible until you miss three shots. Quick to pick up and play, this mode will test your endurance as the shots get progressively harder. Use powerups and dunks to maximize your score.

Challenge Mode: Attack each level with specific objectives to progress to new environments and unlock new gear and clothing to develop your character. Some levels will require you to rapidly score baskets while others limit you to a few carefully placed shots. Each level has a diverse set of goals that will test your ability to shoot and score under pressure.
Forum Thread: Baller Legends (By Battery Acid Games, Inc.)
---
.Decluster Zero: Bullet Nocturne
iTunes Description
— .Decluster is a Guide for Your Bullet-Hell Dream Tonight —

Various designed levels and epic boss battles
Enormous enemies and overwhelming bullet patterns
Cool soundtrack and hot gameplay

Real Shmup with Neo-Retro Graphics!

'.Decluster Zero (dot decluster zero)' is a remix version of bullet-hell shooter '.Decluster: Into The Bullet Hell'. Great remixes and new features are included: a remixed soundtrack, modified mechanics, redesigned levels, and more.
Forum Thread: .Decluster Zero: Bullet Nocturne [+ Lite] (by MASAYUKI ITO)
---
Doodle God: 8-bit Mania
iTunes Description
Go back to the 80s in this addictive, ALL ages, puzzle world building game. Mix and match different element combinations to build the universe of your dreams. The entire game has been beautifully redrawn in pixel graphics with an awesome new 8-bit soundtrack that takes you back to the very beginning of video games.

Of course the universe was not created in a day. You'll have to work your up from a simple microorganism to create animals, tools, storms and even build armies before you have what it takes to build the universe! But beware, the power of creation may have unintended consequences, inventing the wheel might just trigger a zombie plague… Don't worry, you are not alone on this cosmic journey! Every time you successfully create a new item you'll be rewarded with the wit and wisdom of some of the greatest philosophers and comedians of all time. Unleash your inner god with Doodle God™!
Forum Thread: Doodle God: 8-bit Mania (by JoyBits Ltd.)
---
Doom & Destiny Advanced
iTunes Description
Nerds strike back in a new colorful turn-based RPG! Fight against Solomon Steel, the evil businessman, while he tries to conquer the universe with his ruthless startup! Get involved with the development of the game, experience glitches as never before and create with us the game of YOUR dreams!

Do&De Adv is the sequel, prequel and reboot of Doom & Destiny. It features a huge world map, awesome action-packed turn base combat, crazy party customization, cross-platform multiplayer, talkative characters, secrets, gags, nerdy jokes and an ever-expanding storyline!

Oh yes! It's a "sequel" because it's the second installment of the "Doom and Destiny series". It's a "prequel" because it's set in a timeline preceding the events of Doom & Destiny, BUT it's also a "reboot" because while using the same premise and the four main characters, it tells a brand new story set in a different timeline and even dimension than Doom & Destiny.
Forum Thread: Doom & Destiny Advanced (by Matteo Nicolotti)
---
El Diego
iTunes Description
El Diego will challenge your dexterity: free all the animals will not be a simple task!
Bouncing piñatas, smart woodlouses, undestructible walls… An array of obstacles will make your mission tough.

Features:
– Mexico, Russia, Egypt… Visit wonderful countries through tens of stages.
– Use the most powerful booster ever seen in a video game: the magnet!
– "One finger" gameplay: El Diego can be played easily mostly everywhere.

Last but not least, there are cats!
Forum Thread: El Diego (by Bulkypix)
---
Farming Simulator 16
iTunes Description
Manage your own farm and drive massive machines in an open world!

Farming Simulator 16 allows you to manage your own realistic farm in extraordinary detail. Plant, grow, harvest, and sell five different crops, raise cows and sheep, and sell timber at your own pace. Buy new fields to expand your farm land. Take direct control of harvesters and tractors, or hire AI helps and manage your growing farm from the full screen management map.

As the newest in the series of Farming Simulator games, this game has the best of agriculture simulation. The game features massive tractors and other machines from over 20 brands of agricultural manufacturers, including New Holland, Case IH, Ponsse, Lamborghini, Horsch, Krone, Amazone, MAN and more.
Forum Thread: Farming Simulator 16 (by GIANTS Software GmbH)
---
Five Nights at Freddy's 4
iTunes Description
This time, the terror has followed you home.

In this last chapter of the Five Nights at Freddy's original story, you must once again defend yourself against Freddy Fazbear, Chica, Bonnie, Foxy, and even worse things that lurk in the shadows. Playing as a child whose role is yet unknown, you must safeguard yourself until 6am by watching the doors, as well as warding off unwanted creatures that may venture into your closet or onto the bed behind you.

You have only a flashlight to protect yourself. It will scare away things that may be creeping at the far end of the hallways, but be careful, and listen. If something has crept too close, then shining lights in its eyes will be your end.
Forum Thread: Five Nights at Freddy's 4 (by Scott Cawthon)
---
Free Fall – Endless Arcade Descent
iTunes Description
Dive downwards on an endless journey through a vibrant and minimalistic world filled with unexpected danger. It's a challenge of anticipation and immediate reaction to dodge enemy obstacles in a fast-paced setting. How far can you get?

Tap anywhere on the screen to make the ball hop upwards. Avoid the obstacles and red dots, and get as far as you can!
Forum Thread: Free Fall – Endless Arcade Descent (by Appsolute Games LLC)
---
KOI – Journey of Purity
iTunes Description
With your help, the past will unveil; What kind of force is behind, that drove the little koi to be so determined to achieve the impossible task?Bits and pieces floating on the pond, what kind of story can they form?

The constantly changing surroundings are the reminder of the damages we did to the world. In this world of danger and instability, you are to test your bravery and wisdom, and solve the puzzles together with the little koi.

With brilliant storyline embedded in each stage, Koi makes use of elements of puzzle solving, growth and collection. The further the story goes, the clearer it gets. Players are able to see through all the puzzles and finish this journey of mystery.
Forum Thread: KOI – Journey of Purity (By dawei lee)
---
Namoon Fighter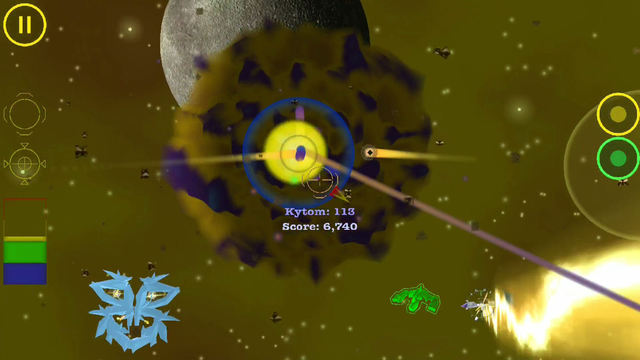 iTunes Description
Terra is in danger! Alien ships are scattering asteroids that threaten the inner planets.

Namoon Fighter is an arcade-style 3D space shooter featuring target-rich missions that span the Terran Solar System.

As a Namoon Fighter, you must defend Terra from asteroids, rogue ships, light matter, space mines, and alien incursions. A tutorial mission explains flight controls and cockpit features.
Forum Thread: Namoon Fighter (by Atelzaas)
---
Peninsular War Battles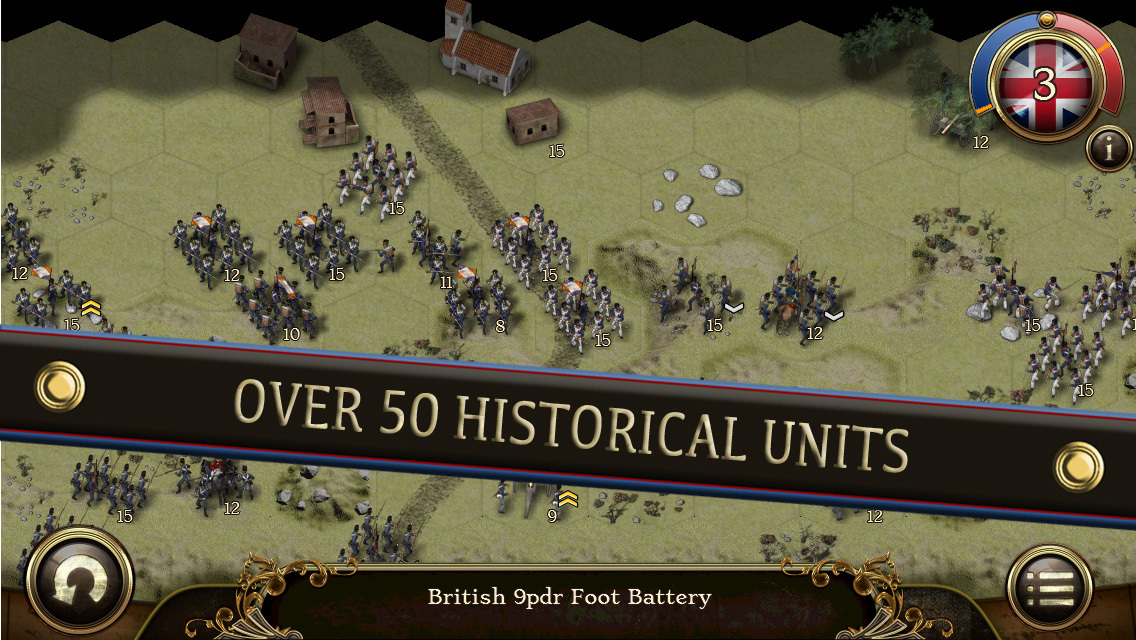 iTunes Description
Peninsular War Battles places you at the forefront of Napoleon's campaign to conquer Portugal and Spain.

The missions represent well researched representation of the major battles of the period with a full range of tactical options available to all the commanders. Each different combat unit is accurately depicted with the uniforms, colours and flags of the period.

The in-depth game systems allows infantry units to form line, column or square while light infantry units may skirmish in open order. Victory in most battles will go to the commander most able to utilize the combined arms benefits of infantry, cavalry and artillery to the best effect.
Forum Thread: Peninsular War Battles (by HexWar Games Ltd)
---
Plane Troubles
iTunes Description
Plane Troubles is a unique 2D arcade game that turns aircraft evacuation into pure entertainment.

Unfasten your seat belts and, with a swipe of your finger, manouvre through the plane cabin to reach the safest exit.

Become an evacuation master avoiding maddening queues, unruly passengers, cabin smoke and merciless fires aboard the most unlucky airline of all time. No doubt about it: each of its flights ends up in evacuation!

How many plane troubles can you survive?
Forum Thread: Plane Troubles (HCI Lab, University of Udine)
---
Rockstars of Ooo – Adventure Time Rhythm Game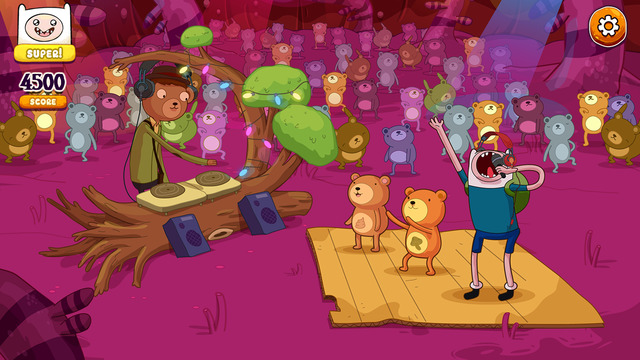 iTunes Description
Calling all rockstars! Feel the rhythm in Adventure Time Rockstars of Ooo! TAP TO THE BEAT!

Get ready for a new musical adventure! Tap to the rhythm to sing and play with Finn, Jake, Princess Bubblegum, BMO, and Fionna! ROCK AROUND OOO!

Explore some of your favorite Adventure Time moments, including BMO Noire, Fionna and Cake, Wizard Battle, Marceline's henchmen, and Party Pat in the Belly of the Beast! 10+ ORIGINAL SONGS!

All-new songs were composed exclusively for Rockstars of Ooo! Can you keep up with the beat and ace all 30 levels?
Forum Thread: Rockstars of Ooo – Adventure Time Rhythm Game (by Cartoon Network)
---
Sling Kong
iTunes Description
Sling, bounce and swing your Kong to glory, but watch out for all manner of dastardly traps and obstacles. Go up, and up, and up until there's no more up to go, or else meet your hilarious end!

Join Chimp, Pig, Jellyfish and over 35 other crazy and colourful characters as you challenge your friends to become the best Kong Slinger around.
Forum Thread: Sling Kong (by Protostar)
---
Spider: Rite of the Shrouded Moon
iTunes Description
Spin webs of your own design to trap insects as you explore a mysterious abandoned mansion. Learn the truth about what happened there and leave the place covered in cobwebs.

Once the sun sets outside your window, it becomes night in the game. When it rains in real life, the rain also falls on Blackbird Estate. Solve cryptic puzzles using the weather and the moon, and encounter rare and beautiful insects that only come out at night. Prepare to be immersed as never before by this unique connection between game and real world.

An estate built by a secret society for a mysterious purpose. A mad inventor, a brave child, and an adventurer of the high seas. Discover hidden passages and decode secret messages. Slip under floorboards, through keyholes, and up to the rooftops for a spider's perspective on this dramatic tale told without words.
Forum Thread: Spider: Rite of the Shrouded Moon (by Tiger Style)
---
Toby's Monster
iTunes Description
Toby's Monster is a fairytale odyssey originating in a long lost age. Presently Toby, our unsung and valiant hero, sets out on an epic quest that will forever change his life…

Toby, the bravehearted explorer, set out in search for the greatest treasure the world has ever seen. Deep in a lost cave after years of excavating, he finally found what he was looking for – the elusive Golden Egg. Legend tells us, that with the proper amount of patience, love and care the egg will grow into the most spectacular beast the world has ever seen.
Forum Thread: Toby's Monster (by Millenway)
---
Zoombinis
iTunes Description
Play Zoombinis and guide the little blue creatures through fun and increasingly challenging puzzles on their way to a new home.

Zoombinis is a re-creation of the classic, award-winning 1990's puzzle game Logical Journey of the Zoombinis. The small blue creatures, each with distinct personalities and appearances, are escaping imprisonment by the evil Bloats who have taken over the Zoombinis' home. Players take on the role of guide and help the Zoombinis reach the safety of Zoombiniville.

Use logic, analyzie data, spot patterns and hone problem solving skills. Players face a series of increasingly difficult challenges that stand between the Zoombinis and freedom. Twelve perilous puzzles each with 4 levels of increasing difficulty, a great story, and many fun and memorable characters make for an engaging and challenging experience.
Forum Thread: Zoombinis (by Technical Education Research Centers, Inc.)