A long time ago, by App Store standards anyway, a unique puzzle game named Shibuya released on iPhone. Said to be inspired by the neon lights and the tall buildings of Tokyo's famous Shibuya district, it also seemed to be following in the footsteps of stylish puzzle games like Lumines and Meteos produced by Q Entertainment. The game got a lot of acclaim and a few updates, but it eventually fell behind the times and was pulled from the App Store. I had kind of thought we'd seen the last of it until I got word from the developer that Shibuya was returning, better than ever. Shibuya Grandmaster ($1.99) is a well-crafted update to the original, bringing modern features and style to the game while still offering up a strong and unusual twist on falling block puzzles.
It's a bit hard to figure out what's going on in Shibuya from screenshots. The core gameplay involves filling falling blocks with various colors to create combinations of two or more that you can clear from the screen. The blocks will fall at a steady pace whether you paint them or not, and while you can see the order of the next few colors you'll be able to use, you're unable to switch that order around. Once an empty block has fallen in place, you can't paint it, and it can only be removed by making a match immediately above or below it. Survival involves planning ahead and often painting blocks that are higher on the screen. Getting a great score, on the other hand, involves that delightful sort of "dancing on the edge of a knife" approach that gives Tetris the long-term bite it enjoys.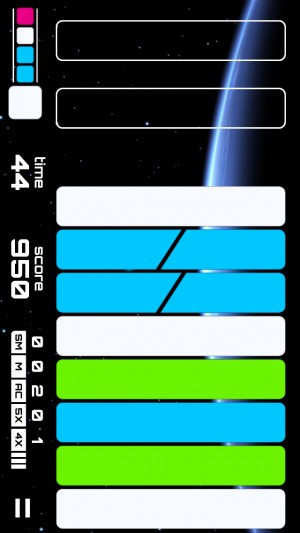 You see, if you really want to make a proper go of it, you'll need to make several matches in succession. But you don't have a lot of screen real estate, so it's better if you can put them together in sets of two rather than three or more. The biggest and best combos will come from layering colors carefully, like a perfectly symmetrical sandwich. That requires not only keen pattern recognition skills, but also nerves of steel as you try to get each color where they're meant to go before something falls out of place and sends the whole thing tumbling. Shibuya Grandmaster includes several speed settings, so you can choose whether you want a mellow matching experience or a more exciting round, but no matter what falling speed you opt for, you're stuck with the same time limit. Obviously, your scoring potential in that limit is far higher when the blocks fall quickly. Once again, the amount of risk you want in pursuit of the reward is up to you.
Because of the depth in the gameplay, score-chasing is a lot of fun in Shibuya Grandmaster, but if you need something more structured, the game has you covered. The 'Grandmaster' in the title refers to the ultimate rank available in the game, and you can only reach it by completing a long and difficult series of tasks during play. Each rank has a few missions to complete before you can move on to the next, and in addition to providing a target for more goal-oriented gamers, these missions also teach you a great deal about the nuances of the mechanics. There are Game Center achievements associated with each rank, along with a set of leaderboards for your best score, and your highest performance towards completing various types of matches.
It's all wrapped up in a stylish presentation that reflects the passage of time between the original's release in 2010 and today. The soundtrack includes five wonderful licensed songs, while the visual presentation is crisp and smooth. Some of the optional skins look particularly impressive, with lots of moving parts and extra effects. Those skins, by the way, are the only thing that cost money in the game. They're purely cosmetic, and you can buy them a la carte for $0.99 or in a bundle that also includes any additional content that might come for $4.99. There's a good variety in there already, and if you're looking to put some money into the game, they're definitely worth it. Otherwise, the game is entirely free. There are no ads, no paywalls, and no shenanigans whatsoever.
Even if it weren't the case that the game is free, Shibuya Grandmaster would be an easy recommendation. It's a clever puzzle game that suits the platform very well, offering a straight-forward interface and a relatively smooth mastery curve. Working your way through the various ranks will make you feel like you're constantly plumbing new depths from what is on the surface a very straight-forward challenge. The presentation is top-notch, and should you choose to partake of any of the optional visual themes, you're not going to be disappointed with the results. I'm not generally a big-city person, but I can see myself spending many nights in this version of Shibuya.