It's really hard to find anything bad to say about Pixelbite's Space Marshals ($3.99). When it first burst on the scene in January this year, it took the often overdone dual-stick shooter genre to a whole new level by injecting strategy and stealth into the typically "blast everything in sight" nature of the genre. The only real drawback was that the experience didn't last too long, but Pixelbite has been rectifying that in the months since with new content updates.
In early March a lengthy Chapter 2 update was released which included lots of new missions, new weapons and gear, and new enemies to fight. Now, as we learned back in June, a Chapter 3 update is on its way, and Pixelbite has announced on Twitter that the update will arrive on August 13th.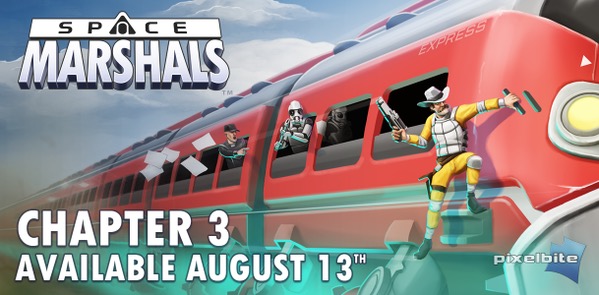 As with the Chapter 2 update, Chapter 3 of Space Marshals will arrive as a free update for all users. Pixelbite is making a conscious effort to differentiate this chapter though by focusing more on stealth mechanics than what was found in previous chapters. This has also been announced as the final chapter to the game, so expect any loose threads to be wrapped up in Chapter 3. However, due to the success of Space Marshals and acclaim from its fans, Pixelbite has expressed interest in doing a sequel someday. Let's hope that happens, but in the meantime look forward to Chapter 3 of Space Marshals arriving in just a couple of weeks on August 13th.