Well, it's new iOS games day, and it's turned out to be kind of a weird one. A bunch of the games we posted this morning launched early, so chances are you've been playing some of these for a bit already. Then there's Sonic Runners, which finally came out of soft-launch and was available worldwide… for a while, before being taken down for some reason. Then there's been all sorts of surprises like Dragon Quest 6, Tales From Deep Space and LEGO Batman. Finally, there's Piloteer, which I'm calling right now will be a runaway hit. So without further ado, hit up the links below and let us know which games you're interested in grabbing!
---
Age of Ships
iTunes Description
From fast destroyers to destructive battleships, build your own fleet and lead your empire to victory! Send your fleet off to conquer enemy territories, gain experience and climb the ranks in Age of Ships. Battle against players around the world and establish legions to conquer the world!

A network connection is also required.
Forum Thread: Age of Ships (by Zheng Ma)
---
Apocalypse Traffic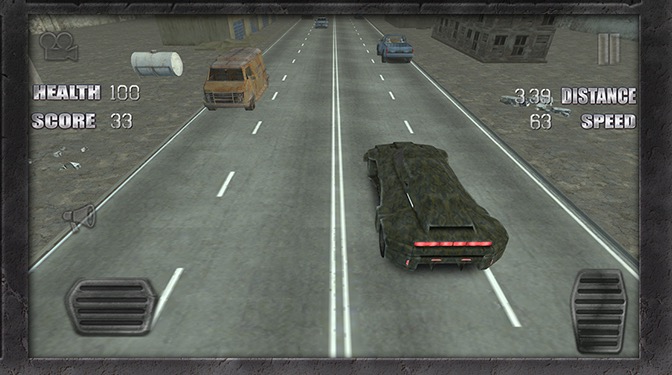 iTunes Description
The year is 2030. A human pandemic has swept the Earth leaving only a few survivors. The world's cities are now run by nature; barren land resides where communities once thrived. Buckle up, it's time to fight for survival through the Apocalypse Traffic.

Drive your way through three decimated locations whilst avoiding traffic to increase money; High-octane driving is rewarded with near miss and high-speed bonuses. Witness the new world through three locations – a decaying city, desolate badlands and a town left in ruins.

After dodging traffic, spend your coins on upgrading the car's brakes, steering and acceleration. Once the money rolls in, upgrade your car from one of the seven available. Each has their own unique style and characteristics.
Forum Thread: Apocalypse Traffic (by Francisco Mitropoulos)
---
Bambosher
iTunes Description
Bambosher is the coolest chalkboard running game around! "Bambosh" means deceptive nonsense and the school bullies' bambosh must come to an end. It's up to you to make it happen! There is no shortage of tactics to take the bullies down. Run through the school and playground to rescue kids who have suffered the bullies' wrath. Avoid obstacles such as desks, skateboards and swings, or use your spitball shooter to erase them from the board. Grab coins along the way and use them to upgrade your capabilities.
Forum Thread: Bambosher (by Saurus Productions)
---
Bomber Bros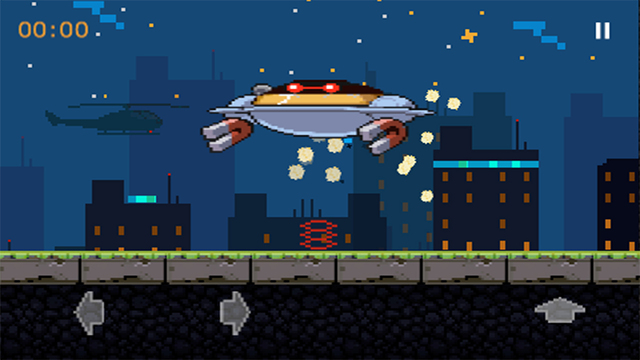 iTunes Description
Super Bomber bros is here!
Save the world from the evil invaders in this super classic arcade action packed game,
Higly addictive and with really cool retro graphics and music.
Choose from 2 different players and beat your way through 3 different worlds with more than 40 action packed levels.
Get it while it´s totally free!
Forum Thread: Bomber bros (by Stefan Jansson)
---
Candy's Town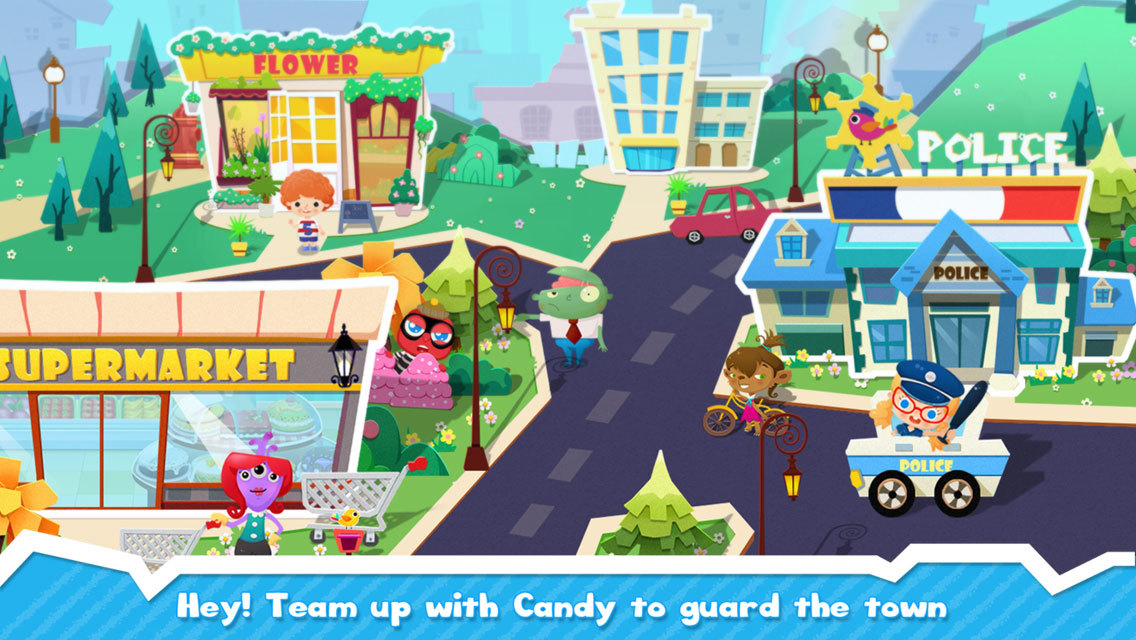 iTunes Description
This time, sweetheart Candy will show her talent of being a mayor. She is just a kid, but she never disappoints people. See~ owing to her great effort, this place becomes fantastic. A little girl may harbor big power, yes, that's Candy. In this game, she is a nice doctor, young in age, but expert in medical skill; she is a brave firefighter, so putting out a fire and saving people are a piece of cake; she is a righteous policewoman, catching the thief easily with her unique skill. Well, the little mayor may be a super hero, but not a superhuman. Sometimes she is terribly busy and that's why she needs a warmhearted partner like you. Come on, dear. You will be in your element when doing the significant things as below, giving a hand to the residents, delivering the mails or packages, dispatching the ship or train, enjoying the theme song, etc.
Forum Thread: Candy's Town (by Libii Tech Limited)
---
Chaos Domain
iTunes Description
Chaos Domain is a game about shooting bad people in the face.

Apart from that, it is also a run and gun platformer, powered by Unreal Engine. The game is highly influenced by games from 8-bit and 16-bit era, including Contra/Probotector series, as well as titles like Abuse and Doom Troopers.

The game is set on a huge spaceship occupied by chaos cultists, where the main character (who clearly looks like a hi-tech version of the god Anubis) must kill everyone in sight. The game is obviously not story-driven, it's all about action.
Forum Thread: Chaos Domain ( By Holy Warp )
---
Dead Land – Fear of Zombies
iTunes Description
Welcome to Dead Land. You must defeat your fears for survival and salvation in this reign of zombies.You have to walk through the road without being noticed by them and kill them with different weapons. You can get these weapons by walking to the bright lights on the road.
Features:
* Stunning graphics, special sound effects and music
* Gain extra life by unlocking the powerful weapons
* Compete with your friends to get high scores by challenging them
Forum Thread: Dead Land – Fear of Zombies (By MOMEND)
---
Discorun
iTunes Description
1. Dash in the disco and avoid obstacles!
2. Jump 'n' run party: 100+ levels!
3. Collect 100+ club outfits!

Run 'n' Repeat!!!
Forum Thread: DISCORUN by Tuokio
---
Door Kickers
iTunes Description
Door Kickers is the unforgiving, award winning SWAT-command quick tactics game from the PC. Includes all updates and a new campaign, as well as full cross-platform saves compatibility and an all-new interface designed specifically for touch based platforms.

Door Kickers mixes old school, no-quarter action with modern ergonomic interfaces and puts you in command of a SWAT team during a tactical intervention. Analyze the situation, plan team routes, choose equipment and breach points and coordinate multiple troopers to reach the hostage room before the bad guys get to press that trigger.

It may sound daunting, and like real world CQB combat, it sure is. But most levels can be completed in minutes and on the fly improvisation works. Achieving the perfect planning, getting the mission done with no false steps and losing no people, that's a skill harder to master.
Forum Thread: Door Kickers (by Killhouse Games)
---
Dragon Quest VI
iTunes Description
Dragon Quest VI: Realms of Reverie , the final instalment in the Zenithian trilogy, is now available on mobile devices!
Experience an epic adventure spanning two parallel worlds!
Recover the heroes' long-lost memories, and bring the two worlds together!

Download it once, and there's nothing else to buy, and nothing else to download!
Forum Thread: DRAGON QUEST VI (by SQUARE ENIX INC)
---
Fairystone
iTunes Description
This tiny universe is composed of brick. Build your house, your castle or whatever you like. And invites a lot of fairies. Their magic is powerful. These little fairies will fill your world of life.

You know, I am proud to offer you a game that will develop your imagination and enrich your inner world. You'll see when you become a mom. You too, you will love to see your children's eyes shine with joy.
Forum Thread: Fairystone (by odenis studio)
---
Fort Meow
iTunes Description
A pillow fort physics-based puzzle adventure involving cats, destruction and a dusty old manor.

Upon finding her grandfather's journal in the attic, Nia is attacked by a barrage of feline assailants. It seems that her grandmother has become a crazy cat lady since last time she visited, so you will need to defend Nia by building a protective fort out of furniture to keep the cats at bay, while deciphering the mysterious tales hidden within the journal.
Forum Thread: Fort Meow (by Surprise Attack Games)
---
Galaxy Online 3
iTunes Description
You are a Commander of the Galactic Federation. Take charge of a newly colonized planet, build up your outpost, hunt down outlaws, create a mighty armada, and compete with rival Commanders to earn your place among the Federation's High Council! Play Galaxy Online 3 your way – the possibilities are endless!
Forum Thread: Galaxy Online 3 (by IGG.COM)
---
Ghost Division
iTunes Description
Ghost Division is a puzzle game that puts the player in the shoes of a world renouned hacker to help locate a missing person. But everything is not what it seems… can the employer really be trusted?

You will have limited lives, but also small boosters to help you on your way.
Forum Thread: Ghost Division (By Gregor Gullwi)
---
Her Story
iTunes Description
Her Story is a fresh take on the police procedural from Sam Barlow, creator of Silent Hill: Shattered Memories and Aisle. Playing like an interactive true crime documentary, the game lets you go hands on with a police database full of live action video footage. It stars Viva Seifert, actress and one half of the band Joe Gideon and the Shark.

How does it work?

Her Story sits you in front of a mothballed desktop computer and logs you into a police database. Search through hundreds of video clips that cover seven interviews from 1994 in which a British woman is interviewed about her missing husband. Explore the database by typing search terms, watch the clips where she speaks those words and piece together her story.

Unlike anything you've played before, Her Story is an involving and moving experience. One that asks you to listen.
Forum Thread: Her Story (by Sam Barlow)
---
Hunger Beat
iTunes Description
Humanity is the biggest human being. Hungry people are our gangrenous hand. There are 805 million hungry people in the world. Hungry countries are the haven of global terrorism, the source of desperate migrations, the cradle of lethal diseases. Gangrene can spread throughout the body. Hunger is not their problem, hunger is our illness. Don't waste food. The food wasted by one of our families is enough to feed a hungry family from a developing country. If you save food, they can make the investments they need to get out of malnourishment. Saving food is a revolutionary medicine. And this could be the first time in history that gangrene is cured. Save food, beat hunger.
Forum Thread: Hunger Beat (by Antonio Isasi)
---
Icarus-X: Tides of Fire
iTunes Description
Blast your way through waves of enemies and bullets and defeat massive boss ships in this fast-paced vertical Shoot'em Up with a traditional Arcade Mode and an experimental Campaign Mode that borrows from the mechanics of ARPGs such as Diablo and Borderlands.

Choose from 3 ship classes, gain experience up to level 30, loot randomly generated weapons, shields and mods from your enemies and carefully spend points in non-resetable skill trees.

Make your own challenge: overwhelm lower level enemies with devastating firepower, min-max your ship's stats to farm a specific chapter for rare loot, or bite all that you can chew and risk losing it all in hardcore mode.
Forum Thread: Icarus-X: Tides of Fire (by The Quadsphere)
---
LEGO Batman: Beyond Gotham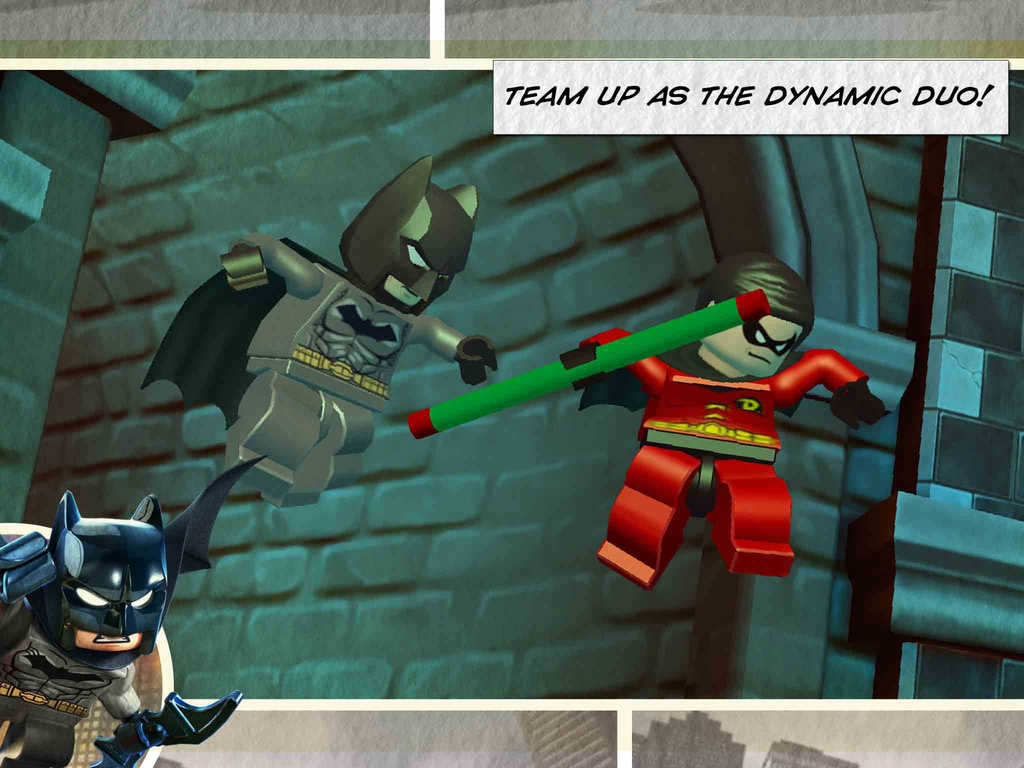 iTunes Description
The best-selling LEGO Batman franchise returns in an out-of-this-world, action-packed adventure! Play as Batman and join forces with characters from the DC Comics universe as you blast off to outer space to stop the evil Brainiac from destroying Earth.
Forum Thread: LEGO® Batman: Beyond Gotham (by Warner Bros.)
---
Piloteer
iTunes Description
In Piloteer, a whimsical and serenely challenging physics-based game about learning to fly, a renowned inventor is determined to overcome the stigma associated with flying a jetpack and convince the world that jetpacks should be revered by all.

Blending elements of both physics and trick-based games, players will need to maneuver their state-of-the-art jetpack through the skies while completing a myriad of increasingly difficult missions to change public perceptions.

Players will find themselves immersed in a wholly integrated physics simulation, making the beautiful world around them feel dynamic, unpredictable, and alive. Ridiculous failure is imminent in Piloteer, making the accomplishments along the way feel all the more rewarding. Put on your jetpack and take to the skies!
Forum Thread: Piloteer (by Fixpoint Productions Ltd.)
---
Pixel Dungeon
iTunes Description
Pixel Dungeon is an exciting and extremely popular roguelike (more than 2 million Android installs!). Explore the depths of Pixel Dungeon, collect useful items and fight fierce monsters to find the Amulet of Yendor (surprise!) – the ultimate artefact of this game world!

Are you prepared for this very easy to play yet difficult to master dungeon crawler?
Forum Thread: Pixel Dungeon (by Oleg Dolya)
---
SBK 15 – Official Mobile Game
iTunes Description
With over 4.5 million downloads under its belt and the support of passionate fans worldwide, the SBK Official Mobile Game is back for a new season.

Join the fray in the 2015 eni FIM Superbike World Championship: pick the bike of your dreams from the biggest brands in the world (Aprilia, Kawasaki, Honda, Ducati, Suzuki, MV Agusta, BMW) and hit the track! Ride shoulder to shoulder with the big guys, such as former champions Tom Sykes and Sylvain Guintoli! Break their records in Challenge Mode or push yourself to the limit in the new Time Attack Mode and don't be afraid to unleash your inner speed demon!
Forum Thread: SBK15 – Official Mobile Game (by Digital Tales)
---
Scapefall
iTunes Description
Build and defend your nation against enemies by researching new technologies, designing and launching ballistic rockets, and deploying your military forces. Over 15 rocket technologies allow for highly customized ballistic rockets – launch everything from incendiaries to nukes.

Wage war with more than 10 different military units – snipers, attack helicopters, artillery and more each play a specific role in combat. Play as the United States, Japan or the USSR as you build your nation and manage resources. Will your nation stand the test of time or succumb?
Forum Thread: Scapefall – side scrolling strategy & action
---
Scrumpit
iTunes Description
SCRUMPIT is a crossword style board game for 2, 3 or 4 players, involving tactics, strategy and wordplay with the option of scoring for yourself and/or frustrating other players by stealing their letters.

SCRUMP is an 'Old English' word which means to steal your neighbors' fruit
Forum Thread: Scrumpit (by Scrumpit App)
---
Siegefall
iTunes Description
Smash the castle gates and leave nothing but rubble behind in the game that makes you builder, strategist and destroyer, all in one!

Journey to a realm where great battles are fought over kingdoms and crowns. Challenge millions of players in fast, tactical combat as you take direct control of your forces to break through their castle defenses using raw might and your mastery of magic.
Forum Thread: Siegefall (By Gameloft)
---
The Silver Bullet
iTunes Description
Infiltrate the military research lab conspiring with the devil and hunt down the demons!
Perfect console-style stealth action game

Kali, the legendary "Goddess of Death" in the South America Revolution.
She joined Neverlight, the counter-demon organization, after some kind of incident.
She wield two pistols that carve silver on bullets became a secret agent who hunts down demons.
Kali was investigating a strange case occurred in the Axis-21 Marine Research Plant
when she discovers the large and shadowy conspiracy of failed Project Prometheus.
Forum Thread: The Silver Bullet (by Kwangsam Kim)
---
Space Platform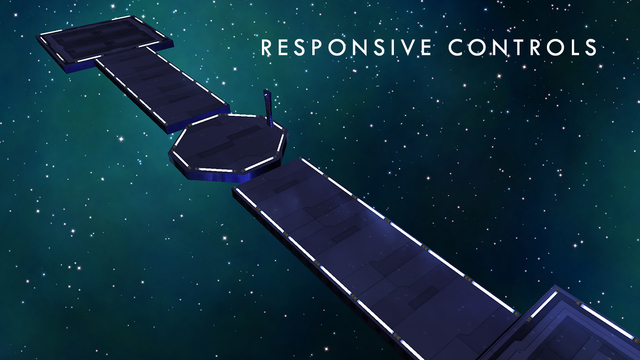 iTunes Description
Space Platform is a first person, slow paced platformer that relies more on knowing your surroundings and figuring out what you should do next. The game is set in space where the only sound you will hear is your footsteps. The goal for each level is to collect the artifact and reach the teleporter.
Forum Thread: Space Platform (by Ahmed Imam)
---
SpikeDislike 3
iTunes Description
The Spikes are back!!
Can you beat the challenges in this all-new edition of this Extreme Spike Avoidance game?

15 brand new (ish) themes, each with 9 All-New "Mission" levels, and, of course, a Highscore enabled Infinity level.
Forum Thread: SpikeDislike3 (by James Gamble)
---
Stack Heroes
iTunes Description
Can you stack higher? Stack Heroes finally hits your pocket and literally outdates any other stacking game on the planet! Beware and get ready to stack like never before! Check out what the press and players say at the end of this description.

Speed, ingenuity and tenacity are your only allies!
Forum Thread: Stack Heroes by Callipix
---
Tales From Deep Space
iTunes Description
Tales From Deep Space is a comedic mis-adventure set on Big Moon, the most eccentric space station in the galaxy. Players help E, a traveling salesman, and his loyal luggage drone CASI escape when Big Moon is thrown into lockdown. E and CASI must work together to fight dangerous battles, solve fiendish puzzles and unravel the nefarious plot behind the mysterious "Meek" uprising. Players can switch between E and CASI in single player or they can play in local, two-player co-op where each player controls the reluctant heroes individually on their own device. Trouble has never been so fun!
Forum Thread: Tales From Deep Space (by Amazon Game Studios)
---
Targets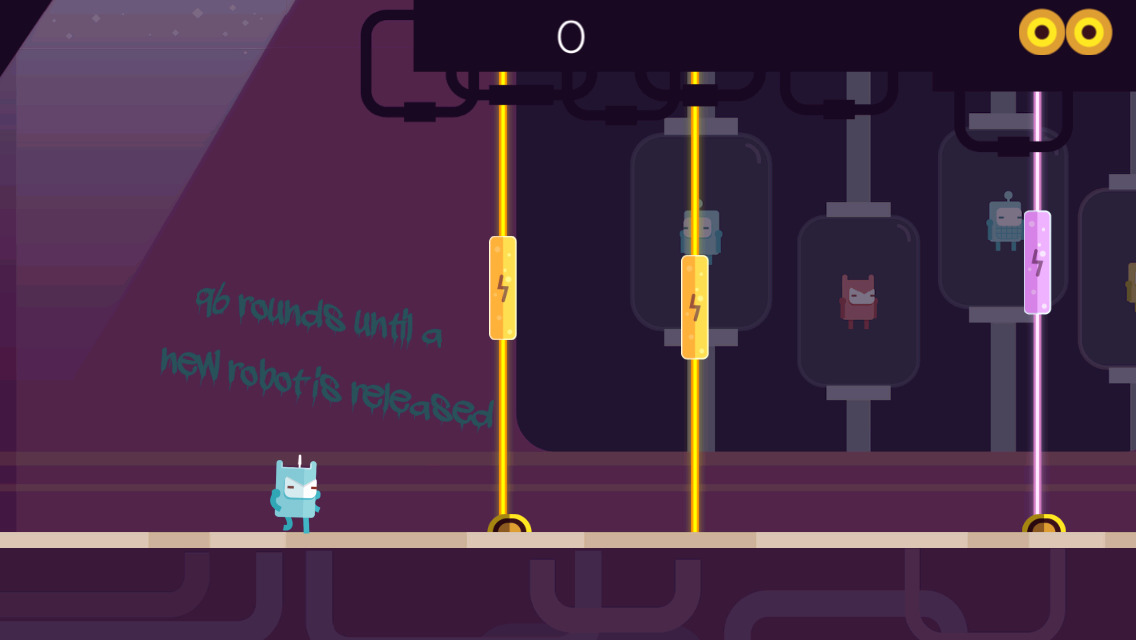 iTunes Description
Help Blu3 escape the robot recycling factory and get to his dream vacation.

Tap the screen to throw sticky bombs and destroy all upcoming targets.

Release all robots and unlock all factories.
Forum Thread: Targets (by TwoDoor Games)
---
TinyKeep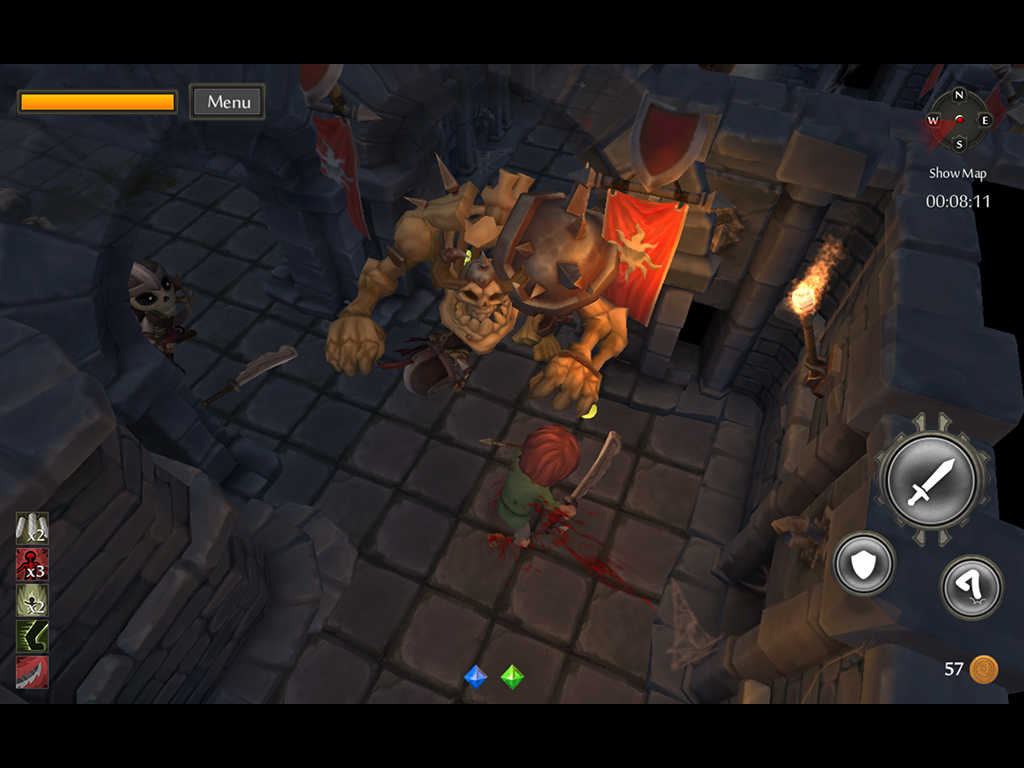 iTunes Description
In TinyKeep players will embrace the role of a hopeless prisoner held deep in a forgotten dungeon who one day wakes up to find themselves mysteriously released. Their savior is nowhere to be seen, but the cell door is broken and ajar, tempting them with the sweet scent of freedom. With nothing but a flickering lantern and a strange letter left behind by their in-mate, they must venture into the darkness and escape TinyKeep!

Lure monsters into traps, knock over fire torches to set the dungeon alight and set prisoners free to help you on your way. Enemies will work together in groups to hunt you down, and some will flee from threats. You can also take advantage of monster rivalries and lead them against each other, while you wait behind a corner as the resulting chaos ensues. There are many ways to survive in TinyKeep.
Forum Thread: TinyKeep (by Digital Tribe)
---
Your Story
iTunes Description
Ice crystals form on your fingertips in the short time it takes to tap the Weather app icon on your iPhone. You're all alone. Your best friend, maybe miles ahead of you by now. You need to catch up. Now.

This is, quite literally, YOUR story — a text-based journey designed entirely around you and your best friend as you track them through an incredible, adapting landscape.
Forum Thread: Your Story (by Joshua Auriemma)