We launched our Patreon yesterday, and so far the support has been incredible. In less than 24 hours, we're over 1/3 of the way to our goal. The best part about all this has been the massive swell of community support. I figured the Patreon would do, at minimum, alright with the support of iOS developers- What I wasn't expecting is just how many readers would pitch in and support us. It's an awesome feeling to have so many people quite literally voting with their wallet and saying "TouchArcade is awesome and we want you guys to stick around."
As part of the plan of launching our Patreon, I reached out to a bunch of different iOS developers we've been in contact with over the years to ask them what TouchArcade has meant to them. It's a cool opportunity both to get some real, first-hand accounts of the importance of web sites like TouchArcade to exist, and it gives us all an excuse to reminisce about the awesome early games and developers that made the iOS gaming ecosystem what it is today.
First up, for no particular reason other than it's the first (of many) email responses I clicked, is Rocketcat Games' Kepa Auwae. He's been around here forever, and has been a staple of the TouchArcade forum community. Most recently, his team is working on Dad By The Sword. It's being released to PC "and more," and we've got our fingers crossed that the "and more" eventually means iOS. Either way, you must take time to watch the above teaser trailer. This all is doubly amusing because I was 99% sure Dad By The Sword was a weird joke I didn't understand the first time Kepa told us about it.
Anyway, here's what Kepa has to say about TouchArcade:
---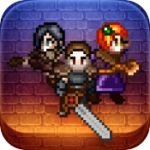 My name is Kepa Auwae, I run Rocketcat Games. I registered on the TouchArcade forums in May 2009. Our first major game was Hook Champ (Free) in October 2009. Since then we've made games like Punch Quest (Free) and Wayward Souls ($7.99). We generally make difficult, complex games that don't really fit the usual idea of what you'd find on mobile.
We started making games on a whim, with no experience in game design. We were complete outsiders, with our only contacts being people on the TouchArcade forums. 5 months after getting on the TA forum, Hook Champ came out to a very positive review from TouchArcade. From the forums I also met other game developers for the first time, including Timo Vihola of Minigore (Free) fame, who really helped early on with getting other people to play Hook Champ. From all the help from TouchArcade and members of its forums, Hook Champ was successful enough for the three of us at Rocketcat Games to start working part-time at our real jobs. Before that, we were sneaking time to make our games on weekends.
In June 2010 Super Quickhook (Free) came out. Once again, the TouchArcade site and community really helped boost the game up. We hit #4 on the paid charts. Also around this time, we noticed that Apple also reads TouchArcade. All the positive coverage from the review and the forums got notice from Apple, and we got featured. Over the years we noticed this was pretty consistent: If a game shows up on TouchArcade, it's pretty likely that Apple will see it.
Each game after that was similar. Good reviews, and then tons of positive feedback and interesting discussion about the design from the forum. Sometimes the thread for a game would be very active for months. There's definitely a big audience on TA that want something different in their games on mobile, and it's supported us all this time.
I'm not really sure what would have happened to our games without the support of Toucharcade and its community. If not for TA we'd have pretty much had to depend on the charts. We don't really make widely mass-market games, and that's the sort of games that charts very strongly favor. I don't think games like Mage Gauntlet (Free) or Hook Champ would have found the initial spark they needed to survive without TA and the people on the TouchArcade forums. I probably would have failed early on until I couldn't try anymore, if not for lucky things happening like this site and the forums welcoming my games.
Now that I've talked about the good qualities of this site, it's time for me to talk about the HORRIBLE PARTS OF TOUCHARCADE:
(I'll continue this later it's super late.)
---
We're going to be sharing the stories of many other developers in the coming weeks, who, like Kepa, really got their initial push out the door through the help of our community. We want these kind of stories to continue to occur in the wild world of the App Store, and if you do too, please consider supporting us on Patreon.