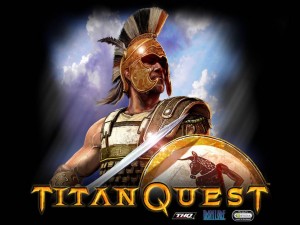 DotEmu has been teasing a big announcement at E3, and the photo they've just posted from their booth has revealed that Titan Quest is coming to iOS. If you look at the bottom left of the picture, you'll see Titan Quest running on an iPad, so that pretty much makes it a done deal.
Let's do this! #E32015 pic.twitter.com/giuWCbUuD8

— Dotemu (@Dotemu) June 16, 2015
If you aren't familiar with Titan Quest, the A/RPG came out for the PC in 2006 and was very well received. In the game you assume the role of a warrior of the ancient world and you fight harpies, centaurs, and all kinds of other mythical beasts. DotEmu has ported some great games to the iOS (Another World ($3.99), the Metal Slug ($2.99) series, and The Last Express ($4.99) among them), so I expect another high-quality port here too. If we go by the company's previous games, Titan Quest will be a premium title. We'll give you more information on the game as it becomes available.