Brickies (Free) is not a bad game. It is an excellent game in many regards, and a top entry in the brick-breaker genre. The problem is that it's still a brick-breaker. No matter how it mixes things up, I just can't shake the fact that it's a brick-breaker, and it's quite the familiar game. And while it's not bad at all, and is really quite good, it's also not an essential must-have in a venerable, oft-imitated genre.
That's not to say that Brickies doesn't do a lot that's unique. It has a game board where paddles are on the top and bottom, forcing you to keep an eye on two sides of the screen. This does mean level design is interesting, because everything takes place in a central location. You get a lot of round level designs. That the bricks aren't just confined to being rectangles helps a lot; you get a lot of different bricks to try and break. Some take multiple hits, can only be hit from one side, and so on.
The levels are time-based. So there's no worry about lives, but instead the ticking clock becomes your enemy. If a ball hits the top or bottom border, then your ball won't break anything until it hits a paddle again. These waste precious seconds that you'll need to win the level. You get more points for consecutive hits without hitting the paddle, and bonuses for time. There is a three star system for the level-based mode, of course. The endless mode tracks points, and gives you time back for each hit.
It's really a clever way to tackle this sort of game in the genre. It feels different from other brick-breakers, where you're just constantly worrying about keeping the ball bouncing because of lives. Here, you need to strategize, as well as react. Hitting at precise angles becomes key when you have to hit tight windows with moving objects, and can't just dawdle with useless shots. The powerups are incredibly important, as they let you take out a lot more bricks at once, and are necessary to win in many levels. So you have to get them before they disappear, and if you can combine them, even better! Brickies looks cute, but it's quite the serious game.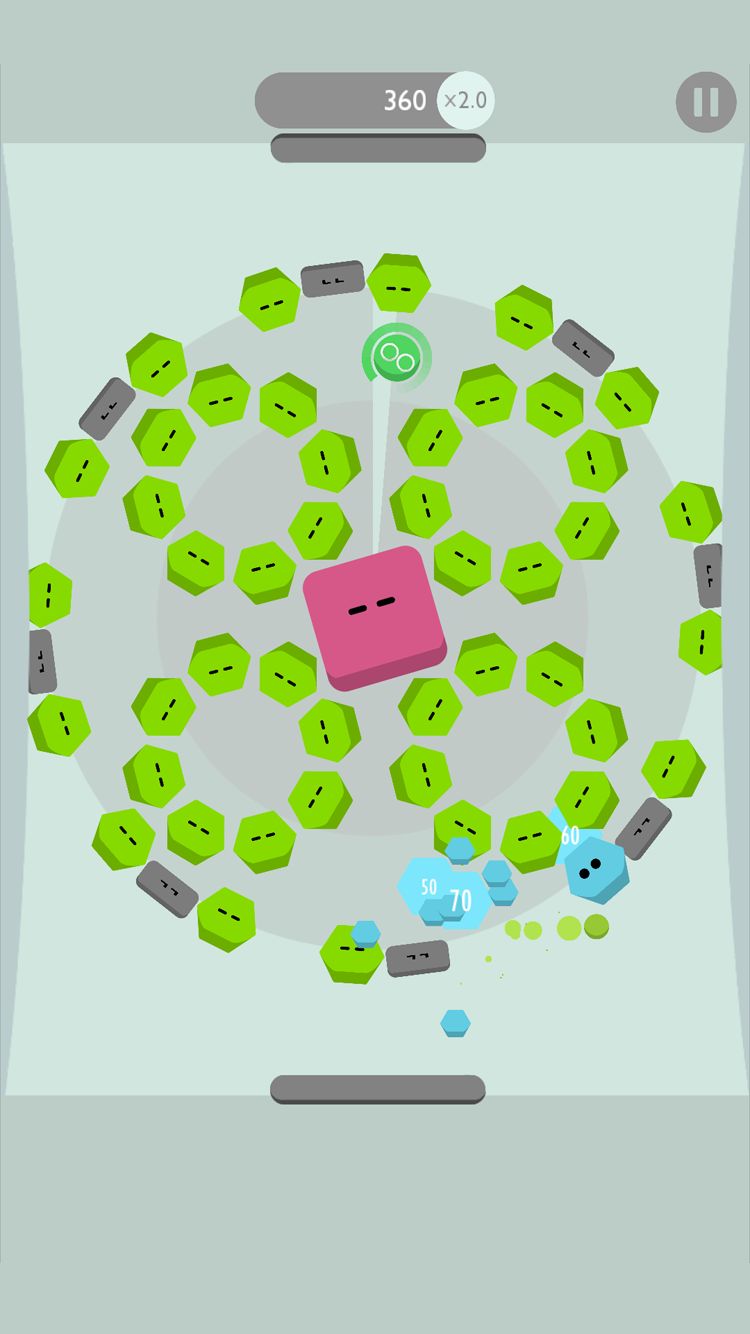 The game uses an interesting monetization model, something rather akin to Two Dots (Free) in that it's remarkably up-front about what it's offering. Where TwoDots asks for $0.99 for more moves, Brickies offers you the ability to replay a level with more time on the clock – if you watch a video ad. There's no IAP to skip ads, and only the occasional pop-up ads. There's no lives or timers otherwise. But hey, it's otherwise a rather honest game in terms of monetization, and the extra time does provide you with a great edge to complete levels you might have otherwise struggled with.
So here's the thing with Brickies. It's a well-made brick-breaker. But it's still a brick-breaker, and I can't get past that. This game is good, but inessential. I don't know, I've felt conflicted all while I was playing it, kind of guilty. Like, I enjoy the game, it's great for one-handed and quick play. But it's still a brick-breaker, and it's something that's very rote and familiar in how it plays. It does new things, yes, but it still scratches the same itch that many other similar games do. So, I felt like I could never really enjoy the game without some kind of reservations about it. Like, this is fun…but I've had this kind of fun before.
Is this the fault of Brickies? I mean, it does plenty of new things within its genre. And I've enjoyed plenty of games that are familiar experiences. But there's just something intangible about this that I feel almost guilty about enjoying it for some reason. It might be that brick-breakers exist in a happy medium between simple games and complex games. I can justify the differences between different fast-reaction games, even slight ones. A little goes a long way with a lot of these games, how you interact with them and how they feel, even how well they get that "just one more round" feeling down. And very complex games, MOBAs and the like, have very complex core sets of rules, but they are very heavily affected by small changes. So something like a brick-breaker, which has a particular set of physics to adhere to, becomes a game where the core style of play, the bouncing off of the paddle against bricks, has so much in common with other games, that it becomes difficult for any one game to stand out with its differences. This doesn't mean that any particular brick-breaker is boring, just that there's a very low ceiling for how good it could be.
But here's the thing: if you had to play one brick-breaker, I'd recommend this one because it does do so much differently. It's kind of like my opinion on match-3 games as someone who's been writing about mobile games in some form since 2009. I'm tired of them, and every new game that says it has a "twist" probably doesn't. But I can enjoy a new one every few months or so, or something that stands out like You Must Build a Boat ($2.99), that does a lot outside of the core game to feel fun. But deep down, it's still a match-3. And Brickies is, deep down, still a brick-breaker. And it can't escape that to be an excellent game. It's as good a game as it possibly can be, though.