We're here at WWDC in San Francisco hustling up any game developers we come across trying to get hot scoops on new iOS games. Unfortunately, there hasn't been a whole lot to see so far, and some of the stuff we have seen has been in a "not ready for public viewing" kind of state. Eh, that's how it goes sometimes, but at least we have a healthy list of finished games that you can download right now and get to playing (if the App Store cooperates, that is). Check out the list of games below and let us know which ones you've got your eye on, and look for (hopefully) some more WWDC game coverage later this week.
---
Angry Birds Fight!
iTunes Description
Get ready for a showdown in Angry Birds Fight! – a match-3 frenzy where you take on other players in real-time battles of strategic, bird swapping agility! Join your favorite flock on a journey to match tons of addictive feathery puzzles!
Forum Thread: Angry Birds Fight! (by Rovio Entertainment Ltd)
---
Busy Roads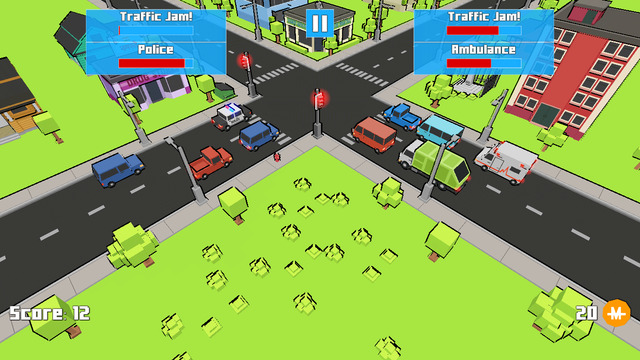 iTunes Description
The roads await your fingers!
Control the traffic lights and keep the roads accident free.
Will you clear the traffic jam or let the Police pass first? Anyways, you won't have much time to think. Just react!
Busy Roads is an endless traffic management game which will keep you busy & tapping for a long time!
Forum Thread: Busy Roads (By Preet Kamal Minhas)
---
Coloround
iTunes Description
So simple, yet addictive…

Coloround is all about a color wheel where you need to catch and match the incoming color dots using your finger. Simply touch the screen and move horizontally to rotate the wheel and catch all the incoming dots to their matching color.

It may sound and look easy at the beginning, but beware all the bits and tricks you'll encounter on each upcoming level…
Forum Thread: Coloround (by Klik! Games)
---
Drift Girls
iTunes Description
Take speed-dating to the next level with Drift Girls! The world's first mobile racing/dating sim. It's a little bit racy, and you're going to love it!

Enter drag races against players from around the world. Don't let the fast-paced life of a street racer burn you out. Pull yourself away from the diesel-spewing dragsters to hang out with your favorite girls. The top drifters get the hottest girls, so take the time to tune your engine with nitro extension bursts and road hugging tire upgrades. Drift in your dream car, date your dream girl, and put them together in Drift Girls!
Forum Thread: Drift Girls (by NHN Entertainment Corp.)
---
Drop the Chicken 2
iTunes Description
Step right up! Drop The Chicken 2 is a super cool, fully animated, addictive and challenging puzzle game. This sequel has been built over 2 years by 2 really dedicated guys with fancy hair and is exclusive to iOS.

Use a host of awesome new tools and animated circus characters in your effort to solve the levels and save Chuck and his girlfriend! Think before you drop and be sure to avoid the bombs, fire torches, lions and unicycle-riding, juggling bears along the way.

It's not going to be easy! This is one of the most challenging and hilarious puzzle games on the app store. There is no time limit, just awesome puzzles and weeks of entertainment!
Forum Thread: Drop The Chicken 2 (by AppInTheBox)
---
Elemental Wings
iTunes Description
New style of shooting RPG! Elemental Wings!
"Elemental Wings" now flies to your side!

▶ Fly a new type of shooter!
Fly with a variety of elementals!
Hit enemies with elementals' brilliant skills !
Depending on the combination of numerous elementals, reminiscing actions will unfold!
Forum Thread: Elemental Wings (by JOYCITY Corp)
---
Escape The Void – Endless Space Flyer
iTunes Description
Pilot your ship through a perilous solar system, avoiding gas giants and floating rocks whilst you battle the force of gravity in an attempt to Escape The Void! Play more and unlock new, exciting ships as you go. Show your veterancy with specific ships by unlocking their gold counterpart!
Forum Thread: Escape The Void – Endless Space Flyer
---
Green Ninja: Year of the Frog
iTunes Description
It's the year of the frog, the celebrations are in full swing and you are on the menu! You escape the clutches of the evil ninjas. Now you must take revenge using your unstoppable kick.

•Unique Kung Fu turn based action puzzler.
• Smash your way through tons of levels – we give you optional challenges as well in case you get stuck.
• Easy small puzzles that eventually lead up to brain-melting challenges.
• Super simple controls. Swipe left, right & up is all you need to move around.
• Cutting edge pixel graphics!
Forum Thread: Green Ninja: Year of the Frog (by Nitrome)
---
Infection: Humanity's Last Gasp
iTunes Description
James Franklin — Patient Zero — collapses after stepping off a plane from the Congo at JFK International Airport. He is rushed to Forest Hills Hospital where he is placed in an isolation ward. It is quickly discovered he has Morbusian, a constantly mutating virus that is resistant to all known antivirals. The survival of humanity itself is at stake!

In Infection: Humanity's Last Gasp you are the director of the Department of Plague Control (DPC) field office in New York City. You make the decisions about what parts of the virus to study, which personnel to hire, and what equipment to purchase. You'll soon discover you are working with an eccentric group of scientists who don't always work well together — and one very resourceful lab rat named Marvin. As the casualties increase, so does the stress and mistakes made, as you try to complete your vaccine before time runs out for all of mankind!
Forum Thread: Infection: Humanity's Last Gasp (by HexWar Games Ltd)
---
Invisible Munky 2
iTunes Description
Munky's on a trip to Happy Banana Land.

Guide Munky around 50 levels, gathering up all the bananas, and avoiding all the evil monsters along the way.

Throw rocks at beasties to keep them at bay, and as always Dislike the Spikes!
Forum Thread: Invisible Munky 2 [by James Gamble/AGameAWeek]
---
Lines of Fire 2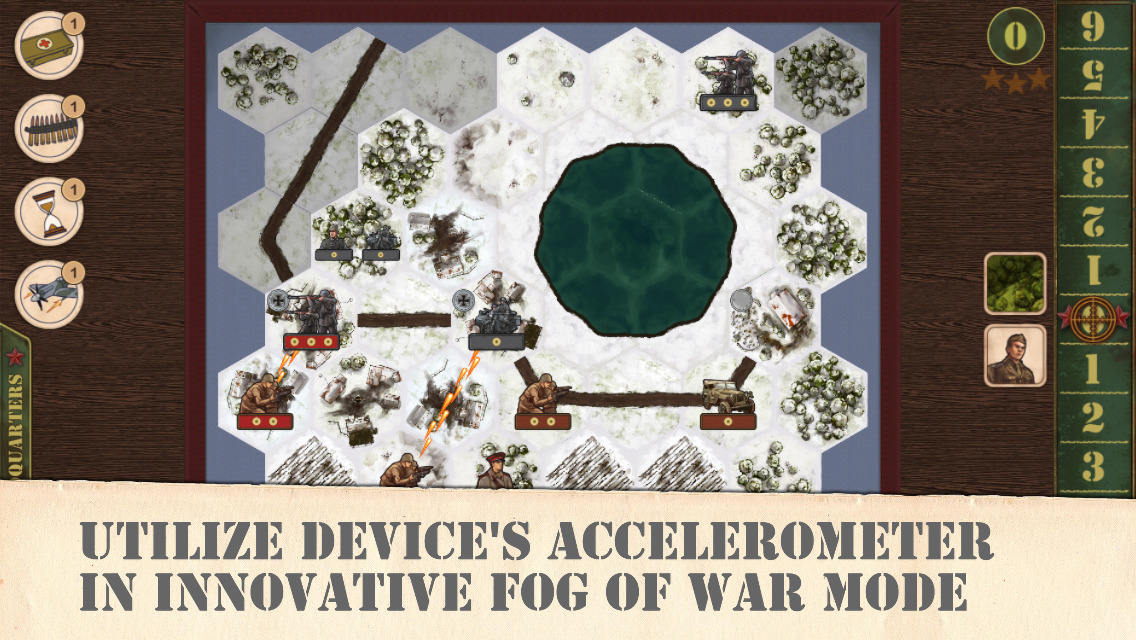 iTunes Description
Play a quick 10-15 minutes battle on your iPad or iPhone in a classic boardgame style! "Lines of Fire 2" is the sequel to original "Lines of Fire: The Boardgame" offering improved rules, streamlined gameplay and new content.

The game reflects tactical WW2 combat in Western, Eastern and African Fronts. The typical scenario-based approach has been replaced by a RTS-style gameplay: players begin the battle on an empty map and race to take control over the strategic locations. Their main concern is to outsmart the opponent in finding an effective balance between spending resources on maneuvering the forces in play or bringing new units into battle.
Forum Thread: Lines of Fire 2 (by Robert Artajew)
---
The Lost Detective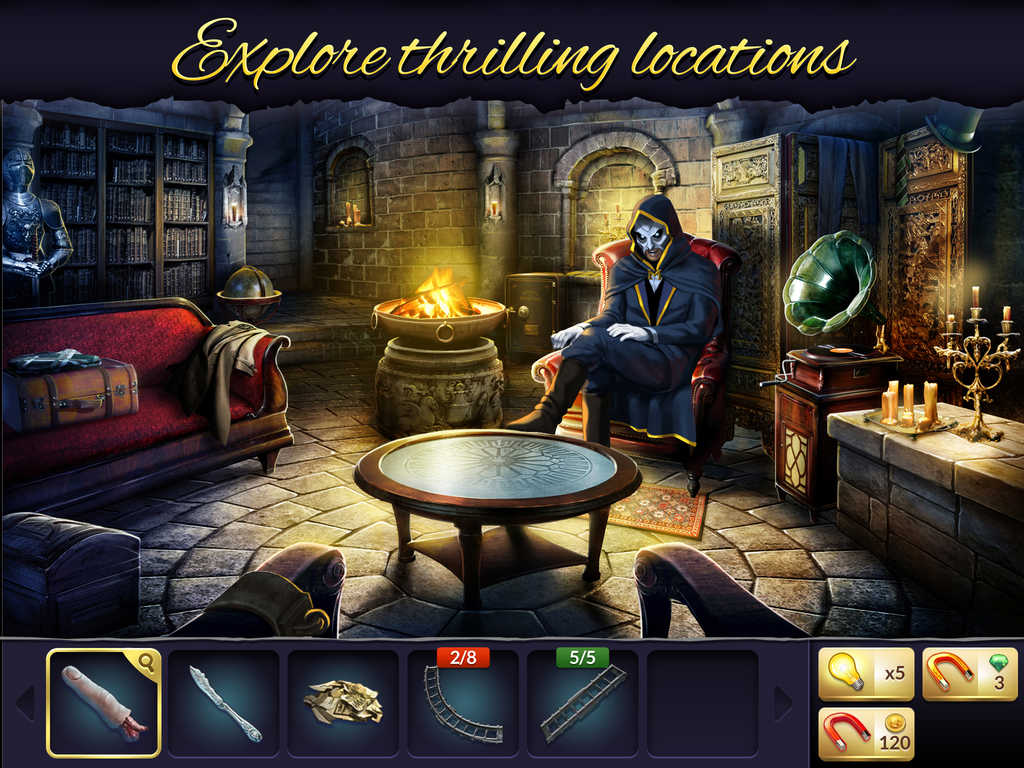 iTunes Description
A hundred years ago, Arthur Bell, the greatest detective of all time disappeared without a trace. Nothing was heard of him until now…

In your role as a rookie agent of Scotland Yard, you will follow an intricate murder case, which will take you to a key witness in a psychiatric hospital: a professor of English literature who claims to be none other than the famous Arthur Bell.

Crazy or not, this mysterious character will prove himself helpful as he always seems to hit the spot! With his help, dive into into the underworld of modern London and confront a mysterious masked man.
Forum Thread: The Lost Detective (by The Other Guys)
---
MadOut Ice Storm
iTunes Description
MadOut is a combat race. Destroy opponents, improve your car and weapons. Feel the dynamics of the chase and fighting battles. Enjoy good physics cars. You can choose between 15 cars, more than 80 unique tracks and several kind of weather condition.
Forum Thread: MadOut Ice Storm (by Ruslan Akpayev)
---
Metro Cube
iTunes Description
Welcome to Metro Cube !
The Metro Cube app is a fun, addictive and a very simple puzzle game. Easy and fun to play, challenging to master !

HOW TO PLAY:
1. Rotate and swipe !
2. To move the cubes and match cubes in group four or more, When 100 cubes left, the player wins!
3. Leaderboards to watch your friends and competitors!
Forum Thread: Metro Cube (By ZiWei You)
---
The Order of the Holy Grail
iTunes Description
—- The arrival of an easy-to-play and authentic dungeon quest RPG! —-
• Moving within dungeons and fighting is automatic, and requires no complicated controls
• You can search a dungeon for 5 minutes at a time, so you can enjoy gameplay during available free time
• Over 1000 Items to discover inside the dungeons! You can power up according to the number of Items you gather
• Build a combination choosing from 12 knights each with their own individual personalities and Items to create your own unique party
• You can also enjoy the story of the quest for the Holy Grail
• There are no charges for playing this game. You can enjoy gameplay for free all the way to the end.
• Recommended for people who enjoy games with hack and slash.
Forum Thread: The Order of the Holy Grail (By Ryogo Oka)
---
Pills4Skills
iTunes Description
FLIP THE WORLD!
WALK ON WALLS!
EXPAND THE BOUNDARIES OF YOUR MIND!

Take a challenge in a weird and unique gravitational puzzle platformer!
Forum Thread: Pills4Skills (By Peter Shoferystov)
---
Pin the Penguins
iTunes Description
Pin the Penguins is an amazing fun, extremely addictive and keeps you coming back again and again. This is the funnest pin game and it is at your finger tips.

Collect these cute penguins. There are 3 games to choose from. Easy if you want to play it safe, Advanced when you are looking for a great challenge or play the Timer version against the clock.

This game is loads of fun, So what are you waiting for. Download and play Pin the Penguins.
Forum Thread: Pin the Penguins (by Mokool Inc)
---
Retrola k ase in Miracle World
iTunes Description
Blue skies have returned! Retrola k ase in Miracle World is an epic retro style platforming adventure, in which players have to guide a burger loving Llama in his quest to defeat the an Hotdog Alien and recover the world's stolen hamburgers… before they get cold!

Explore 10 fantasy worlds with 60 original stages plagued with hazards, pits and the strangest and coolest enemies you've ever seen. Fight epic boss battles against alien Hotdogs, with the only help of your bare hands and reflexes!

Use amazing powerups to drive, skate, get through a volcano in fire and even fly through the clouds! Think you can get to the end of the adventure? It's not that easy! Featuring a crazy storyline with tons of characters and references, a complete original chiptune soundtrack and gorgeous pixel art graphics running at 60fps! Pure, simple and classic gaming fun!
Forum Thread: Retrola k ase in Miracle World (by Undercoders)
---
Spirit of War: The Great War
iTunes Description
Spirit of War: The Great War is a table-top turn-based strategy game set during World War I. Lead troups of the Triple Entente or Triple Alliance army and relive World War I greatest battles. Drawing inspiration from board games classics, Spirit of War: The Great War offers a unique arcade/strategy gameplay.

Fight on 48 historical maps tracing the events who took place between 1914 and 1918. Battles take place on fixed size maps built on hex cases. Each of these cases constitute a different kind of terrain that impacts the advance of the troops in different ways: roads, plains or forests all come with their own bonus or malus.
Forum Thread: Spirit of War: The Great War (by Bulkypix)
---
Slippy Slopes
iTunes Description
Ski down the mountain and collect as many coins as you can. Simple one-touch game controls make it easy to play, but difficult to master. How far can you ride?

How to Play:

Tap on the right or left side of the screen to control your skier. Avoid all of the obstacles and collect as many coins as you can!
Forum Thread: Slippy Slopes (by Appsolute Games LLC)
---
SpellSmash
iTunes Description
Step into Bumbletower school of magic, learn powerful spells, and head off on an incredible journey! From enchanted brooms to lightning storms, bubbling cauldrons to fire tornadoes, do you have the skill to overcome challenging puzzles and become a master wizard?

Join professor Threebeard and Wigs to develop your magic talent and become one of the first players worldwide to defeat over 140 brand new levels in the first chapter of SpellSmash.
Forum Thread: SpellSmash (by TreeFort Limited)
---
Tennis World Tour – Road To Finals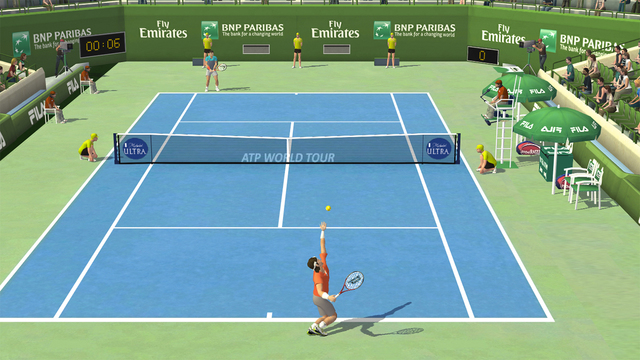 iTunes Description
Go through an enthusiastic World Tour and enjoy its dramatic conclusion: the world's best descend on London for one final showdown: The Tennis Word Tour Final.

Compete against 50 real players in 13 stadiums around the world. Warm up your finger and experience hours of game play through different modes, shots and courts.
Forum Thread: Tennis World Tour – Road To Finals (by Michele Laurello)
---
Threes! Free
iTunes Description
Explore our little game's deep challenge and grow your mind beyond imagination. Optimized for iOS8 and human brains. Universal app for iPhone and iPads.

³ Endless challenge from one simple game mode
³ An endearing cast of characters
³ A heart-warming soundtrack
³ No IAP – Threes is a complete experience the moment you download it
Forum Thread: Threes! (by Sirvo LLC)
---
Triple Jump
iTunes Description
Keep rolling and do as many jumps as you can!

Just tap the screen and make up to three jumps before touching the ground again. Try not to hit the obstacles!

How far can you go?
Forum Thread: Triple Jump (by Ketchapp)
---
Try Harder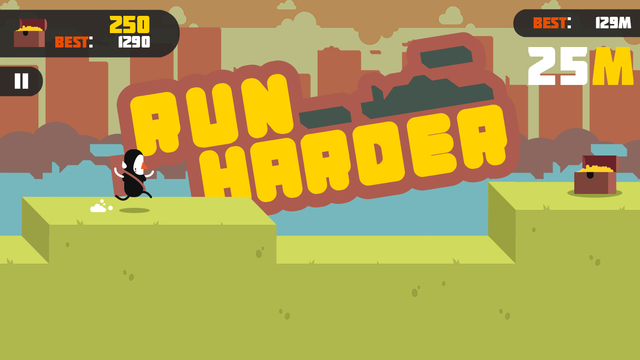 iTunes Description
Not a suggestion. Not a pro-tip. TRY HARDER is a mandate. Sprint headlong into certain death and put your mobile reflexes to the test. Run longer. Jump higher. Try harder. If none of those work: TRY HARDER.

-Run, jump and glide through a horrible gauntlet of aesthetically pleasing death traps.
-Add to your trail of corpses with every failure, then trample them to victory!
-Grab power-ups to avoid traps and last a few more precious seconds.
-Check your score on the leaderboards and unlock hidden achievements.
Forum Thread: Try Harder (by [adult swim])
---
Type And Run
iTunes Description
Type And Run – develop and advance your typing skills and escape from ugly monsters in the same time! Save an unlucky knight from a nasty orc in this new addictive game.

Type And Run is a funny but effective way to learn to type faster! With an amazing fantasy setting and cute character design you will get essential skills easily. Our knight has to flee and he will face terrible obstacles on his way! Help him, typing faster and faster and later you can amaze your friends with the lightning speed messages!
Forum Thread: Type And Run (by Yulya Sirotkina)
---
Urban Fighter
iTunes Description
A fresh, whimsical take on the classic fighting game genre. Punch, kick, and taunt your way to victory against a motley cast of characters. Fight against the AI, or challenge your frenemies to a network match using Game Center or LAN discovery. Full replay functionality, including rewind, fast-forward, pause, frame-by-frame, and even play backward.

Four characters and two locations included. Additional characters and locations available as In-App Purchases.

No annoying ads — just a fun arcade experience!
Forum Thread: Urban Fighter (by Lazy Rabbit Games, LLC)
---
Vorteks
iTunes Description
Vorteks is the ultimate fast action, finger burning, puzzler! It's super easy to play, just group up and collect all the orbs into their matching vortexes. Challenge your eye-finger coordination with crazy levels and unlock insane abilities to keep up with the endless barrage of orbs!
Forum Thread: Vorteks (By MadRuse Games)
---
Warpspeed Infinity
iTunes Description
Get ready for a hair-raising experience even for the most experienced gamers!

Warpspeed Infinity is a shockingly difficult minimalist flying game. Controls are as simple as it gets: Just tilt the device to fly through a psychedelic tunnel full of weird stuff.
Forum Thread: Warpspeed Infinity (by borderlineinteractive)
---
Zombie Defense: Modern RTS & TD Hybrid
iTunes Description
The dead burst forth from the earth, beneath a blackened sky an endless horde of zombies rampage across the burning corpse of our dying civilization. You are humanity's last hope! Use clever and tactics to decimate waves of zombie. Rally desperate soldiers, outfit them with lethal weaponry, innovate new destructive technologies and march to victory in 4 game modes and 40 deadly missions.

Defeat waves of shambling walkers, creeping monstrosities and massive mutant zombie bosses as every weapon of the modern military arsenal is at your disposal. Earn money for your kills and upgrade to more effective weapons, vehicles and airstrikes, hire ruthless soldiers and develop killer technologies.
Forum Thread: Zombie Defense: Modern RTS & TD Hybrid (by Teyon)
---
4Arrows
iTunes Description
It's a totally brand new game for Puzzle and Logic Lovers. A good place to start is with 4 arrows and various components. With multiple control options, you're sure to find one that works for you! Let's try, it can easily become addictive.
Forum Thread: 4Arrows (By Atech Vietnam)