With the latest update to Minecraft: Pocket Edition($6.99) we now finally have the ability to show off custom skins! The only problem is that, by default, you have to get the skins onto your device before you can select them in game. There's been a considerable amount of confusion in our community as how skins work… But, never fear, I have a few simple steps you can take to get your custom skins up and running.
Find a skin
This one was pretty simple, if you google search 'minecraft custom skin' you can find a number of sites waiting to cater to your every whim, and indeed there is a plethora of apps that can also get you rolling in skins. (One of our commenters recommends Skinseed ) I used this online skin editor to quickly generate a test subject. Lets name him Biff.
Put Biff on your device
If you went to a site on your desktop, just email the .png file to your phone and download it. If it shows up in your camera roll, you are golden.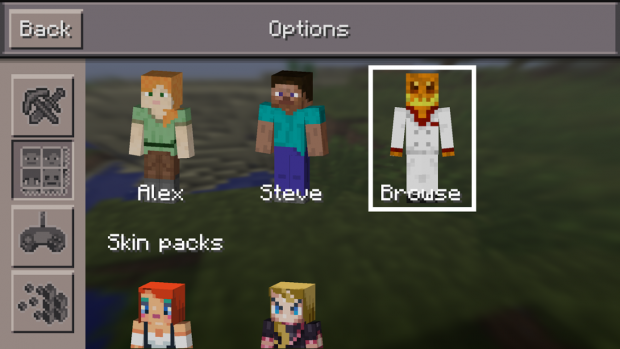 Go Back to the Game and Enjoy
Now that he is in the camera roll, you can navigate to the options screen in game and select the skin section and tap 'Browse.' This will take you to your camera roll, select good old Biff and you are all set to explore the fabulous world of Minecraft with your custom skin!