Hello everyone, and welcome to the week! It's time once again for our look back at the noteworthy updates of the last seven days. It's a shorter list than usual this week, but what's here is pretty awesome. Lots of neat updates for paid and free-to-play games alike. Of course, you can keep an eye out for updates yourself using AppShopper Social (Free), the watchlist in the TouchArcade App (Free), or by participating in the TouchArcade forums, but this weekly summary is here to fill in the things you might have missed. Let's dig in!
Ambition of the Slimes, Free This cute quasi-parody strategy RPG has had a couple of interesting updates since we last saw it. A couple of months ago, the developer added an IAP to remove the stamina system from the game, which is quite nice. This update adds a whole new area to the game, the Lancaster region. While Ambition Of The Slimes doesn't feature the most unique gameplay around, I love its bizarre sense of humor. It's nice to see it plugging along.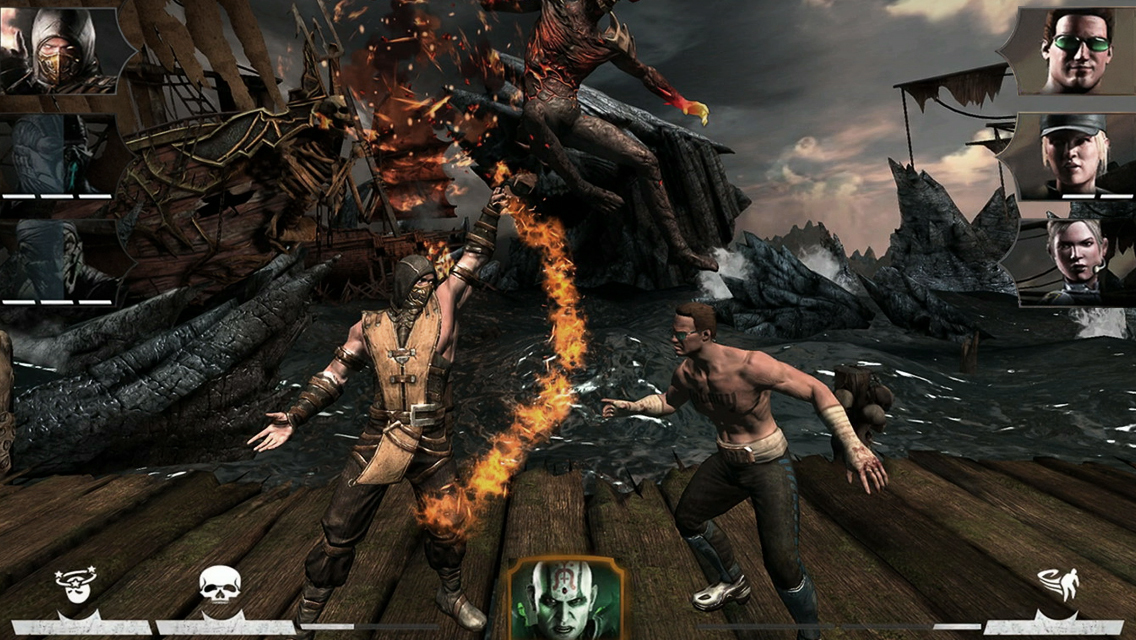 Mortal Kombat, Free Look, let's be frank here. No wait, let's be Kano. This game has been an absolute mess since its launch. Things have been broken, the updates to fix said broken things seem to be breaking other things, and features that should have been up and running smoothly have had no end of delays. This new update was supposed to get the Raiden Challenge going, but after a very brief time active, the developer pulled it down due to bugs. The online connection bug seems to be back in this version, too. Well, at least we have a couple of Kung Laos to comfort ourselves with while things get sorted.
Siralim (RPG / Roguelike), Free One of the regulars of this weekly feature, Siralim's latest version adds battle speed options, some new creature graphics, and the usual boatload of balance changes and bug fixes. As usual, you can hit the game's official website to get a complete list of the changes if you're particularly curious.
Blitz Brigade, Free Blitz Brigade adds support for MFi controllers in this update, but that's not all. There are a bunch of new guns to collect, a new weapon bundle you can pick up, and a brand-new resistance system where you can allocate skill points to increase your defense against various types of attacks.
Star Traders 4X Empires Elite, $4.99 This update largely consists of improvements to the user interface and some bug fixes. For example, you can now see each ship's XP when you're looking at the ship list, and your save file will display the map name that you were on when you saved. Higher-level Xeno AIs have also been updated, and a number of things have been rebalanced.
Heroes of Steel RPG Elite, $3.99 Until this update, high level healing talents just couldn't keep up like they needed to. That's been fixed in this version, with improvements made to the higher levels of every healing talent. From a technical standpoint, this update makes some major improvements to the engine, improving performance and reducing the occurrences of crashes. The Trese Brothers have also smashed a couple of bugs and made a few UI fixes while they were at it.
Dungeons of Chaos, $1.99 Dungeons Of Chaos gets its second chapter with this update, and it's free to everyone who bought the game. This chapter adds new maps, monsters, quests, player classes, and so on, and very importantly, it also brings the story to a close. There are some new randomized locations added to the game as well, giving players something to grind on once they've solved everything else.
Lifeline..., $2.99 Am I the only one that noticed how similar this game's premise is to Konami's Lifeline on the PlayStation 2? Well, the game itself is pretty different, I suppose, and you can't argue with its update schedule so far. The developer is definitely listening to feedback. As such, you'll now unlock Fast Mode after completing the game once instead of twice. The rewind feature has also been improved for additional playthroughs, and the developer also added Apple Watch VoiceOver support for the buttons. They sewed up a couple of bugs, too.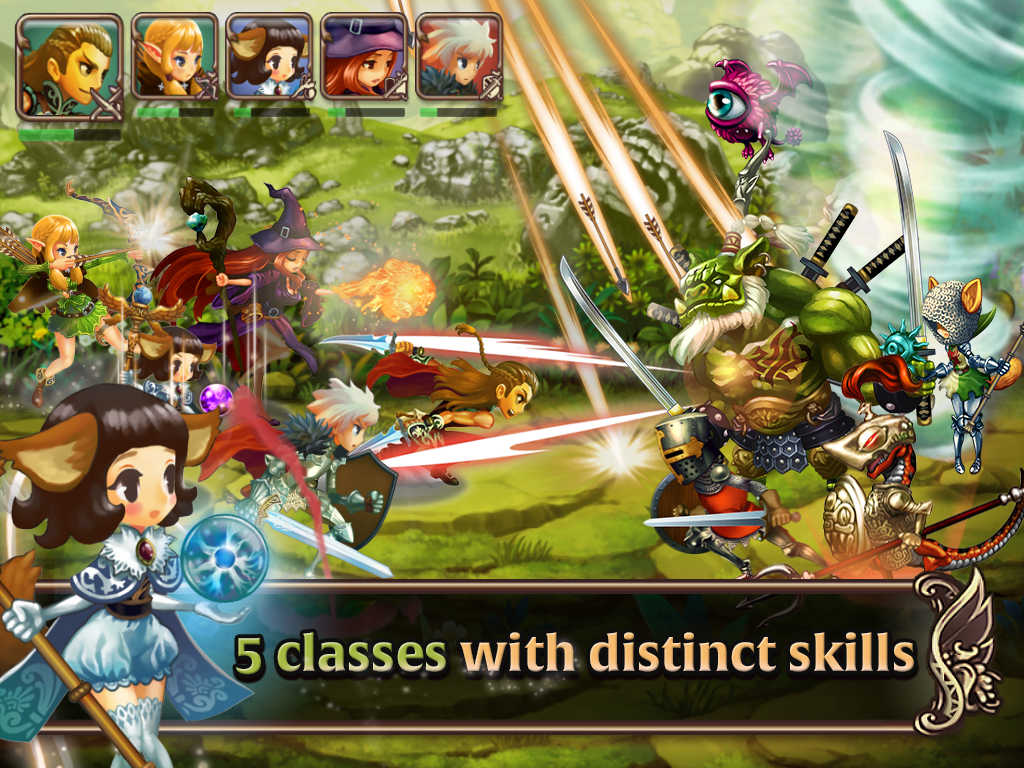 Dragon Blaze, Free Gamevil's latest gets a new version that fixes a couple of bugs, adds a Limit Break, and drops some new content in the form of two new allies and a new world boss. You can now recruit Mercedes and Deathcrown to try to take down the new Golem boss. The notes also refer to adding a new special pop-up, which is… thrilling, I guess. Everyone loves pop-ups!
The Spatials, $2.99 The Spatials is a really cool game, and one of the better answers for those asking the question about non-free-to-play building games. It's been getting some hot updates lately, and the latest one is bigger than William Shatner's girdle. I can't list everything here, but the highlights include two new enemy families that appear in bounty missions, the reinstatement of cravings as a requirement, and some UI improvements like showing the enemy's life bar if they're after you regardless of whether or not you've already damaged them.
The Journey Down: Chapter One, $4.99 The Journey Down is one of my favorite iOS adventure games, and my only major concern about it is if the developer is going to be able to finish it. The updates this game and its second chapter received in the last week make me feel a bit better about that. They've added new HD graphics and fixed up a few lingering performance issues and bugs. That means they've still got their hands in the code, which means the third chapter must still be in the works. Hooray!
Zen Pinball, Free This update's a triumph. I'm making a note here: huge success! It's hard to overstate my satisfaction. At Update Mondays, we list what we must because we can. For the good of all the apps, except the ones that are dead. But there's no use crying over every pulled game, you just keep on writing til what's left is just lame. So you write some neat puns, and the feature gets done, for the apps that are still alive. Go ahead and read it, though I'd prefer if you weren't snide. Maybe you'll find someone else to inform you. Maybe our competition? That was a joke, ha ha, fat chance. Anyway, this update is great, two bucks for Portal is choice.
Pixel Boat Rush, $0.99 Pixel Boat Rush is a great bit of fun, and its latest update helps ensure the fun never stops. There's a new endless mode with procedural obstacles to test your skills on. Naturally, there's a leaderboard to go with it, so everyone can commence with the fighting. Also cool is the addition of a boat workshop where you can put together your own custom designs. Yes, I'm very sure somebody already thought about making a wang boat. Fine, go ahead, Picasso, I'm sure you've got a new take on it. Since you could theoretically make a Spider-Boat, I'm going to give this the coveted Update Mondays Most Spider-Mans Of The Week award. Don't drink all that celebratory vermouth at once, developers!
Iron Force, Free Sure, sometimes listening to your audience results in The Homer, but I've found there's rarely a bad outcome when developers listen to the audience about user interfaces. That's what Chillingo and Cool Fish Games have done with this update to their tank shooter, Iron Force. The UI is completely overhauled and both looks and functions far better than before. There's also a new account system and a completely overhauled tutorial that hopefully addresses some of the issues people had with the original one.
Shadowmatic, $3.99 I'm trying to contort my fingers such that this article will be displayed on the wall behind me, but I've just ended up breaking them all. Maybe I should leave the heroics to Shadowmatic, which adds 11 new Childhood levels in this newest update. More content is never a bad thing, except when the game is really bad but you're forcing yourself to finish it for some reason. But this isn't about Pet Rescue Saga! This is about Shadowmatic, which is a pretty good game that now has even more stages to play.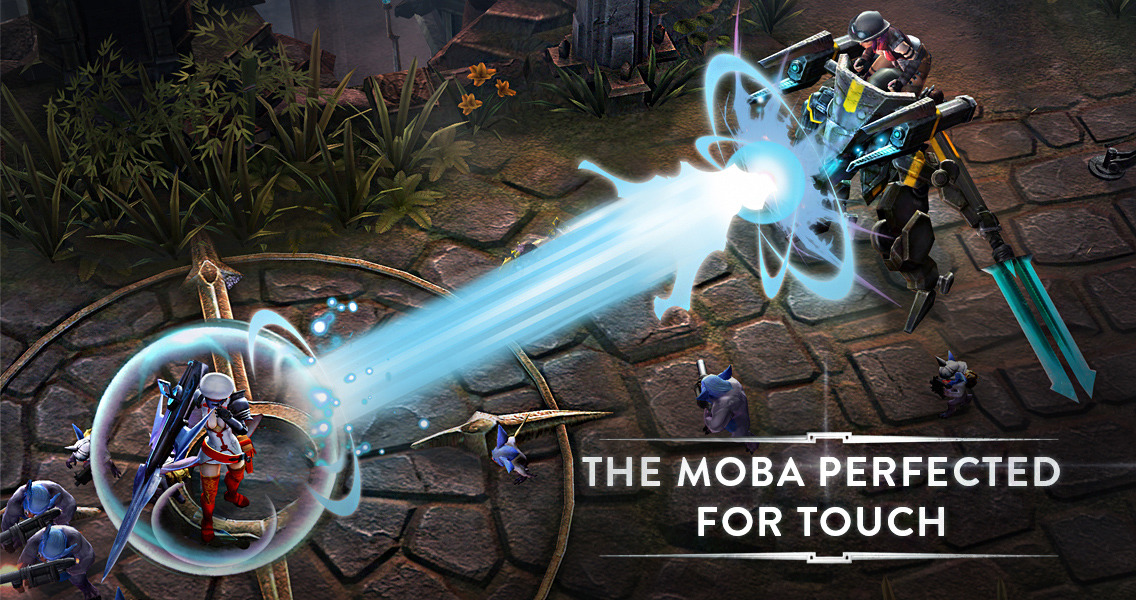 Vainglory, Free There's a lot to love in this new version of Vainglory. For starters, the game is now a universal app instead of having separate ones like we're living in 2011 or something. There's also a new wolf hero named Fortress. He's on the hunt, he's after you, his mouth is alive, with juices like wine, and he's hungr – okay, sorry, I'll stop. Anyway, he has lots of cool abilities that should make him a fun character to play. Several more heroes get some new skins, and there's a new game mode that lets you play against simple bots to get the swing of playing before you're tossed into the discord and rhyme of fighting other players. Naturally, there are a few balance tweaks and bug fixes too, but I can't work in a single Duran Duran reference with them, so I'm not going to go into detail.
Castle Doombad, $2.99 I can't help but think Lord Evilstein's life has been overtly shaped by his family name. I mean, he meets the other kids in kindergarten and they've surely already determined he's a bad guy and treat him as such. Pretty tragic opera, Castle Doombad is. Here's the latest act: a new chapter with 15 new levels to play. You can make use of four new traps that have been added as well. Other additions include Daily Bonuses, a save feature in Endless Mode, some new achievements, and iCloud support. We need to stop peer pressuring each other to mock strange family names and start peer pressuring more developers to add iCloud support to their games. Who's with me?
Block Fortress, $1.99 This is an update for a game from Foursaken. It is a very substantial update. There is a new player vs player arena mode, lots of new equipment, a new third-person camera, improved graphics, added player actions like jumping and crouching, iPhone 6 family support, and many other things. Foursaken's many fans will surely be happy with this update. Please don't hurt me.
DEEMO, $1.99 Deemo's got a nice new update, and as you might expect, a lot of it is behind the ol' IAP wall. That said, you do get 10 new free songs, and if you enjoy the game, there's plenty more where those come from if you don't mind paying a few bucks here and there. This update also adds more stories, memories, and rooms to explore, and a new song selection scene. Decent!
Bubble Witch 2 Saga, Free I'm just saying that King could completely turn this game's reputation around in the core gaming community if they replaced Stella with Jennifer Connelly and added David Bowie's Goblin King in. Add in a couple Bowie songs and people would be falling all over themselves to play it for ironic credibility alone. Oh right, 20 new levels, 550 in total. Sadly no Thin Duke. Yet.
Order & Chaos Online, Free Hey, a new job class! You need to be pretty high level already to play with it, but still, pretty cool. The Flame Knight, who is for real not just an ordinary knight lit on fire, starts at level 65, so you need to have another character at level 70 already to create one. Or just light a normal knight on fire. Either way, you can take your character into the new Stardust Realm, a flying city where you'll fight Nigel to finish off the Rising Flare storyline. As the game is celebrating its 4th anniversary, there are also presents for everyone. You could even win a Tree Of Chaos mount! Not sure you're going to get far riding a tree, but what do I know?
Pyramid Solitaire Saga, Free At last, another episode of my favorite soap opera. Okay, let's see what's going on this time. 15 new levels, a total of 500, and King is giving out free boosters to celebrate. Okay, but what's the story? Apparently Helena and Kingsley have begun their climb across the rice plateaus and are trying to reach a village at the top of the mountain. What's waiting there? Is Helena going to shoot a local swordsman Indiana Jones-style? Probably not!
That about wraps it up for last week's significant updates. I'm sure I've missed some, though, so please feel free to comment below and let everyone know if you think something should be mentioned. As usual, major updates will likely get their own news stories throughout this week, and I'll be back next Monday to summarize and fill in the blanks. On a personal note, today is the two-year anniversary of my first article going up on TouchArcade. It was a bit weird coming out of games criticism retirement after nearly a decade away, but everyone from the other staff at TA to the fantastic readers, forum members, and commenters have made this time a blast. Here's to twenty more! Thanks a lot, everyone, and have a great week!