Welcome to another week of new iOS games! It's an exciting week for me personally as I've been dying to get my hands on the pixely action platformer Sword Of Xolan ever since I first saw the trailer, as well as the pixely SkiFree-inpsired skiing game Skiing Yeti Mountain. Plus the Noodlecake-published Brickies looks like a novel take on brick breakers, and Jared Bailey's latest Shredmill seems like a quirky high scoring game. Plus, not only is this huge list of games below all available in the US now, but there's our list from this morning which had a bunch of stuff on it that was already out, so be sure to check that one out too and let us know which games you'll be picking up.
Late Addition Alert: It almost slipped by us, but new card battler Earthcore: Shattered Elements is now out of soft-launch and available worldwide. Yahoo!
---
AstroTails: Escape the Sun
iTunes Description
Warm up your brain and get ready to save cute animals! AstroTails provides a variety of fun logic challenges for everyone who enjoys puzzle games.

Oh no! The sun is too hot! Help all the AstroTails escape the planet to the space station!

Be careful! Some AstroTails do not get along! You'll have to figure out the best way to transport them in order to get them all to safety.
Forum Thread: AstroTails : Escape the Sun (by MochiBits)
---
Ball King
iTunes Description
Want to feel like King? Throw ducks, frogs or even old radios through the basket and crush your friends score!

Compete in two exciting game modes and unlock new environments to play in and new objects to throw!

No pop-up advertisements or timers stopping you from playing, just pure fun!

Enjoy the game!
Forum Thread: Ball King (by Qwiboo Ltd)
---
Basketball Dynasty Manager 15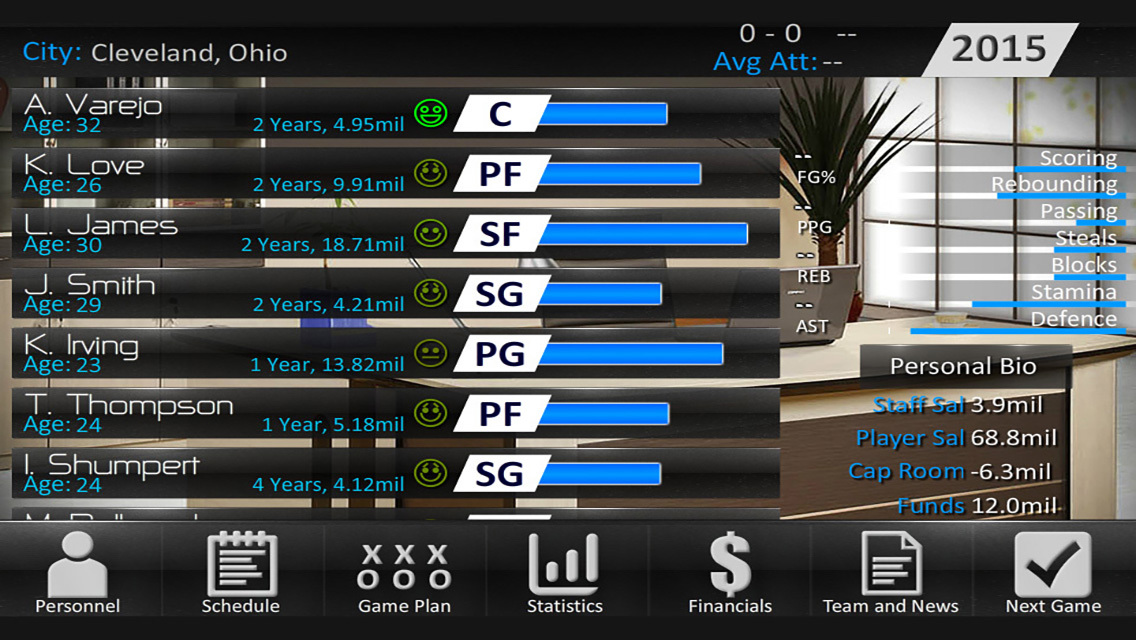 iTunes Description
This app has no adds or in app purchases. enjoy the full game.

– Best For fans of basketball, NBA or management simulators.
– Take control of your own sports team and chase victory.
– Edit all players names and ratings and fully customise your experience.
– Sign players, make trades, and watch your funds.
– Pickup a star in the draft and change the way your players train and upgrade.
– Upgrade facilities and invest in selling merchandise.
– Sign Head coaches, Assistants to help develop your players, and scouts to find new talent.
– Track players yearly stats, career highs, and much more.
– Win MVP's, All Stars, Rookie of the year, etc.
– Scout players from 3000 cities world wide.
Forum Thread: Basketball Dynasty Manager 15 (by HeatOS)
---
Battles of the Ancient World II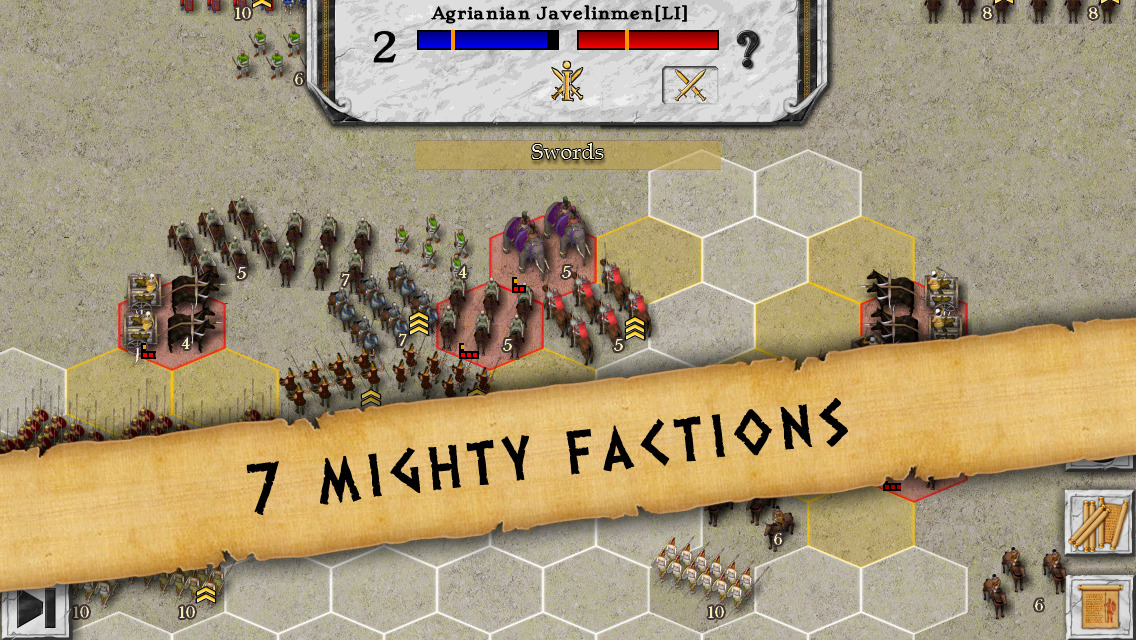 iTunes Description
The 'Battles of the Ancient World' game system is a tactical simulation of some of the greatest and most important battles from 333 B.C. to 60 A.D.. Each, of the 5 scenarios available, features one of these great battles and players may play as either side. Each unit in the game represents an actual unit that participated in the battle, each with an actual strength between 250 and 1,200 men. The map represents the actual terrain over which each battle was fought. The game in the series has been designed to ensure maximum playability and historical accuracy, in that order. There over 50 different units across all the missions, ranging from elite Roman Legionaries to Alexander the Great. Each unit has its own unique ability that you need to take advantage of in order to win each battle.
Forum Thread: Battles of the Ancient World II (by HexWar Games)
---
Blockwick 2 Basics
iTunes Description
Welcome to Blockwick 2 Basics—a world of colorful, weirdly-shaped blocks. Unscramble the blocks to unite the colors.

Basics is a free, ad-supported primer to the Blockwick universe. The game is packed with 144 easy puzzles and includes a sampling of the unique specialty blocks you'll meet in the premium Blockwick 2 experience.

There is a place with lots of blocks. It's called Blockwick.
Forum Thread: Blockwick 2 Basics (by Kieffer Bros.)
---
Brickies
iTunes Description
Fast, colourful, simple, and addictive, break the brickies and bounce your way to victory. Brickies is a fresh take on the classic breakout game, with fast paced levels that will leave you thirsty for more action. Use the paddles to launch the ball and unleash a variety of power ups upon the brickies, but don't worry if you miss the ball!

In Brickies missing a shot doesn't mean the game is over, it deactivates the ball until you bounce it again and then you're back in action!

Explode, shoot and cut your way through over one hundred levels featuring, action, puzzles and tricky bosses. Unlock new exciting powers as you progress through the levels, beat the timer and collect three stars. Earn achievements and compete for the highest score with your friends!
Forum Thread: Brickies (by Noodlecake Studios)
---
Capitals
iTunes Description
Capitals is a free and addictive social word game. Play against your friends to spell the best words and expand your territory. Use strategy to defend your capital and knock out your opponent's!

• Compete against your Facebook and Game Center friends
• Auto Match to find random opponents
• Personalize the look of your Capital
• Keep track of your wins and losses with details stats
Forum Thread: Capitals – Free Word Battle (by Nimblebit)
---
Cartel Kings
iTunes Description
Meet Max Muscles, Donnie Dollars and the rest of the Cartel Kings! They have really itchy trigger fingers, terrible dress sense and love stealing stuff. Guide them as they blast their way through the city, taking out the bad guys and blowing stuff up in the hunt for cash, treasure and even bigger guns! If you're feeling lonely – or just want to show off – join a Cartel with friends and compete against enemy Cartels in the hunt for amazing rewards! Or visit Battle Bay and attack other players bases to steal their loot and upgrade your own millionaires mansion – solid gold toilets don't buy themselves you know!

So what are you waiting for? Following the rules is boring and earning nice things is hard. Join the exclusive club of Cartel Kings and bring a little law breaking into your life instead!
Forum Thread: Cartel Kings (by Mobile Gaming Studios)
---
Crazy Kings
iTunes Description
Tower Defense like you've never seen it before! Protect your base and take control of your very own hero to save the day. Are you ready for a brand new type of strategy? Loot your way through hundreds of levels and build your very own army. Combine hundreds of items to create bigger, better and badder towers.

Or, why not borrow your friends' heroes to lay waste to the merciless Minotaur army? The more friends you make, the stronger you become! Featuring hundreds of awesome tower defense levels, have you got what it takes to defend your kingdom from the Crazy Kings?
Forum Thread: Crazy Kings (by Mantis Shrimp)
---
Draggy Dead
iTunes Description
Ditch your dead end job and take up a rewarding career in Grave Robbing today!
Guide the recently deceased to a fun filled life of Meat eating mayhem, be careful of the many traps and enemy's
which may lay ahead for your zombie horde. loot the many graves to unlock power-ups and culinary delights to become the number one grave robber this side of the Mississippi!
Forum Thread: Draggy Dead (by Team Woodesh)
---
Earthcore: Shattered Elements
iTunes Description
What is strategy? It's managing and minimizing randomness with your intellect and preparation.

So, what is Earthcore? It's a card battler with infinite tactical opportunities that tests your strategic thinking in ways you never thought possible!
Forum Thread: Earthcore: Shattered Elements (by Tequila Games)
---
Edge of Oblivion: Alpha Squadron 2
iTunes Description
In Edge Of Oblivion: Alpha Squadron 2, you get the chance to jump into the cockpit of a powerful starfighter and join the galaxy's most daring pilots as they face off against the evil Hadian Empire. You'll engage in perilous battles against hordes of enemy fighters, lumbering mechs, gigantic tanks and huge capital ships. Aerial conflict takes place in a variety of beautifully rendered environments including snow, deserts, highlands, oceans, volcanic lava fields, alien cities, amazing deep space locations and even the interior of a massive space station. Watch out for dangerous combat hazards such as space mines and asteroids as you fight your way to victory in each of the eight starfighters, bombers and assault craft at your disposal. Edge Of Oblivion features stunning visuals and sound, be prepared to immerse yourself in an intense action-arcade experience!
Forum Thread: Edge of Oblivion: Alpha Squadron 2 (by Martian Monkey)
---
Flite
iTunes Description
Tap your way up through the spinning shapes and obstacles, and collect as many stars as you can. Simple one-touch game controls make it easy to play, but difficult to master! How high can you fly?

Tap anywhere on the screen to begin your Flite. Avoid obstacles and collect as many stars as you can.
Forum Thread: Flite (by Appsolute Games)
---
Goat Higher
iTunes Description
For generations goats have lived peacefully under the ancient tower.

One day, one goat looked up and wondered what lay beyond the towering heights

One goat dreamed…

…to Goat Higher.

(⌐■_■) YYYYYYEAAAAAHHHHHHHHHHH
Forum Thread: Goat Higher – Endless Climbing Adventure (by Sunny Tam)
---
Ice Age Avalanche
iTunes Description
Join Sid, Manny and Diego on an epic Ice Age match-3 puzzle adventure to find the hidden treasure!

BATTLE THE ICE
• In a new match-3 twist, slide fruit in any direction!
• Conquer puzzling challenges including Stockpile, Acorn Avalanche and Fruit Sculptor
• Use incredible boosters to turn any stage to slush!
Forum Thread: Ice Age Avalanche (by Gameloft)
---
Mixels Rush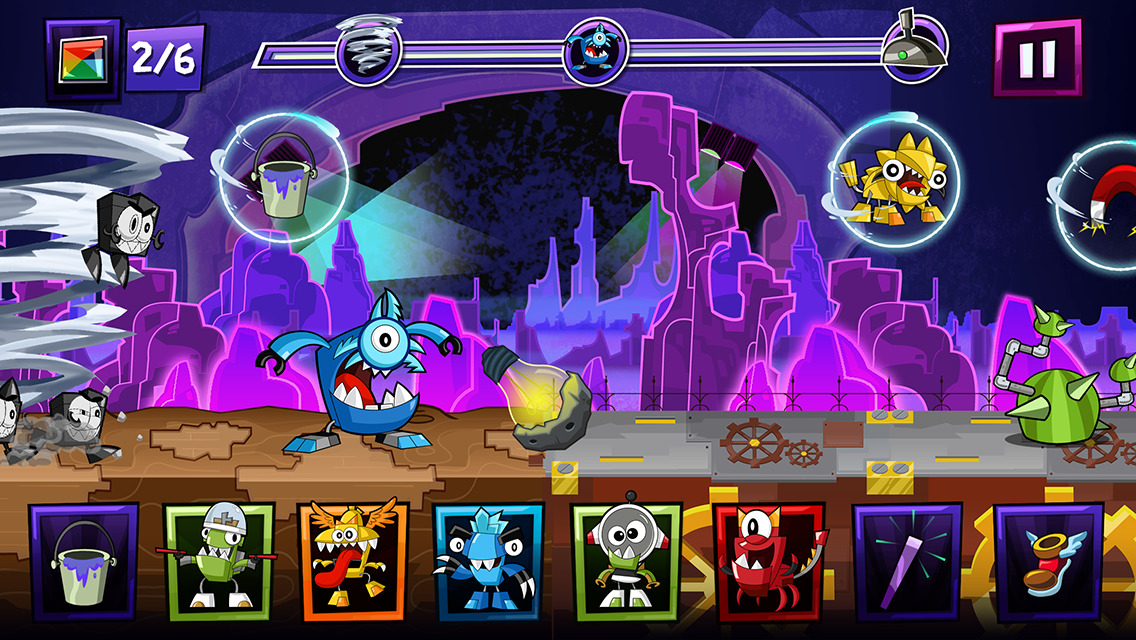 iTunes Description
Use awesome new Mixels and make crazy combinations to beat the annoying Nixels in Mixels Rush!

Major Nixel has unleashed a Nixelstorm of epic proportions. Help the heroic Mixels overcome obstacles and stay ahead of the storm by combining powers and using special items. Meet brand-new Mixel characters from tribes both new and old, including the Frosticons, Klinkers, Orbitons, Glowkies, Lixers, Infernites, Munchos, Glorp Corp and Weldos. Make Mixels even more powerful by mixing them together, or combine three Mixels from the same tribe to create an unstoppable Max!

Don't let the naughty Nixels win. Hit the ground running with MIXELS RUSH!
Forum Thread: Mixels Rush (by Cartoon Network)
---
Number Smash 123
iTunes Description
Get ready for a smash-tacular Number smash fest.

Number smash is a simple one touch arcade game. Your objective is to smash as many tiles as you can before the timer runs out. Compete with your friends. Brag about your high scores on Twitter and Facebook. Earn achievements and try to climb your way to the top of the leaderboard.

If you're good enough you'll be able to play the crazy frantic Number smash mode.
Forum Thread: Number Smash 123 (By Kasi Rani)
---
Risky Rescue
iTunes Description
Get into your helicopter and rescue the people. Fly as fast as you can and as carefully as you can to not crash in the mountains.
Avoid wind mills, cranes, planes and balloons! Explore all the beautiful, flat designed worlds, unlock all the choppers and simply have fun with innovative two-touch controls!

Risky Rescue is a demanding arcade game which combines "snake" like mechanics with "fly gently" rules. Will you pass all the levels or will you set the new world record in endless mode?
Forum Thread: Risky Rescue (by Digital Melody Games)
---
Shredmill
iTunes Description
Not everyone loves to recycle… especially if you're the one being recycled! This little stack of papers isn't going down without a fight. Dodge blades, bounce pads, blocks and fans in this simple, but brutal one touch micro game! Shred your way to the top of the leaderboard!

Features:
Easy one tap controls!
Simple but challenging gameplay!
3D graphics!
High scores leaderboard & achievements!
Forum Thread: Shredmill (by Jared Bailey)
---
Sigils
iTunes Description
Lead powerful Champions into battle. Prove yourself in exciting real time battles – on your own or in a team. Experience thrilling PvP action, wherever you may be.

Play Sigils solo or co-op with your friends in a quick and convenient way. Immerse yourself in the unique world of Raios with its captivating story and atmospheric graphics. Discover the truth behind events that lead to the Great Sundering.

From powerful tanks through devastating damage dealers to potent supporters, Sigils has twenty different Champions that fit every play style. New Champions will be coming to the game in future updates.
Forum Thread: Sigils (by Gameforge 4D GmbH)
---
Skiing Yeti Mountain
iTunes Description
Carve your way through hundreds of levels as you search for the elusive Yeti. Weave through trees, skid over ice, launch off cliffs and get to know a cast of bizarre locals in this top-down extreme slalom adventure. All handcrafted for your phone to create the ultimate skiing experience.

Features:
– Touch controls designed for intuitive & precise carving
– Hundreds of bite sized slalom tracks to complete
– A mountain of challenge tracks to master
– A cast of bizarre characters to meet
– A Yeti to find?
Forum Thread: Skiing Yeti Mountain (by Featherweight Games Pty Limited)
---
Sword Of Xolan
iTunes Description
Sword of Xolan is an action platformer game that includes the juice of pixel art style.

Xolan is a young and brave man who fight for justice no matter what the cost.
Help him on his adventure to stand against darkness and bring back the peace and serenity that once was.
Forum Thread: Sword Of Xolan (by ALPER SARIKAYA)
---
Til Morning's Light
iTunes Description
Erica Page is an ordinary teenage girl, just trying to fit in. She's also trapped in a mansion haunted by a 200 year-old curse. You know, the normal stuff. Help her explore the huge, creepy, and not exactly empty mansion, revealing its darkest secrets and hopefully a way out. There are clues to decipher, tools to collect, and puzzles to solve. If all else fails, Erica can beat the goo out of supernatural nasties with an arsenal of clubs, knives, and swords. Oh, did we forget to tell you? Erica has to escape by dawn, or she'll become the next ghost in the mansion!
Forum Thread: Til Morning's Light (by Amazon Games Studios)
---
The Top Spot
iTunes Description
Choose "The Top Spot" in this unique and entertaining puzzle game! Tap to select the colorful spot on top then select the rest in order. It's wonderful, relaxing, colorful, spot-tapping fun!

GAME FEATURES
• Super simple, super satisfying gameplay
• 200 levels to test your puzzle solving skills!
• Beautiful minimal visual style is so relaxing!
• Ingenious puzzle design means tons of variety
• Use power-ups to slow down the spots, enlarge them, or stop them completely
• Share replays of completed levels with your friends online!
Forum Thread: The Top Spot (by Chillingo Ltd)
---
Totome
iTunes Description
Totome is a beautiful, backwards game of reflex timing, endurance, and immersion.
The music brought to you by the composer of the original Crash Bandicoot and Jak & Daxter series; Josh Mancell.

Run deeper into the woods as you dodge the oncoming arrows by disconnecting your structure.

The world of Totome is brought to life through the organic artstyle, soundscape and animation.
Forum Thread: Totome (by Javed Sterritt)
---
Triangulae
iTunes Description
Triangulae is geometric a puzzle game about fitting in, where you have to slide triangles together to form squares.

There are three game modes available:

*CLASSIC: make squares while getting power-ups and disappearing board squares;
*TIME: score the most points in just 60 seconds;
*PERSISTENCE: when you make a square with triangles, they remain on the board.

Enjoy!
Forum Thread: Triangulae (by Ricardo Fonseca)
---
Worp
iTunes Description
When the crew of Worp warped into the circular galaxy they had a bad feeling about it, maybe it was the lack of straight lines, or perhaps the giant space ball cannon pointing towards them.

Features:
– The ability to fly a spaceship from your couch
– Easy controls. No really, you just need your thumbs.
– Game Center leaderboards.
– "Pay what you want" to remove ads.
– Color
– A mute button you will never use because the music is awesome.

Doesn't Feature:
-Easy gameplay
Forum Thread: Worp (by Max Glockling)