Hello everyone, and welcome to the week! It's time once again for our look back at the noteworthy updates of the last seven days. It's a nice set of updates this week, with bug fixes, new content, and other goodies for games both free and paid. Of course, you can keep an eye out for updates yourself using AppShopper Social (Free), the watchlist in the TouchArcade App (Free), or by participating in the TouchArcade forums, but this weekly summary is here to fill in the things you might have missed. Let's dig in!
Ys Chronicles 1, $4.99 Let's "Ys" our way into this week's article with this speedy patch from DotEmu. The developer has heard everyone loud and clear, it would seem. This update addresses the crashing issues in Dahm Tower and the final boss battle, and also fixes the sound glitches that were popping up here and there. They've also added an option to use a fixed virtual stick instead of a floating one, and done another pass on the English localization. The latter is something I actually didn't expect them to do anything with, so cheers to them on that.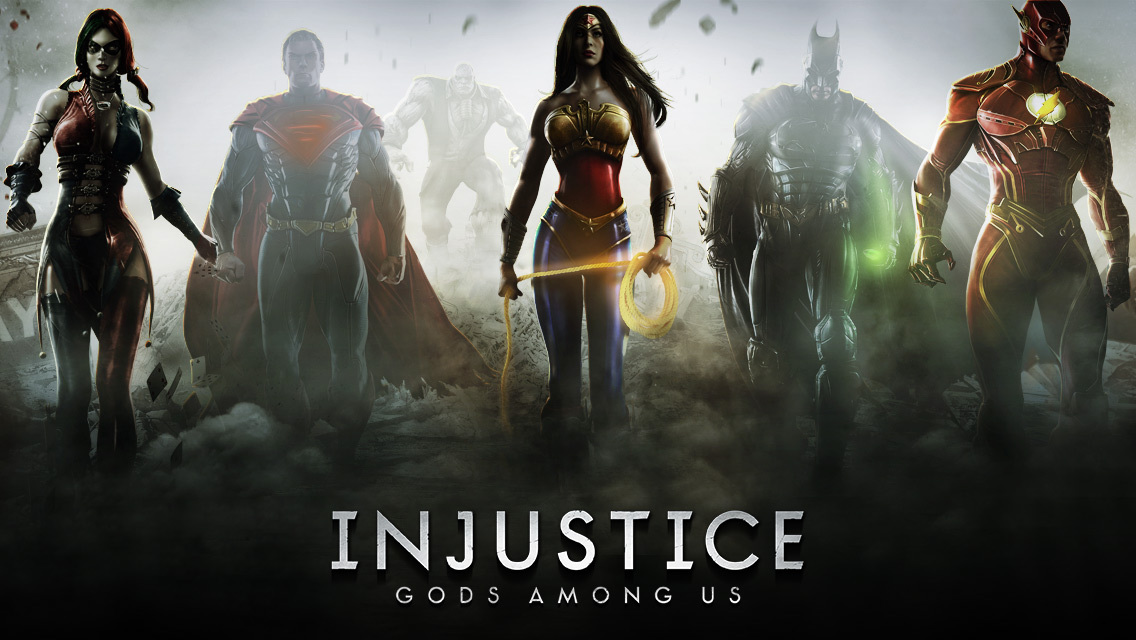 Injustice: Gods Among Us, Free The latest update to Injustice adds data for future challenges involving Arkham Origins Joker, Bounty Hunter Lobo, Insurgency Hawkgirl, and more. Multiplayer rewards have seen some significant boosts, though I'm not sure if that compensates for how pointless it is to play with all the hackers on the boards. Also, two of my favorite characters and one I don't care much about at all got some serious buffs to their passive abilities. In Injustice, passive abilities are really important, so it's nice to see Bane, Regime Black Adam, and Hawkgirl get some sorely-needed boosts.
Hoplite, $2.99 As far as I'm concerned, Hoplite is virtually perfect in terms of what it's going for. The rules are simple, the strategy is deep, and the game provides an excellent challenge every time. Supposing that's not enough for you, however, this update should strike your fancy. The developer has added a challenge mode to the game that gives you a random group of perks and tasks you with surviving as long as you can. The regular game is already pretty tough, so how much harder could it possibly be? Well, the first time I fired it up, the level was nearly packed with deadly monsters. Have fun, everyone!
Hero Sky: Epic Clash, Free Hero Sky got a major update, with the headlining new feature being Guild Wars! Yes, now your loosely affiliated team can fight other loosely affiliated teams in huge battles. How do they come up with this stuff? That's not all, though. There are also new heroes, a new training mode, a new type of trap, and a few other tweaks, fixes, and balance adjustments.
Fighting Games: Fatal Fight, Free What's better than using one finger to deliver death punches? I … I guess using two? I'm not really sure how the mathematics work out here. Are more fingers better? Fewer? Ugh, let's just look at this update. This is a bit of a quick follow-up to the game's release that adds a skill shop and a couple of new skills, the Tornado and the Earthquake. Those are both pretty powerful, I'd guess. The developer has also taken the opportunity to fix some bugs and do a bit of optimization, the bread and butter of any update.
Spirit Stones., Free This game grabbed me for a while with its enjoyable fusion of puzzle and card collecting games. I haven't played it in a while, but if you're still playing, you're probably excited to see the arrival of… oh what the – !? Guilds? Is there some sort of clearance sale on guild updates at Kmart this month or what? Well, anyway, guilds. Form 'em, battle 'em, feed the local guild monster and use it to crush your enemies. Actually, that guild monster thing sounds pretty unusual at least.
Underworld Empire, Free Underworld Empire is one of those games that doesn't come up often around here, but is out there quietly making money hand over fist each day. The latest update adds a new SoCal Jobs area to the game, with a new boss named Phoenix Resurrection. How cool would it be if that were a reference to X-Men's Phoenix or maybe Phoenix Wright? Alas, it's a totally non-related Phoenix. I wonder if they get that a lot? Kind of like how everyone I met for a few years was like "Oh, like Shaun Of The Dead?" That was fun.
Swords & Poker Adventures, Free Let's be honest: with all of the F2P fluff in this game, it was always going to be a hard sell over its paid predecessors, particularly since the core gameplay didn't differ in any substantial ways. Well, this latest update adds some honest-to-goodness PvP to the game, allowing you play Swords & Poker against other players without needing a deck of cards and an awkward cover story for how you came up with this great new game idea. Mind you, you're not really playing against another player, but rather their profile, but hey, it's something. It looks like Konami is going all-in on making PvP the centerpiece of this version from here on out, which at least gives it some kind of reason to exist.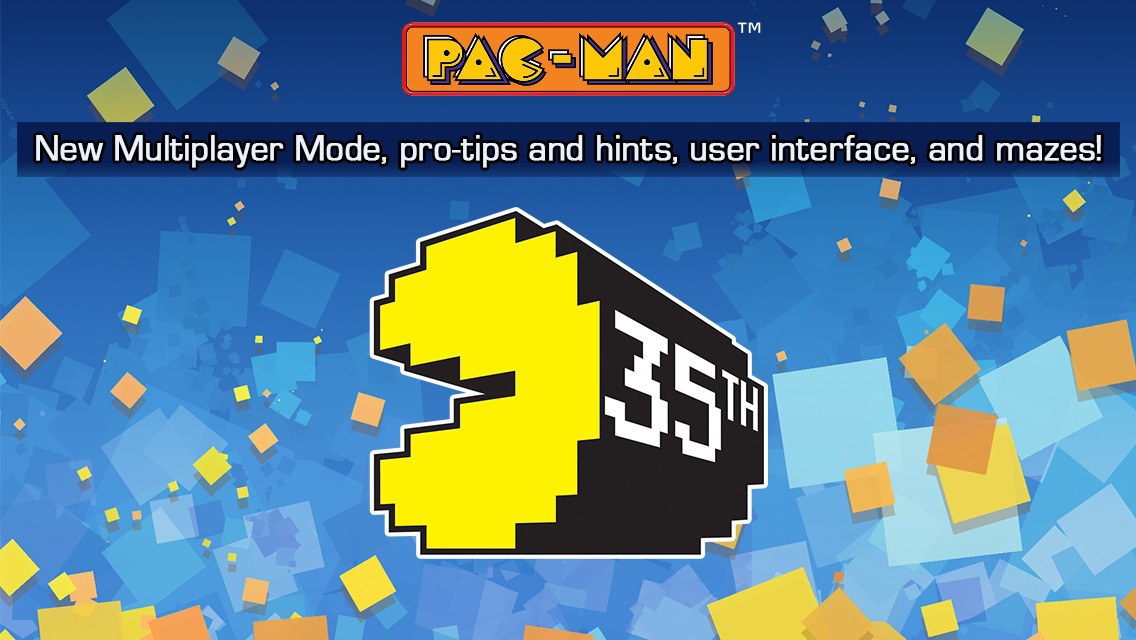 PAC-MAN, $3.99 Pac-Man is only a little younger than I am, so his anniversaries are becoming increasingly depressing for me to confront. Hey, it's Pac-Man's 35th anniversary, everyone! Let's celebrate by playing some new multiplayer challenges and tournaments. Or maybe you just want to dig into a few new mazes and single-player challenges? You can enjoy either mode along with an overhauled UI, more tips for the three people in the known universe who don't know how to play Pac-Man, and a spiffy new icon.
True Skate, $1.99 One of the many respects in which True Skate runs circles around its eternal competitor Fake Skate is in how often it updates with new content. The latest version adds a new course based on the one used for the 2014 Street League Super Crown World Championship. You also get a couple of new UI features like manual slow motion control and a quick and easy-to-use View Replay button. Remember kids, skate… or die!
King of Thieves, Free ZeptoLab did lots of updates on their games recently, but most of them weren't much more than nebulous bug fixes and optimizations. King Of Thieves, however, got something a little more. Are you ready for… GUILD BATTLES?! I… this is a gag, right? Okay everyone, you can all come out now, very funny. You got old Shaun pretty good this week. No? Well, alright. Make a guild with other players. Battle other guilds. Enjoy the unique and inspiring flavor of your enemies' tears.
Subway Surfers, Free This week, everyone's favorite subway rats make their way to sunny Los Angeles, which means it's time for swimming pools, movie stars, and caviar. Well, would you believe train tracks, movie sets, and a corny-looking knight outfit for Wayne? No word on if the world-famous LA traffic is represented here, but I'm going to guess that it's probably not.
Skyline Skaters, Free Well, Subway Surfers had an update, so of course Skyline Skaters is here with their own. The next leg of this game's world tour takes the skaters to Cairo, Egypt. You can befriend and unlock Manny The Mummy, who looks pretty cheerful for a stinky dead guy. When he kicks into Super Skate mode, he turns magnetic for some reason. There are also four new boards to win by playing the wheel-spinning mini-game, all of them themed on… Las Vegas? Hm.
Cards and Castles, Free Cards And Castles got a big, big update. The presentation has received a pretty big overhaul, a new scenario pack has been made available, the UI has gotten a pretty serious once-over, and the game runs considerably smoother than before. There are also a number of changes to the game's balance, far too many to list here. Suffice it to say, this isn't the same game it was before. I'm not sure how all the changes will shake out, but it's at least worth a try to see if you like them or not.
The Sandbox - Building & Craft, Free The Sandbox is one of my son's favorite apps to mess around with. I mean, I would approve of him spending lots of time playing games anyway because it would be awfully hard for me to say much about it, but I get some extra satisfaction knowing he's actually learning something playing this. Very stealthy, Pixowl. Very stealthy. Anyway, the new update adds a new Ecology 2 campaign with 17 new levels that will teach you plenty about coal, uranium, and energy applications of ecological energy supplies such as wind and water. Okay, okay, you're not here to learn. Well, guess what? This update also adds volcanoes that scorch from below, and solar rays that scorch from above. Beavis would be pleased.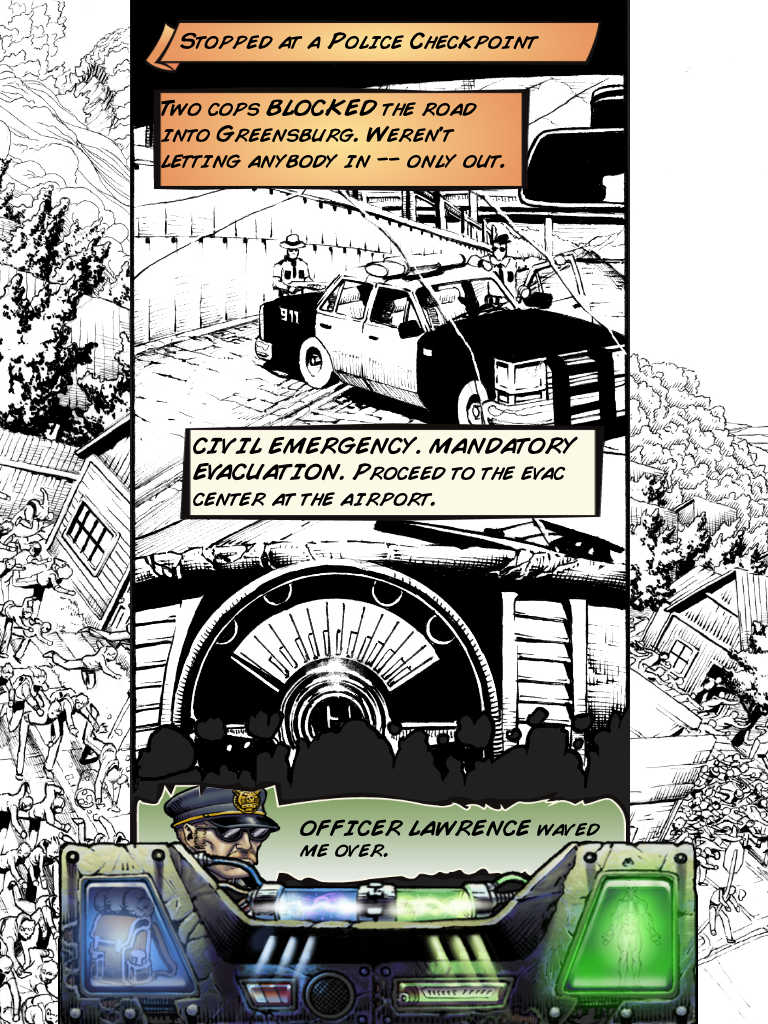 This Is Not a Test: A Survival RPG Comic, $1.99 While it was an interesting experiment, it seems that gamebook This Is Not A Test's flirtation with a free-to-play model is over. The game is back to being a paid app, with banner ads completely removed. If you happened to pay for the pro upgrade, you can enjoy a new hint map on the house. Cheers to the developer for listening to the fans on this one. It's not that I don't think a free-to-play setup could work in a gamebook, but the implementation here was just really badly-handled.
Candy Crush Saga, Free It's not Update Mondays without King, who have updated their flagship game with 15 new levels, making for a total of 935. I have to wonder at times – what percentage of their massive player base actually get this far? I know it's probably not a ton of work on their end, but it still seems like a largely wasted effort in some respects. Well, if you were looking forlornly at Tiff sitting there on level 920, you're all set for the next couple of weeks.
Platform Panic, Free Platform Panic is bulking up with its latest update, doubling the amount of rooms in the game, adding new achievements, and tons of new traps and obstacles to contend with. I really can't get over how much that icon looks like Kobun/Servbot from Mega Man Legends, but hey – that game kind of took that general design from LEGO, so all's fair in the end.
Ragnarok Classic MMORPG, Free The latest update to Ragnarok brings an actual kind of Ragnarok to the game. That is to say, there was a server merge because the active population is starting to fall. That's not stopping the new content from coming, though, as this update also adds some new main quests and a 5th generation of mercenaries.
Diamond Digger Saga, Free Diamond Digger is still plugging away, adding 20 new levels in this update and setting up 20 more to be released on May 20th. I think the most notable thing about this update is the fact that the set of levels released on the 20th is called "Electric Boogaloo". I'm not sure if King realizes that the woeful subtitle of the sequel to Breakin' is typically used these days to describe an entirely unnecessary or unwanted continuation of a story that no one cares about. Cough.
Pet Rescue Saga, Free On a totally unrelated note, Pet Rescue Saga has a new episode with 15 new levels. This time, the pets head to Atlantis in search of new fire hydrants and trees to mark. You know what I'd love to see? A cross-over with Tokyo Jungle. That would be pretty awesome, right?
Sorcery! 3, $4.99 The biggest and best Sorcery! to date gets a modest update this time around. For all the bloodthirsty warriors out there, you can now beat the Air Serpent in open combat if you want. For the scholars, you'll notice lots of little story improvements. Finally, for that one person with the old hardware who keeps asking about it, this update brings performance improvements for those sporting more, er, vintage devices.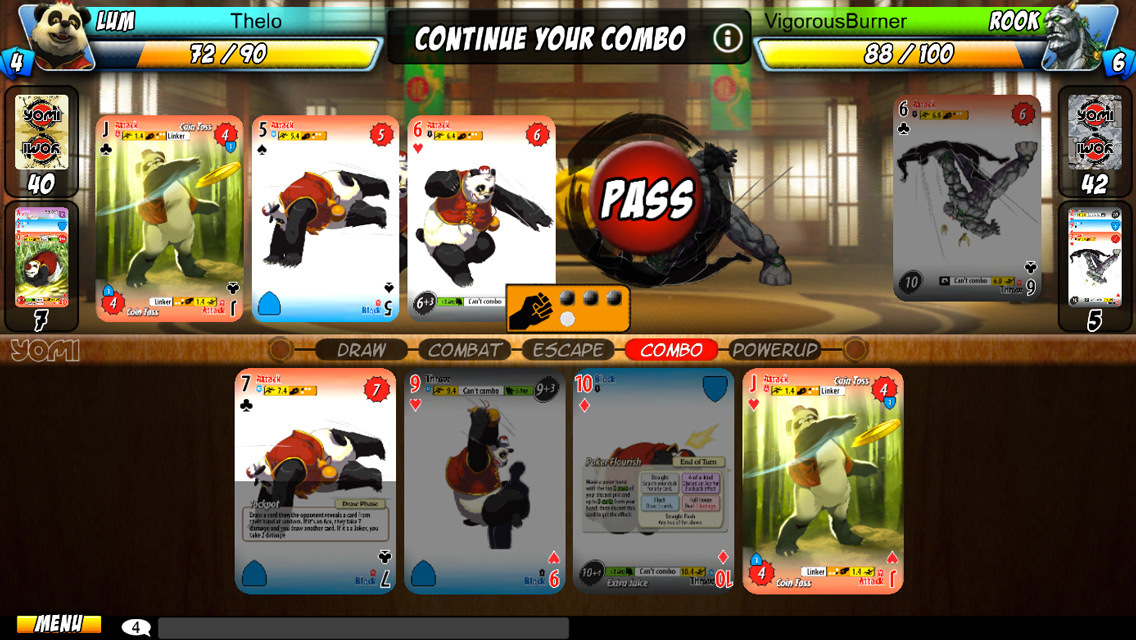 Yomi, $9.99 Say 'Yo', say 'Mi', say it together, naturally. Fans of this unusual card-based fighting game (or is it a fighting-based card game?) were treated to a nice little update last week. The new Inscribed card packs let you upgrade your cards to keep track of stats. They've also dropped the price of EX characters with this update, down to just $0.99 each. There are also a number of UI improvements and gameplay balance adjustments. That's the way it should be.
Siralim (RPG / Roguelike), Free Siralim launched on Steam recently, but the developer hasn't forgotten its mobile roots. The latest update brings more revamped creature graphics, an altered ticket system, some balance adjustments, a bunch of bug fixes, and an improved Reincarnation Mode. As usual, you can hit the official website to get the granular details.
Star Traders 4X Empires Elite, $1.99 It's been an unusually long amount of time since the last Trese Brothers appearance in Update Mondays, but after seeing the magnitude of this one, it's easy to see why. Star Traders 4X has had a serious overhaul to its engine, improving stability, performance, and memory usage. Everything is considerably faster now, with reduced load times, fewer crashes, and less chance of the game getting booted out if you need to do something else. Of course, it wouldn't be a Trese Brothers update if it didn't also tinker around with the gameplay balance and improve the UI, with most of the attention this time focused on crew upgrades and types.
Hearthstone, Free You know, it's funny. I almost forgot to mention this one, but then I remembered one of our readers commented on our news story that he was really looking forward to seeing it mentioned in Update Mondays. Well, here you are, friend. This update adds two new card backs, support for 64-bit devices, and a few notable bug fixes. As one of the new card backs is a ninja and Spider-Man is somewhat ninja-esque, I am awarding Hearthstone the coveted Update Mondays Most Spider-Mans Of The Week award. Enjoy it in good health!
That about wraps it up for last week's significant updates. I'm sure I've missed some, though, so please feel free to comment below and let everyone know if you think something should be mentioned. As usual, major updates will likely get their own news stories throughout this week, and I'll be back next Monday to summarize and fill in the blanks. Have a great week!