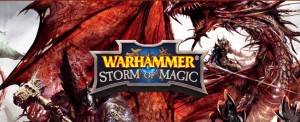 Games Workshop has in no way been frugal when it comes to licensing Warhammer games on pretty much every platform, and the company isn't done yet. Apparently, Supersense is the next company in line to develop a Warhammer game, as the company was "ridiculously proud to announce." The upcoming game will be titled Warhammer: Storm of Magic and will be coming to iOS, Android, and Kindle Fire devices at some point in 2015. According to the developer, the game will allow you to pummel an Orc, send a Goblin into the abyss, or send pesky Humans back into their pigsties.
The game will be a turn-based, online 3D Collectible Card-battler that, from what the company is saying, will be highly social as players will be able to form Alliances and share their wins, losses, and rewards. There will be daily quests, a leveling system, Ranked play, an Arena, and a Campaign, so plenty of things to do and modes to choose from.

Even though the developers haven't really specified the game's monetization system, the company's pedigree pretty much ensures that the game will be F2P. Supersense is very open to ideas and suggestions regarding the game's development, so hop on to the company's forums if you think your ideas could help make Warhammer: Storm of Magic better.