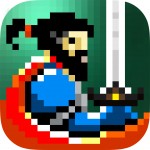 Alper Sarikaya's next game is a big-boned (or at least big-pixeled) little number called Sword of Xolan, an action platformer of the old school in both form and format. You'll play, of course, as Xolan a knight with a beard, armor, upgradeable abilities, and, naturally, a sword.
And that's basically all you need to know: the game's website lists a little blurb of boilerplate fantasy plot (some darkness, some justice, an evil grimdark skull-demon named "Borzandar"), but we're mostly here for the hacking, slashing, and a bit of jumping. The boss monsters may be a little well-worn, too—a yeti, a giant honeybee—but they're satisfyingly big and lumbering and are the most expressive examples of Sarikaya's thick pixel art.
Apparently, there are some promo codes out in the wild, and Sword of Xolan has been well-received so far on the forums. Crucially, a lot of the positive feedback has been directed toward the virtual overlay, which may allay some of the most common complaints about touchscreen action games. Other features include MFi controller support and customizable virtual buttons, as well as a challenge mode to complement your standard adventure.
Sword of Xolan will hit the App Store on May 21 for $0.99, with no in-app purchases or advertisements. Until then, feast your eyes on some screenshots, included below.