I'm generally terrible at roguelikes. What can I say, I'm young and reckless! But I love the genre (and its conventions that inspire other games) because they're highly replayable and demand that I get better at them. When Steam had its recent roguelike sale, I found out that I owned more than half of the games on sale – and bought a few more. So, MicRogue ($1.99) definitely appealed to me, especially as a bite-sized roguelike. And hey, I do love me some pixel art. Thankfully, MicRogue delivers solid, entry-level roguelike gameplay.
Your goal is to make it to the tenth level of a tower where a sleeping dragon awaits, whose treasure you are trying to claim for yourself. There are enemies waiting for you on each floor, and you must either escape or defeat them in turn-based play. You can move one or two squares in any cardinal direction, before the enemies make their move. Each enemy has a specific movement rule to it, so you have to worry about positioning. You have a shield that can protect you from one attack. It's not much of a panacea, though; you have to worry about which direction you're facing, as while you can take up to three shield hits, anything from behind you or from vertical directions will kill you in one decisive blow.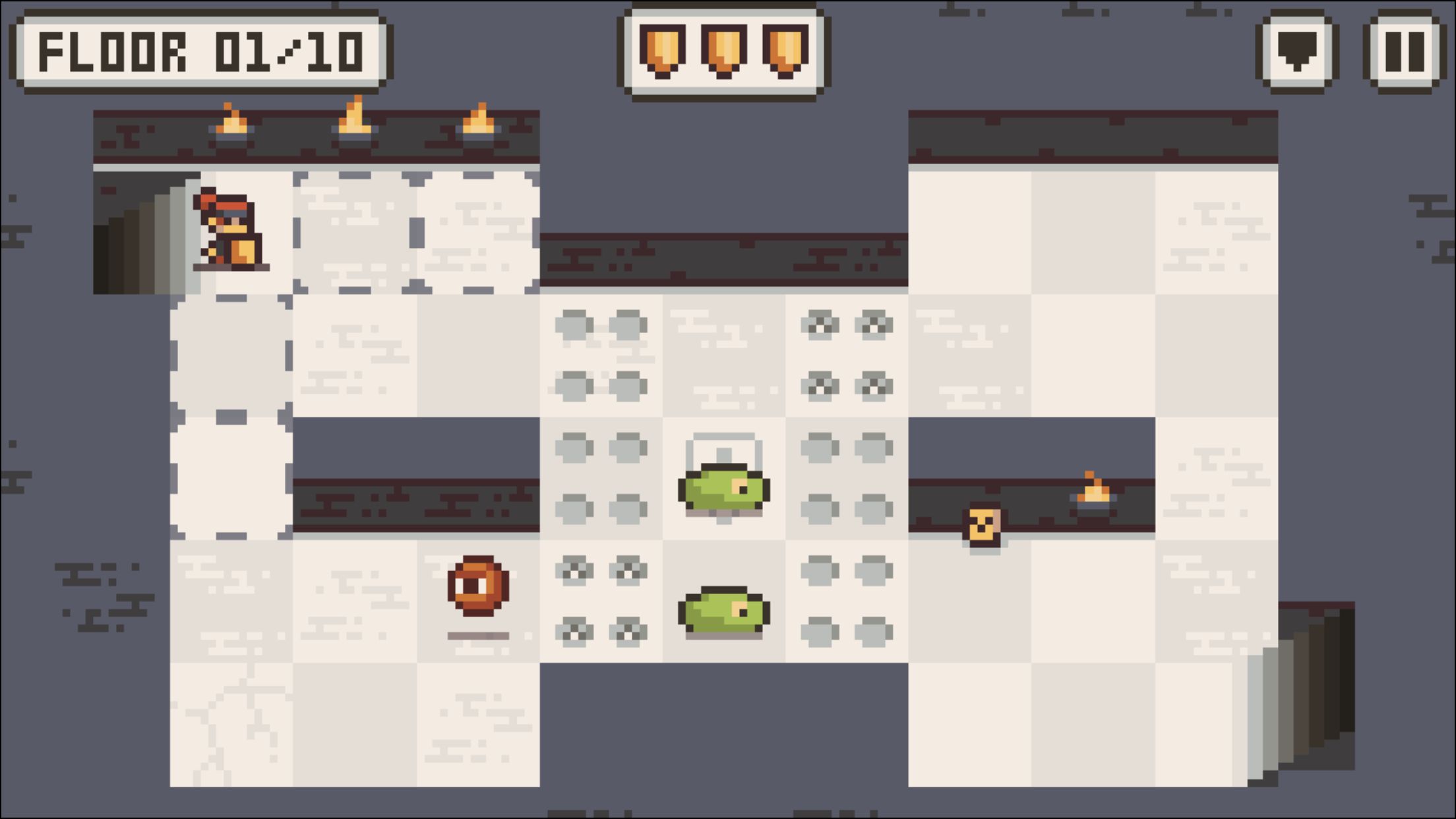 You have no attacks besides tackling, and you can't tackle some enemies. Enemies must always move, and the levels are full of traps that can hurt them as well as you. Some enemies also have effects that can impact other enemies, like flames that hit other enemies, or freezing everything on screen. So, you can get clever chain kills by combining these effects. And if all else fails, you can just lure foes on to traps, that always works. Cleverness goes a long way.
I feel like I've gotten some flak for calling MicRogue a fast-paced game, but I stand by it. The game is turn-based without timers, so you could theoretically take forever between moves, but its speedy pace comes in other facets. The levels are all small, fitting on one screen. The enemies move quickly after you move. The game has only ten rooms to try and beat. It's something that you can get a lot of satisfaction out of in just a few minutes. It's a speedy game, something built for pick-up-and-play gameplay.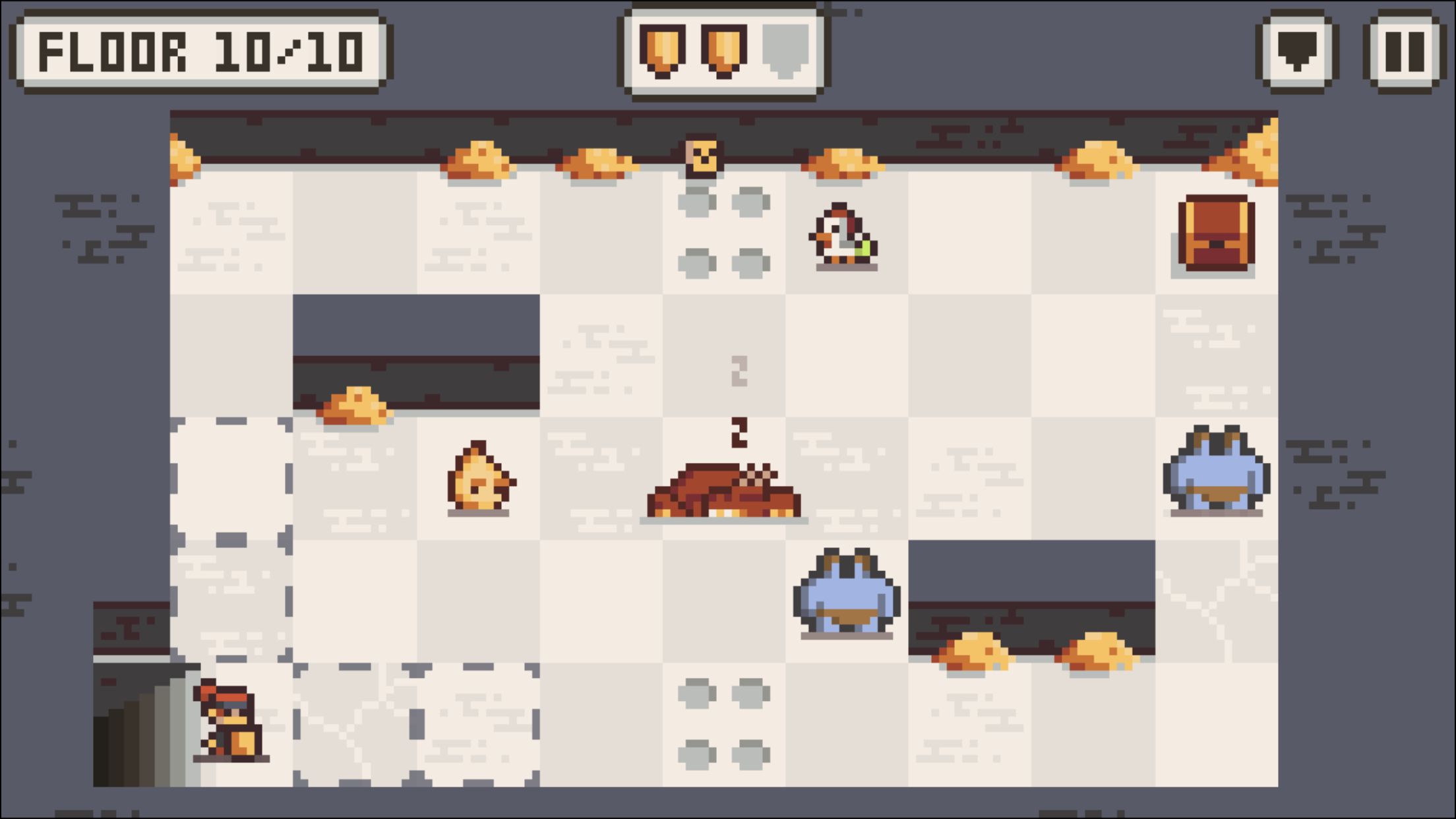 What I think kind of surprised me was that MicRogue has a heavier chess influence than I perhaps expected. But I started to notice it: the enemies all have set movement rules about how they can move, and how they can attack. For example, there's the ninja, which moves like the knight in chess, i.e. 3 blocks in one direction, and one in the other. Enemies will pursue you in your general direction. So once you figure out how they operate and how they will move, you can use their rules in your favor to take them out and to lead them to their demise on the traps. You can get lucky by having enemies wander on to spikes of seemingly their own volition, but otherwise it's possible to trick enemies.
The game does get challenging as more enemies with more complicated rules get involved. The cockatrice enemy that can kill you by just looking at you? Yeah, I kind of hate it. Also, you have to be wise to your positioning; you're vulnerable to enemies that can move one square vertically as they can bop you where your shield doesn't go. And back attacks will kill you instantly, even if you have full shield. You can play at a brisk pace, but you do benefit from not being a dingus and considering the ramifications of your moves.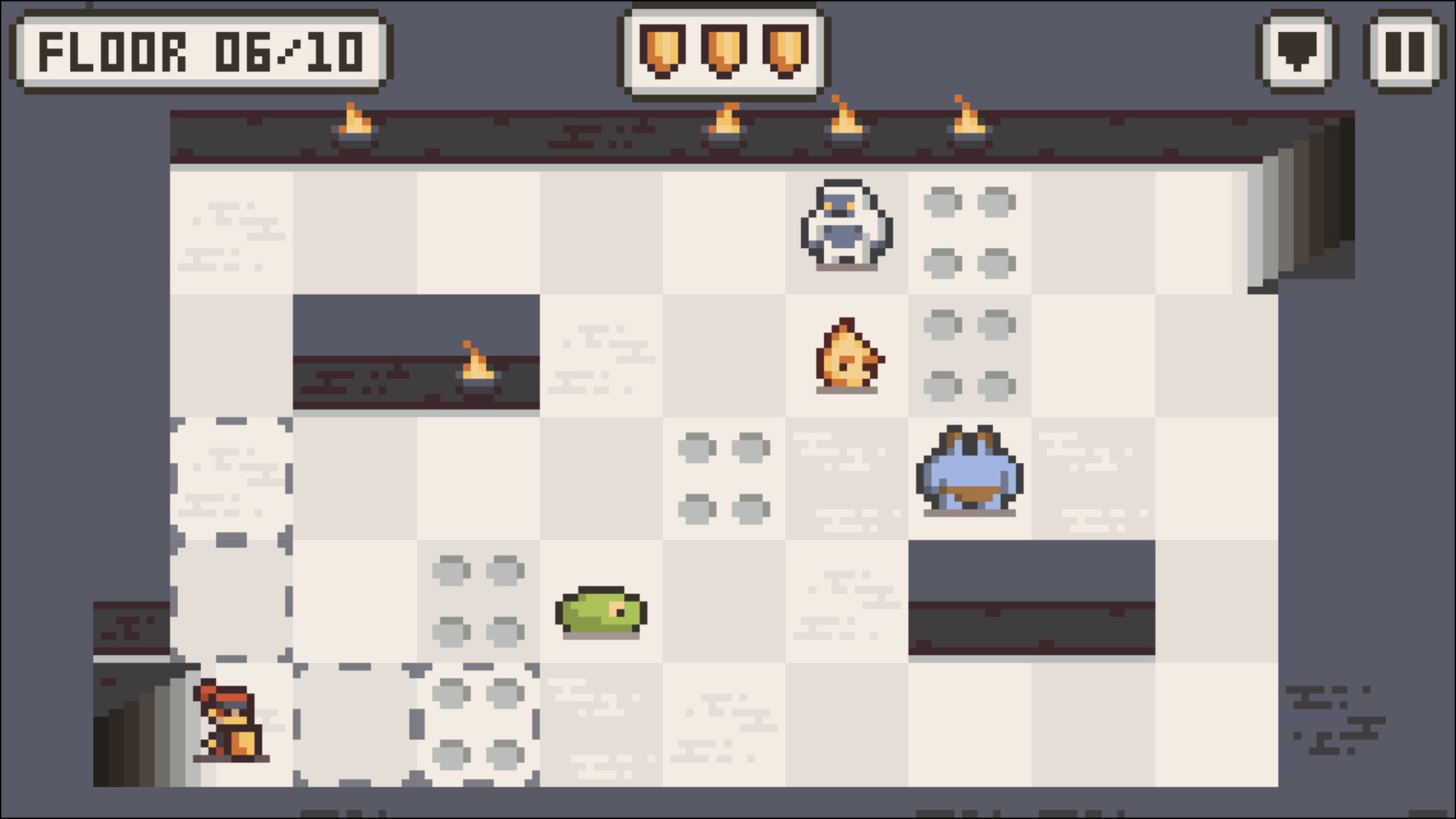 Death can and will come swiftly with one bad move in MicRogue. Yet, the short game sessions make any failure not so bad, because you can quickly get back up and try again to get the dragon's treasure, and then escape with it in one piece. The escape portion adds a real layer of panic to the game, because you have more enemies to deal with, and an invincible dragon in hot pursuit. The game has an interesting difficulty curve where getting to a point where you feel like you're kind of good at it happens not long after you've started. But mastery is a real challenge, thanks in large part to the larger quantity of enemies that you encounter in the late game. And that dragon is a formidable foe, too. Getting those wins will be really tricky.
MicRogue is great as a pick-up-and-play game because of its quick pace, but I'd love to see the game introduce portrait support. This game would be great if you could play it in portrait mode. The interface would need some tweaking, but it feels like it'd be possible. It could make this game even more playable as a pick-up-and-play game. I'd love a daily challenge mode, as well. It was a great addition to Arcane Tower ($1.99), especially with the replay functionality. Granted, MicRogue doesn't focus on score, but something like tracking the people who have the most wins over time would be great. There's no Game Center support, otherwise.
I will say that if you're looking for a big and beefy experience, perhaps you should look elsewhere from a game that has the word "micro" in its title. This is a small roguelike built around quick and fast sessions for you to enjoy when you have a free moment. Take it for that, and you'll have a good time here.