Just started playing Hearthstone (Free) and feel the need to buy some rad coin packs? Well, Hearthstone is now on the Amazon Appstore for Android with phone support, and to celebrate, they have a deal where you get 30% back in Amazon Coins when you buy any card back worth $19.99 or greater through the Amazon Appstore version of the game. Amazon Coins are a secondary currency on the Amazon Appstore that can be used to buy apps and in-app purchases, without spending real money, where 1 coin equals $0.01 US. Amazon claims that through savings and promotions on the Amazon Appstore, where if you buy Amazon Coins at a 10% discount, you can get 106 card packs for $90 versus 70 packs for $90 on stores without promotions. I did the math and I think you can only get 104 based on current promotions, because the $9.99 card pack doesn't give you coins back to buy an extra 2-pack IAP they seem to be figuring in. Still, not bad.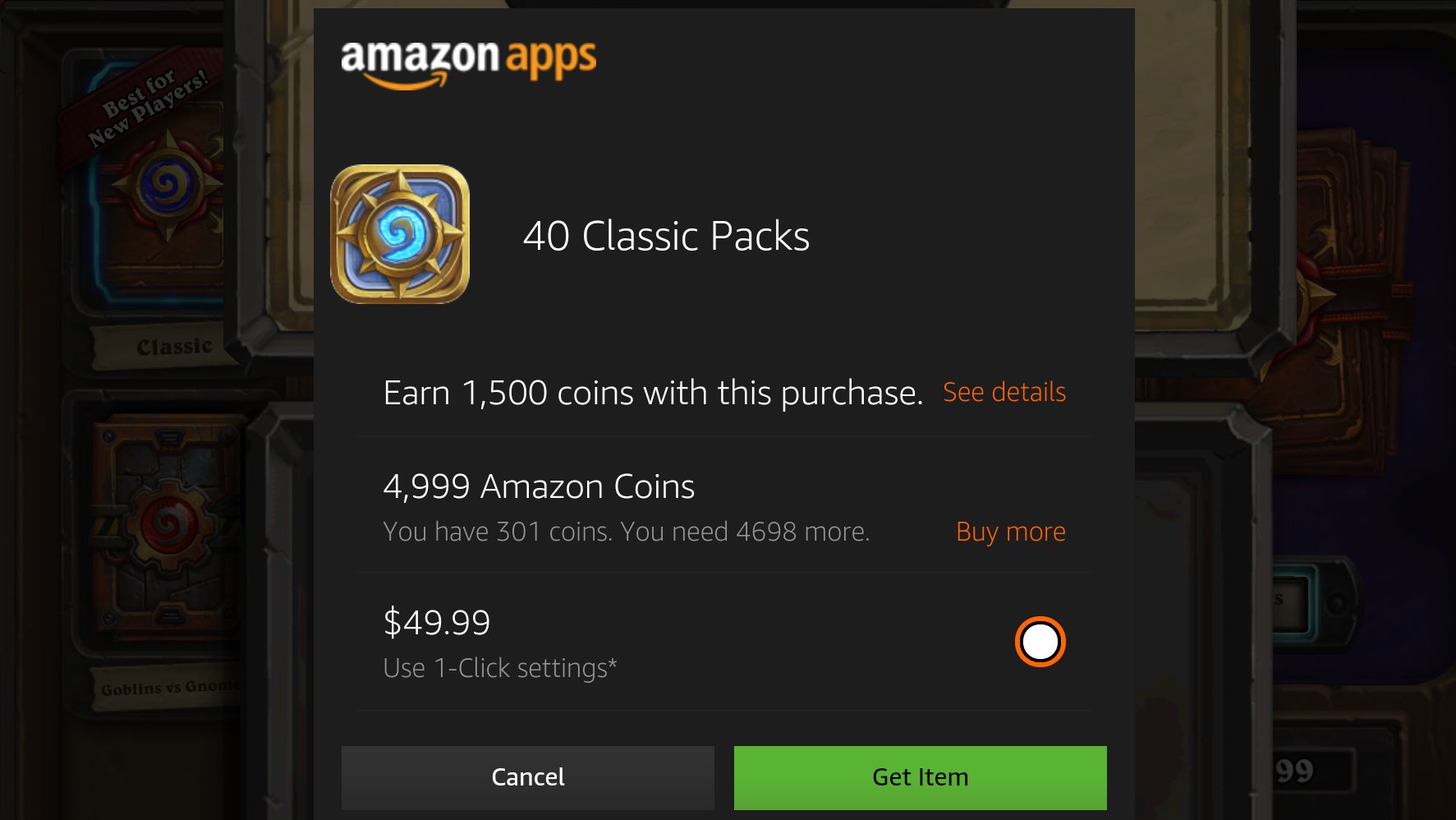 So, for you, clever Android usar, there are ways to save loads of money if you have access to an Android device, since the Amazon Appstore can be installed on anything with Android. And because you can buy card packs on one device and use them everywhere, the smart Hearthstone player is going to do just this. Now the Hearthstone can be installed on phones as well as tablets, if you have a phone lying around or can get an old Android phone from someone, you're in business to use it just to buy card packs. If you have a Windows PC, there are ways to run apps on PC:
Something like Bluestacks, Chrome's ARC Welder, or Andy the Android Emulator might work on Mac if you can rig it up. The beauty of Android is that usually, where there's a will, there's a way – and when it comes to min-maxing Hearthstone IAP, well, you gotta do what the pros do.