Baseball is finally back after a long winter. It's looking like another rough season for my Texas Rangers, with more season-ending injuries and prospects they traded playing for other teams. Thankfully, baseball simulator iOOTP is back for another season on iOS. Boasting a fresh MLB license and a new name, MLB Manager 2015 ($4.99), the time has come for me to try and change my favorite team's fate, and develop them into perennial contenders. Previous iOOTP games came with what amounted to incremental improvements from year-to-year. MLB Manager, despite the fresh new license, follows the same tack: a few new tweaks and features rule the day.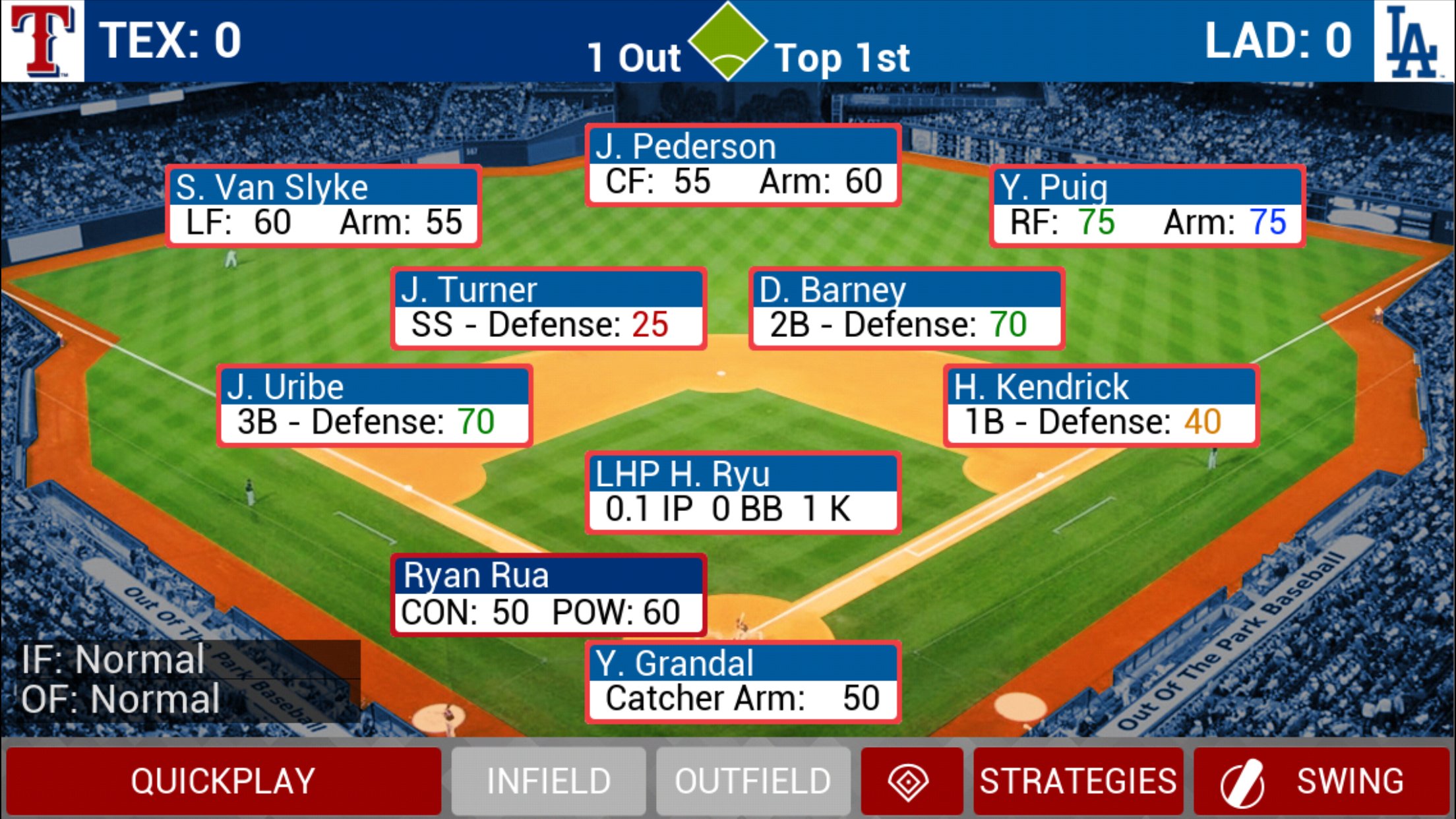 For those unfamiliar with Out of the Park Development's modus operandi, MLB Manager is a baseball simulation where you serve as the general manager and/or manager of a baseball team, making personnel and financial decisions to build the best team possible as the general manager. As GM, you'll be promoting and demoting players, signing free agents, making trades, and trying to keep the owner happy and the team successful. You can also serve as the field manager, making on-field decisions like pulling pitchers and calling for steals, along with setting pitching rotations and making lineups. You can let the computer handle these functions and just simulate games in a flash, or you can play it pitch-by-pitch. The only thing you can't do is to swing the bat yourself.
MLB Manager appeals to the fan who likes the structure of professional baseball and its machinations as much as they do the game itself. If you want a good baseball game, go play Super Mega Baseball on PlayStation. Seriously, do that, the game's not a pure simulation but it's even better than The Show. If you're a fan of professional baseball in particular, MLB Manager is the game for you. It may be a scaled-down version of the desktop OOTP games, but it's still light-years ahead of the simulations in 'actual' baseball games.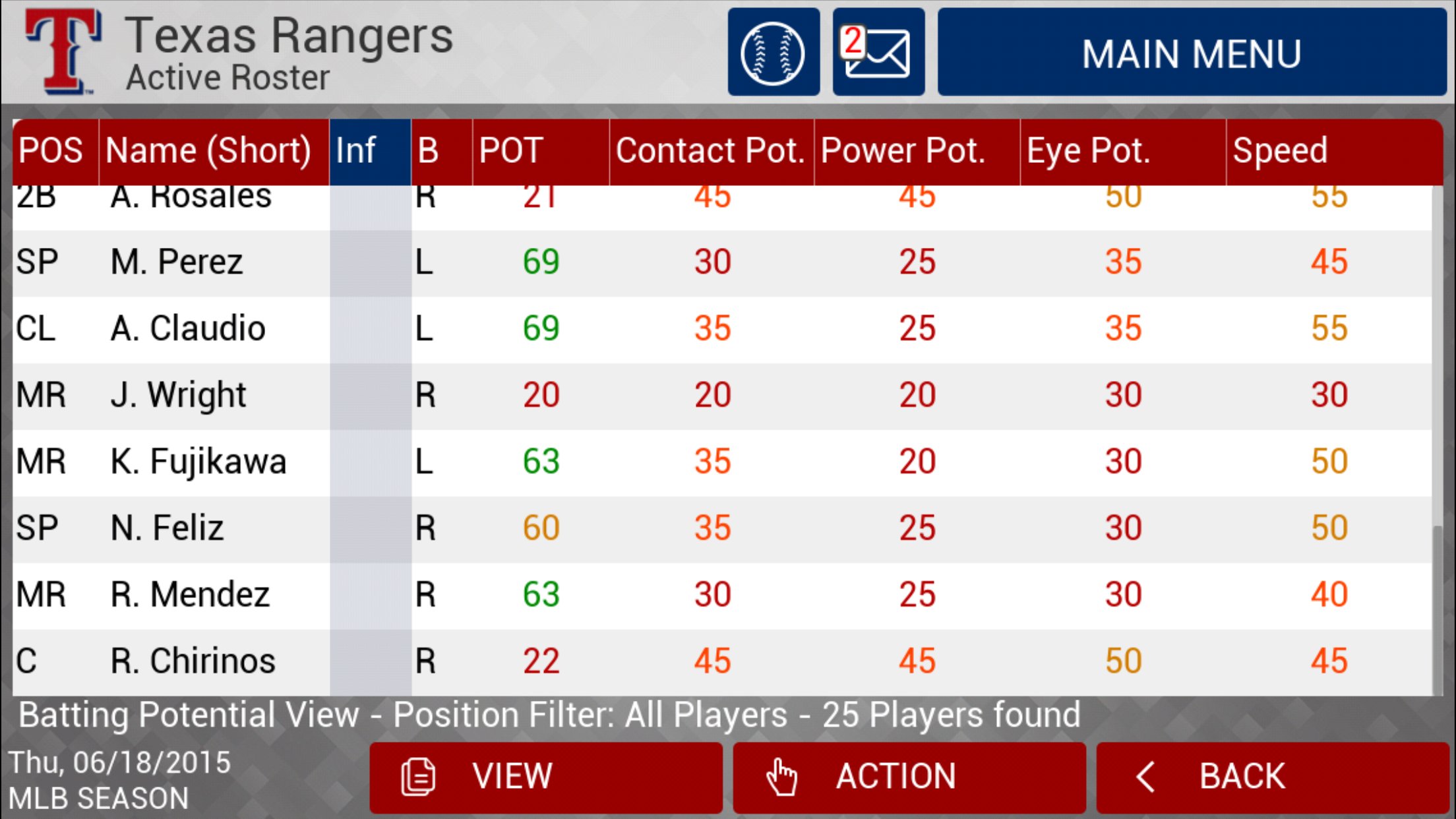 What you're going to get out of MLB Manager depends on how much you're willing to put into it. This is a game you can get limitless gameplay out of. You can take over from the start of 2015 and go on for decades, and then start over and try again. The game will accommodate you and how detailed you want to play. Want to just take a macro view of things and simulate seasons at a time, only getting interrupted for major events? That's possible. If you prefer controlling strategy on a pitch-by-pitch basis, you have that level of granular control. These details even extend out to the league itself. You can redraft teams, or even play with rosters comprised of just fictional rosters.
Once you get into the game, you can edit any player's attributes. This is welcome because any game is going to not get everything perfect when there are thousands of players to recreate. Information on things like pitch types are even imperfect at sites that track them such as FanGraphs. So, the dedicated fan who thinks a pitcher has a curveball instead of a slider can fix that. It is possible to cheat by inflating some players' stats with this system. Hey, I'm not above the idea of reducing every current and former member of the 2011 St. Louis Cardinals' stats to the bare minimum. I'm also too lazy to go and actually do it. Maybe I'll just change David Freese's stats. As a Rangers fan, I don't care much for him in particular. This level of specific control is necessary for fans of the sport who need it, though.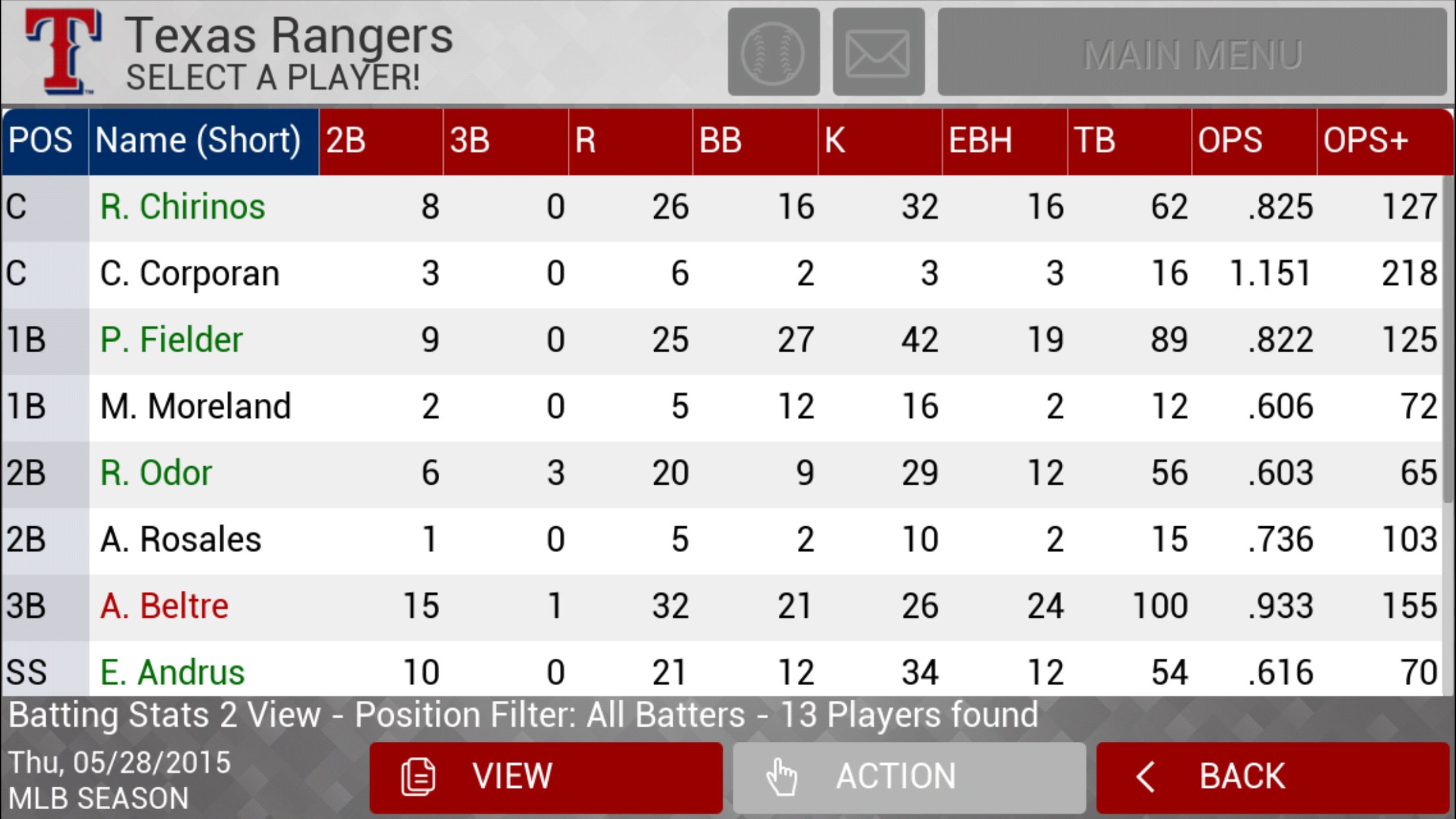 This is where the problems with MLB Manager start, though. The interface is still complex, and not the most responsive, especially in menus with lots of buttons. Playing on the iPhone 6 Plus should make menu navigation easier than on previous iPhones, but it's still easy to tap the wrong thing. The layouts and placement of menu settings are still difficult to navigate. The player editor is in the "View" section and not "Action" for reasons that aren't quite clear. It doesn't get much clearer after hours of play. All these powerful tools are at your disposal, but the toolbox is still messy.
The interface has gotten a cleanup for iPhone 6 devices, but it's not going to win any design awards. It's functional, but with just a few flourishes. The background on the in-game section is still not a photo of the stadium your teams are playing in. Despite the MLB license, that detail has escaped notice here. That would be a cool flourish that should be easier to include now!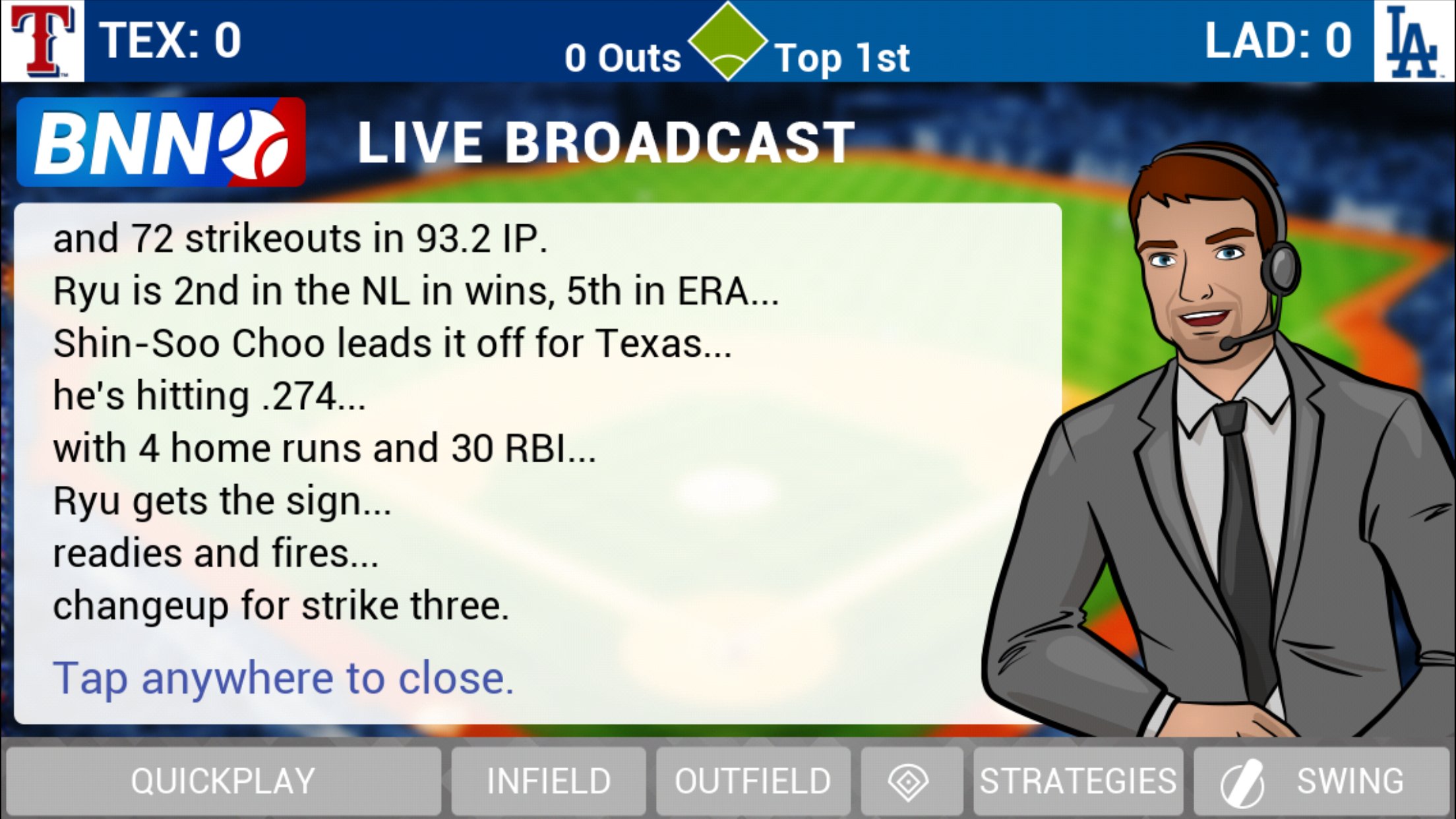 I applaud MLB Manager 2015 for having a wider selection of minor league prospects than ever before. If you think Kris Bryant should be starting for the Cubs right now, you can do that. The game tracks service time, too: he may be a free agent a year sooner, but who know if Earth will still be around in 2021, much less Wrigleyville if the Cubs do win a World Series at some point? Still, there's some things like player demotion that aren't quite realistic. For example, in my first ill-fated attempt at leading the 2015 Texas Rangers to glory, I demoted Colby Lewis to the minors because his ERA was over 6. He was not happy, and he had a point – I'm pretty sure he doesn't have any minor league options. But MLB Manager 2015 doesn't track that. As someone who cares about that, I'm a bit disappointed. But considering that the minor league feature is more robust than before, I have hope that maybe 2016 is the year.
Some of these features have evaded the mobile games of these simulators in the past because iOS devices lack the processing power that the full systems feature. Plus, as a $4.99 game versus a $39.99 one, there's definitely a matter of scale to consider as well. If you want a portable version of OOTP Baseball, there's plenty of competent Windows tablets that could run the game. If you want it on your iPhone or iPad, this is the only game in town. MLB Manger is admittedly getting better year-by-year. Small tweaks and changes keep coming that only the diehards will notice or care about, but this is a game for those people.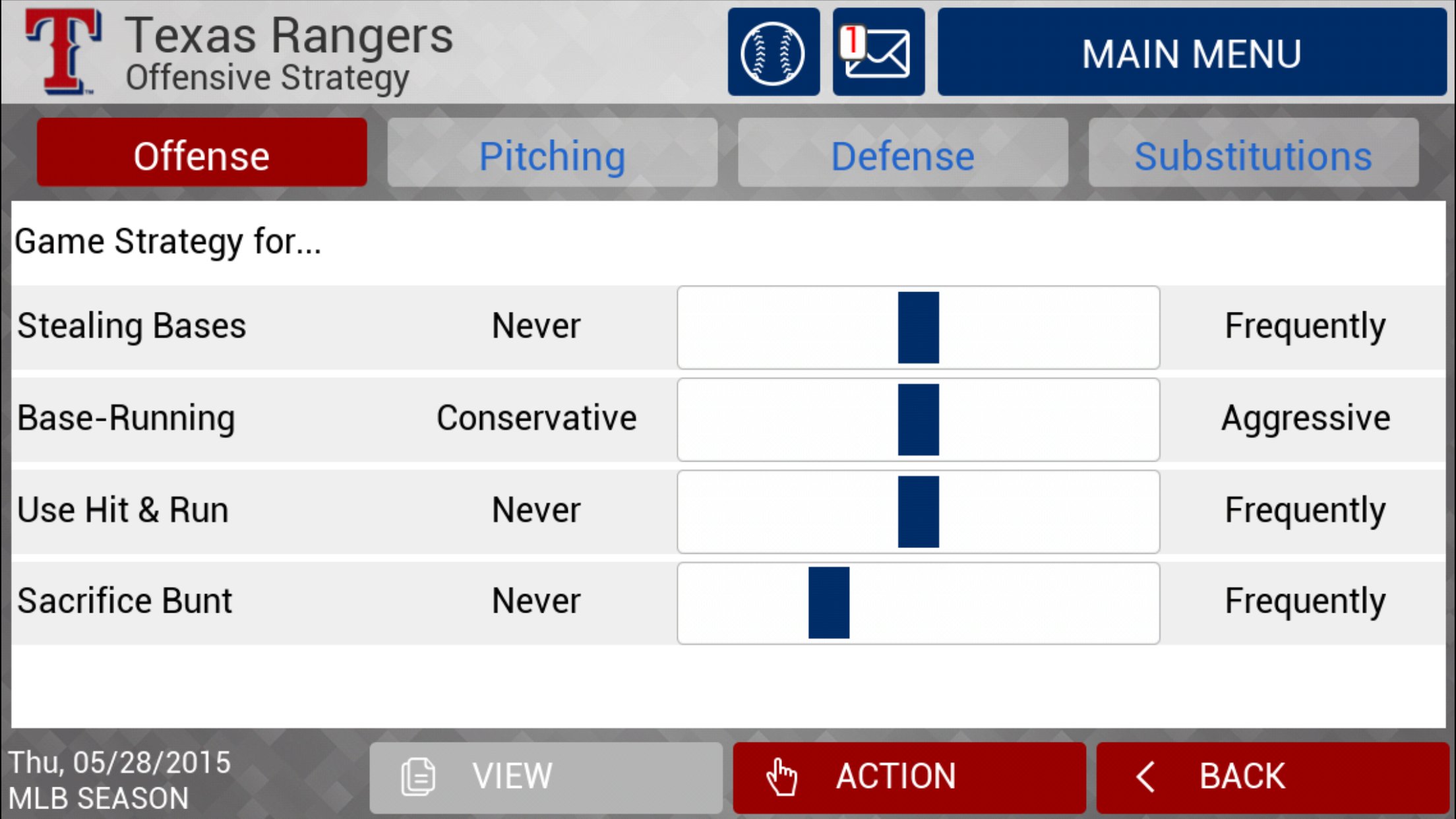 If you've never played a baseball simulator before, MLB Manager 2015 is as good a jumping-in spot as any, with the latest features and real teams adding to the authenticity. Baseball is a complex sport to manage, and this game isn't the most user-friendly with its menus. There is a learning curve to figure out how it all works. But once you do, and if you have that management itch, you'll lose hours, weeks, and months to this game, as I have in previous versions. It's too much fun if you're willing to give in to its evil charms. It's still not a perfect game, though. Short of a bottom-up overhaul of what the 2011 edition introduced to the series, expect 2016 to just have more slight changes.
Regardless, MLB Manager 2015 is a solid game that can provide killer value, and you can't expect a baseball game to dramatically change on a year-to-year basis. I just would love to see more iteration to make this the five-star baseball simulator that it could be. But still, what other choice do you have?