Hello mobile gamers, hopefully you survived this April Fool's Day without being tricked too badly, but here's something that's the honest truth: There is a crap-ton of new iOS games being released tonight. This list took way longer than usual, and it already takes a long time to put together. So this is as witty of an intro as you're going to get, but be sure to check out everything below because there's some real winners among the bunch.
---
A Day in the Woods
iTunes Description
Sneak past the big bad wolf, avoid massive spiders and distract bears to solve each level and get Little Red Riding Hood safely to Granny's house.

In A Day in the Woods – a stylish re-imagining of the traditional sliding puzzle game – you plays as Little Red Riding Hood's wispy winged sprite friend. By moving tiles around each board, you'll help Little Miss Red avoid scary woodland creatures while collecting flowers and berries along the way. There'll be some friends to help you too, including bunny rabbits, beehives and the local woodcutter.
Forum Thread: A Day In The Woods (by RetroEpic Software)
---
Above the Abyss
iTunes Description
Looking for a new twist in an Endless Runner? Above the Abyss is your game! Test your skills and solve tricks in order to reach the next platform!

Play as one of the Beasty Balls as you roll, jump and spin your way across stunning 3D environments. Swipe and Tap your way over and thru challenging obstacles in this fast and frenzied endless running game for iPad, iPad mini, iPhone & iPod touch.
Forum Thread: Above The Abyss (By Steve Snyder)
---
Attack the Light – Steven Universe Light RPG
iTunes Description
Team up as Garnet, Pearl, Amethyst, and Steven to stop a powerful Gem weapon in Attack the Light! Fire off Garnet's Rocket Gauntlets, summon Holo-Pearl, and put the hurt on your enemies with Purple Puma. All four Gems have unique attacks and upgrades. Explore caves, fight bad guys, collect super secret treasure, and level up! Load up Steven's backpack with all kinds of magical items to help you on your quest.

Intuitive tap and swipe controls make it easy to dish out devastating damage. Every new power has a new mechanic to master. Unleash the three-Gem fusion, Alexandrite! She's a stone-cold Betty with mondo firepower. Don't just attack the Light, obliterate it with Fusion power! Attack the Light has an all-new storyline from "Steven Universe" creator Rebecca Sugar. Plus, the game features original voiceover from Steven Universe cast members!

Four heroes teaming up for a magical adventure. Sounds like the best RPG ever! Time to ATTACK THE LIGHT!
Forum Thread: Attack the Light – Steven Universe Light RPG (by Cartoon Network)
---
Boings
iTunes Description
A whole new concept of platform game, show off your bouncing skills through 40 rooms full of moving structures, overheated electric resistances and jumps, many jumps. Gravity will be the judge, height and inertia your best allies, your skill and reflexes will dictate how fast you can go, good luck.

– Real physics environment.
– Intuitive, precise and responsive touch controls.
– Beautiful immersive soundtrack.
Forum Thread: Boings (By Matias Carmona)
---
Boom Dots
iTunes Description
Boom Dots is a single-tap reaction game that will keep you hooked for hours!

Tap to dash forward, and hit the moving dots.

The game features 200 missions for you to complete, and 20 unlockable themes.

From the creators of Zig Zag Boom and High&Dry.
Forum Thread: Boom Dots (by Umbrella)
---
Bouncing Ball
iTunes Description
Bounce the ball and avoid touching the spikes. Collect floating power ups to change the game's colors.
Forum Thread: Bouncing Ball (by Ketchapp)
---
CivCrafter
iTunes Description
Craft an entire civilization with a single finger!

• YOUR KINGDOM AWAITS •
Gather resources, build an army, and battle clans for world supremacy. Will you be a benevolent ruler or a vicious tyrant? The choice is yours!
Forum Thread: CivCrafter (by Naquatic LLC)
---
Corridor Z
iTunes Description
An ordinary high school in an ordinary small town faces a zombie outbreak. Authorities have failed. Three people, who survived the carnage, remain locked in. You are the only one who can help them!

FEATURES:
* EXPERIENCE THE MOST GENRE REFRESHING RUNNER IN YEARS
* Get thrilled with the unique and intense gameplay
* Help the pom-pom girl, the jock and the jarhead to survive
* Enjoy the cutting-edge detailed graphics
* Discover the infection's mystery with the voice-overed story
* Stock the awesome upgradeable arsenal: pistols, SMGs, shotguns and more
* Immerse yourself in multiple objectives designed for each of the characters
* …and shoot down tons of running horror!
Forum Thread: Corridor Z (by Mass Creation Sp. z o. o.)
---
Countryballs – The Polandball Game
iTunes Description
An Endless Countryball Runner (by BitStern)

Why cannot Poland into space?
Why does Germoney have to wörk?
When can France into surrender?
Why is Spain still waiting for siesta?
Why did Europe run out of money?

Countryballs is the endless arcade runner, you have been waiting for.
Forum Thread: Countryballs – The Polandball Game (by BitStern)
---
Crowntakers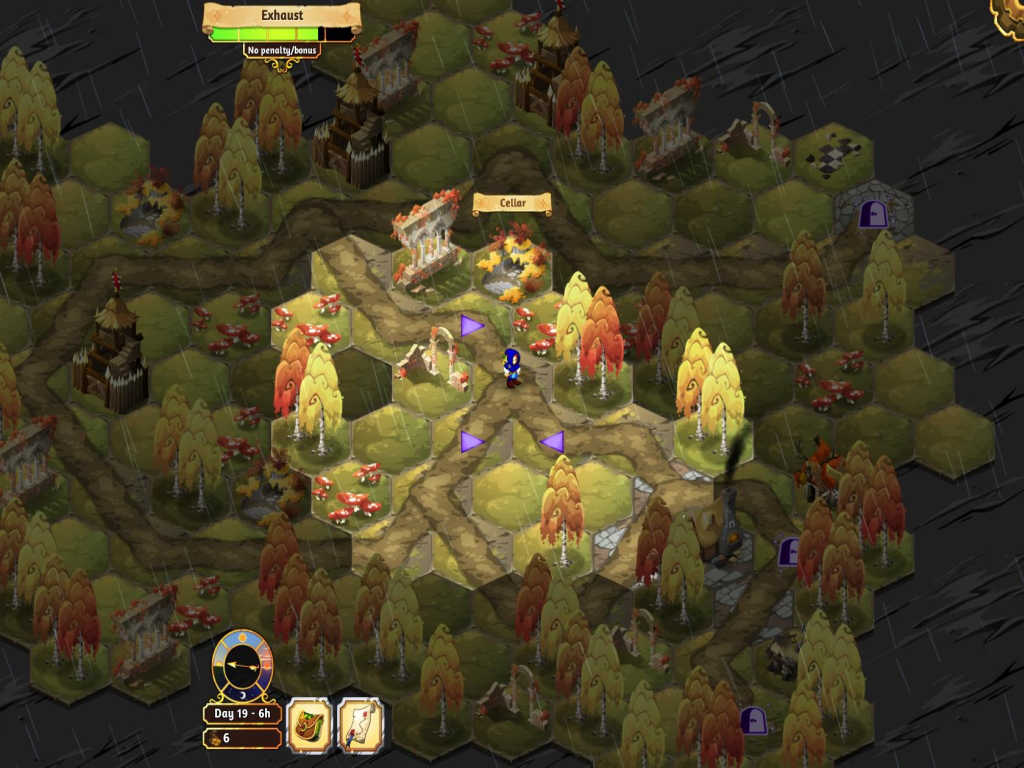 iTunes Description
Dark times are imminent: the king's abduction throws a once peaceful land into turmoil. Being the chosen one elected by the king himself through one of your dreams, you embark on an adventurous journey to free him from the hands of the evil duke and go down in history as the kingdom's greatest hero. But time is of the essence…

Crowntakers combines turn-based strategy with RPG elements and takes you at the behest of the crown into a medieval fantasy world full of challenging encounters and epic adventures. With its randomly generated world, Crowntakers offers a varied gaming experience every time you set out to fight evil. As a hero on a mission, you'll have to assemble a group of brave mercenaries to take on cruel enemies like barbarians, ferocious animals or deceitful thieves. Embark on challenging quests, gather vital resources and finally banish evil from the world.
Forum Thread: Crowntakers (by Kalypso Media)
---
Cube Koala
iTunes Description
Cube Koala is an intense puzzler where you play as a koala placed in a kafkaesque tesseract containing deadly traps. Guide our little hero through increasingly difficult levels, manipulate gravity and employ every skill you have learned to bounce through the level's exit…just to appear in a new one.
Forum Thread: Cube Koala (by Happymagenta)
---
Cubit The Hardcore Platformer Robot
iTunes Description
Cubit The Hardcore Platformer Robot is an action-packed platform game, where music plays a very important role.

With only one button to jump, you must help Cubit to go from platform to platform, while you avoid obstacles and enemies through the different scenes of the game.

Perhaps you think this makes this game not difficult, right? Well, you are right; this game is not difficult… this game is Hardcore! Choose the path you want to do in each game and reach each of the 3 endings available!!
Forum Thread: Cubit The Hardcore Platformer Robot (By Software Scribes S.L.)
---
Dennis & Gnasher Blast in Beanotown
iTunes Description
Join Dennis the Menace & Gnasher in an action packed adventure to rescue Beanotown!

EPIC, free to download, multiplayer 3D action game – from the publisher of The Beano. Develop your skills, collect resources, upgrade your gadgets, defeat the grown ups and progress to become the ULTIMATE MENACE!
Forum Thread: Dennis & Gnasher Blast in Beanotown (by D C Thompson & Co)
---
Dinosaurs Ate My Lawn
iTunes Description
Dinosaurs Ate My Lawn is a retro action platformer inspired by pixel graphics, chiptunes, and old school difficulty.

A portal has opened in your front yard and made shambles of your lawn. Look before leaping be darned, you're off to show this presumptuous portal what's what. Trusty hose in hand, into the time tear you go to recover your lawn, find your yard flamingo ornament, and deal with whatever else is down there.

Turns out dinosaurs are down there. Lots of dinosaurs.
Forum Thread: Dinosaurs Ate My Lawn (By Paul VanDerwerken)
---
Dragon Rider: The Adventure Begins
iTunes Description
Enjoy your dragon ride with this action-packed beautiful flying game. You get a dragon to fly and powers to shoot and destroy the enemies. Your goal is to venture the enemy territories, collect the coins and diamonds, destroy the targets, complete the levels and earn Medals and Titles.

Connect with your friends and challenge them to compete you in your adventure! Each zone has Bronze, Silver and Gold medals to earn. On completion you earn the Titles, such as Knighthood and Lordship. Shatter the targets to earn extra, splash the river for more fun and acquire hammer and speed powers to help cross faster.
Forum Thread: Dragon Rider – The Adventure Begins (By Tez Minds Software)
---
Dual
iTunes Description
Between people, across screens. DUAL is a local multiplayer game where two players use their mobile devices to shoot bullets from one screen to the other. It's easy to pick up and play in both competitive and cooperative modes: DUEL and DEFEND.

Features:
+ Battle anywhere! Works with bluetooth and wifi.
+ DUEL – Tilt your phone, dodge bullets, charge, and shoot your friends in this classic duel standoff.
+ DEFEND – Work together to defend the middle from an onslaught of attackers.
+ Collectable color sets unique to your device; unlock them all by playing against different people.
+ Stats, achievements, and leaderboards.
Forum Thread: Dual (by Seabaa)
---
Endless Gravity
iTunes Description
A lonely spaceship is trapped in a faraway planet. The only way to escape is to fight with the endless gravity and go to the sky. But the remain energy can only support it to fly in a short time. Can you make it? Will there be dangers above the ground?
Forum Thread: Endless Gravity (by Zhipeng Wang)
---
Give It Up: Easter Egg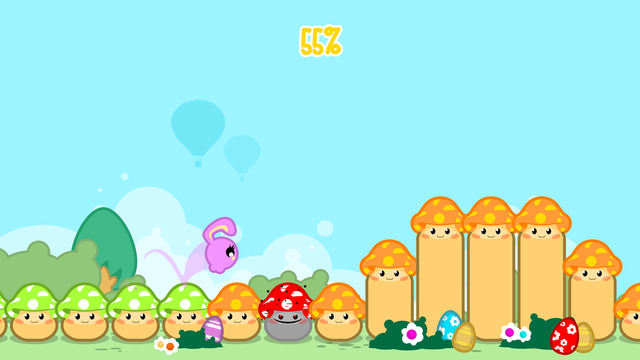 iTunes Description
Give It Up: Easter Egg is a rather hard game where you have to assist the always happy and pink Easter Bunny in jumping and collecting Easter Eggs through 9 different tracks. Sounds easy right?

However, you have to feel the rhythm of our friends' frantic bounces with the help of the similarly crazy music. When you don't tap just at the right time, poor Bunny.. well, smears.
Forum Thread: Give It Up: Easter Egg (by Invictus)
---
Guncat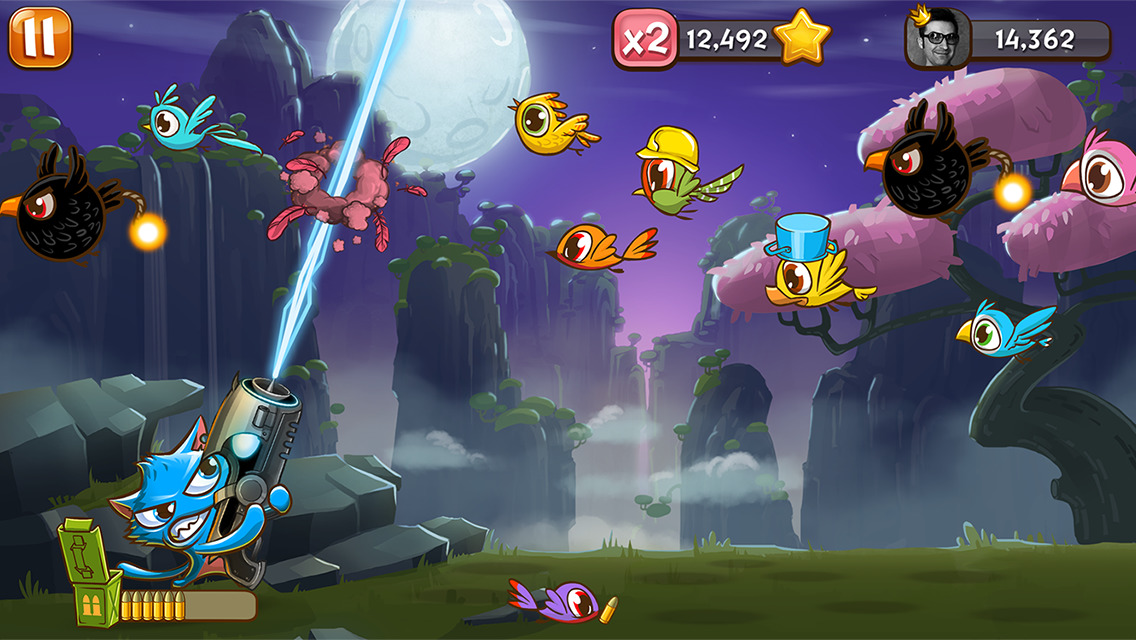 iTunes Description
Waking up a sleepy cat is a bad idea! Especially the Guncat.

Grab the weapon, take down all pesky birds and boost score until ammo runs out! Be sure to shoot down birds carrying ammo boxes or buy better guns in order to extend shooting experience.

No matter what – don't hit black crows or else… KA-BOOM!!!

Combo system awards skilled players so getting 100% accuracy guarantees biggest scores.
Forum Thread: Guncat (by Shortbreak Studios)
---
Gunpowder
iTunes Description
Play as Incendio, our hero, armed with your wits and a keg of gunpowder to liberate the town's gold from the evil Boss Grimshaw in this explosive new puzzle game!

125 levels of puzzles and mind-bending mayhem await as you blaze a gunpowder trail across the Wild West. Save the day using flaming wagons, Gatling guns, chandeliers, cannons, mine carts, and more! Burn your way through each puzzle and crack the safe with a cleverly placed powder keg!

Blow up all of Boss Grimshaw's piggy banks and race the clock to compete with friends as you work your way toward freeing the people's money from his greedy paws. But don't underestimate Grimshaw's trickery. He isn't going to make this easy!
Forum Thread: Gunpowder (by Rogue Rocket Games)
---
Hellrider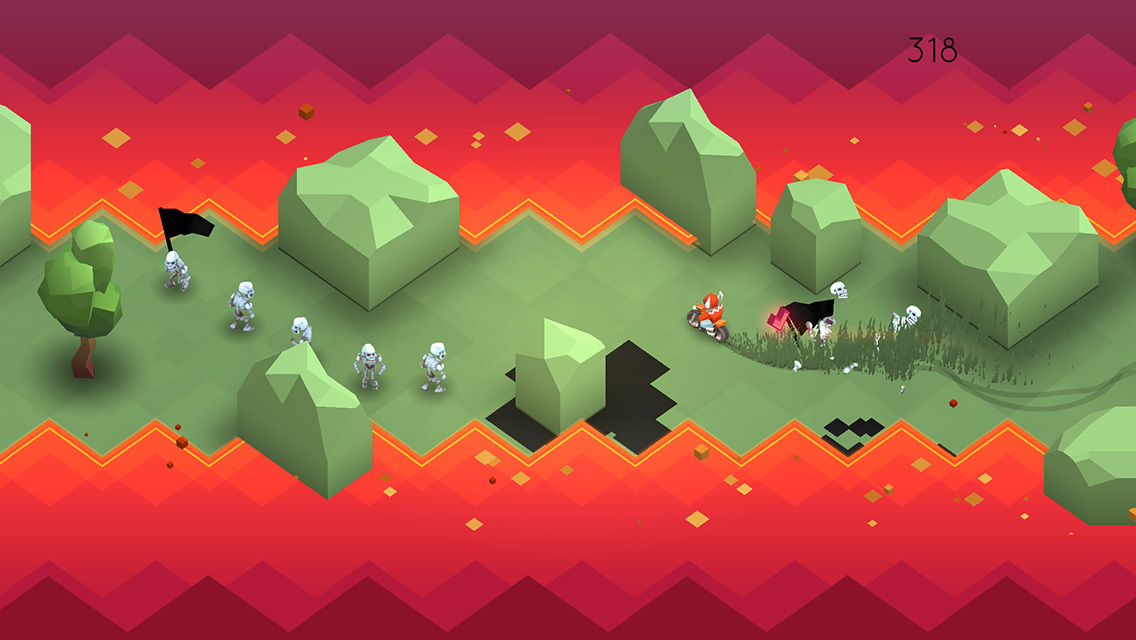 iTunes Description
The skeletons decided that they can leave the underground world. But it won't happen! Brave and uncompromising Hellrider will teach the fugitives!
Throw down the skeletons, avoid the lethal traps, destroy the agile bosses and compete with your friends!

Features:
– Simple and pleasant to play by one touch!
– 5 incredible zones filled with dangerous traps!
– Dizzying twists!
Forum Thread: Hellrider (by Andrey Chernyshov)
---
Impulsive Force
iTunes Description
Lots of guns, lots of bullets, but no violence.

In Impulsive Force guns fire bullets continuously. When the player touches the left side of their screen the guns rotate anticlockwise and when the right side of their screen is touched the guns rotate clockwise. The player must rotate the guns so that the fired bullets propel a puck to the end-zone.

Stars are awarded depending on the time taken to get to the end-zone. These stars are used to unlock later levels.

The game features 40 levels.
Forum Thread: Impulsive Force (by BleatBeat)
---
Last Voyage
iTunes Description
Last Voyage is an adventure through space and mind in 5 unique chapters. Go through psychedelic portals, solve mind-bending puzzles, explore grand minimal forms or race against the stars. A science-fiction experience unlike any other game.

A cinematic game with stunning movie-like graphics, each chapter is visually unique and explores an original concept with completely new game mechanics. 40 minutes of original soundtrack to heighten your sense of wonder. The soundtrack features a variety of genres and has been tailored to every movement on the screen. Best experienced with headphones.
Forum Thread: Last Voyage (by Semidome Inc.)
---
Magic Rampage
iTunes Description
Platformer that combines the action-RPG genre with the hack 'n' slash gameplay. Magic Rampage features character customization, dozens of weapons to choose, from knives to magical staves. Each dungeon introduces the player to new obstacles, enemies and secret areas to explore. Bonus levels, Survival mode, friendly NPCs and Boss fights are also included.

Magic Rampage brings back the look and feel from the very best classic platformers from the 90's, introducing refreshed and engaging gameplay mechanics. If you miss platformers from the 16-bit era, and think games nowadays can't be that good anymore, think twice. Magic Rampage is for you.
Forum Thread: Magic Rampage (by Asantee)
---
Marvel Mighty Heroes
iTunes Description
It's time to suit up and fight the forces of evil in this REAL-TIME 4-PLAYER CO-OP brawler! No true hero can ever do it alone, so you'll be smashing and blasting with an all-star cast of Marvel Super Heroes like CAPTAIN AMERICA, IRON MAN, STAR-LORD, THE HULK, SPIDER-MAN, DR. STRANGE, THOR, BLACK WIDOW…and over one hundred MORE!

The universe is under siege and it's up to you to assemble the most powerful team of fighters you can find. Sometimes it's good to be bad, so your favorite Marvel Super Villains are here too: VENOM, GREEN GOBLIN, KINGPIN, LOKI and many more are eager to head into battle. Play with them all!
Forum Thread: Marvel Mighty Heroes (by DeNA Corp.)
---
Nodes – A Retro Puzzle Game
iTunes Description
In the distant future, household pets have become sentient. While they are intelligent, they have a problem… a lack of opposable thumbs. In an effort to thwart each other, they have cloned humans to wage electronic warfare against each other using their amazing evolutionary advantages of opposable thumbs and cerebral cortexes. You are one such clone. Can you survive their trials? Or will you become waste matter like the rest?
Forum Thread: Nodes – A Retro Puzzle Game (By Otter Laboratory)
---
Phil the Pill
iTunes Description
Phil The Pill is an immersive, surprising and mildly addicting action puzzle adventure game. Phil the Pill conjures the quality, fun and imagination of classic games like Bomberman, Pacman, Mario and more in a game mechanic designed from the ground up specifically for touch screens!

Swipe, tap, punch, shoot and bomb your way through 96 levels of pure puzzle-action excellence! Players may experience fits of laughter, tears of joy, racing hearts, frustration and above all things, pure fun!
Forum Thread: Phil The Pill (By Curious Media Inc.)
---
Pickomino – the dice game by Reiner Knizia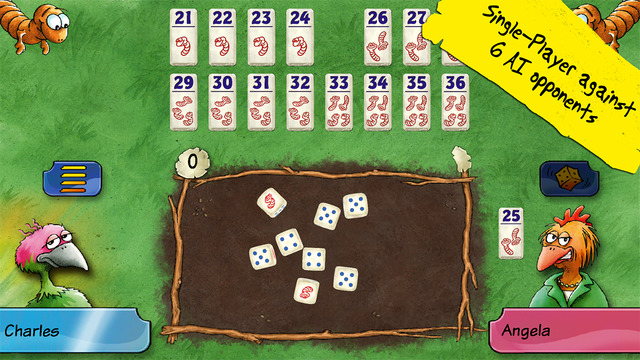 iTunes Description
An appetizingly addictive dice game for up to 4 gambling gobblers. Barbecued worms are in high demand, and only the coolest-headed chicken can win the tasty snack! But beware: Anyone who doesn't manage to grab a worm off the grill can help himself to those on his opponents' plates! In Reiner Knizia's popular dice game, 16 barbecue worm portions with different values are waiting on the grill to be snatched up by the dice-throwing chickens. The rules are simple, but don't push your luck too far: To get your claws into one of the delicious worms, you roll all 8 dice at the same time. You then pick a value from your throw and remove all the dice showing the same value, before throwing the remaining dice again. If your score corresponds to an available barbecue worm portion on the grill you can take this portion – or maybe even grab a portion from the plate of your fellow players! You'll need both the luck of the dice and the right strategy: Stick with your score, or roll the dice just one more time to get a better portion. The player with the most worms in his claws at the end of the game wins!
Forum Thread: Pickomino – the dice game by Reiner Knizia (by USM)
---
Pie In The Sky: A Pizza Odyssey
iTunes Description
A game about delivering pizza. In space.

It's time to fly. Beyond the doors of your struggling pizzeria. Beyond the neon-streaked skyline of the last great city. Beyond the stars themselves. Because there are hungry creatures out there in the cold expanse, waiting for a warm slice of Earth's finest export. Dodge the worst the universe has to offer. Do it for the love of pizza. Do it for the tips. Do it because you are on time. Every time. Spacetime.
Forum Thread: Pie In The Sky: A Pizza Odyssey (by Salty Croc Interactive)
---
Polyeon
iTunes Description
Polyeon is a fast-paced multitouch game where you must break shapes to survive increasingly challenging waves in a never-ending race against time. The simple interactions, beautiful visuals, and tight controls will keep you coming back for more. Compete against your previous high score and a global audience of players!

Tap the squares, press and hold the circles, and swipe the triangles to break the shapes. Set in an abstract, Tron-esque environment with a heart pumping electronic soundtrack, this game will test your reaction time, reflexes, and ability to multi-task.
Forum Thread: Polyeon (by Dave Felton)
---
Roberto Selavino's Putting Championship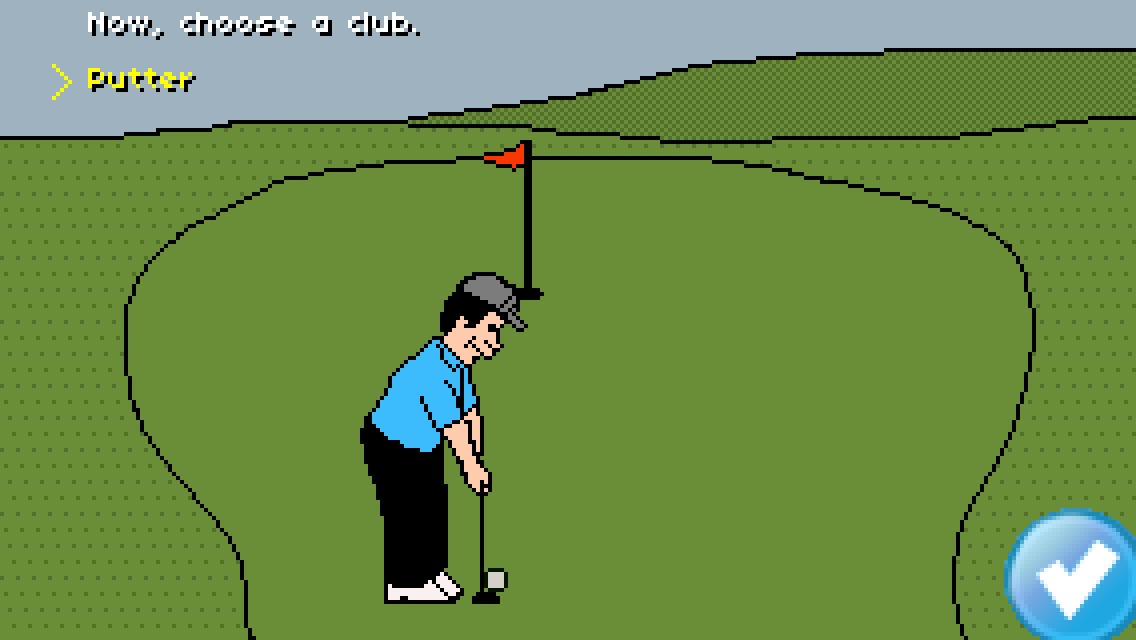 iTunes Description
Would you like to play again?

Six time national putting champion Roberto Selavino takes you on a tour of the most challenging putting greens of the world.

Six time national putting champion Roberto Selavino came to our video game company with a vision. He wanted to help the young people of the world improve their putting game while as well as provide a thrilling interactive experience.
Forum Thread: Roberto Selavino's Putting Championship (by Shane Brouwer)
---
Rock On – A SongPop Adventure
iTunes Description
Crank up the volume and join the band — it's time to ROCK ON! Quiz yourself on the best of Rock in this spin-off of SongPop, the award-winning music trivia game.

Embark on an adventure through the world of Rock 'n' Roll! Listen to clips of Rock hits and guess the correct artist or song. Shred your way through Classic Rock, Heavy Metal, Punk Rock, Pop Rock, Indie Rock, and more. Master each level and become a Rock Legend!
Forum Thread: Rock On – A SongPop Adventure (by FreshPlanet Inc.)
---
Tank Battle: North Africa Gold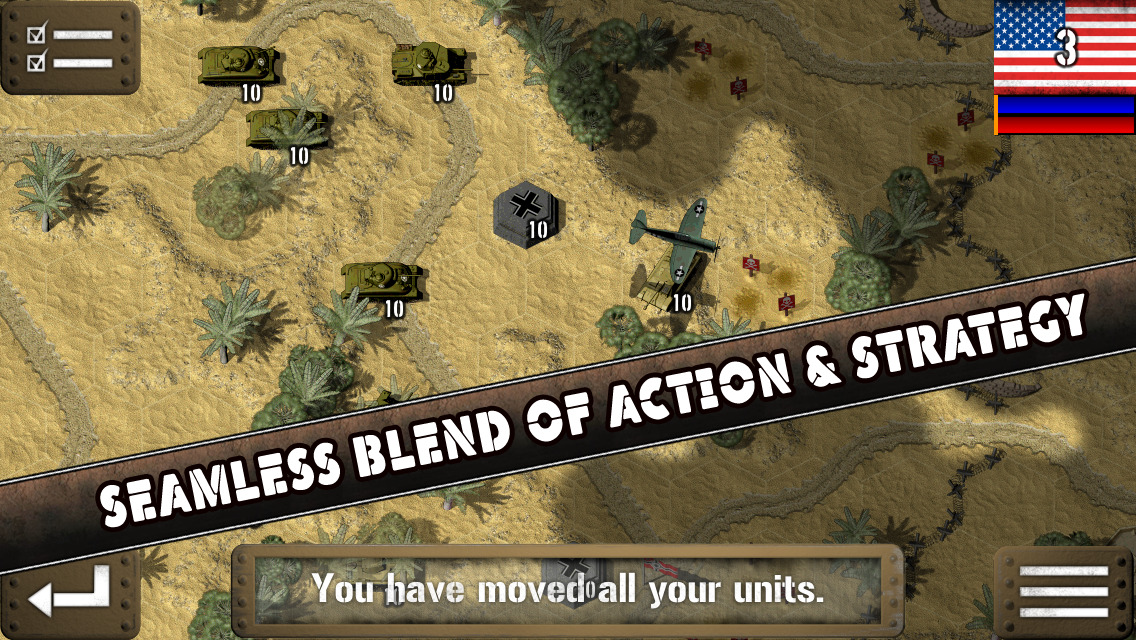 iTunes Description
Tank Battle: North Africa Gold contains all the campaigns and downloadable content from the original game with no in-app purchases.

Sequel to the hugely popular strategy game Tank Battle: 1944! Take command as the British Commonwealth and U.S. forces fight the Germans in the North African theatre and lead your battalion to victory in challenging tactical battles.

Fight for control of North Africa during WWII. Utilize new mechanics, such as flanking, 'move and shoot', troop transports and veteran units. With 36 unit types Tank Battle: North Africa is an epic strategy game including detailed battles that will keep you coming back for more!
Forum Thread: Tank Battle: North Africa Gold (by HexWar Games)
---
Tap 'n' Slash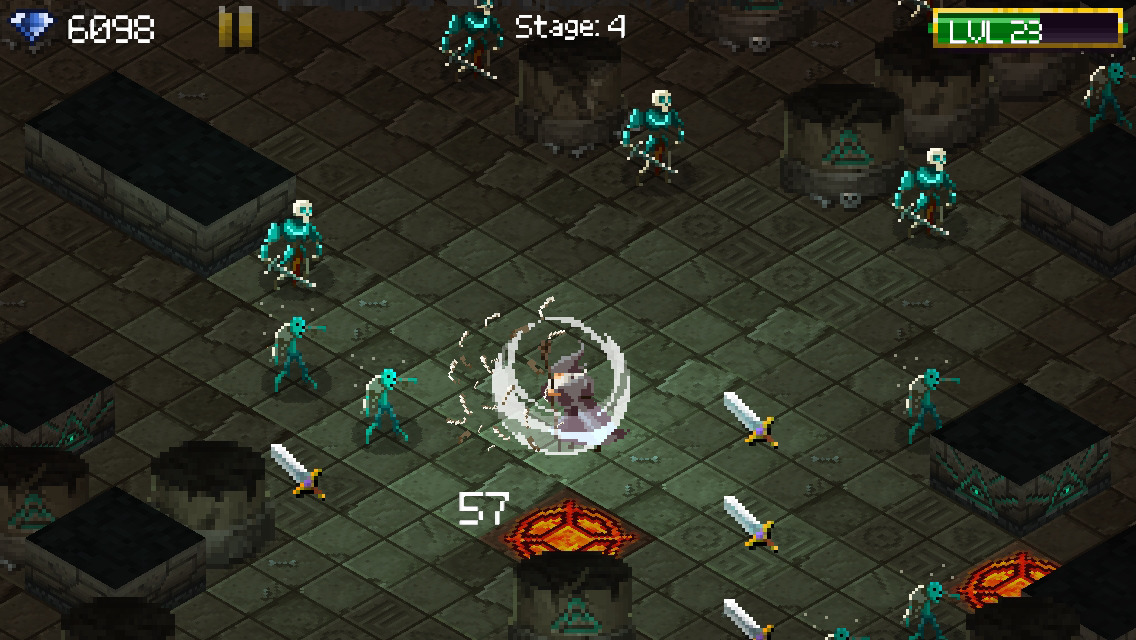 iTunes Description
Rush through dangerous dungeons and avoid the deadly traps. Destroy the horde of orcs and goblins, smash the undead army and purge hundreds of demons.Dash with your favorite character while killing the monsters, picking up the loot to upgrade the XP level of your hero.

This ultimate pixel art RPG game brings you solid and pure dungeon crawling experience. You have to do nothing more just… Tap 'n' Slash!!!!!!!!!!!!
Forum Thread: Tap 'n' Slash (by Invictus)
---
tap tap tap
iTunes Description
Hey girls, hey boys, you can dance (if you want to) but just do what I tell you: tap tap tap!
Tap and swipe and drag and drop and get the highest score in this musical action game by Bart Bonte / bontegames.
Forum Thread: tap tap tap (game) (by Bart Bonte)
---
Tappy Lap
iTunes Description
Fantastic one-finger Stock Car Racing! Just "Tap" to change steering direction. Hold the screen to straighten up, speed match the car in front, or just brake. It's brilliantly context sensitive.

Get bonus points by Drafting other cars using the slipstream, blocking faster cars for a speed boost, or racing clean laps. Race 9 tiers of varied race modes: star grabbing, rival races and more. Get faster cars as your skills improve for some some intense Tappy Lap action!
Forum Thread: Tappy Lap (by Uprising Games Ltd.)
---
Time, Alchemy and Rats
iTunes Description
The unwillingly adventures through time and space of an alchemist and his transcendental nemesis!

Features:
– simple swipe and tap controls
– 48 levels across 3 insanely unique worlds
– your own laboratory to create awesome potions
– cool power-ups and abilities
Forum Thread: Time, Alchemy and Rats (by LovblGames)
---
Tiny Dangerous Dungeons
iTunes Description
Hop into a classic Game Boy inspired metroidvania adventure with the little treasure hunter Timmy! Explore a huge dungeon, collect hidden power-ups and gain new skills to aid you on your quest! Can Timmy survive the tiny dangerous dungeons, and find the presumably huge treasure?

Based on the hit browser game, this extended edition contains adjustments and new content not seen in the original game, like a wider resolution, new game mode, more hidden upgrades to find, and completely new area to explore!
Forum Thread: Tiny Dangerous Dungeons (by Jussi Simpanen)
---
Triple Number Tap
iTunes Description
Triple Number Tap is an arcade puzzle game where the aim is to decrease all the numbers in the squares on the game board to zero.

To do this you tap squares. You are given 3 random squares and you must tap one of those in the game board below. Every time you tap, 3 is subtracted from that square and 1 is subtracted from the 4 squares adjacent to it.

The game ends when there are only "2" or "1" numbered squares on the game board.
Forum Thread: Triple Number Tap (by Timothy Dayman)
---
Zombie Scrapper
iTunes Description
Zombie Scrapper is a twin stick shooter that will test your survival skills! Battle through an onslaught of zombies; not just your regular undead horde, but also fast, beefy and even exploding zombies! Be sure to collect as much scrap as you can to even the odds in this intense zombie thriller!
Forum Thread: Zombie Scrapper (by GlenN Montalbo)