I'm gonna go ahead and drop an F-bomb: Stickman Rush is flabbergastingly beautiful. Not since Monument Valley has a game's aesthetic so immediately dropped my jaw to the floor and had my eyes bulging with pixel lust. Alas this lane-changing infinite scroller is much stronger in presentation than it is in actual gameplay.
Stickman Rush is a collaboration between Dubai-based developers EyeBox and French illustrator Guillaume Kurkdjian. The project came about when EyeBox producer Marc Lejeune saw Guillaume's web site and approached him about producing a game together, an opportunity that the artist jumped at.
You start out controlling your stickman character in a small rocketship, clearly violating all reasonable traffic laws by speeding along a busy three-lane highway, swapping lanes to dodge traffic and collect coins. You swap lanes by swiping up or down, and swipe right to jump over obstacles.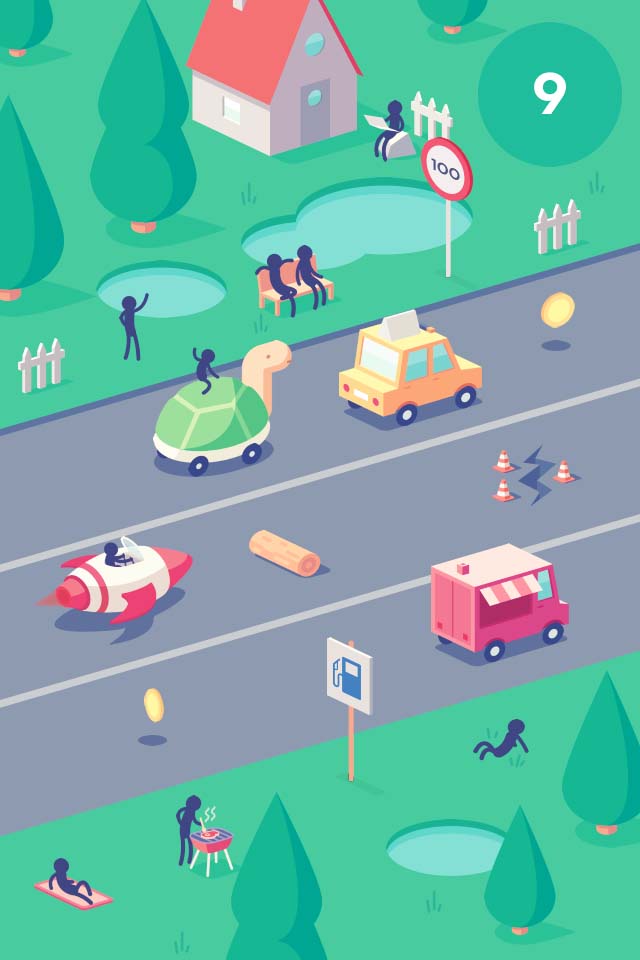 The swipe controls feel so bad at first that you can't help but think they're bugged. But it's actually a strange conflict between how your brain feels you should be able to control the game, and how the developers have decided that it must be done. Because the game world is displayed, isometrically, at an angle, you want to swipe at an angle to swap lanes. But the game wants you to swipe precisely up or down, and if you're slightly off then it interprets that as a jump. This issue is already irking people on our forums, but once you condition your brain to behave and do what it's meant to, you'll find the controls become much more tolerable.
Even with the control problem sort-of resolved, there's no getting away from the fact that Stickman Rush is little more than a pretty façade with not much going on behind it. Sure you can switch lanes. Sure you can jump over things. But after doing it a few times I don't feel inclined to do it again. There are lots of extra vehicles to unlock with the coins you pick up, and EyeBox have apparently taken their lead from Crossy Road by giving you daily free gifts, but you'll just be doing the same thing in a different vehicle and it's simply not that fun.
The game is free to download and play, with in-app purchases to turn off the adverts and buy extra coins. When you crash you have the option to watch a video advert and continue your game, but this seems to be a one-time deal, you can't keep watching videos and continuing forever.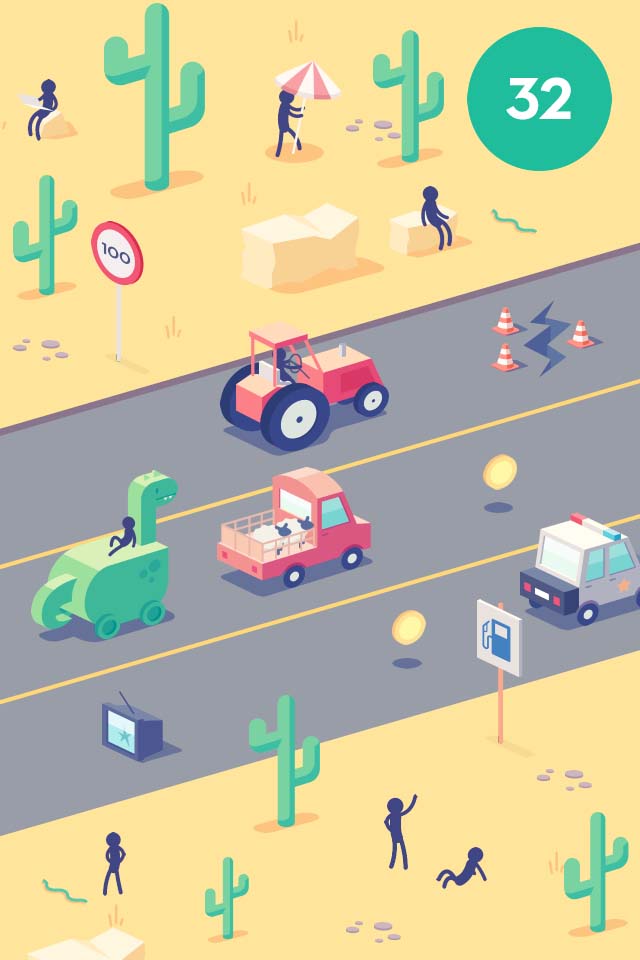 Talking of adverts, on more than one occasion I've died because the game froze briefly as it loaded a new advert. That's a straight-up showstopper that needs to be addressed.
Stickman Rush is a bit of a one-trick pony: It looks wonderful, and little else. Guillaume Kurkdjian has already achieved some notoriety for his minimalist pastel designs, but this game will likely bring his work to the attention of a wider audience. For bringing him to my attention, I am grateful to the game. But there isn't enough fun here to keep me interested, so there's a lot of beauty locked within that I'll never see.
EyeBox and Guillaume are already in talks to produce an update, and are looking in to working on a brand new project together.