Welcome to another night/morning of new iOS game releases. We're all kind of just sitting around, waiting for the US release of Final Fantasy Record Keeper, which has yet to show up but should be arriving sometime later tonight or early tomorrow. We think. You never really know how these big-name releases will go. We will definitely sound the alarm once it's available. In the meantime, there's a bunch of cool stuff in the list below, so as always dig through everything and let us know which games you'll be picking up.
---
Beast Towers
iTunes Description
Launch sale 50% off! No In-App Purchases in this game, you get all the features! Humans are attacking your castle, but you will defend it! Summon your beasts and defeat them! Want to play a real tower defense game? Try something different, try Beast Towers!

Beast Towers highlights:

• Experience true defense battles in 3D!
• Unlock new beast towers and evolve them!
• 40 different towers!
• Over 15 abilities, summon the Cursed cloud!
• More than 60 different enemies, fear them, destroy them!
• Defeat a boss, and he will join you!
• Hours of gameplay
• Two game modes, dive into action with the Tsunami mode!
• High quality animated characters
Forum Thread: Beast Towers (by baptiste largaiolli)
---
Breath of Light
iTunes Description
Hold a quiet moment. Breath of Light is a meditative and beautiful puzzle game with a hypnotic soundtrack by Winterpark. Inspired by modern minimalism combined with a range of meditative art styles, from Zen Gardening to Sumi inks and Indian Buddhist art.

Easy to use, flowing and set to a gorgeous and serene soundscape by Winterpark. Best played with headphones. Players guide energy by moving rocks around the mystic garden, setting them in place and watching the energy settle into its new flow.
Forum Thread: Breath of Light (by Many Monkeys)
---
Dot Warriors Pair
iTunes Description
Dot Warriors Pair. Monster Battle in just 2 seconds! Just easy touch, but breathtaking two seconds! Aim to the weakness of the monster! Enhance the hero! defeat the stronger monsters to enhance the Hero's ability with the Gem acquired from the battle Weaken the hero! You can enhance the hero again, if you don't like current ability, downgrade the stats now

Expand territories to compete in the rank! Check how much you expand in the rank. You will expand it in 'Challenge' mode by every win. Every win against monsters, you will expand your territories. Also it can be checked on the rank record

The epic tale of heroes! Listen to the epic tale of the heroes to defeat the Demon Lords all around the world.
Forum Thread: Dot Warriors Pair (by INFINIZ)
---
Dungeon Hero RPG
iTunes Description
Dungeon Hero RPG is a revival of the classic genre of Dungeon Crawlers. It is meant to be -the- ultimate dungeon crawler.
Featuring:
• Beautiful cartoony graphics
• Wonderful music
• 13 Heroes to choose from (more soon)
• 6 Pets
• 1000+ unique Items
• 81 unique Monsters
• Secrets
• Magic and spell casting
• Hand-to-hand combat (dual weapons, or shield+weapon)
• Ranged combat (bows and crossbows)
• Unique gameplay experience every time thanks to Random Dungeons
Forum Thread: Dungeon Hero RPG (by Esenthel)
---
Dungeon of Madness
iTunes Description
Dungeon of Madness is an action game where you rotate tiles to create our own route. Help the hero by connecting the road so he reaches hostages, then lead them out while also directing monsters into deadly traps.
Forum Thread: Dungeon of Madness (by Game Stew)
---
Epic Space Battle
iTunes Description
A fast and intense arcade space battle game. Warp into battle as Blue Leader. Alongside the Blue Fleet you must defeat the Red Fleet.

Epic Space Battle is the first in a series of games designed for mobile devices to give a Quick Fix in times of need. Whether you're waiting for a train or busting a dook, jump straight in for instant action.
Forum Thread: Epic Space Battle (by Alan Webster)
---
Escape from the Pyramid
iTunes Description
Carved hieroglyphs come to live! Escape from the Pyramid is a unique platformer developed with stunning visuals set in ancient Egypt.

Mixing elements from free running, puzzle and platforms games, Escape is a challenging experience that will test your reflexes (and your patience!) as your try to find your way through labyrinthine and deadly maps. Simple mechanics but cleverly designed levels will make sure you stand on your toes whilst you navigate through 45 astonishing levels.

Avoid deadly spikes, poisonous snakes, spiders and scorpions! Collect gems and golden beetles! Find hidden Canopic jars to summon the help of the gods! And above all… try reaching the exit alive!

And remember.. you will die. Plenty!
Forum Thread: Escape from the Pyramid – (By Tama Games)
---
Fast & Furious: Legacy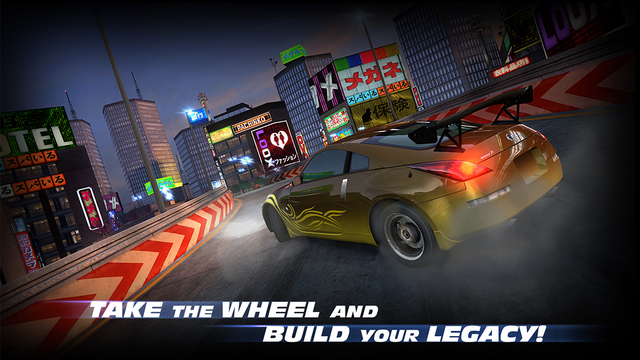 iTunes Description
Build your Fast & Furious: Legacy Now! Join Tej, Roman, Letty and others to tear up the Streets in super-charged story missions set across all 7 Fast & Furious movies. Lead your Crew against rival teams and race in classic movie locations around the globe from Rio to Tokyo and back to LA. Trick-out your custom ride and weave through traffic, avoid the cops and score airtime on jumps in ALL NEW adrenaline-pumping game modes! The hottest car models from the movie franchise await you – are you ready to create your own Fast & Furious: Legacy?
Forum Thread: Fast & Furious: Legacy (by Kabam)
---
Fishing Fantasy
iTunes Description
After 3 years of development Fishing season is finally open! Ready your gear and dive into a world of Fishing Fantasy!

Sail through 4 Oceans
Discover 11 mysterious sea creatures
Collect loot and find legendary golden treasure chest
Upgrade Ships and fishing equipment
Survive through a Starfall and climb to the top of Leaderboards!

Fantasy styled graphics, catchy soundtracks, rewarding sound effects and tons of Loot!
Easy to play but difficult to master!
Forum Thread: Fishing Fantasy (by Konstantin Plutenko)
---
Fusion Two
iTunes Description
Join a group of brave fruits and help them out in a 2048-like tiling quest against evil Voodoo Wolves! Rediscover the genre in a unique, addictive new fashion. Visit exotic islands and combine fruits together across 60 exciting levels, each with their own objectives to complete.
Forum Thread: Fusion Two (by Bulkypix)
---
Jump'N'Shoot Attack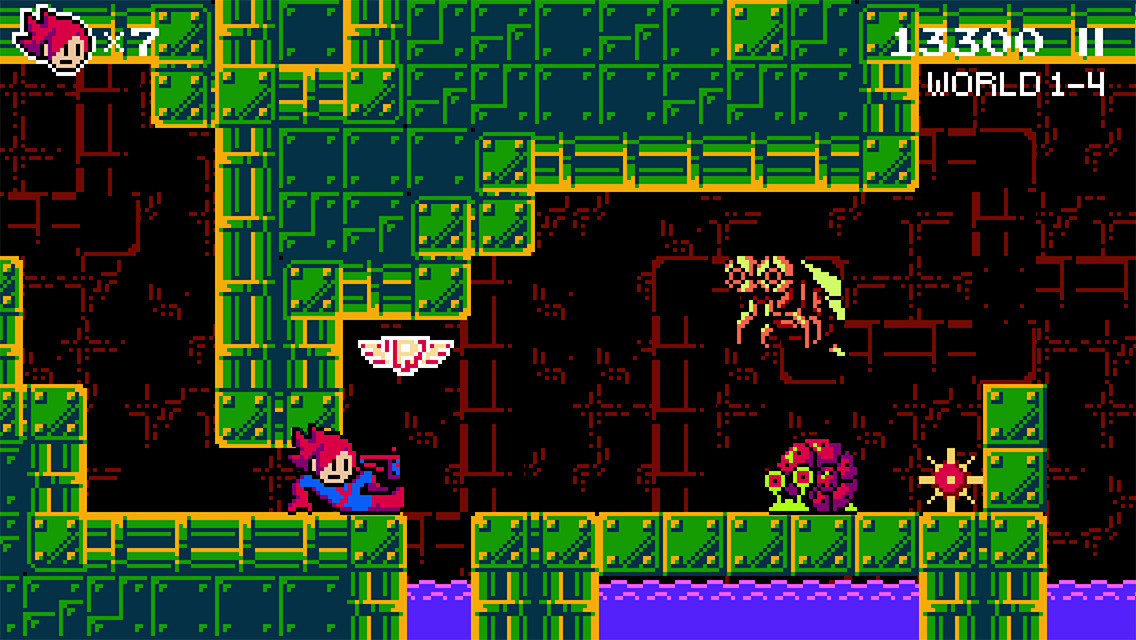 iTunes Description
A mobile game for gamers! Join Louise Lightfoot, the legendary "Master of Jumping and Shooting", on her mission to save the President of Earth 4 from evil space mutants known as the Xatharr!! Collect items to boost attacks and gain lives, dominate online leaderboards, and Jump'N'Shoot your way to victory!

From the developer of Angry Video Game Nerd Adventures and MANOS: The Hands of Fate comes a true hardcore retro gaming experience on your mobile device, with no fiddly virtual controls and no paywalls.
Forum Thread: Jump'N'Shoot Attack (by Fullscreen, Inc.)
---
Kodama
iTunes Description
What kind of tree is this? A Kodama tree?! Here's a game of voice changing and creature collecting! You've found a rare Bonsai, where cute and mysterious voice spirits called "Kodama" come to play! These spirits love to play tag and hide & seek! Once you find one hiding around your Bonsai, it's time to play tag! If you can catch it before it escapes, it'll become your friend!

Talk to one of the Kodama you've befriended, and it'll echo your words back to you! They echo your words in many ways, such as high-pitched, with added bleeps, backwards, or fast-forwarded! Each Kodama has a different echo, so make friends with them all and see what you can find! Plus, if you make friends with enough Kodama, you can get a rare wallpaper showing a glimpse of how they live!
Forum Thread: KODAMA (By PROPE)
---
Lettercraft – A Word Game
iTunes Description
Are you tired of the same boring word games?
Try Lettercraft, a fun and innovative word game that will test your word skills like never before.

WHY YOU'LL LOVE LETTERCRAFT?
• Adventure mode with 70 different levels, with more levels coming soon!
• Survival mode to push your mind even further.
• Easy, Normal and Hard difficulty for both Adventure and Survival mode.
• Multiplayer mode: challenge your friends via bluetooth and see who is the best!
• Advanced game statistics with detailed charts and data of your play style.
• Stunning handcrafted themes that completely change the app look & feel.
Forum Thread: Lettercraft – A Word Game (by Marco Torretta)
---
Nevergrid
iTunes Description
No star should remain fallen.

Absolutely nothing should stop you in your quest to collect all the fallen stars of the world, but a couple of nasty monsters do – can you outsmart them all and succeed in completing your wondrous quest?

Nevergrid is an exquisitely crafted, fun puzzle game that is easy to understand and challenging to play.
Forum Thread: Nevergrid (by Benzi Ahamed)
---
OH NO Volcano
iTunes Description
OH NO Volcano! is a game about a peaceful village, a mean old volcano, and lots and lots of falling stuff. It's a story of adventure and bravery in the face of impossible odds.

Tilting your phone back and forth controls a big net, which you use to catch projectiles as they are hurled out of the volcano in increasingly aggressive waves. Catch rocks & lava, gather coins, replenish the village with aid crates, and collect rare & mysterious loot.

Beat your high score and share your stats and achievements with friends!
Forum Thread: OH NO Volcano (By Eric Sakmar and David Lange)
---
OLYM
iTunes Description
OLYM is a simple puzzle game where you gather connected pieces and increase your score.
It is another game in the "MUJO" series, a game which has made it into the top 10 puzzle games in 109 countries around the world.
Take on a variety of puzzle mechanisms found in 130 different Levels! Play against your friends too!
Forum Thread: OLYM (by Oink Games)
---
PATHZ
iTunes Description
PATHZ! A superb combination of charm & challenge. Pathz is an immersive puzzle game that incorporates unique storytelling and ambient music to create a relaxing and enjoyable experience. Best over a hundred roads to uncover the story of the path – from the laughably simple to the satisfyingly complex. Overcome unique obstacles on your travels: Falling tiles, moving floors, shifting terrain and many others.

Sit back and unwind to the tranquil Classic theme, or spice things up with the funky and upbeat Juicy theme.
Forum Thread: PATHZ (by P-O-M apps)
---
Pixzor
iTunes Description
The Pixel of Pixels needs your help! Seize the opportunity to step up and challenge your reflexes and fine motor skills by proving yourself in Game Center's Leaderboards! Or challenge your friends to show them that your fast reflexes and coordination is superior!
Forum Thread: Pixzor (By Fredrik Lillejordet)
---
Puzzle Series: Speed Run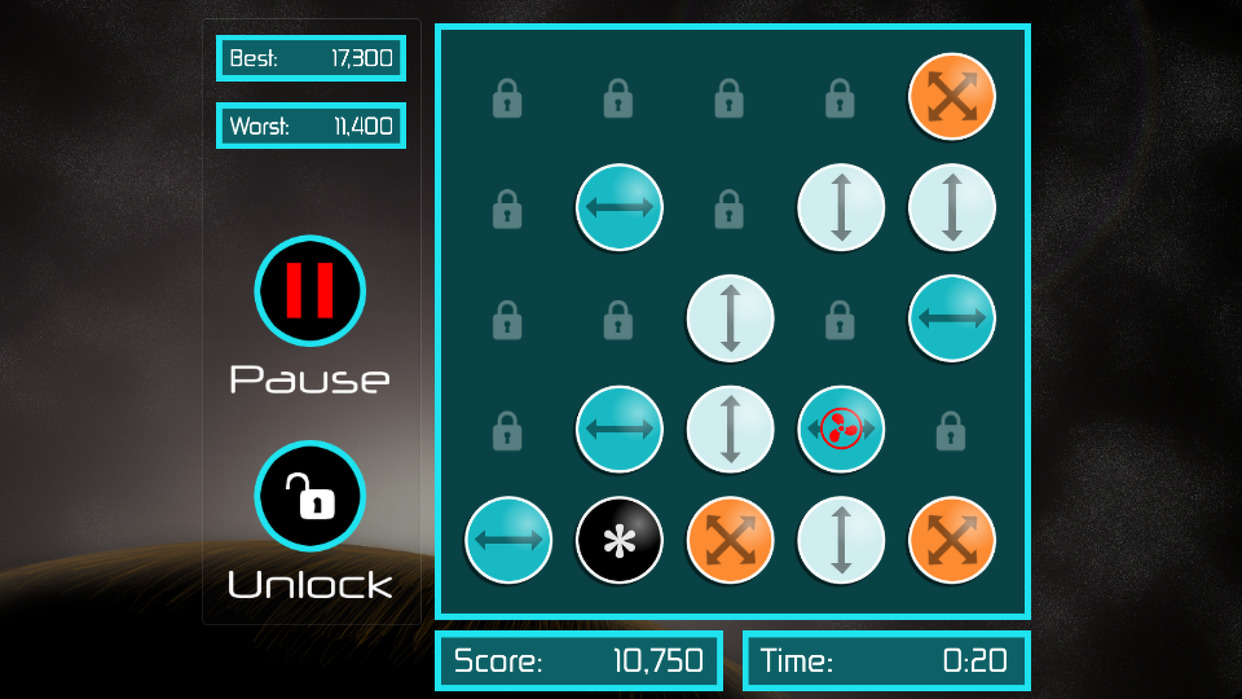 iTunes Description
GOAL
Battle the clock to match 3 and test your skill in four challenging difficulties.

Speed Run is a completely new and fresh puzzle game with a focus on scoring fast and often. Developed independently from the ground up, Speed Run is an addicting, unique, and challenging puzzle game where strategies and smart play and planning ahead is rewarded. Battle the clock to beat your personal best scores if four different challenging difficulties and game speeds.
Forum Thread: Puzzle Series: Speed Run (by Kyle Wilgus)
---
Rocket Ninja
iTunes Description
Becoming a ninja has never been harder. To become a legendary assassin, one must not just master the Japanese martial arts and the legendary secret skills of the ninja, but one must also learn to survive in today's modern world. In ancient Japan, the original ninjas had no problems training. No problems completing their missions. They were master assassins and not a soul in Japan knew what they were doing. But the world changed. We are no longer in ancient Japan.

So as you enter the Rocket Ninja Dojo, be prepared for a totally different training curriculum. Our dojo will honor the traditional Asian training style and will make you into an assassin. You will become a master of karate and a master of the Japanese martial arts. However, our training course will mirror today's hostile environment. We will train in Japan, but with rockets and UFOs. Are you ready, young grasshopper?
Forum Thread: Rocket Ninja – The ultimate ninja game – (By AMUTUS CORPORATION)
---
Silly Sausage in Meat Land
iTunes Description
Meet our stretchy pooch : Silly Sausage in his adventure through Meat Land.

Swipe based controls will allow you to stretch through the air changing direction as you go. Latch onto a surface and your dachshund will retract to that spot.

Having an infinitely stretchy body is pretty handy, but it's not all plain sailing. Your exposed body is vulnerable to all sorts of meat cutting instruments so don't over stretch yourself or you could end up butchered!
Forum Thread: Silly Sausage in Meat Land (by Nitrome)
---
Space Bounties Inc.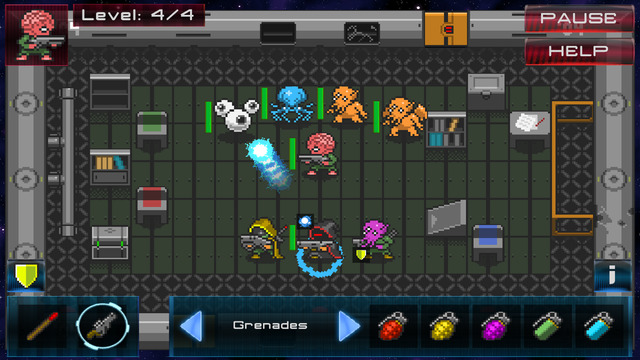 iTunes Description
Star civilizations being destroyed by space warlords? Intergalactic trade routes being disrupted by space pirates? Planets being vaporized by gigantic lasers?

Then get in contact with Space Bounties!

At Space Bounties we will hunt down any wanted fugitives in the Universe for a very reasonable price. No bounty mission is too small and no bounty mission is too dangerous!
Forum Thread: Space Bounties Inc. (By Dancing Cat Development)
---
Spinlanders
iTunes Description
>>> Spin your way to adventure! <<< Spinlanders is a brand new game that brings exciting and unique gameplay to slots like never before! Explore the magical realm of Spinland and amass riches! Then use these riches to upgrade your character for more powerful spins. Play slots in a brand new way by spinning to squash monsters, earn loot, and defeat the evil that has risen. Meet zany characters and explore the many worlds of Spinland!
Forum Thread: Spinlanders (by Backup Entertainment)
---
Star Squad Space Rescue
iTunes Description
Calling All Star Pilots [STOP] Star HQ destroyed [STOP] Teleport coordinates for evacuation pods compromised [STOP] Immediate pickup requested [STOP] Proceed with extreme caution [STOP] This may be a trap [END OF MESSAGE]

Captain Viridian Green
Star Squad Space Defence
Forum Thread: Star Squad Space Rescue (By GeekBrain Games Pty Ltd)
---
Stickman Rush
iTunes Description
The traffic is very bad today! Drive your stickman's vehicle through highway traffic, jump over the obstacles, and change lanes to avoid the other cars. Collect coins to unlock new vehicles.

How far can you go ?

◉ Swipe up or down to change lanes.
◉ Swipe to the right to jump over an obstacle.
◉ Avoid the cars and collect coins.
Forum Thread: Stickman Rush (by Ketchapp)
---
Survival Express
iTunes Description
"Surprise surprise!" – saboteur said and pushed the cart with a miner into deep cave darkness. Little he knew that exploring unreached areas will bring more fun than fear. There was no other choice for the miner than accept this upcoming challenge. The slight problem was that the railway seemed to end very soon…

The good news is that it's not the end of the story. Use your finger to build a safe track to continue this dangerous and dynamic journey. Avoid approaching rocks, collect gold and ride as long as you can keeping the miner alive. Super easy controls let you concentrate only on the gameplay action. Rail track follows your finger position on the screen. Simple as that!

Think fast, use your reflexes to react quickly and dive deep into cavern ride!..
Forum Thread: Survival Express (by UAB)
---
Terra Monsters 2
iTunes Description
You and your small village is plunged in the midst of all out war! You will embark on an adventure of a lifetime exploring a massive open world, partake in explosive 3vs3 battles and capture and train 200 unique Terra Monsters.

Afer has been plunged into conflict in recent times, the tribes of the region have been plagued with mistrust and frequent fights amongst one another. It is down to you, and your Terra Monsters to find out the true reason behind the turmoil and restore peace back to the region.
Will you, and your new ability to bond with Terra Monsters be able to save the region of Afer from further chaos?

… And what secrets of Terrarium will you unlock along the way?
Forum Thread: Terra Monsters 2 (by Social Titans)
---
Token Hero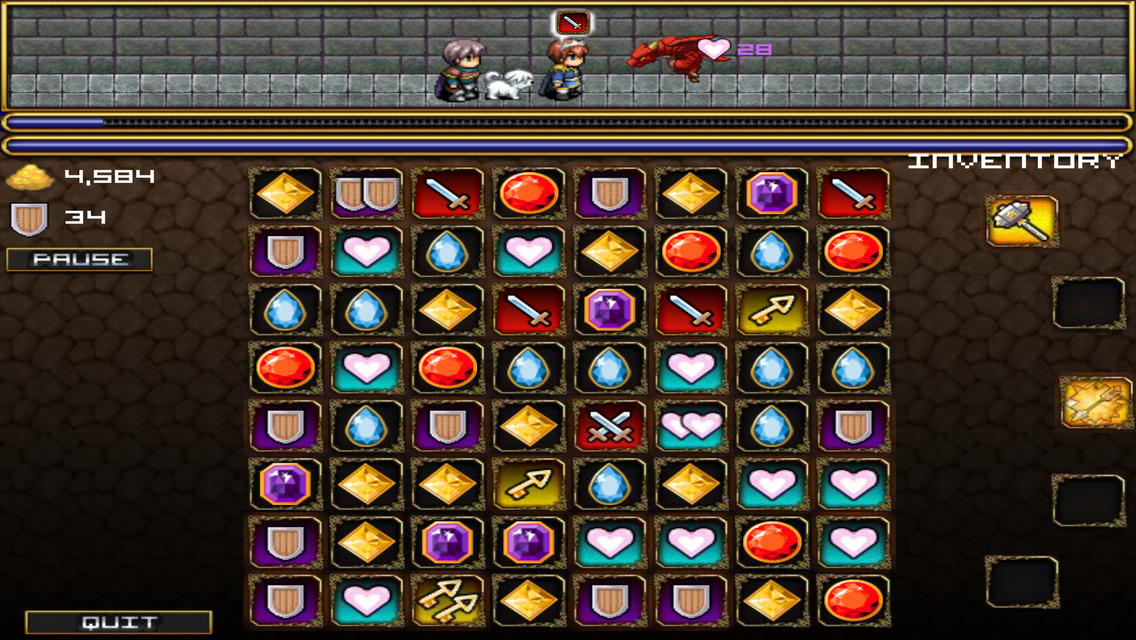 iTunes Description
Build your airship and take to the sky on a quest to rescue the beautiful princess.
Gem swapping with a twist, manipulate the gem board with free movement and combine tokens to defeat monsters, loot chests and free your imprisoned crew mates.
Token Hero introduces many new ideas to the gem matching genre and offers casual gameplay alongside frantic timed gem switching and dungeon exploration.
No two games will be the same as each time you rescue new crew members your tactics will need to change to use their abilities.
Forum Thread: Token Hero (by PeiHong Jiang)
---
The Trace: Murder Mystery Game
iTunes Description
Ever wanted to play at being Sherlock Holmes or Miss Marple, solving puzzles, finding clues and leading the investigation into the crime that needs to be deciphered? The Trace is an immersive murder mystery puzzle adventure game that will pit your wits against a baffling crime that needs solving and a case that needs answers!

Discover clues, find the leads and reveal the proof, become a detective, solve the mystery and unravel your next case! Was it an accident or was it murder? Delve into the science of forensics, examine the scene of the crime, chase the leads that you uncover and find the truth you need.
Forum Thread: The Trace: Murder Mystery Game (by Relentless Software)
---
Unity-chan's Action Shooting
iTunes Description
This game is recommended for 2D side-scrolling jump action shooting game fan!
Unity-chan's objective is to defeat the eight boss.
In support Internet Ranking, you can compete in the Unity-chan's Action Shooting RANKING.
Forum Thread: Unity-chan's Action Shooting (by Masaya Mukae)
---
WaveRun
iTunes Description
Endless, mind blowing race that you need to survive as long as you can by avoiding obstacles.
Challenge yourself on unlimited procedurally generated maps, earn achievements and get to the top of leaderboards!

Are you ready to become WaveRun addict? Me too!
Forum Thread: WaveRun (by Bartlomiej Wojtowicz)
---
Worzel Gummidge
iTunes Description
The wildly whimsical world of Worzel Gummidge is making its way into the world of mobile games.

That irreverent scarecrow of Scatterbrook Farm once again magically comes to life but this time to confront angry… Crows!

Slide, jump and accelerate to dodge all the obstacles in your path. Collect coins while scaring crows and unlock loads of power-ups. Achieve the best score you can and complete challenges.
Forum Thread: Worzel Gummidge (by Bulkypix)
---
64 Bits
iTunes Description
Do you enjoy a challenge? Like arcade games? Then 64 Bits is for you!

Your goal is to keep the moving green bit alive while removing all the white bits. Turn walls on and off by touching the screen. But watch out there are many obstacles that will get in your way!

Incredibly simple to learn! Infinitely difficult to master! Over 5000 unique levels!
Forum Thread: 64 Bits (by SquareOrb)