It's either Wednesday night or sometime during Thursday wherever you're at in the world, and there is an avalanche of new iOS games that have been released. I mean seriously. Fans of old adventure games get a remastered Indigo Prophecy, the Sky Gamblers folks have released a crazy first-person survival game called Radiation Island, pinball classic Timeshock gets new life in Pro Pinball, and the sci-fi open-world adventure Exiles is finally available after what feels like forever. And that's just a fraction of the killer new games, so check the full list out below and let us know what games will have you mashing the download button today.
---
Active Soccer 2
iTunes Description
The most awaited football game sequel is now available!!!
Active Soccer 2 is an innovative top-view arcade football game providing a fast paced arcade experience implementing an amazing playability and easy to learn – hard to master responsive controls.

With Active Soccer 2 you have a full control on the game, no scripted goals, no CPU driven decisions!

Active Soccer 2 provides a complete career mode, implementing the major part of the existing international leagues, cups and championships. Imagine to be a manager of a 5th English division team, you have a budget and your goal is to be promoted to higher divisions, purchasing players, drawing tactics, managing team and play real matches!
Forum Thread: Active Soccer 2 (by Gianluca Troiano)
---
BlitzKeep
iTunes Description
BlitzKeep, where pinball meets an RPG! Or maybe where pachinko meets an RPG? Something like that!

Point your hero where you want him to attack, and he won't stop moving until he's reached a safe zone or has died! The latter happens far too often… Pick up gear to increase your power, and kill weak enemies first so that you can level up enough to kill the stronger ones. Eventually, you may even become strong enough to kill a massive boss! Don't be disheartened by frequent deaths – it takes only moments to try again!
Forum Thread: BlitzKeep (by Elijah Delventhal)
---
BREDY
iTunes Description
Save the Slices of bread
spread the colors to match
the snappys. be quick!
Forum Thread: Bredy – A Game of Color (may include Bread) (by Woodesh)
---
D-Day 1597
iTunes Description
The greatest battle in the history has just begun!
The world's best mobile sea battle game is now.
Forum Thread: D-Day 1597 (by POLYCUBE Inc.)
---
The DePixelator
iTunes Description
A unique, fun action-puzzler: You are up against an evil, forgotten supercomputer from 1983 who, for some reason, has pixelated the World's Art Masterpieces (Da Vinci! Michaelango! Banksy?!). Use your street-artist skill: Outline to Depixelate paintings, Tap to Paint and Destroy the Bots. Free PowerUps! Awesometown! Save the Planet!!!(?)1!BBQ!!!
Forum Thread: The DePixelator (by Nicholas Mahoney)
---
Destructamundo
iTunes Description
You want to hear a joke? Universal peace. I mean, why settle for serenity when you can unleash an arsenal of high-powered warheads and destroy every planetary system in the universe? Take that, faraway civilizations!

Destructamundo is a game of chain reactions and massive explosions. Set off a warhead and watch the fireworks as you cause as much widespread damage as possible by setting off long, winding combos that reach throughout the cosmos. Destroy an entire planetary system in a single shot (or, if you're not so cunning, destroy it in a couple of shots). Why would you do such a horrible thing, you might ask? For shiny gold medals, of course! Well, that and the survival of your species, but that's decidedly less important.
Forum Thread: Destructamundo (by Choice Provisions)
---
Epic Racers
iTunes Description
Welcome to the world of Epic Racers, the newest game from the team behind the popular Tap the Frog series! Prepare for new and exciting underwater adventure as you help Rocky the Gecko become the greatest submarine racer ever!

Build your very own racing submarine, enhance it with numerous upgrades and challenge the best underwater racers of all time! Combine your own play style with various perks and powerful artefacts to outrace your opponents along with the legendary "Mystery" and claim the champion's title!
Forum Thread: Epic Racers (by Mentals)
---
Exiles
iTunes Description
From the creators of the award winning Ravensword: Shadowlands comes EXILES, a beautiful Sci-Fi 3D role playing game that takes place on a distant world.

In the near future, a colony on a distant planet has been driven to isolation and desolation, as a corrupt government tries to enslave it with a lethal virus.

Become one of the Elite Enforcers, and go on various missions that will unravel the secrets behind the plot to enslave the world. Unleash a large arsenal of weapons and items against vicious aliens and mechanized enemies.
Forum Thread: Exiles (by Crescent Moon Games)
---
Exit Strategy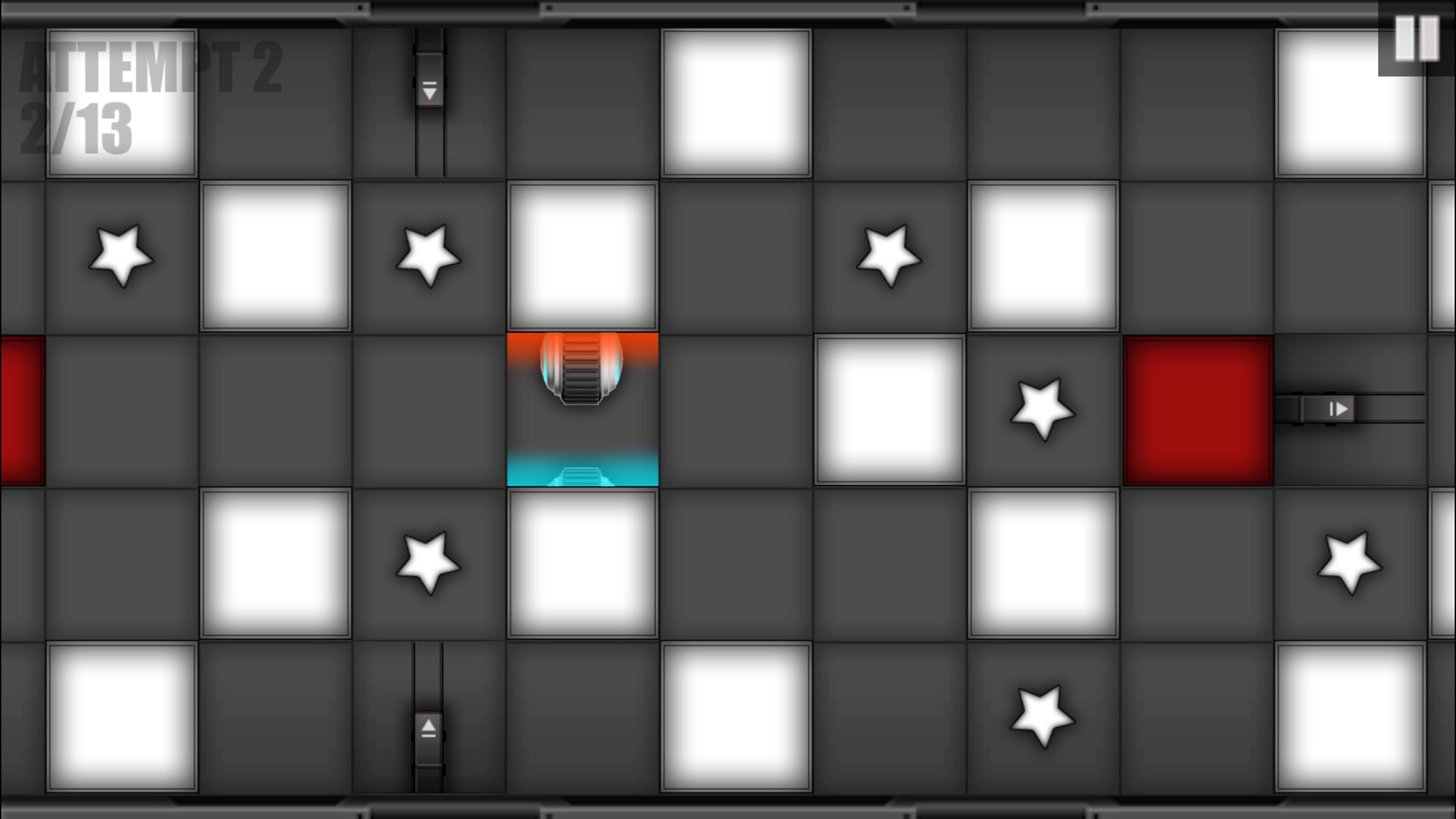 iTunes Description
Play with portals and think strategically to escape a series of insanely challenging puzzles.

Use the power of portals to create your own path out of 100 increasingly challenging mazes. With hundreds of stars to collect, will you be able to grab them all and make a swift escape?
Forum Thread: Exit Strategy (by Chillingo)
---
Fahrenheit: Indigo Prophecy Remastered
iTunes Description
Originally released in 2005, Fahrenheit (known as Indigo Prophecy in North America) was a breakthrough in interactive narrative, teetering between the worlds of cinema and gaming while also embracing them, carving its own unique genre in the entertainment landscape. This newly remastered edition features updated graphics, a streamlined user interface custom-made for the touch screen, and full controller support.

With a rich multilayered narrative, innovative presentation, and a chilling musical score by famed Hollywood composer Angelo Badalementi, Fahrenheit: Indigo Prophecy Remastered serves as the definitive version of the supernatural murder mystery and (re)introduces the groundbreaking title to old and new fans alike.
Forum Thread: Fahrenheit: Indigo Prophecy Remastered (by Aspyr Media, Inc.)
---
Football Showdown 2015
iTunes Description
Match up against your friends, your enemies, or anyone in the world in a head-to-head Football Showdown! Join a division and battle for supremacy in online tournaments, or compete in single player seasons as your favorite team.

Timing, intuition, reflexes, and pure skill. Control every aspect of your game with the revolutionary PhysKick™ engine. All new Boosts! Use 'em wisely to refine your next play, or steal them from your opponent to get a leg up! Hyper-realistic graphics and heart pounding multiplayer action drop you right on the gridiron.
Forum Thread: Football Showdown 2015 (by Naquatic)
---
Hyper Rift
iTunes Description
You wake up in the medical bay of a spaceship with no memory of who you're, who put you there, and why. When you explore the spaceship, you realize that you're not alone. You meet strangers claiming that they too, have lost their memories. Are they friends or foes? Who is the mastermind? Are you in purgatory?

Hyper Rift is a visual gamebook adventure that draws inspirations from science fiction mysteries. We've crafted an original science fiction story that blends real science with imaginations and present choices that lead to far-reaching consequences. It also features number puzzles, situational puzzles, multiple endings and interesting characters that can save your life or betray you in critical moments.
Forum Thread: Hyper Rift (by Kok Seng Chong)
---
Lamp and Vamp
iTunes Description
Lamp and Vamp is a roguelike game where you play as a Vampire seeking the castle of his dreams.

Your Vampire is alone against the world! You will need to master the dark arts to find your way to the tomb in each level, where you will acquire new powers. Choose them wisely: there are many paths to success, but the slightest mistake can be fatal!
Forum Thread: Lamp and Vamp (by GlobZ)
---
LuckyPop
iTunes Description
Collect cute cards with friends like Dragons, Magic Kittens, Psychic Dolphins, and more in LuckyPop, the addictive, new, collectible card game from the makers of SongPop.

Getting lucky is simple:
COLLECT amazing cards and wonders like Horseshoes, Ice Witches, Sharkasaurus Rex, and more.
TEAM UP with friends to collect all the rarest cards.
TAP to earn luck and get luck-per-second.
SHARE your luck to give lucky cards to friends and level up. It's a race to the top!
UNLOCK hundreds of rare cards by getting gifts from friends and players worldwide. Can you collect them all?
Forum Thread: LuckyPop (by FreshPlanet Inc.)
---
Mean Girls: The Game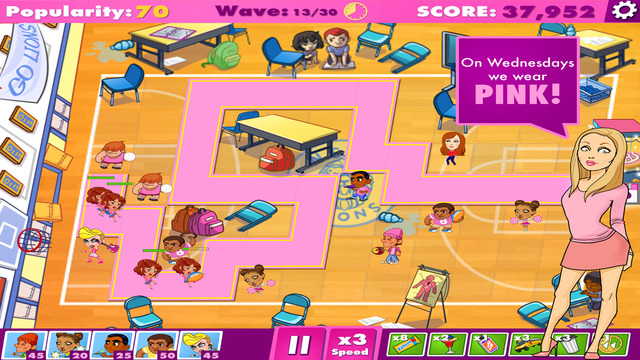 iTunes Description
Get in loser, we're going shopping! Celebrating the 10-year anniversary of the classic movie Mean Girls, Mean Girls the official game delivers an easy-to-play tiara defense game for the ages. Addictive and easy-to-play, Means Girls gives you the chance to select your favorite Mean Girls characters — Cady, Regina, Gretchen, Karen, Janis, Damian, Aaron, or Kevin G. – and fight off the new clique from piecing together the Spring Fling Tiara and taking over North Shore High School. Filled with humor, sass, and deliciously charming characters from the classic movie, Mean Girls is an instantly rewarding game steeped in Mean Girls lore.
Forum Thread: Mean Girls: The Game (by So Much Drama Studio)
---
Miner Z
iTunes Description
It's the Zombie apocalypse and you are one of the last survivors. You have one option, dig or die!
– Retro pixel graphics
– Simple two tap controls
– Earn awesome Boosts
– Play as 8 different characters
– Game Center Leaderboards to compete with your friends
– Fast paced, endless game play!

Tunnel through the perilous mine as you try to escape the Zombie hoard. How deep can you dig?!
Forum Thread: Miner Z (by Totebo)
---
Office Rumble
iTunes Description
Your dreams have finally come true. All your life you've wanted to clobber your heinous boss and that jerkface, Tom. Well now, YOU CAN.

With easy touchscreen controls and intense combat, Office Rumble is a well-developed action game you can play with simply one finger. Office Rumble contains impressive 3-on-3 combat-style fighting with characters whose attacks, blocks, and lethal skills even a kindergartner will enjoy.
Forum Thread: Office Rumble (by PNIX Games)
---
Particle Mace
iTunes Description
Now on iOS!

PARTICLE MACE is a game by Andy Wallace about defending yourself in a hostile universe by swinging particles into enemies.
Experience the thrill of classic arcade games with a new, physics based mechanic.
PARTICLE MACE is a game about trying not to die, but that's impossible.
Forum Thread: Particle Mace (By Andy Makes)
---
Playworld Superheroes
iTunes Description
Unleash the power within with Playworld® Superheroes, a game that challenges every player to create and then become their own superhero! Enter a land in which craft and imagination unlock a new world of possibilities, and the limits of what's possible are exploded by your unique creations!

Super-powered playtime begins in the treehouse, a crafting hub in which players let their creativity run wild! Paint, cut, build, and modify your ultimate superhero suit and logo, then jump from the calm tranquility of the treehouse to the action-packed spectacle of Playworld – the land of your imagination! Under attack by the mischievous Golumites, Playworld needs a hero to save the land from certain destruction, could it be you?
Forum Thread: Playworld Superheroes (by Starship Group)
---
Pro Pinball
iTunes Description
Pro Pinball, the world's most realistic pinball simulation is back, better than ever! Featuring the first of the ULTRA editions – Pro Pinball: Timeshock!

Download now and play for FREE until you hit 30 Million points in a single player game!

You can upgrade at any time to either the Standard version with unlimited multi-player games, or the Deluxe version which also gives you full access to the Operator's Menu (and hundreds of settings) and the brand new Glass-Off Mode.
Forum Thread: Pro Pinball (by Barnstorm Games)
---
Psych
iTunes Description
Psych is a minimalistic, short-sessioned, psychedelic experience.
Your goal is simple: Avoid colliding with any black obstacles.
Sounds easy? Just wait until the first psych effects start kicking in.
Forum Thread: Psych (by Christian Baumgartner)
---
Punchy!
iTunes Description
Wacky cartoon boxing arrives on the App Store!

'Punchy!' recalls the golden age of animation, allowing players to hone their boxing skills against Punchy the Clown, or take each other on in epic two player battles. Endless fun awaits – it's the perfect way to settle old scores and knockout your friends!
Forum Thread: Punchy! (by Dobsoft Studios)
---
Puppet Punch
iTunes Description
Puppet Punch is the story of Pablo, a smart kid on the lookout for some awesome games in the gaming arcade, something beyond the regular 3 matching and running, but to no avail. While his spirits are about to reach a new low, he enters a door titled "Puppet Punch". There he sees a ladder passing through the roof. Curiosity might have killed the cat, but Pablo's a hero. He climbs the ladder, breaks open the trap door, and this is where the player's journey begins.
Forum Thread: Puppet Punch (by Kedoo)
---
Radiation Island
iTunes Description
Radiation Island is a survival adventure game where you craft your own destiny in a huge open world environment. As part of the Philadelphia Experiment you have become stranded in a parallel, alternate reality. Discover this new and mysterious world, with all its surprises. Use everything you find to survive it and solve its puzzle to get back to the real world.

Follow your own path in an environment of breathtaking beauty and gigantic scope. Explore huge forests inhabited by dangerous wolves, bears and mountain lions. Investigate abandoned villages and old military compounds where zombies guard vital tools, weapons and clues to the secrets of this world. You can even swim and dive, if you can avoid the hungry crocodiles.

Hunt wild animals, fish or gather fruits to overcome hunger. Mine for resources and craft weapons, tools and basic vehicles. Find hidden treasures, equipment and fire arms to prevail in a world full of perils: radiation, anomalies, harsh weather and enraged zombies.
Forum Thread: Radiation Island (By Atypical Games)
---
RuneSpell Overture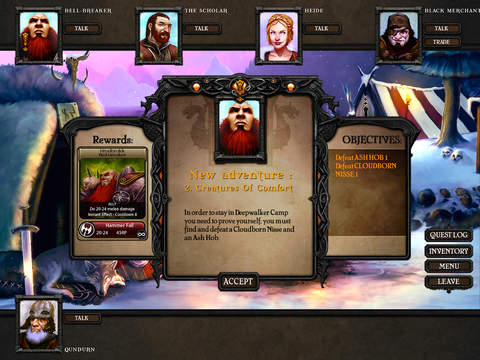 iTunes Description
Experience the remastered original version of Runespell: Overture combining Poker and RPG with Nordic myths, Battle Hardened Heroes and Heroines and a pinch of alternate medieval Europe!
Forum Thread: RuneSpell Overture (by Mystic Box)
---
Ted the Jumper
iTunes Description
Help Ted to collect all wooden blocks on the field by jumping on them in a colorful puzzle game. Ted can jump forward, left or right, but cannot jump back.
Be careful not to get stuck with no ability to jump while some blocks are still on the field!
Avoid obstacles and use special block types to complete levels!
Travel through four beautiful worlds and experience the relaxing ambiance of cool water ripple effects, peaceful sounds and music.
The puzzles look simple, but can be very challenging and addictive! You can easily spent 2-5 minutes to solve one.
Forum Thread: Ted the Jumper (by Bulkypix)
---
Titans
iTunes Description
Titans is an epic real-time card battler. Harness the mystical properties of the natural world, build a legion of immortal warriors, and command your army in war against the most powerful alchemists in the realm – all from the palm of your hand.

Your kingdom has been conquered by the armies of a war and power hungry nation, but as a Master Alchemist of the highest order, you have the power to stop them. Your weapon is the Titan: an enormous, living creature formed from inanimate materials. With your knowledge of the material world, only you can create an army of Titans and lead them to victory against your enemies. But will you be able to defeat them before they discover the secrets of the Titans for themselves.
Forum Thread: Titans (by Uken Games)
---
Total Destruction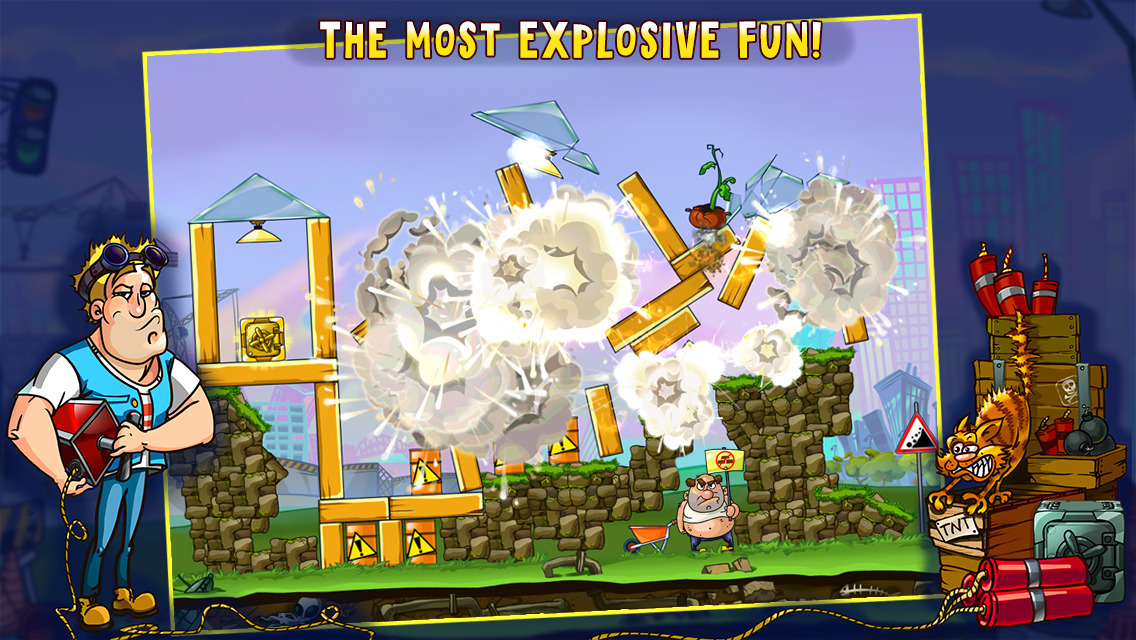 iTunes Description
Prepare for intelligent and explosive fun!

In Total Destruction, you'll need your wits to blast down each structure below the required height – and with only the bombs you're given. Plan your demolition, position the explosives and hit the button for maximum damage!
Forum Thread: Total Destruction (by Ganimedes)
---
Touchdown Hero
iTunes Description
The Big Game of 2015 is finally here!

Become a true Touchdown Hero in this top-down infinite runner! Choose the
right scheme and swiftly rush down the field.

Use fakes, pushes and spins to avoid being tackled by aggressive defenders.
The unique slow-motion feature will allow you to Spot the Gaps and reach End
Zone after End Zone. Get ready to score big!
Forum Thread: Touchdown Hero (by Cherrypick Games)
---
Traffic Buster
iTunes Description
You think managing traffic is easy? It is …… until rush hour!

Try to keep the traffic running by stopping or accelerating various kinds of cars as long as possible and try to avoid any crashes. If you fail, be pleased with amazing spectacular full speed crashes with realistic physics, unseen real-time car deforming effects, fire, explosions and sparks, all in high definition!
Forum Thread: Traffic Buster – by Djinnworks
---
Xcite Mountain Bike
iTunes Description
Get sick of running? If so grab a bike and ride it into a new excite adventure.

Bike your way across stunning 3D environments. Perform tricks, upgrade skills and use powerful items to help you bike as far as you can.

Ride the 7 locations with 20+ different obstacles and environment, learning over 18 real world tricks like the "tail-whip", "back-flip", "bar-spin", "decade" and many more. You also have the ability to combine these tricks to create an endless amount of different combos.
Forum Thread: Xcite Mountain Bike (by WerakuGames)
---
Xenobot
iTunes Description
Xenobot Online is a strategy game about combat robots controlled by a player from a space station. The gigantic spaceship Prometheus, which was sent from Earth to colonize Kepler, the nearest inhabitable planet, was destroyed while leaving orbit by unknown beings. Some of the colonists managed to survive. You are in charge of a military space station orbiting a hostile planet.

You have access to divisions capable of researching, producing, and creating combat machines called Xenobots, and your mission is to use them to find out who destroyed the Prometheus and what happened to the other colonists. You will be assisted by NIRA, the station's on-board AI, which was created by the military for the Prometheus project.
Forum Thread: Xenobot (by GameShock Limited Liability Company)