Hello, gentle readers, I hope you're having a fine holiday, wherever you may be. It's that time of the year where we all get to change our calendars and reflect on the highlights of the 365 that passed, and for those of us into games, it's often a time of thinking back on our favorite games of the year. This year had plenty of great games, no matter what you were into. I was especially impressed at the increase in output from Asian developers, where a strong indie scene is starting to flourish. As I share my own picks with you, keep in mind that they represent my favorites from what I played during the year. There were so many great games this year, I didn't have a chance to play them all, so if there's a big, impressive favorite of yours missing from the list, odds are good that's why. Either that, or it's a terrible garbage game that you should be ashamed of liking. With that said, here are my favorites of 2014, in no particular order.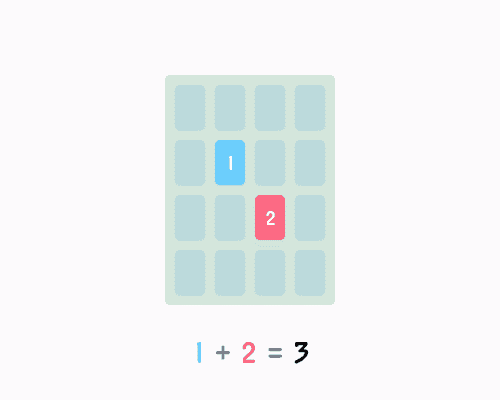 Threes!, $5.99 Threes! is one of the most clever puzzle games I've played in quite a while. It's turn-based, so you have lots of time to plan your moves. It's about cleaning up, like many great puzzle games. The main sliding mechanic just feels good in and of itself. It has all of that and a great sense of style, too. Sometimes I fall asleep playing the game at night, and my wife laughs as she watches my now-empty hand still wiggling its thumb around in the air like it's playing the game.
MONSTER HUNTER FREEDOM UNITE for iOS, $14.99 Got a few spare hours? How about a few spare months? Actually, you might want to pencil in a year or so. Monster Hunter Freedom Unite is one of the best ports I've seen on iOS, with complex controls mapped in a sensible way, sharp graphics, and even support for online multiplayer. The game itself is beautifully designed such that you find yourself up to your neck in it when you only intended to dip your toe in. The sheer feeling of satisfaction you get when you take down one of the larger beasties and fashion a new piece of gear from its parts is nearly unmatched by any other game on iOS.
Ghost Blade, $0.99 I was extremely skeptical of Ghost Blade before I laid hands on it. After all, gesture-based action games are a hard enough thing to do well, so trying to do a stylish action game along the lines of Ninja Gaiden or Devil May Cry seemed like an impossibly lofty goal for a little indie developer from Taiwan. It only took a few minutes of playing to realize they had done a great job with the basics, and a couple of bosses later, I was floored. The developer did their homework on the genre and it shows in one of the bigger surprises of this year on the App Store.
Kero Blaster, $5.99 You can't swing a dead frog on the App Store without hitting five games that claim to have a retro feel to them, but very few of them actually feel like something from an older era. Kero Blaster, from Cave Story creator Daisuke Amaya, is one of the most authentic-feeling faux-retro games I've played since, well, Cave Story. It perfectly captures the feeling of an 8-bit Japanese action game, and does so with a surprisingly sensible control scheme that more iOS side-scrollers would do well to pay attention to. It's a little on the short side, but many sweet things are.
Wayward Souls, $7.99 2014 saw an explosion of great roguelikes in the App Store. There were so many great ones, but I think my all-around favorite was Wayward Souls. It has more of an action-oriented take on the genre than we typically see, evoking classics like Secret of Mana. Beautiful spritework, stiff but surmountable challenge, a bunch of characters that all require unique strategies, and a well thought-out control scheme make this a great game for anyone, even if they're usually not into the genre.
80 Days, $4.99 Another category that saw a swell of excellent releases in 2014 was the gamebook genre. This year we saw a lot of different developers doing things to change up the formula and take advantage of the benefits that leaving paper behind can offer, and 80 Days was the best of them. Using the premise from one of Jules Verne's adventure stories was a wise choice, and the game certainly has a beautiful style to it. What impressed me the most, however, is how organic it all feels. There are so many ways to make your way around the globe, and each and every route feels like it was written as the true one. The time limit adds a sensible narrative purpose for replays, constantly urging you to hurry along while the well-written prose tempts you away from that goal with its seemingly limitless possibilities for discovery.
DRAGON QUEST IV, $14.99 Mobile gamers were rolling in Dragon Quest games this year, providing hundreds of hours of role-playing adventures. It's hard to go wrong with any of them, but for my money, Dragon Quest 4 is the pick of the litter. A good story, great characters, fun gameplay with lots of exploration and exciting battles, and it's the best and most complete version of the game available in English. It might lack the visual pizazz of Dragon Quest 8, but it makes up for it in other ways.
Wind-up Knight 2, Free I feel like a lot of people slept on Wind-Up Knight 2, and that's too bad. Everything good about the first game returns here, with many of its major issues addressed. The level designs are superb, with inventive obstacles and tricks that provide a solid challenge and constant surprises. The sequel's addition of checkpoints keeps it all from being too overwhelming, while still forcing you to master a series of challenges before giving you a break. Simply a wonderful platforming experience, polished to a shine.
Monument Valley, $3.99 How could I not make room on my little list for Monument Valley? While I'm obviously a big fan of traditional gaming experiences, sometimes it's nice to wind down and relax with some beautiful and soothing, and that's where this game comes in. It's incredibly short, puts up almost no challenge at all, and apart from a few puzzles, it's basically a linear walk to the end of the game. Yet there's something so incredibly compelling about the experience that I can't imagine owning an iOS device and not giving Monument Valley a playthrough.
Letter Quest: Grimm's Journey, Free Our regular readers know all too well how much I love words. They also know how much I love RPGs. Letter Quest: Grimm's Journey unites my two loves in a charming little adventure packed full of upgrades to earn, equipment to buy, and missions to complete. The steady progression of challenge as you try to fully complete each stage makes this one stand out. It always seems to have one more curve ball to throw at you to keep you on your toes. This game made me late on a lot of work until I cleared everything in it.
All in all, it was another great year for mobile gaming. I could have expanded this list to 20 or 30 games and still felt good about including every last one of them as must-haves. It's amazing to me how many great titles come across my virtual desk on a near-weekly basis, from developers big and small. Here's looking forward to another great year filled with virtual adventures of all sorts!