It's Wednesday, which means new iOS games are just now hitting the US App Store. Earlier today it looked like it might be kind of a weak week, but things have picked up nicely throughout the day. As always all the videos, screen shots, forum links and app blurbs you could ever need are neatly listed below, so check out everything and let us know what games you've got your eye on in the comment section below.
---
Bumper Tank Battle
iTunes Description
How many tanks can you destroy before you get bumped off?!

Bumper tanks are fast, hard to control and have a range of zero feet. What's not to love!

How to play:
1) Tap to change directions
2) Bump tanks from behind or the sides
3) Don't get bumped off!

Each tank has a danger zone indicator. Tanks will only be destroyed if BUMPED and in the dange zone.
Forum Thread: Bumper Tank Battle (By Jared Bailey)
---
Drift 'n' Drive
iTunes Description
Follow your destiny to become the ultimate racing driver!

Drift'n'Drive is a vertically scrolling top-down racing game with lots of challenge and replayability. Progress through the career mode racing challenges, get to the top of leaderboards in time attack mode or challenge your friends to a local split screen multiplayer tournament!
Forum Thread: Drift'n'Drive by Kimmo Lahtinen
---
Grey Cubes
iTunes Description
Bounce and Break!

Grey Cubes is a modern variation on the brick-breaker-type game, based on real-time physics and three-dimensional gameplay. The game unites the classic elements of brick-breaker games (such as multiballs, exploding-ball bonuses, etc.) with new gameplay elements, including multi-layer brick patterns and real-life physics impacting on their in-game behaviour. Travel through 60 futuristics levels and break everything !
Forum Thread: Grey Cubes (by Bulkypix)
---
Human Crasher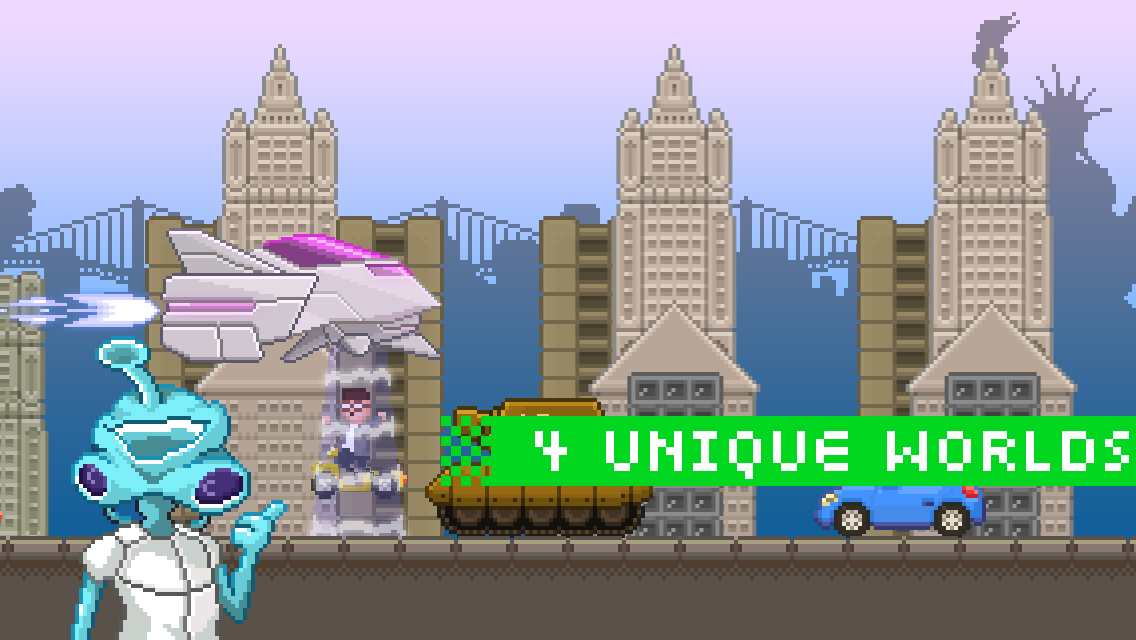 iTunes Description
It is the year X.E. 3943 and our planet, Xtane, has fallen into an energy crisis. In order to save our race, we have to leave our planet and search for new energy resources. Our nomadic time in space has started.

Luckily for us, before running out of energy, we found a new planet, BlueStar, where there is an excess of organisms, which can be decomposed into energy. Don't waste anything.

As an elite pilot, you need to capture as many BlueStar organisms as possible, while watching out for missiles and aircraft. If not, returning to the mother planet will be nothing but a dream.
Forum Thread: Human Crasher (by Funny Power)
---
Madow – Sheep Happens
iTunes Description
Become the best shepherd of all time: Get the bloody sheep safely down the mountain.

* A unique mix of fast-paced arcade action, quick reflex one touch controls, and outrageous straight-forward humor!!

* Not recommended for pregnant women or people with a pacemaker!! don't be fooled with the soothing music, and calm nature!
Forum Thread: Madow | Sheep Happens (by TheRedOne)
---
Meat Factory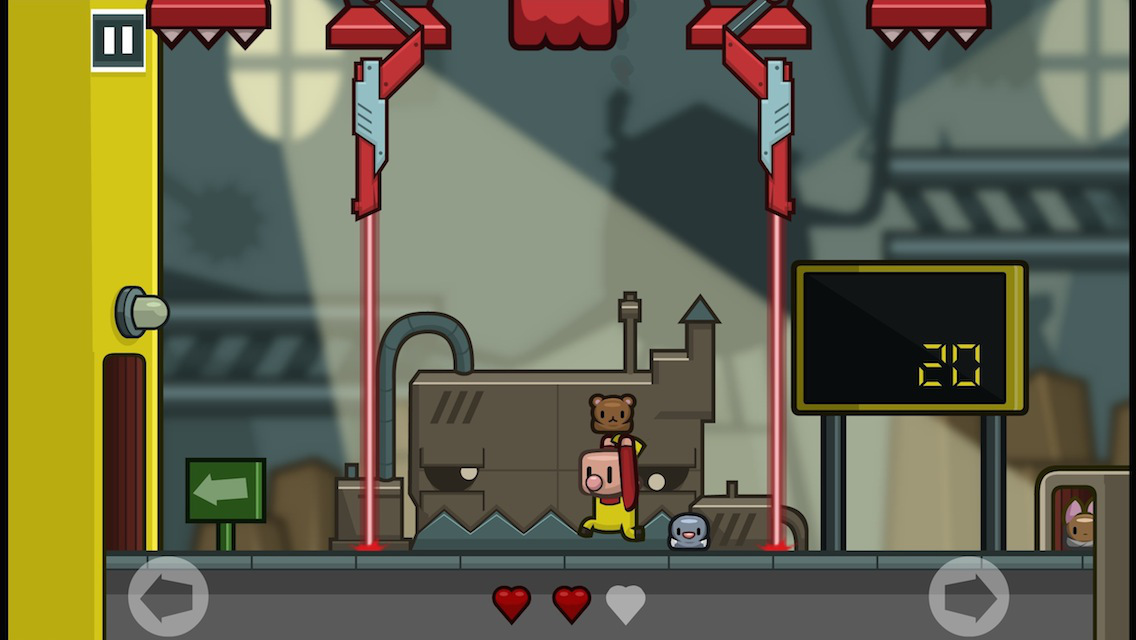 iTunes Description
Meat factory harks back to the old days of the game and watch. Easy to pick up and play, but hard to score big. With cute visuals, simple controls and a retro music, Meat Factory is addictive and nostalgic.

Join Fred, the mild mannered meat packer, who has had enough of seeing cute animals turned into pies. It's time for liberation!

Save as many animals as you can while frantically avoiding crushers, smashers, giant chainsaws and lasers. The more animals you save, the harder the meat factory will work to stop you. It starts off easy as pie, but soon you'll be playing for high steaks.
Forum Thread: Meat Factory (by Steve Cable)
---
Medford Asylum: Paranormal Case
iTunes Description
Alison Ester, insurance investigator, is responsible for leading the investigation in a dilapidated asylum with a grave and mysterious past.
Explore the ruins of the building in search of information. Make your way through the debris. Move forward in the asylum's basements, and discover disturbing locals.
Be careful where you put your feet! Go through rooms with collapsed floors, reveal secret messages, decipher clues, and separate the paranormal from the rational.
Forum Thread: Medford Asylum: Paranormal Case (Full) (by Microids)
---
MeowMix
iTunes Description
Match -3, a mixture of classical lovely games: the player controls falling shapes and chooses what pieces want to delete.

The action takes place in a colorful cartoon world, the main characters – colorful kittens. One of the key features of the game – #mimimi. The player interacts with the kittens, they meow being touched, hold on foot, sharpening claws and yawn.
Forum Thread: MeowMix (By Anix LLC)
---
Monster Flash
iTunes Description
It's a dark and stormy night… and your only defense against the ghosts and ghouls is your trusty flashlight. Creatures of all kinds surround you, coming from all directions. You can use your flashlight to protect yourself… Just don't turn your back to the things that go bump in the night!

In this spooky top-down arcade game, you rotate your character to aim your flashlight at various monsters until they disappear into a puff of smoke.
Forum Thread: Monster Flash (by Robomodo)
---
Obslashin'
iTunes Description
Hack away at endless enemy hordes in Obslashin', the compulsive combat clicker! Slash through bosses, crash through barrels, and loot everything you can as you delve into the deepest dungeons. Upgrade your arsenal and level-up to make it further than any hero before!
Forum Thread: Obslashin' (by Hashbang Games)
---
Run Sackboy! Run!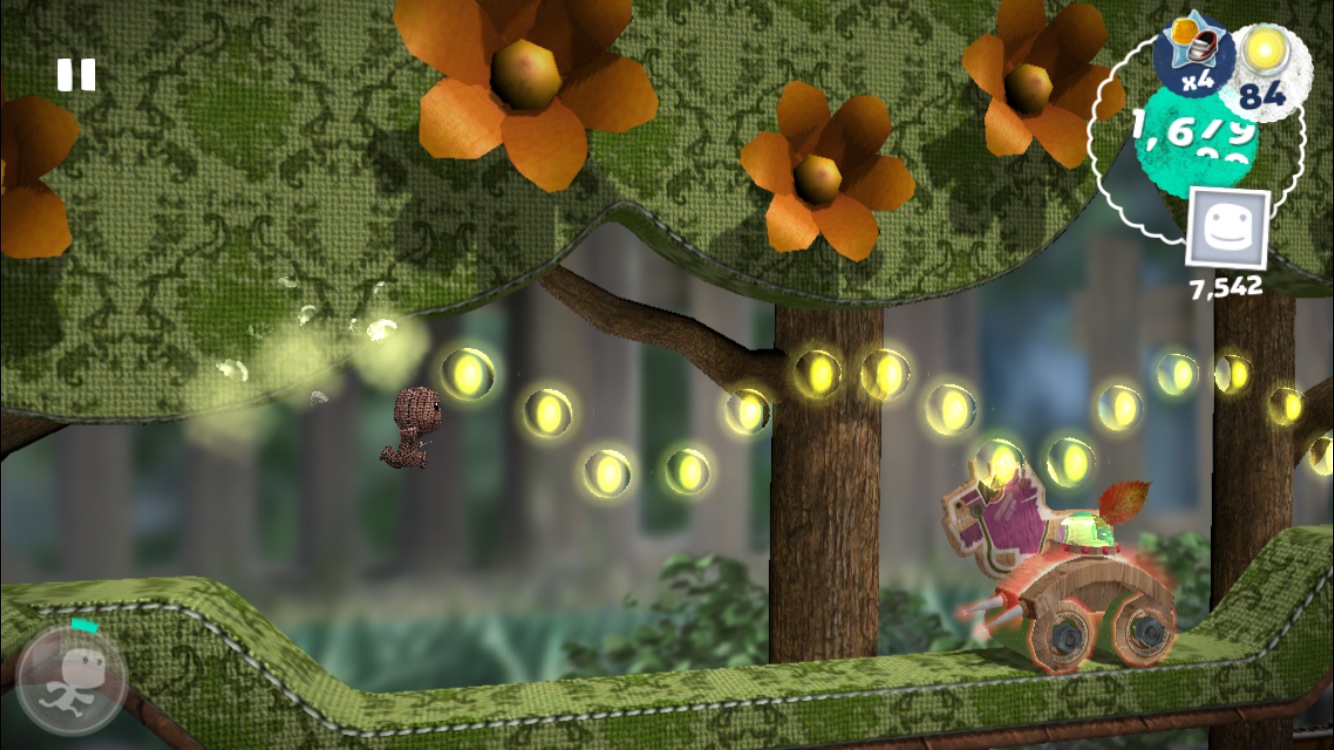 iTunes Description
Sackboy, the knitted hero from the multi-award winning LittleBigPlanet™ series on PlayStation® lands into the palm of your hand in this brand new endless platformer!

RUN as fast as you can through an ever-changing handcrafted world
DASH to ESCAPE the GOO and the clutches of the grumpy Negativitron!
Forum Thread: Run Sackboy! Run! (By PlayStation Mobile Inc.)
---
Secret Files Sam Peters
iTunes Description
When alien DNA is spotted in the genetic code of algae living at a crater site in Ghana, sassy reporter Sam Peters goes after the story of her lifetime. Before she can start her research at Lake Bosumtwi, however, she has to cleave through the wilderness and escape feisty jungle animals by day and demon-like creatures from African folklore by night. And soon she has to ask herself, whether a creditable article on the front page of an esteemed science magazine is really worth risking her life.
Forum Thread: Secret Files Sam Peters (by Deep Silver)
---
Smash Champs
iTunes Description
Rise to the challenge and battle your way to greatness!

Take on the role as trainer, prepare for combat and lead your Champs to victory against your friends.

The makers of Subway Surfers present an action arcade adventure like no other. Form a team, challenge your opponents and become the greatest trainer of Smash Champs!
Forum Thread: Smash Champs (by Kiloo)
---
The Survivor: Rusty Forest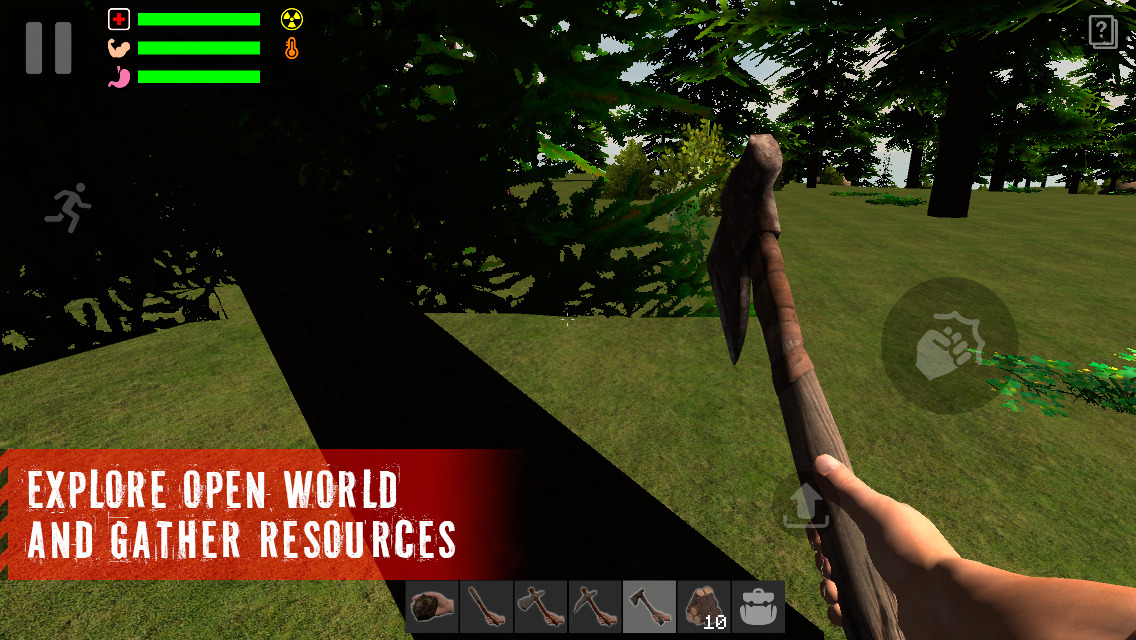 iTunes Description
Welcome to the world of "The Survivor", hit by unknown virus which has wiped out most of the world's population. You are one of the few that have survived and now you must to fight for your life against what is left of the indigenous population now infected with the disease. In best traditions of survival and horror games, players in "The Survivor" must explore the open world to gather raw materials to build their own weapons, tools, fortifications, shelters, etc. against the dangers of the zombies, infected wildlife and the world itself.
Forum Thread: The Survivor: Rusty Forest (by Evgeniy Ershov)
---
Too Many Snakes
iTunes Description
Help Jessie the mouse escape from bothersome snakes using super-psychic-mouse powers!
Can you solve all 75 mind-bending puzzles and help Jessie get back home safely?

A literal twist on the classic sliding-blocks puzzle game, Too Many Snakes swaps rigid blocks for flexible snakes that must be pulled and bent out of the way to reveal the exit for Jessie to escape. Collect Gold Stars by solving levels in the fewest moves possible!
Forum Thread: Too Many Snakes (by WhaleFood Software)
---
Twisty Hollow
iTunes Description
A self-appointed mayor is spinning the town of Twisty Hollow out of order with nonsensical rulings. His cryptic instructions range from the culinary – bacon is frowned upon – to the absurd (fashion tips for ghosts!?).

Support the citizens of Twisty Hollow by fulfilling their increasingly eccentric needs. Make smart combinations to create new goods; Farmer Bessie + bucket + cow = milk! Twist and match resources to make everything from burgers, to hand knit sweaters, to houses. Just be quick about it – the denizens of the Hollow are an impatient bunch.
Forum Thread: Twisty Hollow (by Arkadium)
---
Twitchy Thrones
iTunes Description
Twitchy Thrones is a fast and fun strategy game with a medieval fantasy setting.

Battle your way throughout the violent land of Lefteros! Conquer varied battles rendered in gory and detailed pixel art!

Complete challenges such as playing as the enemy, quickly losing a map and much more!

Help House Storker bring honor and justice to all the kingdoms!
Forum Thread: Twitchy Thrones (by Ricardo Moura)
---
Vektor
iTunes Description
A highspeed game of endless running and slashing action.

In this free-to-play action game, you assume the role of "The Courier". A wet-wired courier, whose mission is to deliver "top secret" data to aid the fight against the corrupt corporate goverment. While streching through the endless highway, you battle against the corporate merceneries, who would not hesitate to use any means necessary to prevent you from delivering the "package".
Forum Thread: Vektor 1.0 (by Cagil Bektas)
---
Warhammer 40,000: Space Wolf
iTunes Description
Lead the Sons of Russ into battle and slash your way through hordes of ferocious enemies with Boltgun fire and Chainsword teeth. Write your own saga in the annals of the Space Wolves Chapter as you hunt your sworn enemies – the Chaos Space Marines.

Savour the atmosphere, as you play this unique combination of turn-based strategy and collectible card game, where you can turn defeat into victory, where events on the battlefield depend on a wise choice of cards and decisions must be planned meticulously.
Forum Thread: Warhammer 40,000: Space Wolf – (by HeroCraft Ltd.)
---
Woah Dave!
iTunes Description
The critically-acclaimed retro-styled arcade neo-classic is here!

WOAH DAVE! Help our hero, Dave Lonuts, survive an insane alien invasion and line his pockets with shiny pennies.

Hurl alien eggs, skull bombs and explosive WOAH blocks to stay alive and sky rocket yourself to high score fame and fortune.
Forum Thread: Woah Dave! (by Choice Provisions)
---
Zombie Catchers
iTunes Description
Zombie Catchers is an enterprising action adventure game in a world riddled by a zombie invasion! Planet Earth is infested with the undead, but we're in luck: A.J. and Bud, two intergalactic businessmen, have decided to set up shop on our homeworld! Together, they plan to catch all the zombies and make Earth safe once more – while also making a handsome profit…

Use an arsenal of gadgets and traps to capture ripe zombies, take them to your secret underground lab, and… profit!
Forum Thread: Zombie Catchers (by Two Men and a Dog)