Our forums are a great place to interact directly with game developers. In particular, the folks from Secret Exit have been peppering the discussion with insight into their latest release, Turbo Dismount (Free). With more than just a subtle nod to their previous title Stair Dismount (Free), Secret Exit have iterated and improved their formula with a high octane kick of adrenaline. They have brought their in home calamity sim out into the street and over from a desktop version to our mobile platform.
You don't usually describe a game about decapitation and vehicular destruction as upbeat and comical, but that's the exact way I see Turbo Dismount. It's a light-hearted physics sim that just happens to feature high speed collisions and dismemberment. This dissonance is a big part of my enjoyment of the game. Some people might see it as a grotesque and darkly humored game, but I just see it as the next logical step if people at a crash test facility got bored and had a nice big budget. It may be due to desensitization, but I really don't see a way to getting offended by the subject matter.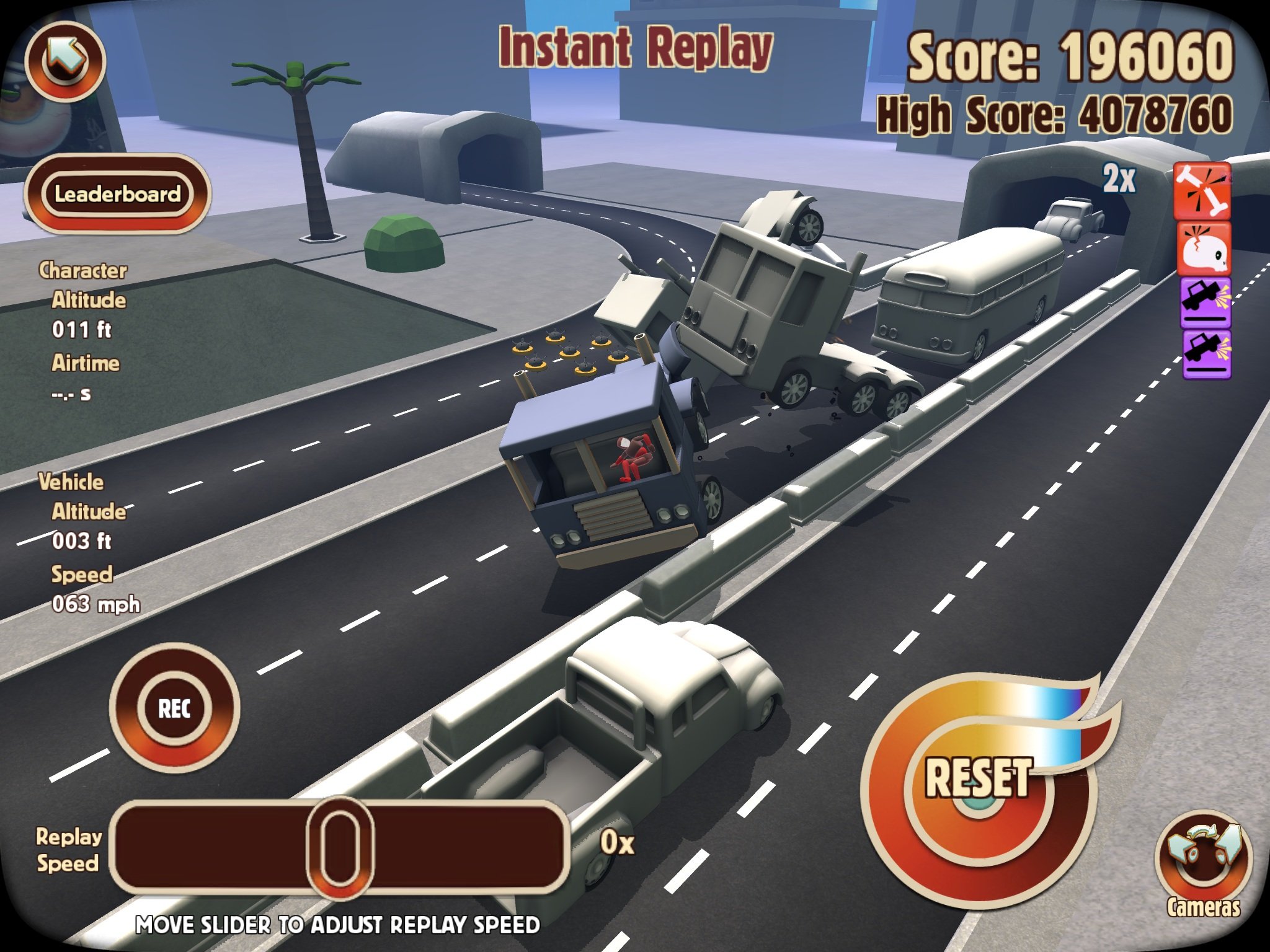 Turbo Dismount is free with a pretty amazing IAP setup. You get 3 levels and 3 vehicles gratis, and each additional unlock is $.99. The great part is that the game has a vanishing full unlock. It starts as 5.99 but gets deducted each time you make a small purchase. It comes right and says that you can unlock everything with just a handful of impulse buys. I can't say how awesome it is that Secret Exit really understands how to keep a pay model from distracting the player. If the only redeeming thing I could say about the game is the IAP, I would still tell people to get it just to promote how fairly it treats players. If you are reading these words, then you pay enough attention to mobile gaming to already know how much controversy there is about the rights and wrongs of how we pay for mobile games. Do yourself a favor and look at this game because the next time you want to comment on how a pay system should work, it should be a reference to Turbo Dismount.
Gameplay in TD is a physics sandbox. You choose obstacles, a vehicle, a path, a position for your dummy to be on said vehicle, a camera angle and a driving speed. Once these are all selected, your dummy is in for the ride of his or her very short life and you get to sit back and watch. After the initial setup, the process to upload videos is seamless. Collisions in Dismount are over the top. While the physics are top notch, reality is sacrificed a bit for theatricality. Buses and trucks will take to the air on contact with much smaller vehicles, and each separate bit of dummy will stay intact, even when separated from the rest of the body parts. If you can deal with that small departure from strict simulation, you'll be all set to crunch, crash, and explode your way to smashing high scores.
Once you pull the trigger, it's time to survey the destruction and Dismount doesn't skimp on the playback. You can rewind and view at several different speeds. You can switch camera views from 3rd person vehicle and passenger views as well as 1st person passenger view. There are a lot of recording and playback options. The one I like the most is the integrated social network video sharing and, for reclusive non-social networkers like myself, direct to youtube file uploading. Just a simple tap or two and you too can share a magnum opus of destruction just like this:
Turbo Dismount is a full fledged desktop sandbox game that feels like it had to shed a few pounds to fit into the iOS format. You could look at that as a positive or a negative, but I really like the fit better than other attempts at bridging platforms that have recently released. The pedigree Secret Exit has displayed between pay model and feature implementation is just as impressive, if not more so, than the actual gameplay of Dismount. It's this reason and the pure joy of getting to rubber-neck a good collision in the comfort of my own tablet that I have to tell you to download this thing ASAP.