The idea behind the TouchArcade Game of the Week is that every Friday afternoon we post the one game that came out this week that we think is worth giving a special nod to. Now, before anyone goes over-thinking this, it doesn't necessarily mean our Game of the Week pick is the highest scoring game in a review, the game with the best graphics, or really any other quantifiable "best" thing. Instead, it's more just us picking out the single game out of the week's releases that we think is the most noteworthy, surprising, interesting, or really any other hard to describe quality that makes it worth having if you were just going to pick up one.
These picks might be controversial, and that's OK. If you disagree with what we've chosen, let's try to use the comments of these articles to have conversations about what game is your game of the week and why.
Without further ado…
Banner Saga
Yes, that's Banner Saga ($9.99), not THE Banner Saga, but naming quirks aside, this is still Stoic Studio's tactical RPG masterpiece that released in January of this year on desktop and made its surprise debut on iOS just a wee bit later than the rest of this week's new releases. And as a Banner Saga newbie who hasn't played the game on other platforms prior to the iOS version, this game is just stupid good in every possible way.
To back things up a bit, Banner Saga is a Norse-themed tactical RPG created by Stoic Studios, which is a studio comprised of former BioWare developers. It features gorgeous visuals, a stunning soundtrack by Grammy-nominated composer Austin Wintory, a branching dialogue-driven storyline, and challenging tactical combat. Banner Saga received broad critical praise when it released on PC back in January, but interestingly enough it was originally conceived as a game for tablets.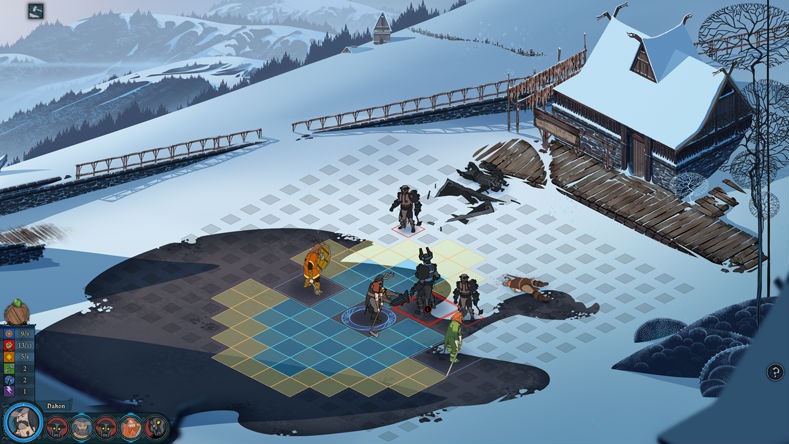 This makes its arrival on iOS feel like a homecoming of sorts, as Banner Saga both looks and plays spectacularly well on a touchscreen device. There is a really cool parallax effect throughout the game that's controlled by the motion of your device, giving the game a sense of depth. Fighting battles and navigating menus also feels very at home on the touchscreen, and it's easy to zoom and pan around in pretty much all areas of the game if you ever feel like you need a better view of something. Banner Saga on the touchscreen just feels right.
Another nice thing about Banner Saga on iOS is that it's Universal. It was originally thought that the game would only be coming to iPad, as this sort of game makes more sense with a larger screen to play on. However, I'm quite surprised at how well it plays on my iPhone 6, and there's even some players in our forums reporting a good experience playing on older 4-inch and even 3.5-inch devices. Yes, it's small, but the ability to move your view around really helps and all the text that I've encountered has been perfectly readable.
If you like strategy games and/or epic Viking adventures, you owe it to yourself to check out Banner Saga now that it's on iOS. It's not for the faint of heart though, as I said I'm a newbie to the game and I'm still very early on and already getting my butt kicked. But I'm loving every minute of it so far. We'll have a full review soon, and you can check out our forums for some impressions or the Metacritic reviews for the desktop version if you need a little more insight. At any rate, this is the type of game we need much more of on the App Store, and even though ten bucks is the higher end of the pricing spectrum on mobile, it's worth every bloody penny for something like Banner Saga.