The card and board game iOS port market is a land of titans these days. Blizzard and Playdek are monolithic beasts responsible for a huge resurgence of games that traditionally involve holding physical game pieces in your hand. A new star is rising that is edging it's way into this epic struggle. White Wizard Games has brought their Star Realms (Free) to the App Store to challenge deck building games like Ascension (Free). With a co-creator of Ascension on their staff, White Wizard is on a very familiar playing field. While this single game may not completely dominate the entire landscape, it's absolutely enough to cause a stir with fantastic gameplay that boasts a number of upgrades over it's competition.
Star Realms is a newcomer to the deck building scene. It's creators, however, are not. White Wizards are kind of like the A-Team of the card game universe. The next time I get in trouble and mobsters/the government threaten to steal my house if I can't develop a card game, I'm calling these guys. Stay with me now, my point is that this game has some serious chops. The flow and tempo of the game is amazing. I never feel like I have completely useless rounds even when I draw a bad hand. I also feel less locked into a strategy, a good card can still be a good card if it doesn't 100% match your overall game plan. Instead, the game gives you oppotunities to strategize on the fly that make previously released games, like Ascension, feel like a gridlock by comparison.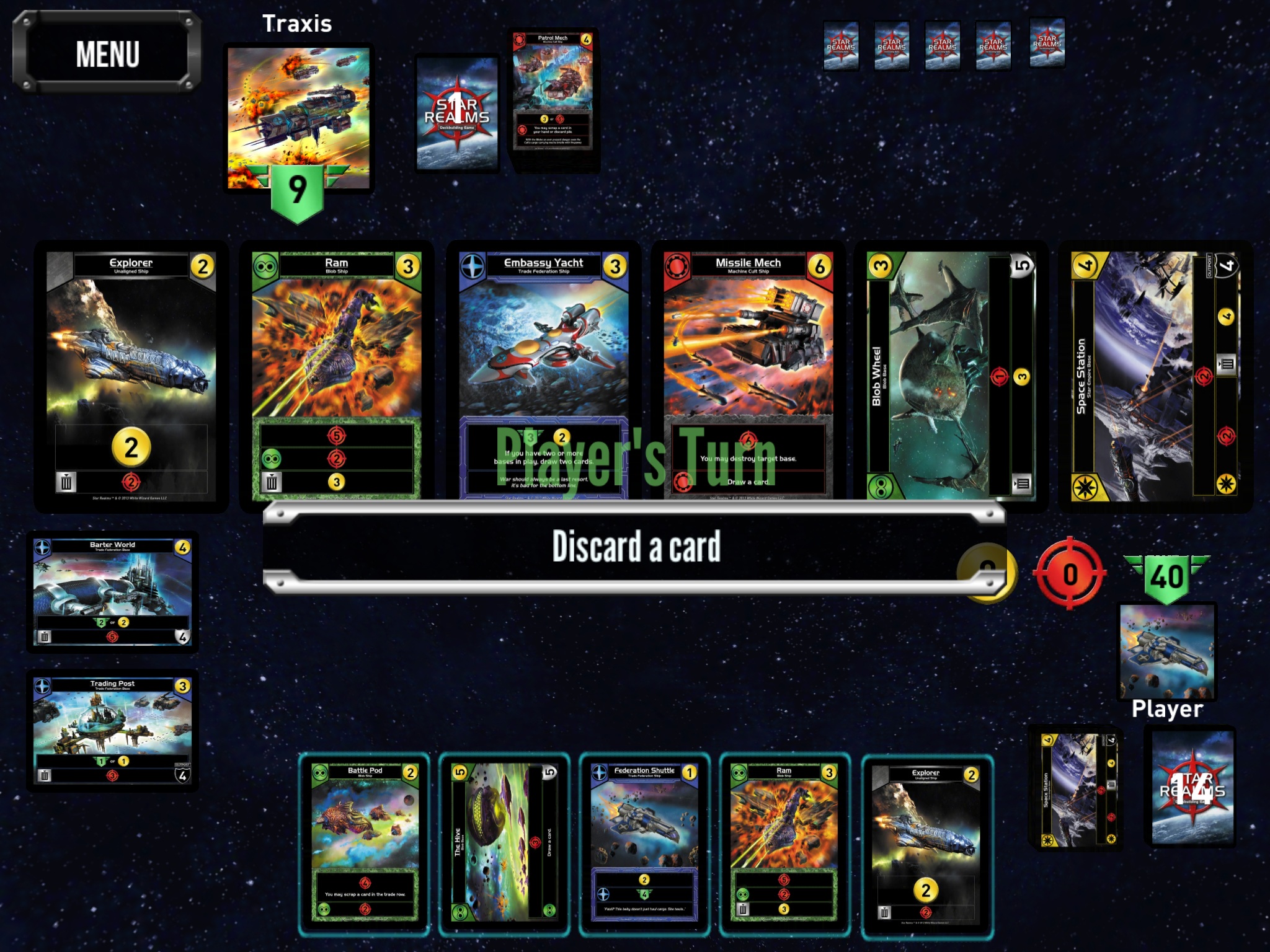 On our forums, I have seen a lot of good natured back and forth on which of these two games has a higher level of strategy. I can't say that I am a tournament winning pro that can give a definitive answer, but my money is definitely on Star Realms. From a 'basic' card that combines currency and damage to a card selection area that is uncluttered by monsters that need slaying, this game opens up a number of viable options each turn. This is where I really see the maturity of the game. The longer you play this game, the more you realize that getting more options doesn't make the game easier. The strategy is just deeper. You have to be much more conscious of the deck you are building because you have so many opportunities to hang yourself. I'll say the magic words that everyone wants to hear about a strategic game. Easy to learn, difficult to master. As cliche as the term is, it applies here. The Dice Tower, unsurprisingly, have a fantastic in depth look at the gameplay:
There is a downside to all this starry eyed talk about Star Realms. The app UI is a bit unwieldy. Font sizes and certain tap targets are a little smaller than I would prefer. I actually first played on the iPad for a few games and then switched over to the iPhone. The iPad is definitely where I will spend my time with this game. I can manage to get through an iPhone game without issue, but I don't generally like having to squint to read text on cards. If I had to, I would still play on the iPhone. If you are on the fence, I highly recommend testing it out if you know you would be confined to playing on a phone. This is probably the only area I feel like Playdek still has an edge. They are renowned for their UI development and frankly have much more practice at it. I think this is the biggest area of potential growth for what White Wizards can conjure up in their game updates.
This game comes with a full compliment of features. Campaign mode pits you against AIs that will focus on specific strategies. The hard mode campaign missions are no push overs either and might require more than just a single game to outwit. It's worth noting that campaign mode, while not the centerpiece of the game, is just another way that Star Realms distinguishes itself. Its not a commonly seen feature in games like this and brings another dimension of gameplay. Once you shell out the $4.99 for the full version, you gain access to an additional mission campaign, additional AI difficulties beyond easy, and online play. Online play offers the ability to search for open games as well as issue challenges to friends. The UI for searching and creating online games is simple and straight forward, bringing each game to the top of your list as your opponent completes their turn and waits on you. Two features I would like to see in future updates would be support for more than 2 players and a competitive ranked online mode separate from random pick up games.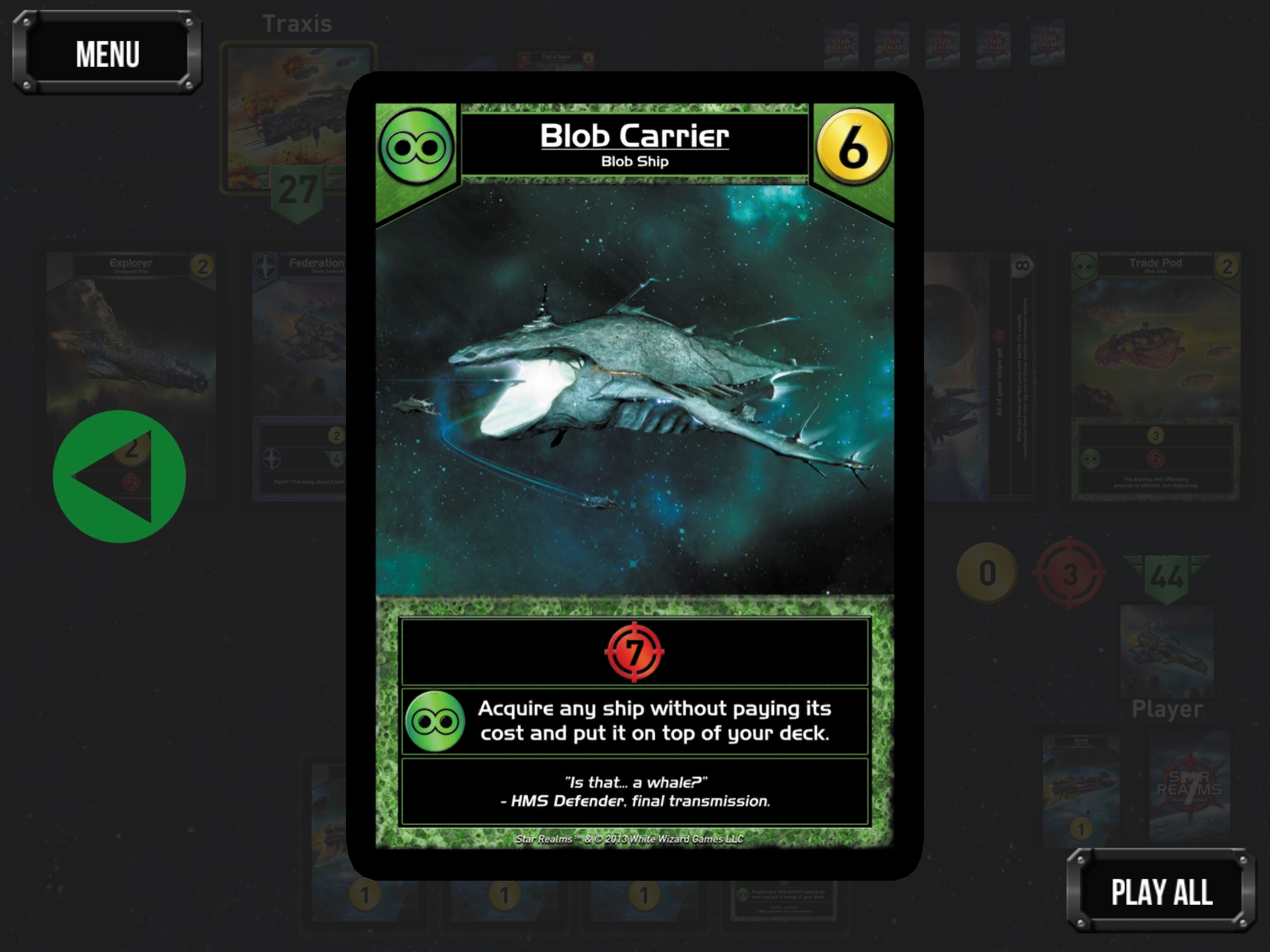 I don't know if White Wizards have plans on taking a bigger bite out of the iOS card/board game market, but they are well poised to do just that. What used to be a niche corner of the App Store has developed over the last few years as a stable for some of the highest quality games available. Star Realms continues the trend and provides superior gameplay even amongst it's venerable peers.